Stay up-to-date on the latest beauty trends with Shopee Beauty! This March 2, enjoy deals up to 90% off from your most-loved beauty brands
MANILA, MARCH 1, 2022 – Beauty may be in the eye of the beholder, but as our new normal continues to collectively influence our daily needs, values, and priorities, we see a few key trends rising above the rest. The past two years have altered the way we approach beauty – adopting more easygoing and holistic routines and putting more premium on skin as evident in buzzwords such as skinimalism and self-care dominating our socials.
We took a deep dive into the latest craze in the local beauty industry and rounded up 3 trends Filipino beauty consumers are currently buying into. We've also included product recommendations that embody each trend, which you can get up to 90% off on Shopee Beauty.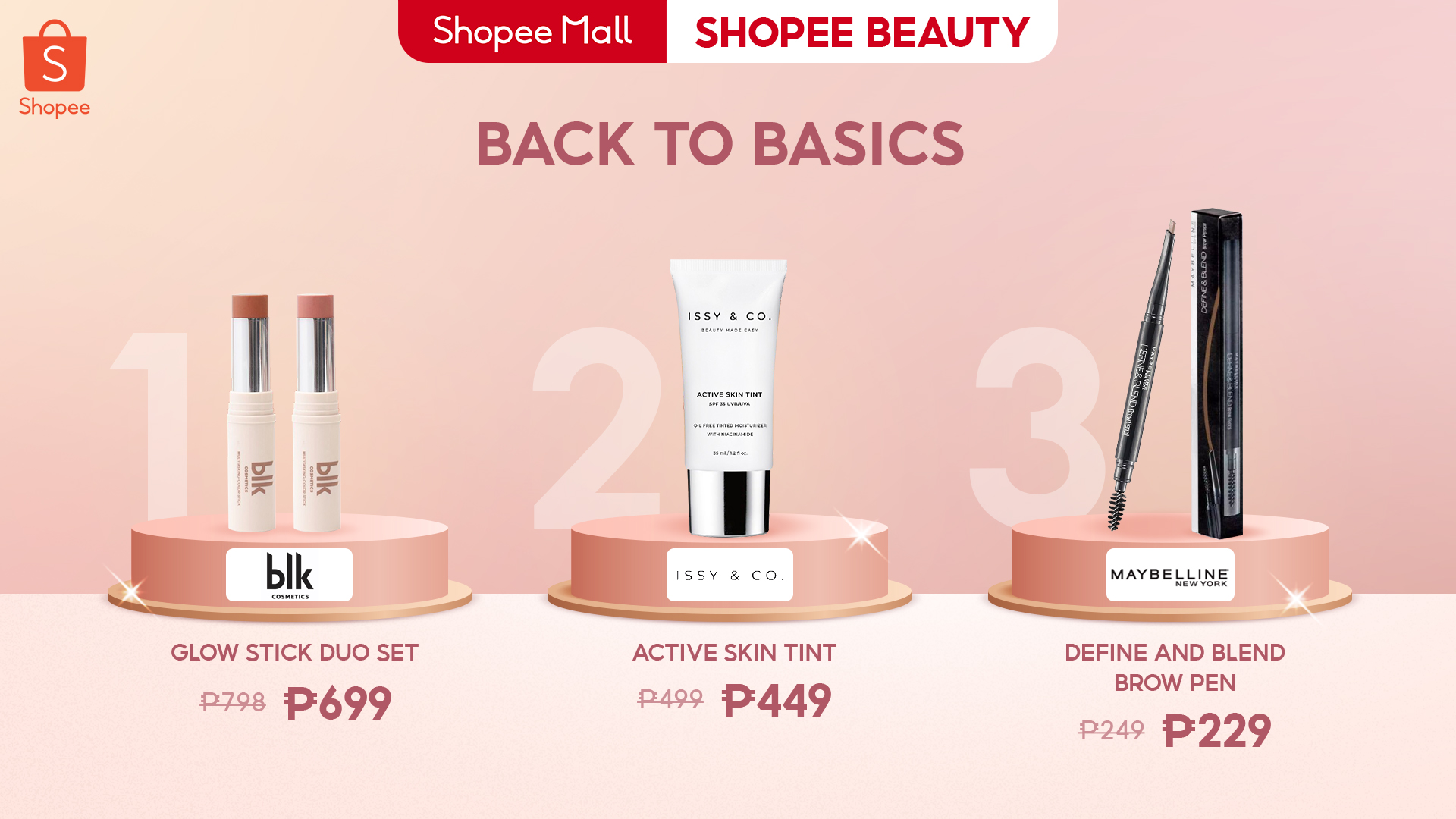 Back to Basics
As most of us continue to juggle both our personal and professional lives at home, consumers are embracing a more streamlined beauty routine. The key is using fewer, but harder-working items that are quick and effortless. Championing uncomplicated beauty, the Blk Glow Stick Duo Set is a versatile glow stick for eyes, cheeks, and lips. Loaded with Castor Oil, this all-around stick gives a radiant glow with a buildable pop of color. Another hybrid product is the Issy & Co. Active Skin Tint. Its breathable and lightweight formula gives a sheer hint of color while providing sun protection with SPF 35, blending skincare and makeup into one easy-to-apply base. For the brows, the Maybelline Define and Blend is a definite must-have if you're after convenience and precision. With its perfectly angled tip, this brow pen allows you to create defined and filled brows with just a few strokes.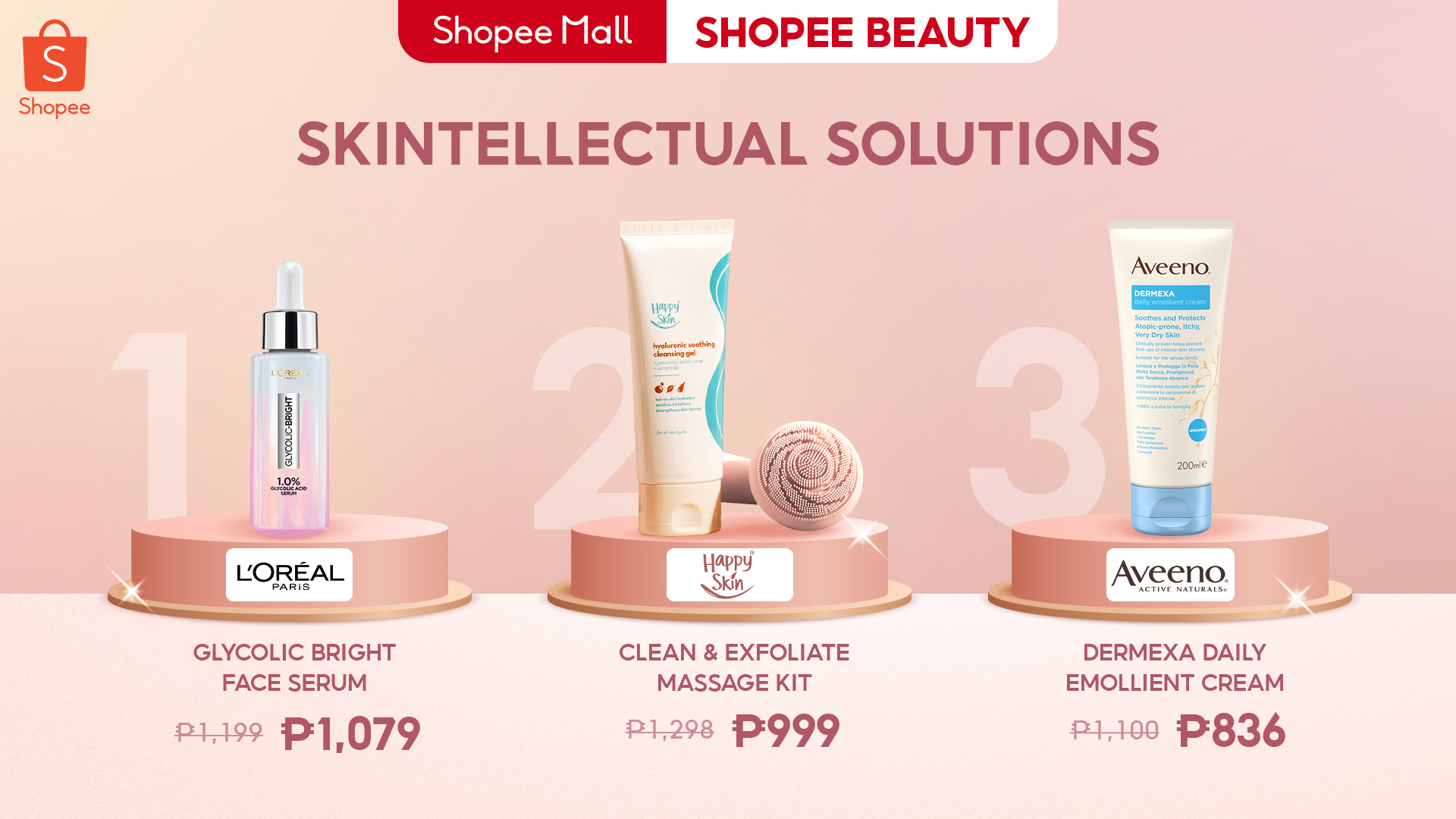 Skintellectual Solutions
With the wealth of knowledge on skincare and wellness available online, consumers are now more keen on the ingredients and benefits offered by products  – and we love to see it! Active beauty products such as the new L'Oreal Paris Glycolic Bright Face Serum are right on trend. Formulated with 1.0% Glycolic Acid, this serum is clinically proven to reduce 5 years of dark spots in just 2 weeks. For cleansing, go for the Happy Skin Clean & Exfoliate Massage Kit. This duo includes the Happy Skin Hyaluronic Soothing Cleansing Gel, which combines Hyaluronic Acid, Centella Asiatica, and Ceramide to hydrate and soothe the skin. Use this in tandem with the Massage Silicone device to dislodge deep-seated dirt and oil. While for dry skin, use the Aveeno Dermexa Daily Emollient Cream to moisturize and help strengthen the skin's protective barrier. It's unscented, paraben-free, and has a fast-absorbing formula infused with prebiotic Triple Oat Complex and Ceramides.
Going Green
The onset of the pandemic has given rise to more plastic consumption and waste. But alongside this, demands for sustainability also skyrocketed as consumers seek out products that offer ways to offset their environmental impact. The Garnier Super Glow Sampler Kit, which contains Vitamin C to fade and lighten dark spots and acne marks, comes in an all-sustainable and plastic-free packaging as part of the brand's #OneGreenStep campaign. Last on the list is the Ellana Stay Fresh Powder Face Cleanser, a gentle mineral powder that refines pores and deep-cleanses the skin, without harsh and damaging side effects. It's refillable and comes in paper packaging which is compostable and designed for minimum waste.
The bottom line is, the beauty industry will continue to adapt to the changing times and innovate to meet the evolving needs of consumers. That said, we can always look forward to new trends and game-changing products to try out. For more beauty deals, tips, and know-how, check out Shopee Beauty: https://shopee.ph/m/shopee-beauty. Enjoy exclusive deals of up to 90% off from your favorite beauty brands and free shipping with a minimum spend of ₱499 for every purchase.
Want to stay on top of the latest beauty trends without breaking the bank? Make sure to check out with ShopeePay for exclusive perks and savings; such as daily free shipping and cashback vouchers. To enjoy even bigger savings, you can scan to pay with ShopeePay in-store to receive 20% cashback on your next health and beauty shopping spree at partner merchants such as Nature Republic, HBC, Vice Cosmetics, and Zen Zest.
With Shopee's all-in-one e-wallet, you can also look forward to cashless payments and deals when you buy load, pay bills, and send money. Get up to 10% off on load across all networks and up to 25% cashback on your monthly bills from over 60 billers. Spread the word about these deals and keep your fellow beauty trendsetters in the know.
Cash in to ShopeePay from over 40+ partner banks, and get up to ₱25 cashback on your InstaPay fee when you cash in at least ₱300 using your preferred banking app. You can also enjoy free transfers to any bank or to any Shopee user so you can send payments to online beauty shops that only accept bank transfers. If you're new to this service, ShopeePay is offering free ₱100 to those who will make their first-ever transfer (until Mar 3)!  
To enjoy these exclusive deals and more, activate your ShopeePay now for a rewarding cashless experience.
Download the Shopee app for free via the App Store or Google Play.
About Shopee
Shopee is the leading e-commerce platform in Southeast Asia & Taiwan. Shopee connects shoppers, brands, and sellers across Asia and other fast-growing markets, empowering anyone to buy and sell anywhere and at any time. 
Shopee offers an easy, secure, and engaging experience that is enjoyed by millions of people daily. It offers a wide product assortment, supported by integrated payments and logistics, as well as popular entertainment features tailored for each market. Shopee is also a key contributor to the region's digital economy with a firm commitment to helping brands and entrepreneurs succeed in e-commerce.
Shopee is a part of Sea Limited (NYSE:SE), a leading global consumer internet company. In addition to Shopee, Sea's other core businesses include its digital entertainment arm, Garena, and digital financial services arm, SeaMoney. Sea's mission is to better the lives of consumers and small businesses with technology.
About Shopee Mall
Shopee Mall is the region's leading online mall offering one-stop access to a wide range of international and local brands and retailers. Shoppers can enjoy three guarantees delivered by Shopee Mall — 100% authentic products, free returns, and free shipping. With always-on deals, entertainment, and a robust loyalty programme, Shopee Mall offers an unparalleled online shopping experience and best value all year round.
About ShopeePay
ShopeePay is an integrated mobile wallet that offers users easy access to digital payment services. Launched in the Philippines in 2019, ShopeePay enables a seamless shopping experience by allowing users to make online payments on Shopee, top-up their wallets, and transfer and withdraw funds.
ShopeePay makes it easier to shop and do business. It provides users with a convenient, secure, and rewarding payment option; it empowers businesses and helps them capture new opportunities. 
ShopeePay is part of SeaMoney, the digital financial services arm of Sea Group. A leading digital payments and financial services provider in Southeast Asia, SeaMoney's mission is to better the lives of individuals and businesses in the region with financial services through technology.