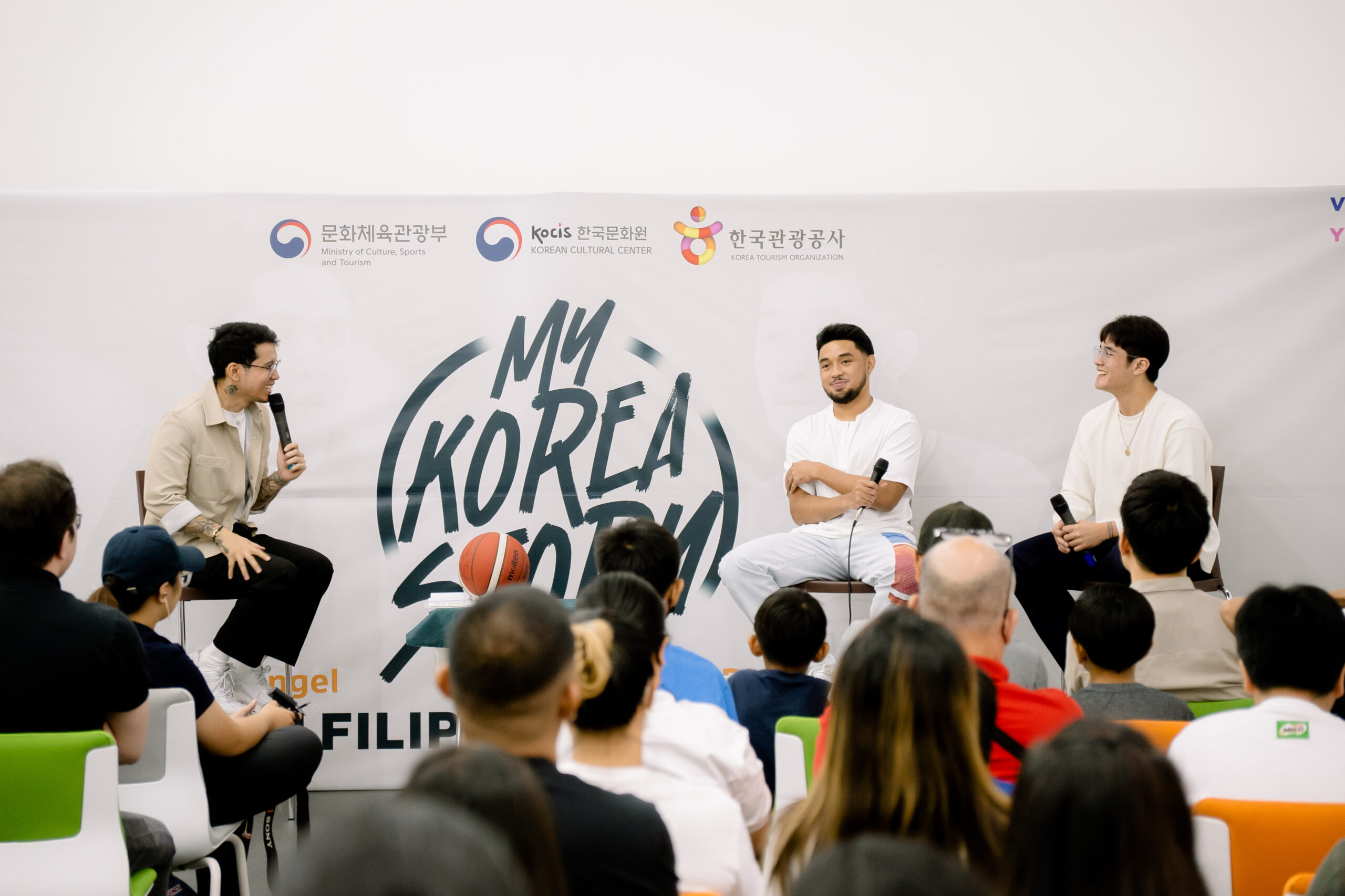 MANILA, PHILIPPINES – Surging Filipino imports in the Korean Basketball League (KBL)—Rhon Jhay (RJ) Abarrientos and Samjosef Rasmo (SJ) Belangel—met up with their Filipino supporters at the My Korea Story event last June 3 in Taguig City to give back to their basketball roots and share their journey in Korea.
The Ministry of Culture, Sports and Tourism (MCST), the Korean Cultural Center in the Philippines (KCC), and the Korea Tourism Organization (KTO) Manila Office organized My Korea Story with Filipino KBL Players. The day was packed with various activities, both sports enthusiasts and athletes enjoyed. Mikee Reyes joined RJ and SJ on the stage and the basketball court as the event host.
Korean Cultural Center in the Philippines hosted a talk show and fan signing event that explored through the players' interest and experience in Korea. Director Kim Myeongjin of KCC expressed his hope that these athletes can "become the new symbol of Korea-Philippine friendship."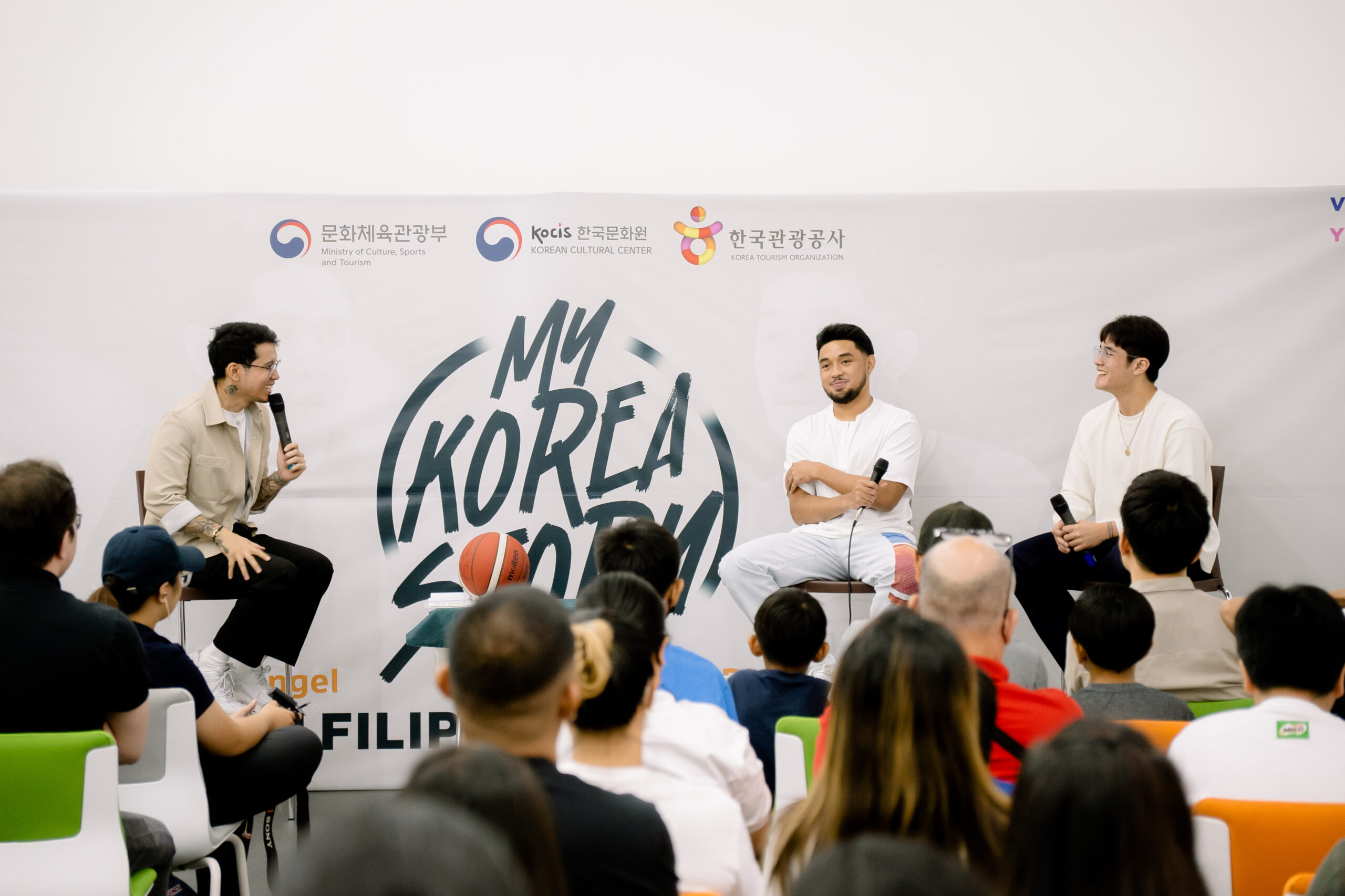 During the talk show, both athletes recalled on some unique Korea traditions that they were able to experience specifically on table manners as the youngest member of the team is expected to set the utensils, bowls, etc. Both have explored various places surrounding their playing teams, just like 수성못 (Susung Lake) and the 동성로 (Daegu Downtown). 
Both athletes were also introduced to the famous K-Beauty trend,, wherein SJ in particular recalled on his Korean perm haircut and RJ got to try Korean face mask as his skincare.
RJ and SJ have similar yet different stories. Both last played in the Philippines during UAAP Season 84 and were part of the Gilas Pilipinas team. After a stellar one-year stint at FEU, RJ signed with Ulsan Hyundai Mobis Phoebus of the KBL, and became the first foreigner Rookie of the Year award in the 2022–2023 KBL season. On the other hand, SJ found his way as the first Filipino import in the KBL for Daegu KOGAS Pegasus.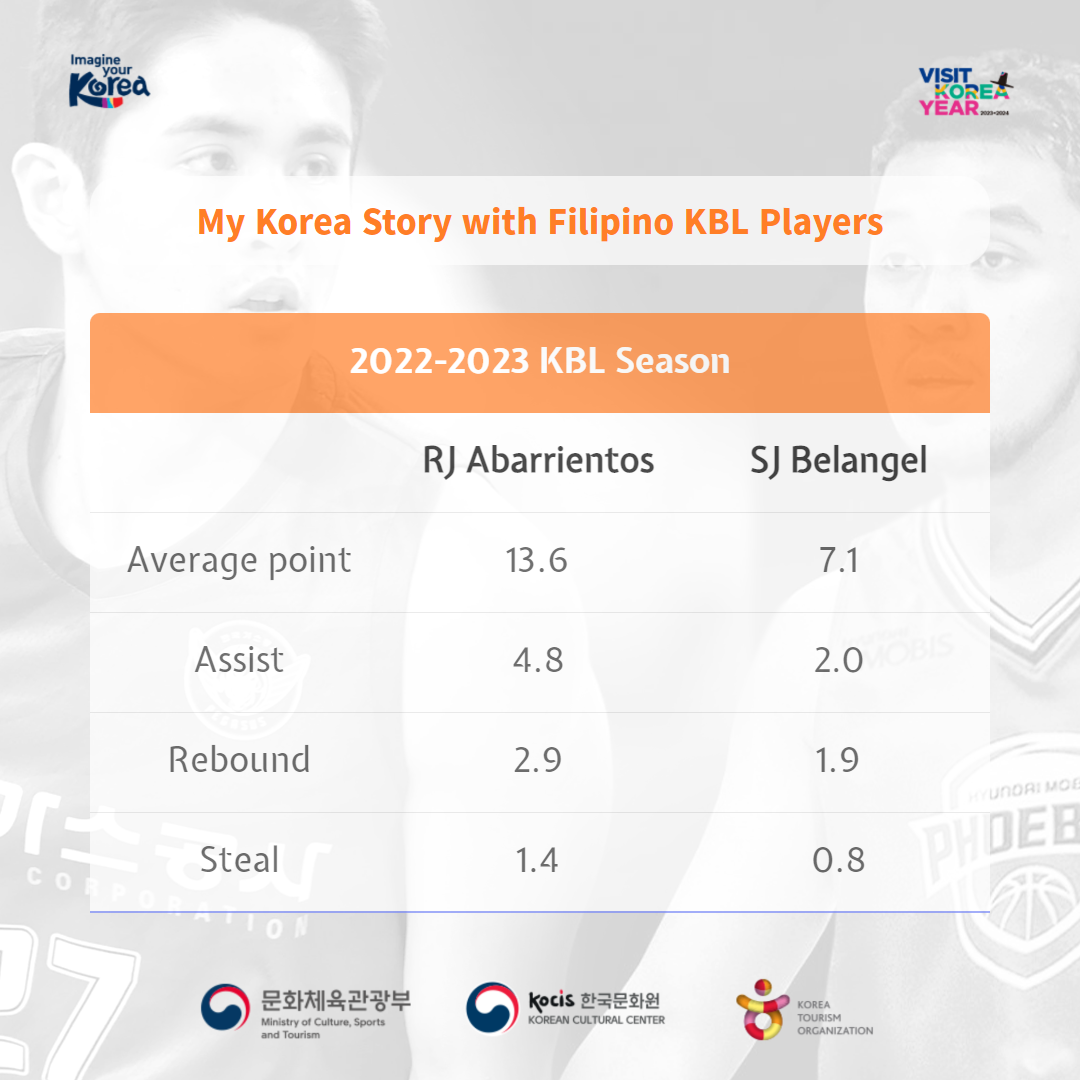 When asked what advice they have to fellow Filipino youth athletes who want to pursue a professional career in basketball, RJ said, "As a player, kailangan mo maging committed lalo na sa generation ngayon." SJ added, "Be mindful of your diet and sleep, it's very important right now na maraming young players because of gadgets and games, they tend to lack sleep." 
In the afternoon, RJ and SJ graced the court at Kerry Sports Manila and played 1-on-1 drills, 3-point shootarounds, and an exhibition match with aspiring Filipino youth basketball players. RJ and SJ advised the players to remain disciplined and hardworking in order to be ready for Korea's basketball environment. RJ praised the players' discipline in practice, as they start hours before call time. SJ mentioned that it might be challenging for Filipinos to communicate, but he reassured that Korean teammates and coaching staff were hospitable like Filipinos.
RJ and SJ looked forward to seeing more Filipino players enter the KBL and follow what they started. At the same time, they are thrilled by the opportunities opening up for Filipino players and fans. They are excited to hear the stories of the next generation of Filipino basketball players as they create their own mark in the Philippine and international basketball scenes.
As travel to Korea begins again, RJ and SJ are both looking forward to meeting Filipino fans when they go back to Korea and play for their respective KBL teams. The energy of the Filipino fans is one of the aspects they both yearn to experience once again in person.
With the increasing popularity of KBL in the Philippines, the Korea Tourism Organization encouraged Filipino fans to travel to Korea and experience the intensity and excitement of watching live Korean sports. It is their opportunity as well to represent the Philippines by supporting their favorite Filipino KBL players and Korean sports teams.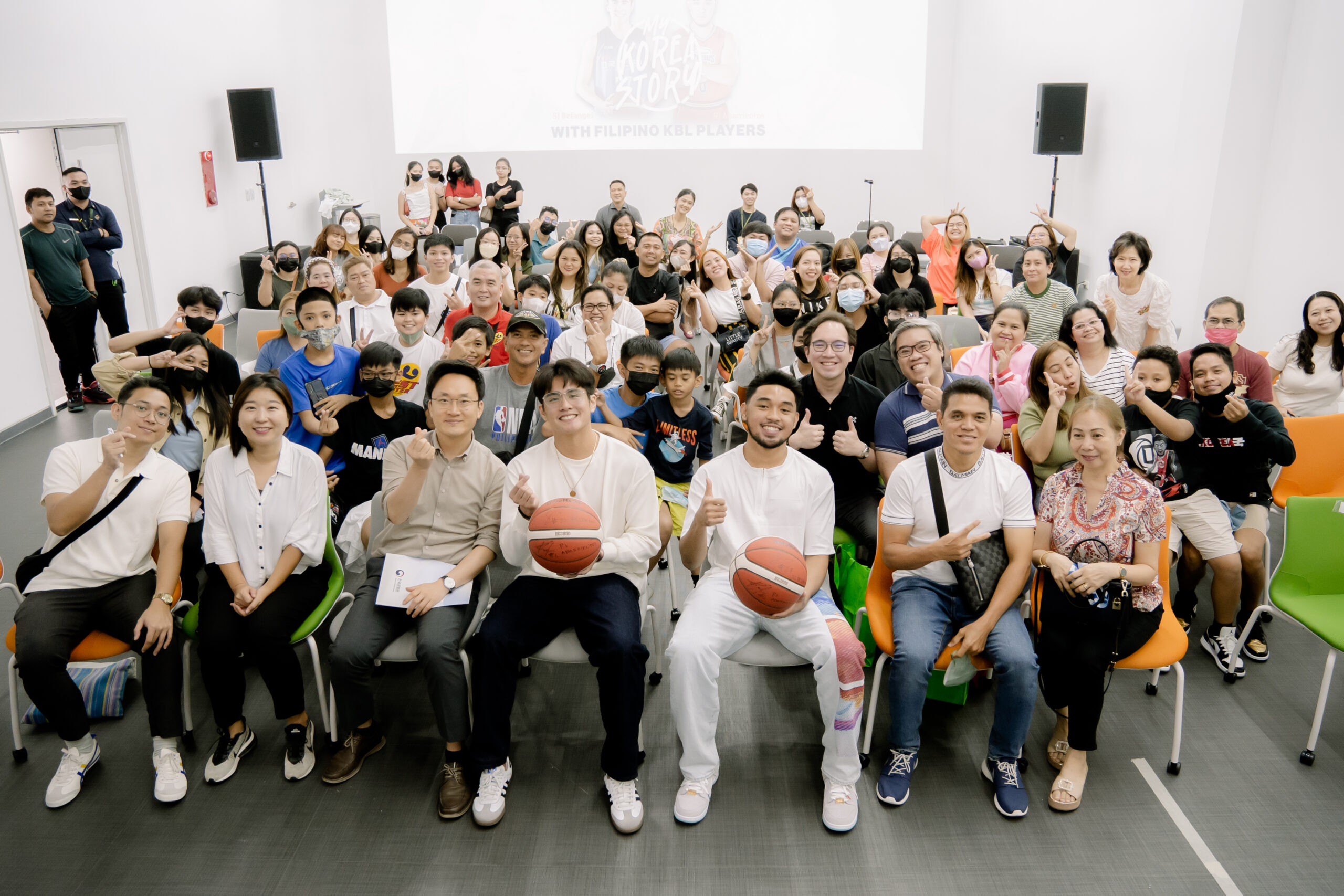 About the Korean Cultural Center in the Philippines (KCC)
The Korean Cultural Center in the Philippines (KCC) opened its doors to the public on July 19, 2011, with the goal of expanding the understanding and appreciation of Korean culture, and promoting a more active people-to-people exchange between the Republic of Korea and the Philippines. The Center has been continuously coordinating with the Philippine art and culture sector, including government, non-government, and private organizations.
KCC welcomes interested Filipino and Korean individuals, groups and institutions to inquire, visit and participate with the center's awareness programs of Korean culture across the Philippines.
For inquiries, contact KCC Office at (02) 8555 1711, (02) 8555 1709 or via info@koreanculture.ph.
About the Korea Tourism Organization (KTO) Manila Office
The KTO Manila Office was officially launched in Manila in May 2012 and is dedicated to promoting Korea as a premier leisure, incentive, and medical travel destination for Philippine travelers. KTO offers constant product updates to the public and to travel industry professionals, tapping through all available media, which includes but is not limited to print, TV, and online, and disseminating information for Filipinos to have an inspiring experience and make the most of their time in Korea.
For inquiries, contact the KTO Manila Office at (02) 7358 0856 or via ktomanila@knto.or.kr.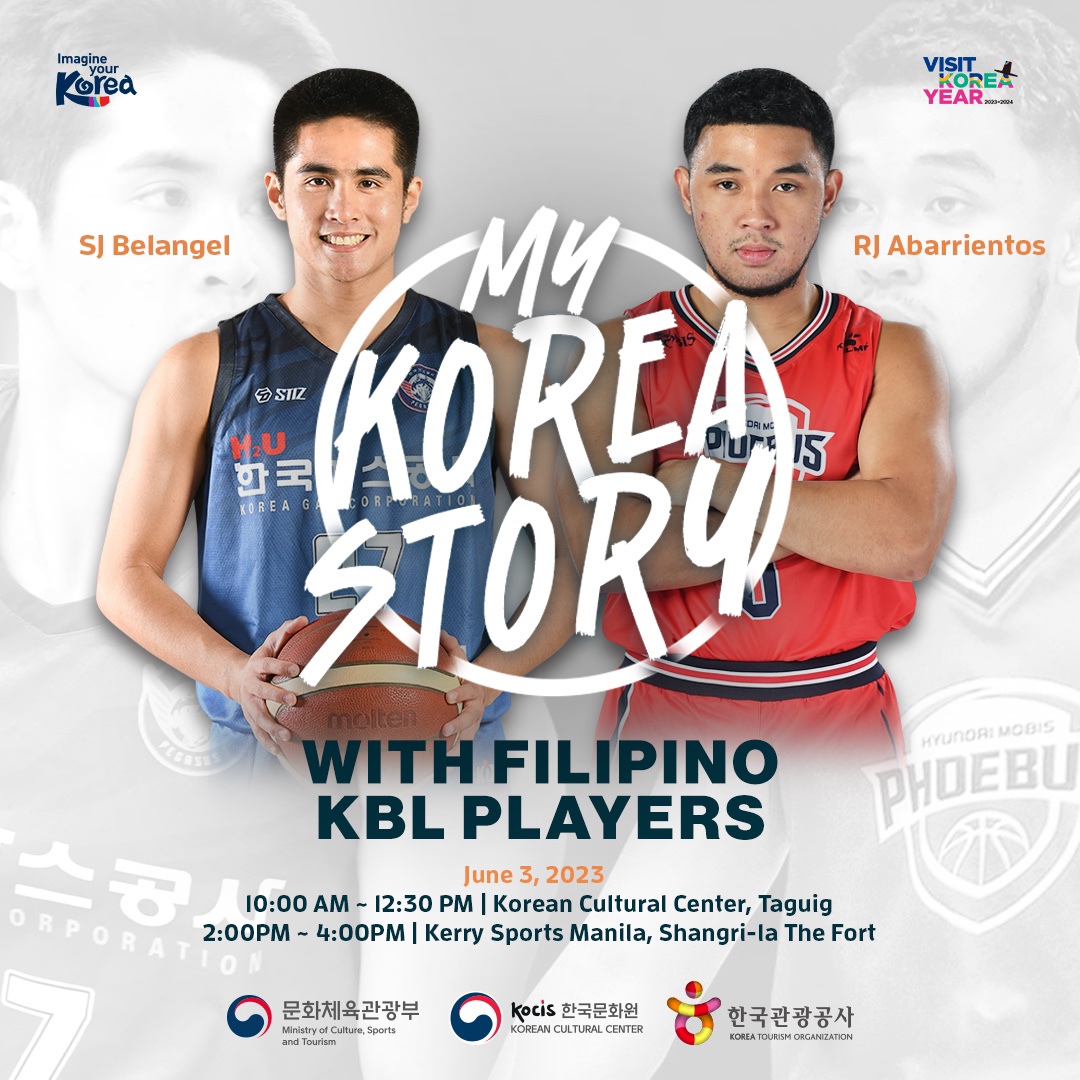 #HappeningPH #KoreaTourismOrganization #KTO #KoreanCulturalCenterinthePhilippines #KCC #KoreaPhilippinesFriendship #Korea #KoreanBasketballLeague #KBL #RhonJhayAbarrientos #SamjosefRasmoBelangel