Enjoy up to 50% off brand bundle deals, shipping discount vouchers, and 10% off vouchers, on top of incredible price markdowns on brand items available this May 5!

MANILA, MAY 4, 2022 – Are you ready to score unbelievable brand deals and surprises all throughout the Shopee 5.5 Brands Festival? Available all-day this May 5, enjoy 50% off on brand bundles, 10% off vouchers, and sitewide shipping discount vouchers.
Whether you'll be in the office, working from home, or out for errands, set your alarms throughout the day so you won't miss the variety of brand deals for every type of product you're looking for.
Tech lovers who open their app at exactly 12 midnight will be rewarded with big discounts on appliances and gadgets at the Big Midnight Sale. Upgrade your living room set-up with this ACE 32″ Slim HD Smart TV, equipped with wireless connectivity for your Netflix nights. Take your daily selfies and capture office adventures better with this Xiaomi Redmi Note 10 and its 48mp triple rear camera! Explore healthier home recipes made easy with a PerySmith 8.5L Dual Speed Air Fryer, that can cook food 30% faster without the added calories.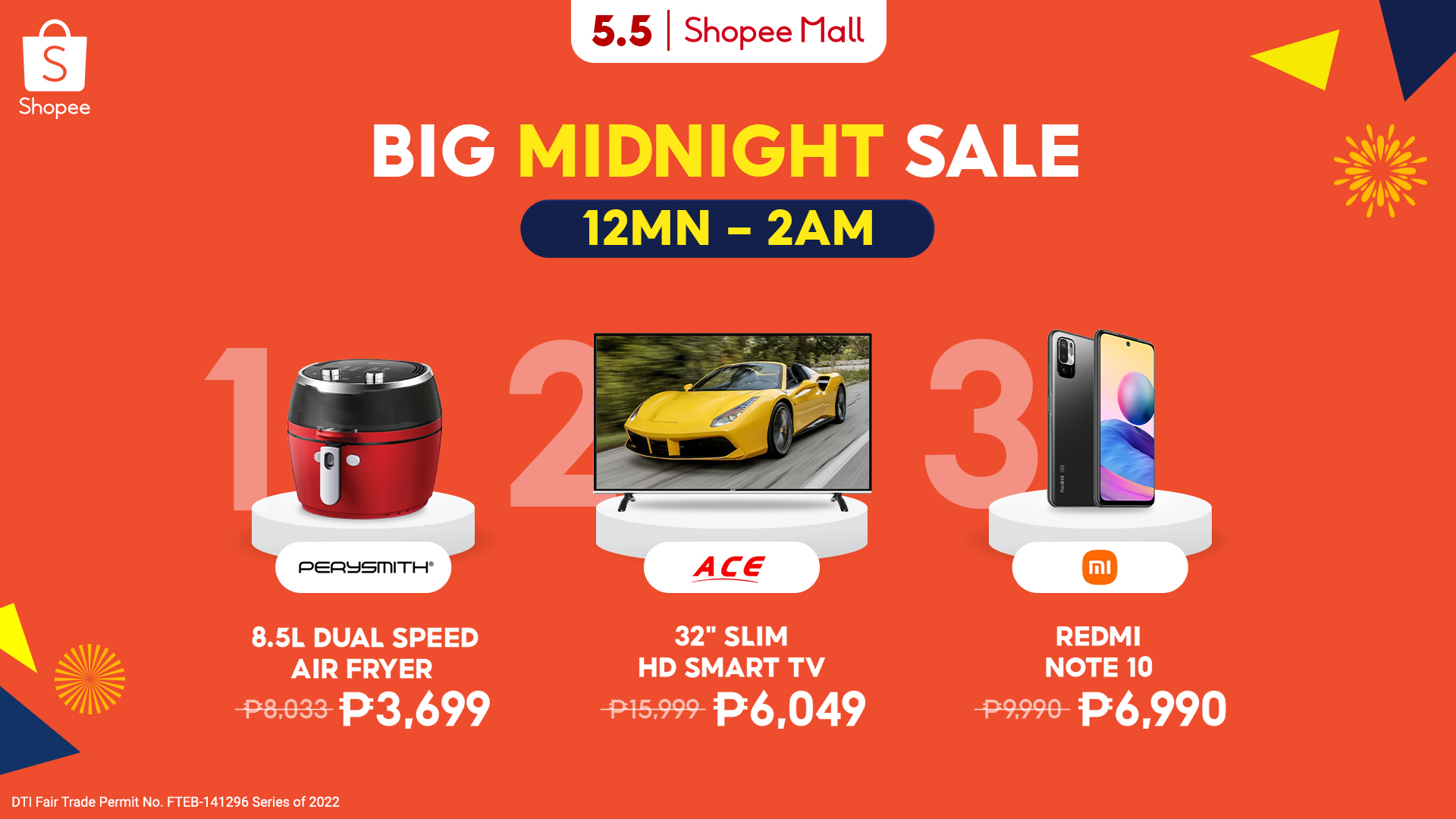 Start your day right with the great deals available at the Big Morning Sale. Get the Deerma CM800 Handheld Vacuum Cleaner, perfect for keeping your bedroom spotless. Become a barista at home with the B Coffee Co. White Cup Bundle Pack that will give you that much-needed energy boost before work. If you've been looking to buy a new phone that won't hurt your pocket, realme narzo 50A Prime is a great all-around smartphone that packs a powerful punch with a 50 MP camera and 5000 mAh massive battery.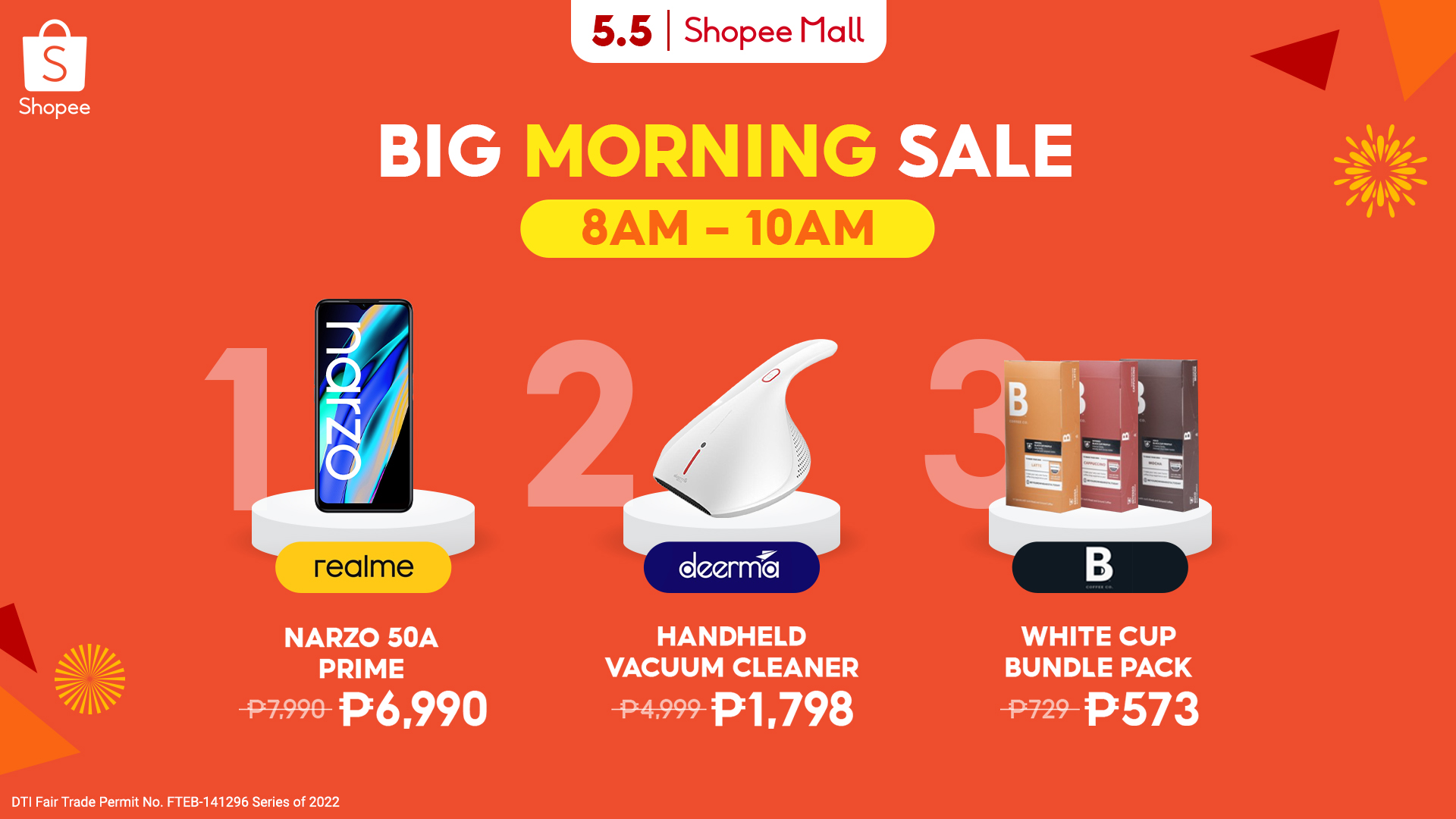 While you're on your mid-day break, check out the Big Lunchtime Sale for bigger discounts on brand products that support your hobbies, from baking to going on adventures. If you love experimenting in the kitchen, consider this Home Zania Portable 7 Speed Baking Hand Mixer, with its comfortable ergonomic handle, efficient for whisking and mixing for baking and dessert making. While for avid travelers, this Baseus Laptop Sleeve is a perfect companion with its waterproof and scratch-resistant material to ensure your gadgets are protected. Embrace the comfort and vibrance of the iconic Crocs Classic Solarized Clog that you can wear in all your adventures.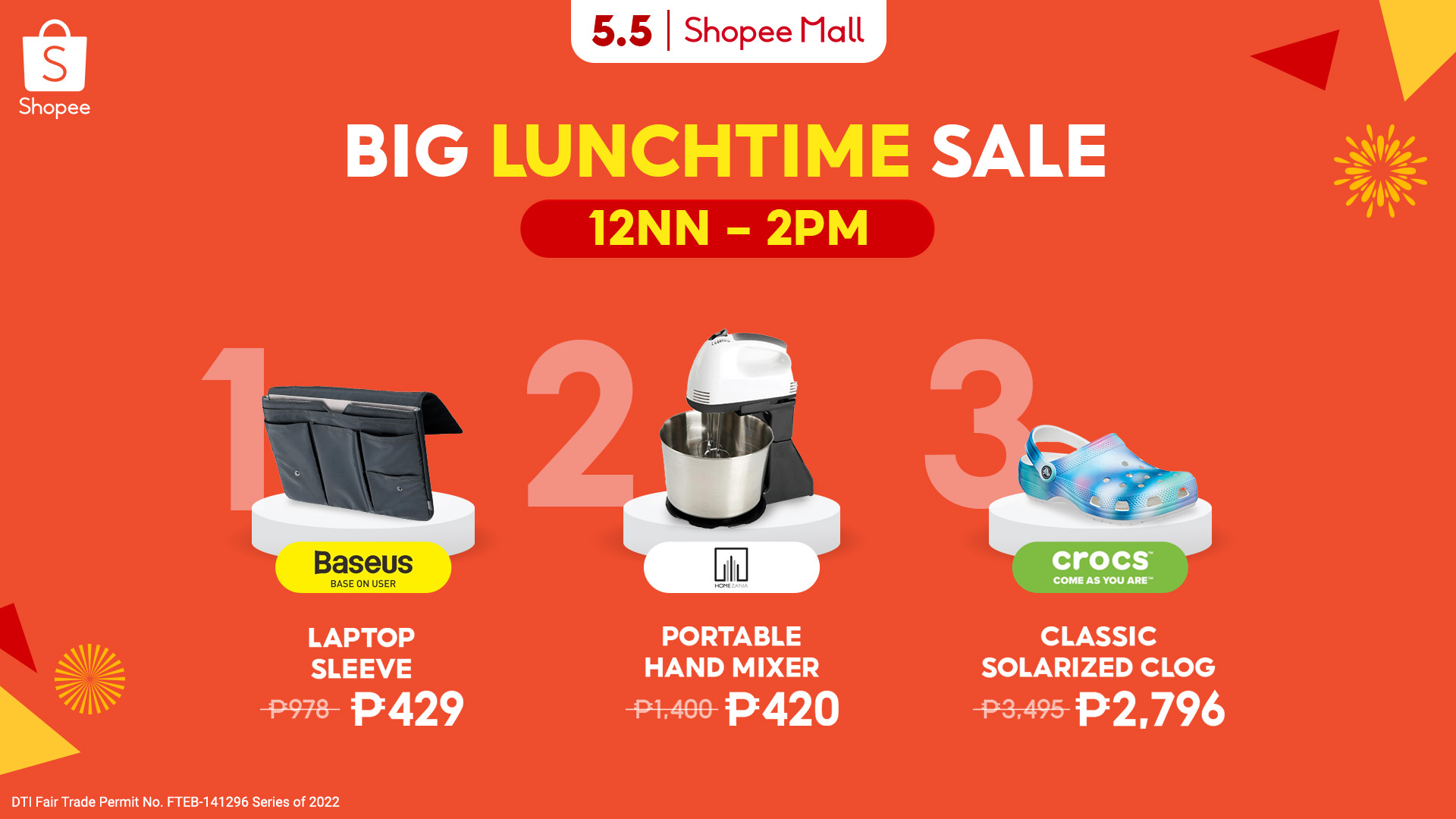 Treat yourself after a long day's work by shopping in the Big Price Drop Sale. Hop on the smartwatch trend with this water-resistant OPPO Band B1 Bluetooth Watch that allows you to monitor your health and track exercise. Buy the Ensure Gold Strawberry 850g Bundle of 2 for your parents' and grandparents' nutritional needs. Let the kids enjoy their vacation while wearing the classic Birkenstock Arizona Sandals, made with two straps and adjustable pin buckles.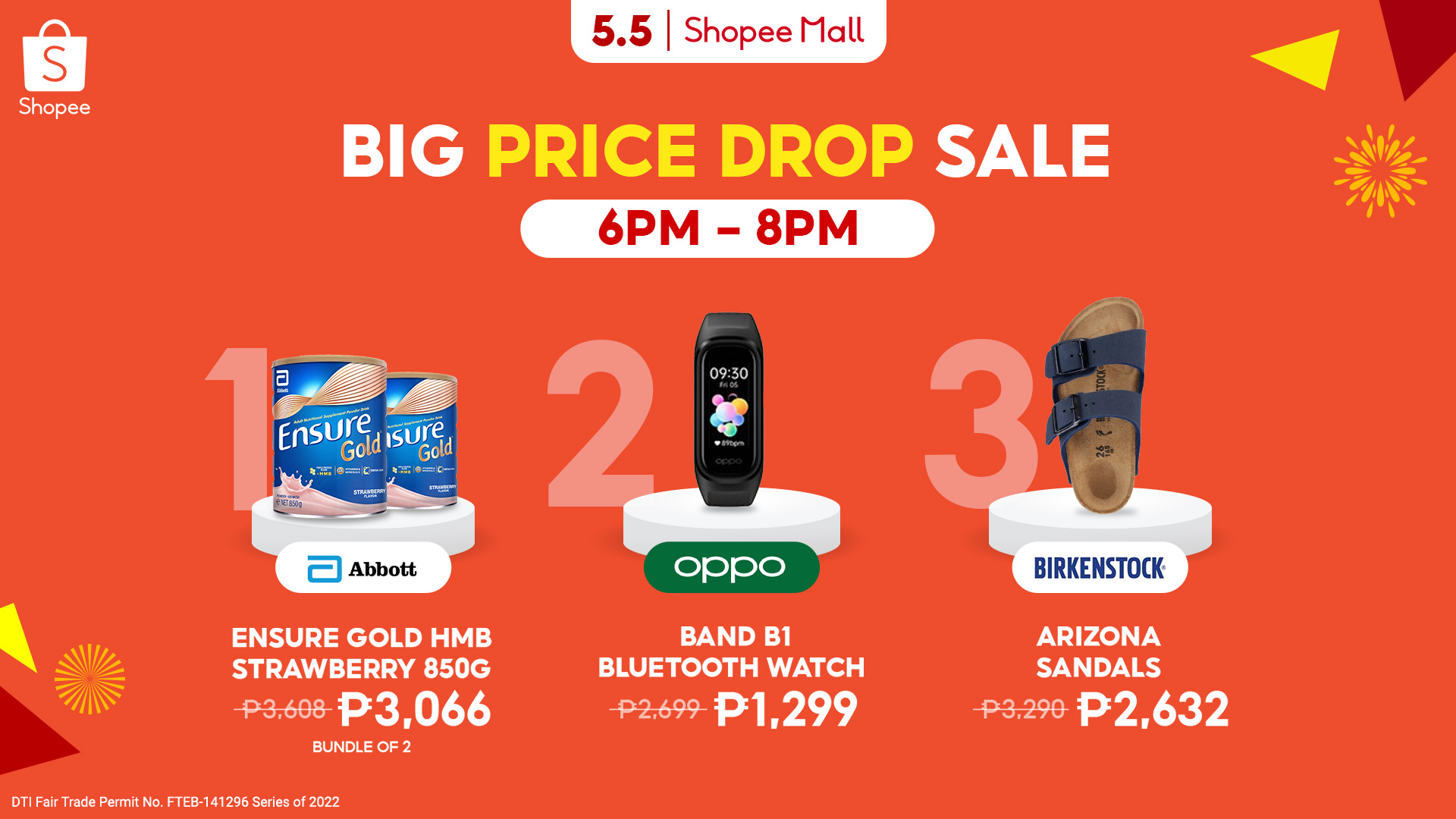 Enjoy the thrill of last-minute shopping in the Last 3 Hours Sale. Level up your game with this comfortable, multi-functional Amaia Gaming Chair, complete with removable armrest, backrest extension, and pillow. Surprise a loved one with this classy and versatile Casio Gold Stainless Steel Strap Watch, ideal for everyday wear. Stay hydrated with this trendy Hydro Flask 32 oz Cobalt 2.0 Wide Mouth, that you can take with you wherever you go.

Seize the day by shopping all-day in the Shopee 5.5 Brands Festival! Visit https://shopee.ph/m/5-5-opening-sale for more information.
Already feeling the rush? Here are more reasons that will add to your excitement. ShopeePay is giving you a chance to become a millionaire! Join the next run of the ShopeePay Milyonaryo promo from May 6 to 14 and you can win ₱1,000,000 when you send money for free. With ShopeePay, enjoy instant transfers to any bank, e-wallet or Shopee user with no hidden fees. To qualify, simply go to your Shopee App, register via ShopeePay Milyonaryo, and start sending money. During the 5.5 rush, ShopeePay is also giving away free ₱200 when you send money for the first time. Simply register here and send at least P50 to any bank, e-wallet, or Shopee user on May 5. With ShopeePay, you can also look forward to more offers when you buy load and pay bills. Get up to 50% off on load across all networks and up to 100% cashback on your monthly bills from over 60 billers. Activate ShopeePay now for a more rewarding experience.
About Shopee
Shopee is the leading e-commerce platform in Southeast Asia and Taiwan. It is a platform tailored for the region, providing customers with an easy, secure and fast online shopping experience through strong payment and logistical support. Shopee aims to continually enhance its platform and become the region's e-commerce destination of choice.
Shopee has a wide selection of product categories ranging from consumer electronics to home & living, health & beauty, baby & toys, fashion and fitness equipment.
Shopee, a Sea company, was first launched in Singapore in 2015, and has since expanded its reach to Malaysia, Thailand, Taiwan, Indonesia, Vietnam and the Philippines. Sea is a leader in digital entertainment, e-commerce and digital financial services across Southeast Asia. Sea's mission is to better the lives of consumers and small businesses with technology, and is listed on the NYSE under the symbol SE.
About Shopee Mall
Shopee Mall is the region's leading online mall offering one-stop access to a wide range of international and local brands and retailers. Shoppers can enjoy three guarantees delivered by Shopee Mall — 100% authentic products, free returns and shipping discount vouchers. With always-on deals, entertainment and a robust loyalty programme, Shopee Mall offers an unparalleled online shopping experience and best value all year round.
About ShopeePay
ShopeePay is an integrated mobile wallet that offers users easy access to digital payment services. Launched in the Philippines in 2019, ShopeePay enables a seamless shopping experience by allowing users to make online payments on Shopee, top-up their wallets, and transfer and withdraw funds.
ShopeePay makes it easier to shop and do business. It provides users with a convenient, secure, and rewarding payment option; it empowers businesses and helps them capture new opportunities. 
ShopeePay is part of SeaMoney, the digital financial services arm of Sea Group. A leading digital payments and financial services provider in Southeast Asia, SeaMoney's mission is to better the lives of individuals and businesses in the region with financial services through technology.