Despite the somber mood of Holy Week and our current lockdown situation, ONE Women's Atomweight World Champion "Unstoppable" Angela Lee keeps on fighting.
She is the athlete guest in Episode 3 of The Apprentice: ONE Championship Edition.
Despite being in the middle of her pregnancy during the filming of the episode, Angela puts the candidates' smarts, physical toughness and teamwork to the test. Episode 3 will air on April 1 on AXN and on April 5 at 9 p.m. on One Sports.
Last week's episode of "The Apprentice: ONE Championship Edition" took the excitement and drama up a notch, as martial arts legends Georges St-Pierre and Renzo Gracie guest starred, participating in a physical challenge that literally left them hanging on the edge.
The episode aired across Asia on AXN, the show's official Asia broadcast partner, as well as on other local free-to-air platforms.
This week on episode 3, fans will witness reigning ONE Women's Atomweight World Champion "Unstoppable" Angela Lee grace their television screens. While Lee will not be participating in the episode's physical challenge, she will be on hand to support the candidates as they battle it out in another grueling task.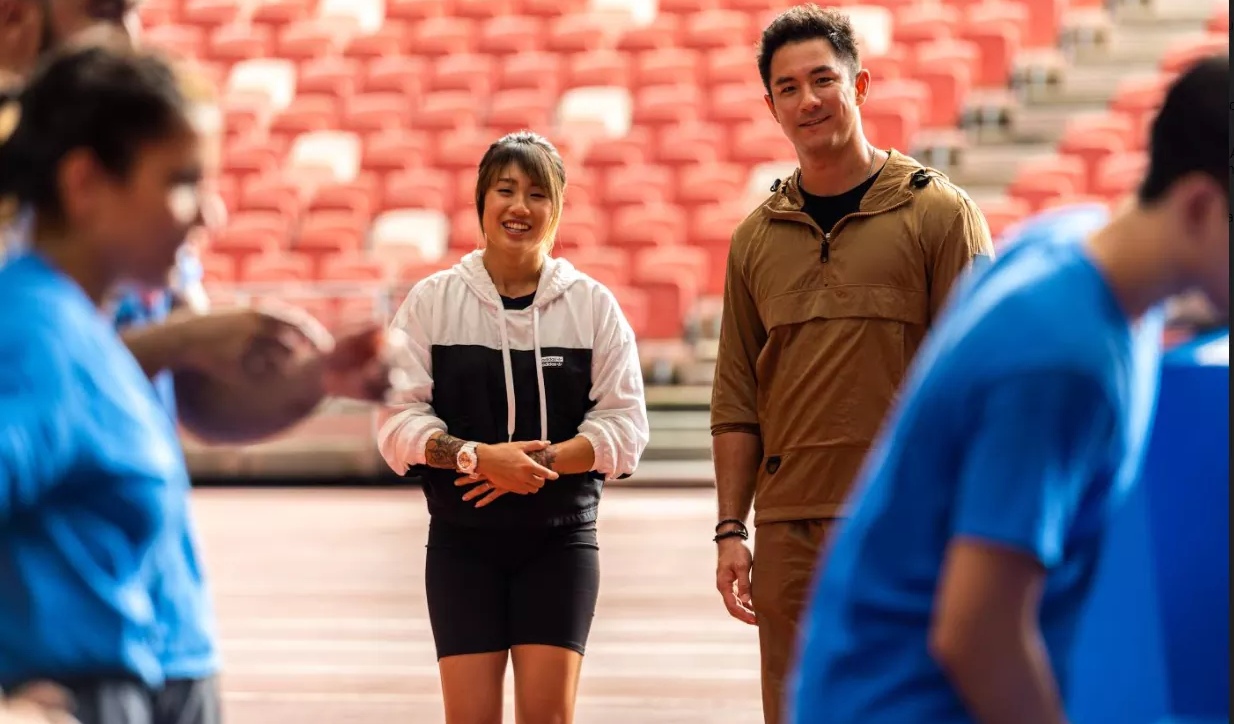 The episode was filmed in late 2020. Lee is currently 38 weeks pregnant, and is due soon. She is now back home in Hawaii awaiting the birth of her first child with husband, fellow ONE athlete Bruno Pucci.
How did the candidates fare in the challenge? You'll have to wait until the episode airs to find out. Catch the action on April 1 on AXN and on April 5 on One Sports. For more information and How to Watch, check out the official site at https://www.onefc.com/theapprentice/
Until then, check out this video preview of episode 3: https://youtu.be/ZiWNpQvTikI
Lee is one of the best female mixed martial arts athletes in the world. She captured the ONE Women's Atomweight World Championship in 2016, and has remained the champion since. She is expected to defend her title against her division's #1-ranked contender later this year.
Being Asian-American, Lee has also spoken out on the recent string of racially influenced hate crimes towards Asian people in the United States.
"As an Asian American/Canadian, with parents from Singapore and Korea, it deeply saddens and disturbs me that there has been a massive rise in attacks against the Asian community," Lee wrote in an Instagram post.
"My heart goes out to the victims and families impacted by the shootings in Atlanta and the many other hate crimes that have been ongoing. Please, take a moment to do some research…We must speak up. We must defend ourselves. This is not ok. Let's stand together and stand up for our Asian community."
https://www.instagram.com/p/CMjAo7oMB6x/
"The Apprentice: ONE Championship Edition" invites 16 contestants handpicked from around the world to compete in a high-stakes game of business and physical challenges. The winner will receive a US$250,000 job offer to work directly under Chairman and CEO Chatri Sityodtong for a year as his protege in Singapore.
Other athletes also appearing on the show in future episodes include former ONE Welterweight World Champion Ben Askren, ONE Heavyweight World Champion Brandon Vera, ONE Women's Atomweight World Champion Angela Lee, ONE Flyweight World Grand Prix Champion Demetrious Johnson, Indian Wrestling Champion Ritu Phogat, Karate World Champion Sage Northcutt, and ONE Women's Strawweight World Champion Xiong Jing Nan.
"The Apprentice" is one of the biggest non-scripted reality television programs in history, judging the business skills of candidates who are competing for a job offer under a high-profile CEO. It has aired in more than 120 countries. The first season of "The Apprentice: ONE Championship Edition" consists of 13 episodes.