BingoPlus, living up to its mission of providing quality entertainment to the Filipinos, presents Beks2Beks2Beks, the first-ever concert of MC Muah, Lassy, and Chad Kinis, collectively known as Beks Battalion, at The New Frontier Theater on August 26.
BingoPlus looks to partner and present more concerts and entertaining shows in the coming months.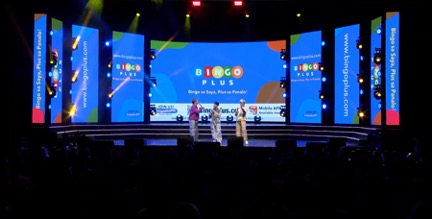 BingoPlus, Beks Battalion Unite for Laffs in Beks2Beks2Beks
BingoPlus is pursuing its mission of livening up the entertainment and recreation industry by throwing its support behind up-and-coming artists like the Beks Battalion who are currently making waves in the show circuit.
The popular comedy trio of MC Muah, Lassy and Chad Kinis held their first live concert recently at the New Frontier Theater in Cubao and had a breakout night, amusing audiences with their original sketches and improvised skits. Bingo Plus co-presented the show.
The super-packed comedy extravaganza featured singers, showbiz personalities, popular vloggers, comedians from the live entertainment circuit with ace comedian Vice Ganda as special guest.
Jasper Vicencio, AB Leisure Exponent Inc. president, the company that launched the Bingo Plus brand, said: "We are always on the lookout for events, activities and favorite Pinoy pastimes that celebrate Filipino talent and culture. Bingo has been a favorite pastime for generations of Filipinos across genders, age groups and income levels and we have a kinship with sports and leisure activities that enhance the quality of life of Pinoy audiences.
"Our partnership with the PBA and participation in the MPBL together with our support of the San Miguel Beermen's victory party and Gilas Pilipinas game with Saudi Arabia speaks of our love for the sports-going public. Now we also want to elate comedy fans by encouraging artistic talents like the Beks Battalion to do their thing. Entertainers, athletes, and BingoPlus are one in doing our share to bring joy to our fellow Filipinos."