Victory is surely yours for the taking, as Greenwich—the number one pizza chain in the country—partners with the number one esports team in the Philippines, the Blacklist International Mobile Legends (#BlacklistMLBB), launches the Blacklist Overload® Bundle for only Php 595.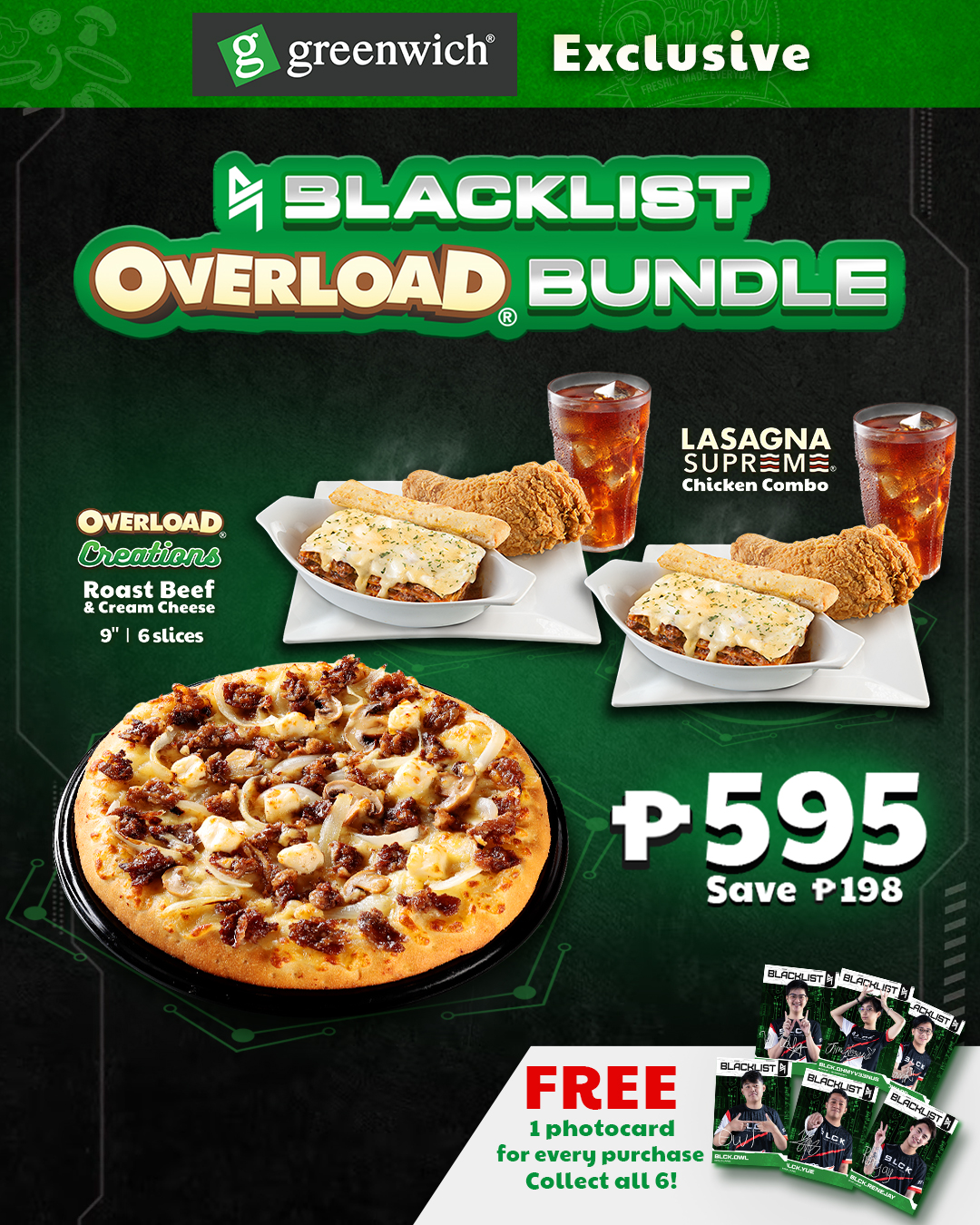 Starting July 3, enjoy an indulgent meal with the barkada with Blacklist Overload® Bundle, which includes a 9" Roast Beef and Cream Cheese Overload® Pizza and two Lasagna Supreme® Chicken Combo. But making the bundle more exciting is that it comes with a free, exclusive, limited-edition Blacklist photocard for every purchase. There are six photocards to collect and choose from.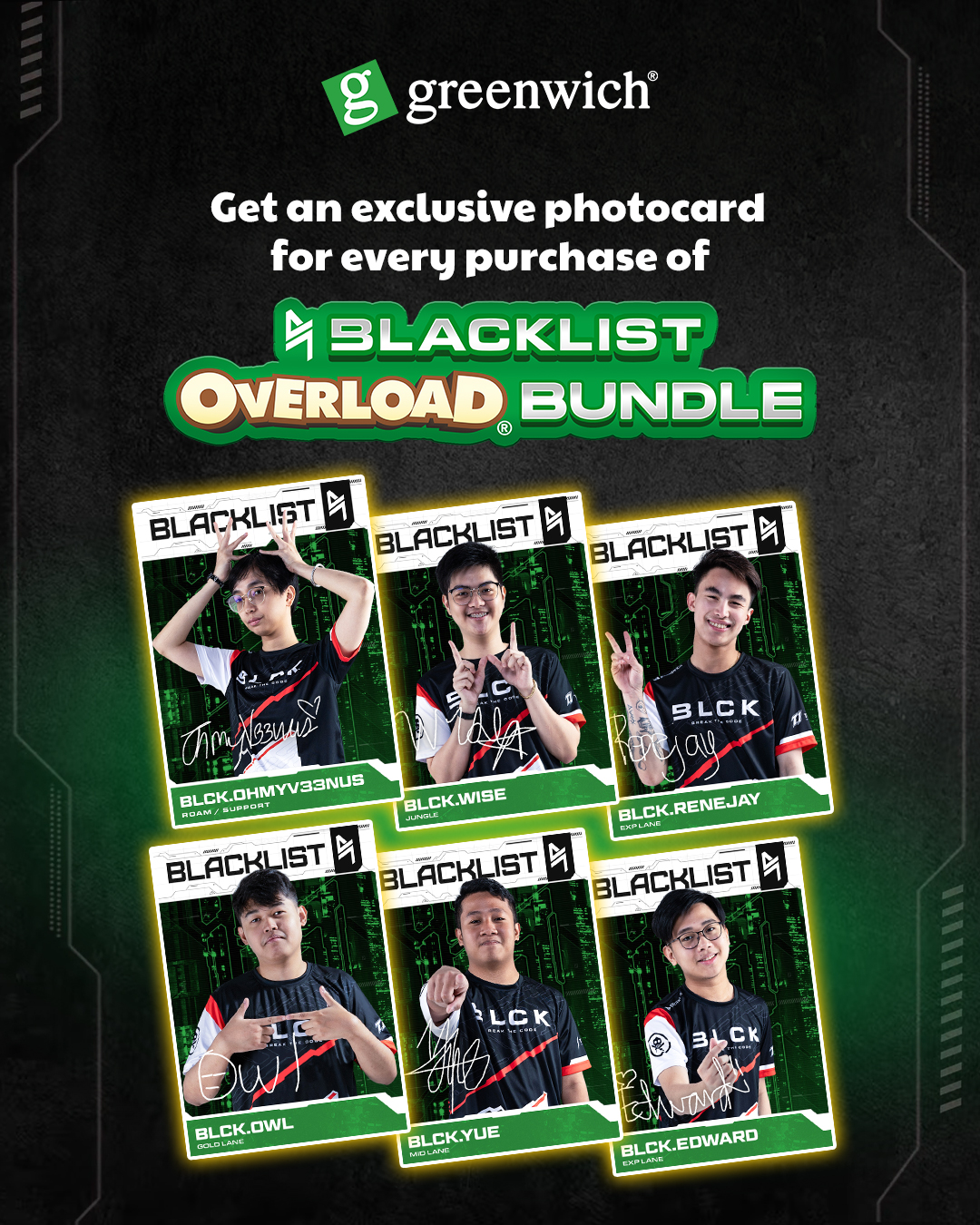 And just when you thought this news couldn't get any more awesome, Greenwich has another surprise packed in this bundle! There will be a meet-and-greet with the players happening on July 12 at the Greenwich Visayas Avenue branch, which will be exclusive to the first 80 customers aka "agents" who will purchase the bundle. So get ready to meet some of the best players in the country's Mobile Legends: Bang Bang (MLBB) pro scene, including OhMyV33nus, Wise, Edward, Yue, Renejay, and Owl.
"The #BlacklistMLBB embodies the Greenwich type of barkadahan—fun, solid, and awesome! And with this bundle, we are staying true with our mission to celebrate friendships of all kinds over our great-tasting pizzas and pastas," said Ali De Torres, Greenwich's Head of Marketing.
"To be part of the Greenwich family is a winning treat to us, the #BlacklistMLBB family, and to our fans as well. We are celebrating a milestone with the Blacklist Overload Bundle—being one of the first esports organizations here to have an "influencer meal" that represents our friendships and our wins." said Blacklist International CEO and Co-Owner Tryke Gutierrez.
Don't miss out on this one-of-a-kind experience and deal that is available for dine-in and take-out, from July 3 to August 13 only. Gather your barkada and teammates and head over to your favorite Greenwich store nationwide.
Check out Greenwich's Facebook page (Greenwich Barkada) and Instagram account (Greenwich Pizza) to know the latest announcements about the offer and meet-and-greet opportunity or send them a message on Messenger.
About Greenwich
Greenwich's story began in 1971 as a small, family-owned store selling a selection of pizzas at the then Greenhills Commercial Center. As the brand's pizzas grew in popularity, Jollibee Foods Corporation (JFC) took notice.
In 1994, JFC acquired majority shares in Greenwich, infusing what was a family business with industry-leading competitiveness. New pizza variants and a variety of products were introduced through the years, creating a reputation for Greenwich as a maker of mouthwatering pizzas and pastas for the Filipino "barkada."
Today, Greenwich is the country's biggest pizza and pasta chain with over 270 stores and counting, and home of the best-selling Hawaiian Overload®, All-in Overload®, and Lasagna Supreme®.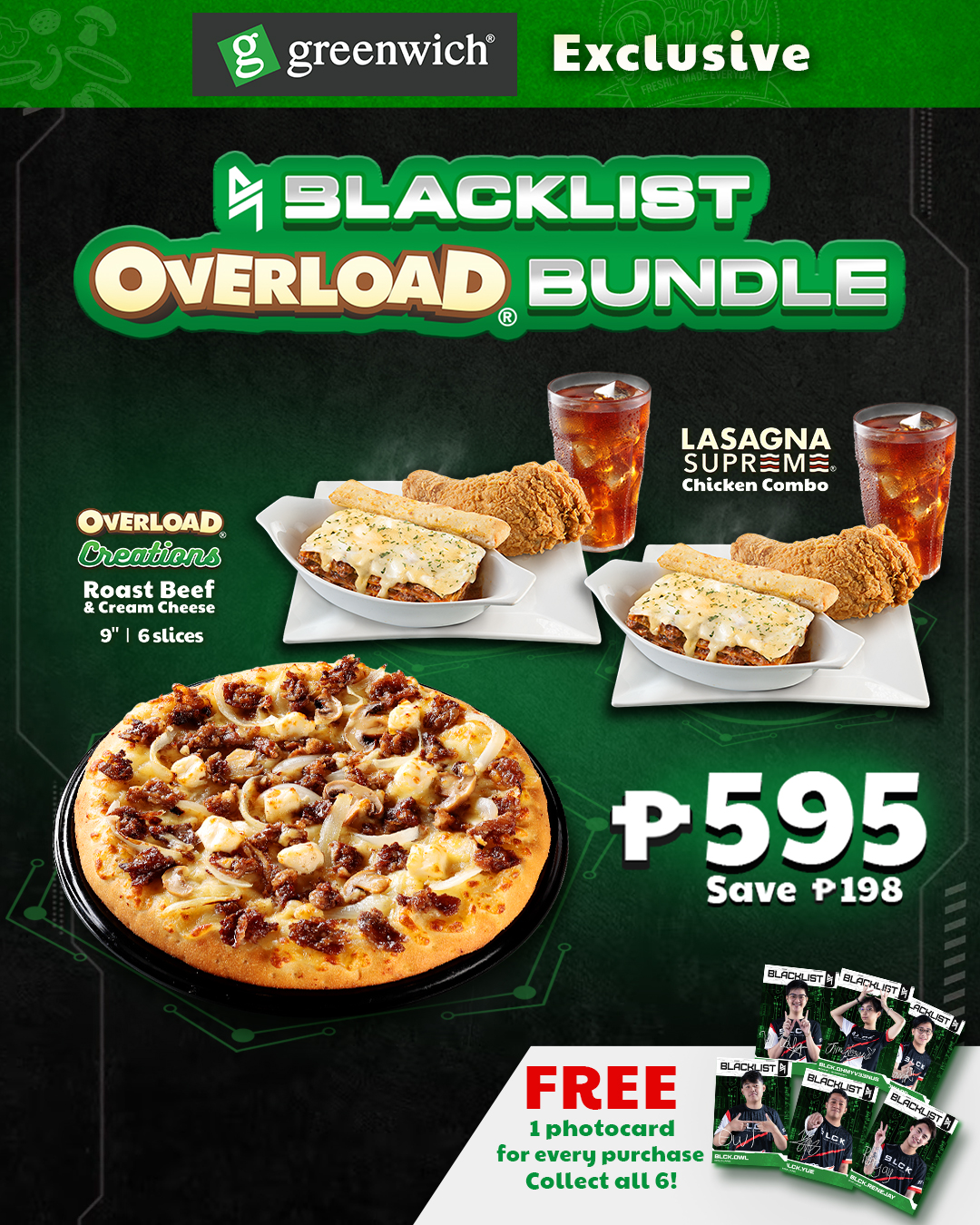 #HappeningPH #Greenwich #BlacklistOverloadBundle #barkadabundle #barkada #Blacklist #Blacklistphotocard #photocard #specialpromo