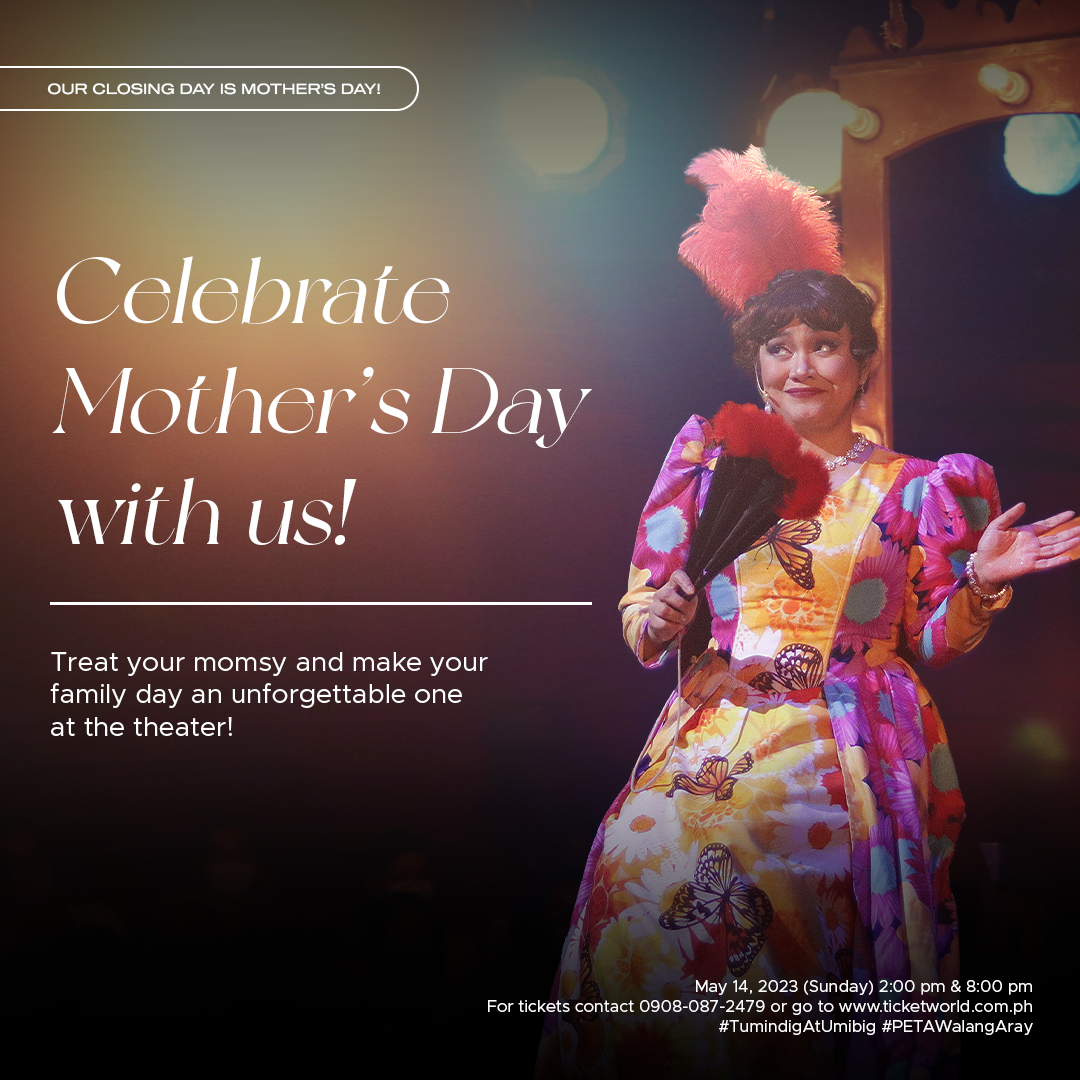 Celebrate Mother's Day watching the Philippine Educational Theater Association's WALANG ARAY on its last four runs!
Written by Rody Vera, directed by Ian Segarra, with music and music direction by Vince Lim, this dancey and rowdy musical is a unique tribute to the Filipino's love for music, romantic family comedy, and history.
In a nutshell, here are three reasons to watch WALANG ARAY with the family, even if they don't speak Filipino! (Translation of the dialogues are provided.)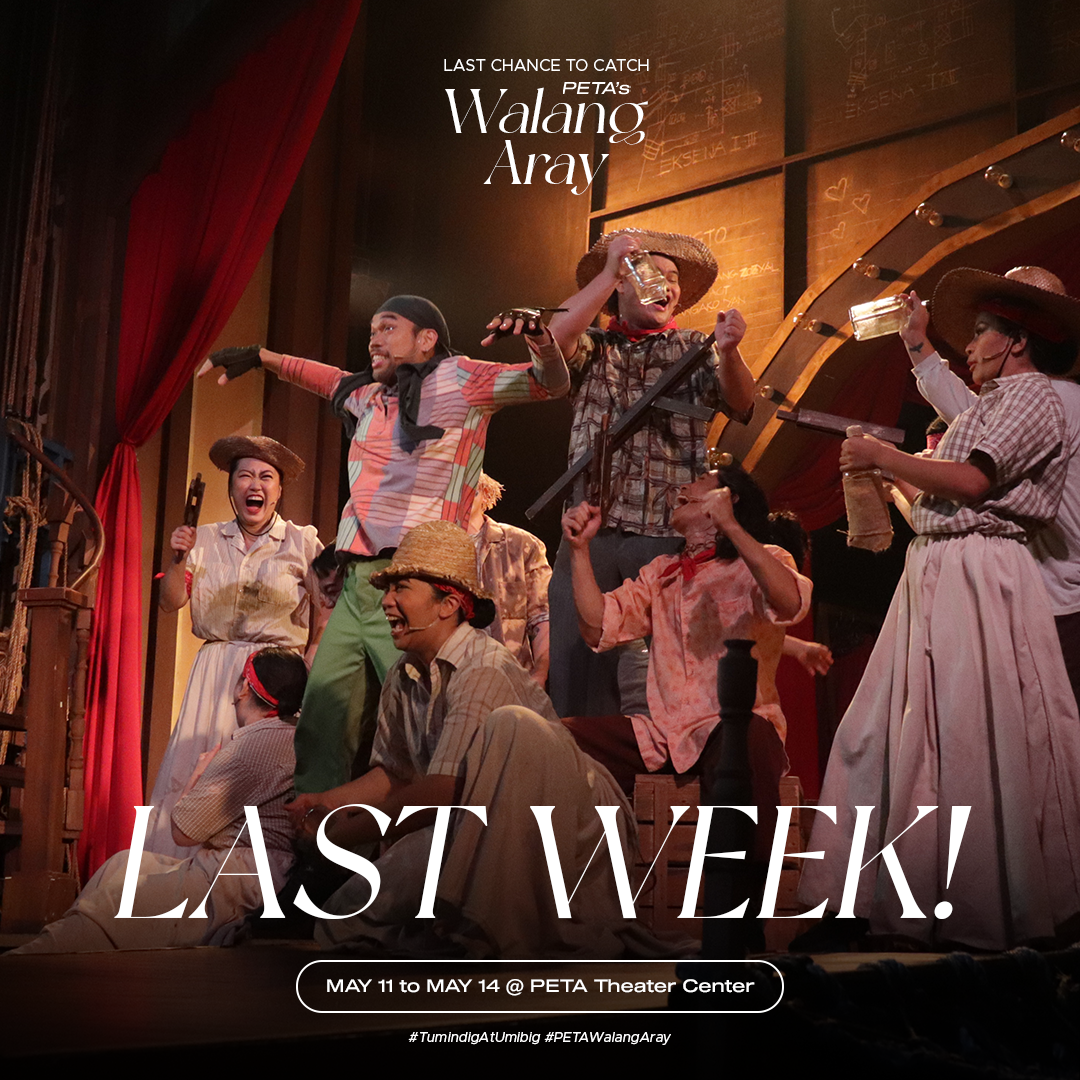 1. It's a concert you can dance and groove to!
Braving the scorchily humid Sunday afternoon from EDSA Pasay to New Manila was worth it when the lights dimmed and the music started.
Even with the tragic start referencing to Romeo and Juliet—and there are several such Easter eggs for the literary-inclined to find here and there—I was already grooving in my seat, feeling re-energized by the music.
The songs by themselves, sung in the manner of vaudeville acts, spiced with funny goings on, performed by amazing singers, are already worth the trip, the time, and the ticket.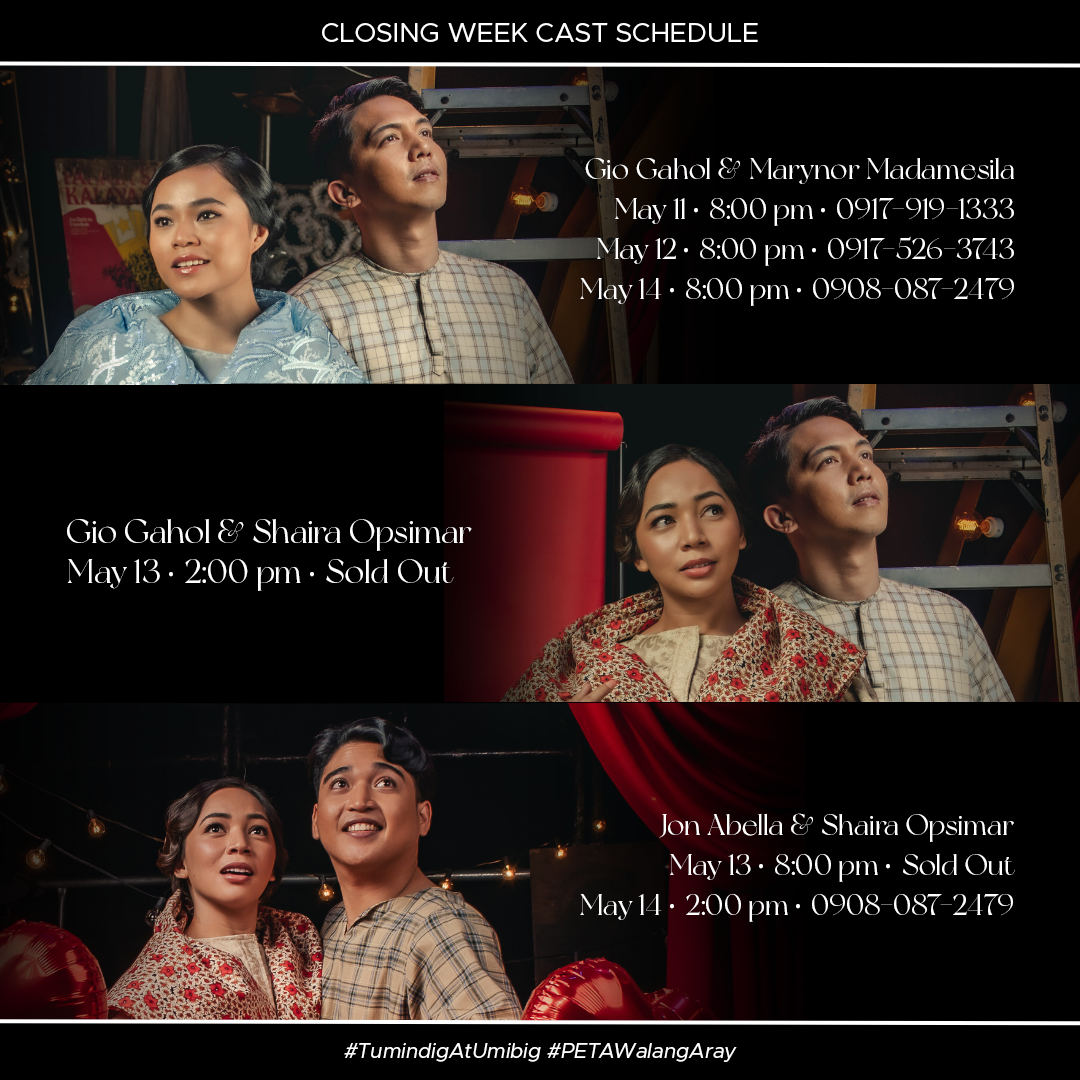 2. It's a period love story multiplied four times!
Who wouldn't be excited, at least curious, about how four—yes, it's a two-hour play with more love stories to make you swoon and want to fall in love yourself!—starstruck lovers separated by necessity and circumstance could beat the odds and, hmm, find true love?
Yes, love is all too familiar, but the musical does more with superstardom, family, stage mother, class, career, loyalty, religion, gender, and politics getting in the way.
You'd have to be riveted not to miss all the love going on onstage!
3. It's a time warp and a rollercoaster ride in one!
While the costumes are colorful and campy—remember it's a stage show within a stage show!—the dialogues are a hybrid of time periods as well.
So, be prepared to shift consciousness as the language playfully sashays back and forth from Tagalog slang to English to Filipino as jokes are cracked, asides are pulled, and lines are dropped!
In the same way, references both visual and verbal run the gamut from the Duterte drug war to Rizal's frailes to TikTok dance culture and sponsor's advertisements, can you imagine that?
"The musical mashes the classic with contemporary language, funk and pop tunes, and tongue-in-cheek humor," says official media partner Theater Fans Manila.
Be prepared to be culture shocked—maybe, this is just me!—and be taken for a rollercoaster ride of fun, song, loving, dance, and some hard-hitting real talk.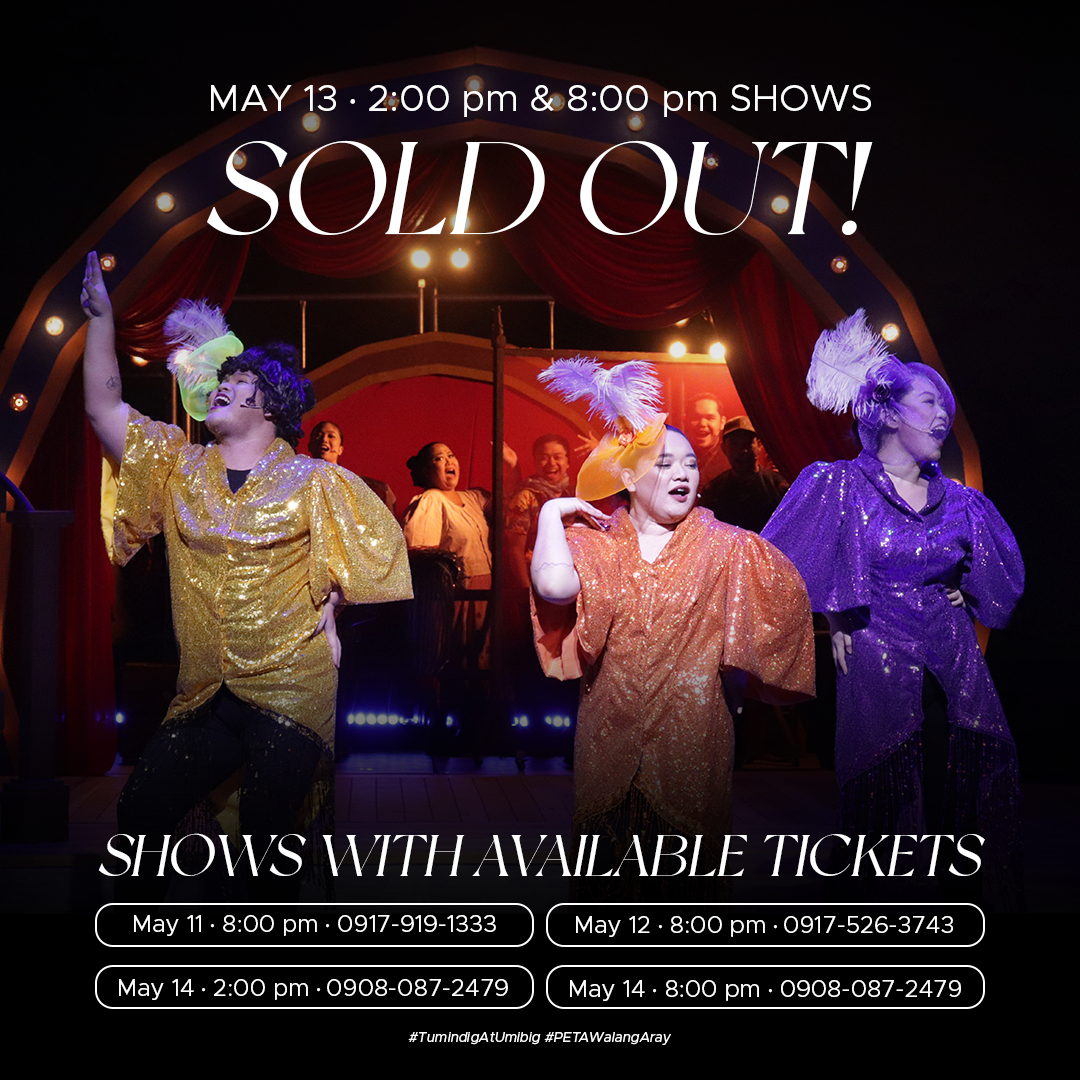 𝗪𝗘 𝗔𝗥𝗘 𝗢𝗙𝗙𝗜𝗖𝗜𝗔𝗟𝗟𝗬 𝗢𝗡 𝗢𝗨𝗥 𝗟𝗔𝗦𝗧 𝗪𝗘𝗘𝗞!
Huwag na magdalawang isip, huwag na magpatumpik-tumpik! Para sure
#NoAray
#NoRegrets
, don't miss PETA's grand theater comeback: Rody Vera's 𝘩𝘪𝘭𝘢𝘳𝘪𝘰𝘶𝘴, 𝘳𝘰𝘮𝘢𝘯𝘵𝘪𝘤 𝘢𝘯𝘥 𝘸𝘩𝘪𝘱-𝘴𝘮𝘢𝘳𝘵 𝘮𝘶𝘴𝘪𝘤𝘢𝘭 –
#PETAWalangAray
𝗢𝘂𝗿 𝗠𝗮𝘆 𝟭𝟯 · 𝟮:𝟬𝟬𝗽𝗺 & 𝟴:𝟬𝟬𝗽𝗺 𝘀𝗵𝗼𝘄𝘀 𝗮𝗿𝗲 𝗮𝗹𝗿𝗲𝗮𝗱𝘆 𝗦𝗢𝗟𝗗 𝗢𝗨𝗧!
Get tickets now for our LAST 4 AVAILABLE SHOWS before everything gets sold out!
𝗠𝗮𝘆 𝟭𝟭 (𝘁𝗵𝘂) · 𝟴:𝟬𝟬 𝗽𝗺 · 𝟬𝟵𝟭𝟳-𝟵𝟭𝟵-𝟭𝟯𝟯𝟯
𝗠𝗮𝘆 𝟭𝟮 (𝗳𝗿𝗶) · 𝟴:𝟬𝟬 𝗽𝗺 · 𝟬𝟵𝟭𝟳-𝟱𝟮𝟲-𝟯𝟳𝟰𝟯
Our closing day is Mother's Day! Celebrate this day with us!
𝗠𝗮𝘆 𝟭𝟰 (𝘀𝘂𝗻) · 𝟮:𝟬𝟬 𝗽𝗺 · 𝟬𝟵𝟬𝟴-𝟬𝟴𝟳-𝟮𝟰𝟳𝟵
𝗠𝗮𝘆 𝟭𝟰 (𝘀𝘂𝗻) · 𝟴:𝟬𝟬 𝗽𝗺 · 𝟬𝟵𝟬𝟴-𝟬𝟴𝟳-𝟮𝟰𝟳𝟵
For tickets, go to
www.ticketworld.com.ph
Or message our showbuyers!
Experience theater again or for the first time!
Tara na sa Teatro Zorilla one last time!