BOSTON, Sept. 11, 2023 (GLOBE NEWSWIRE) — Novotech, the leading Asia Pacific centred biotech CRO with global execution capabilities, announced today an expert panel webinar on Clinical Trials in China: Unlocking the Potential of Advanced Therapies.
Novotech is collaborating with Endpoints News to jointly host this webinar.
The webinar will examine how China's focus on cutting-edge innovations and collaborations is attracting international biotech companies seeking to unlock the potential of advanced therapies including immuno-oncology, vaccines, cell & gene, and RNA.
China accounted for 27.7% of the global clinical trials activity in 2022, according to GlobalData.
The panel will also discuss the significant benefits China offers clinical stage biotech companies including but not limited to: strong appetite from foreign sponsors to run trials, lower trial density and low risk of competing trials, large pools of patients, high patient recruitment rates, high number of active investigators and efficient regulatory pathways.
Webinar
When: September 13, 2023
Time: 11:00 am – 12:00 pm EDT
REGISTER HERE
Key learnings from the webinar will include China's current clinical trial environment, market potential, and the specific advantages it offers for conducting clinical trials in advanced therapies.
Topics covered include:
What are China's strengths in advanced therapies?
What are the potential challenges of conducting clinical trials of advanced therapies in China?
What are the current and future opportunities for biopharma?
The expert panelists are:
YI ZHANG
DIRECTOR, BIOLOGICAL CELL THERAPY CENTER, THE FIRST AFFILIATED HOSPITAL OF ZHENGZHOU UNIVERSITY
ANGELA MEN
CHIEF MEDICAL OFFICER, ZHEJIANG HAICHANG BIOTECH CO., LTD
XIAOYE HE
HEAD OF MEDICAL & PV, NOVOTECH CHINA
CHARLEY SHA
HEAD OF REGULATORY AFFAIRS, NOVOTECH CHINA
MODERATOR
ARSALAN ARIF
FOUNDER & PUBLISHER, ENDPOINTS NEWS
Novotech has more than 3,000 employees operating across 25 geographies with 34 office locations, including Greater China, South Korea, Australia, New Zealand, the US, and Europe.
The CRO offers biotech's a unique and unparalleled suite of early to late-phase services across the US and Europe, with a foundation in Asia Pacific where the company has built a reputation for delivering high-quality expedited clinical trials.
Recognized for its industry-leading contributions, Novotech has received numerous prestigious awards, including the CRO Leadership Award 2023 and the Asia Pacific Cell & Gene Therapy Clinical Trials Excellence 2022 award. Additionally, the company was honored with the Asia-Pacific Contract Research Organization Company of the Year Award. Its commitment to collaboration is evident in the 50 Leading Site Partnership agreements it has signed over the past three years.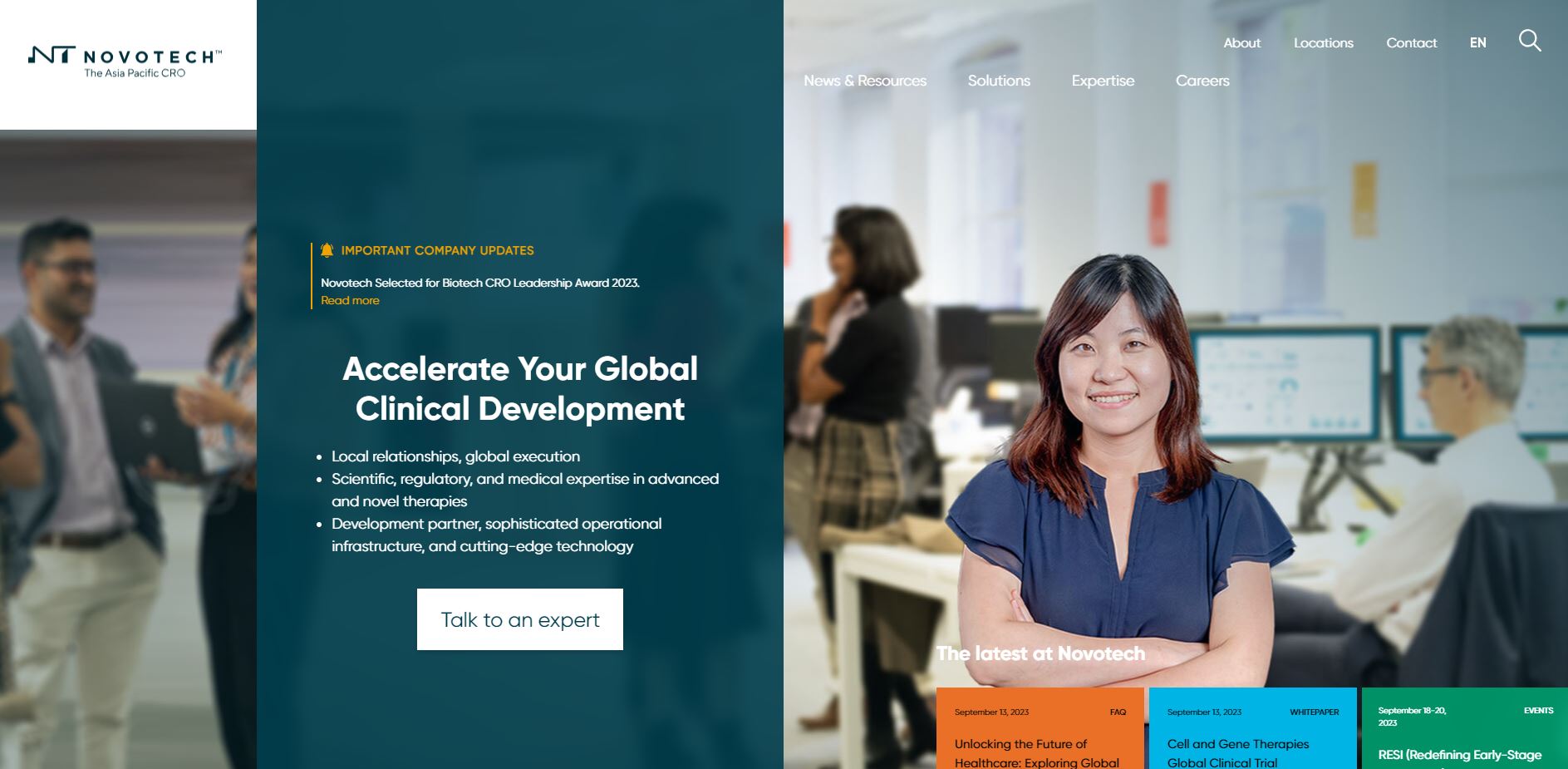 About Novotech Novotech-CRO.com
Founded in 1997, Novotech is internationally recognized as the leading Asia Pacific centred Contract Research Organization (CRO) with global execution capabilities. The Company has established itself as a clinical CRO with labs, phase I facilities, drug development consulting services and regulatory expertise. It has experience in over 5,000 clinical projects, including Phase I to Phase IV clinical trials and bioequivalence studies. Novotech employs over 3,000 staff globally across 34 office locations. Novotech is positioned to serve as a partner and ally to small and medium-sized biotech, biopharma and pharma sponsors seeking to conduct clinical trials in Asia Pacific, the US and Europe.
For more information visit Novotech CRO