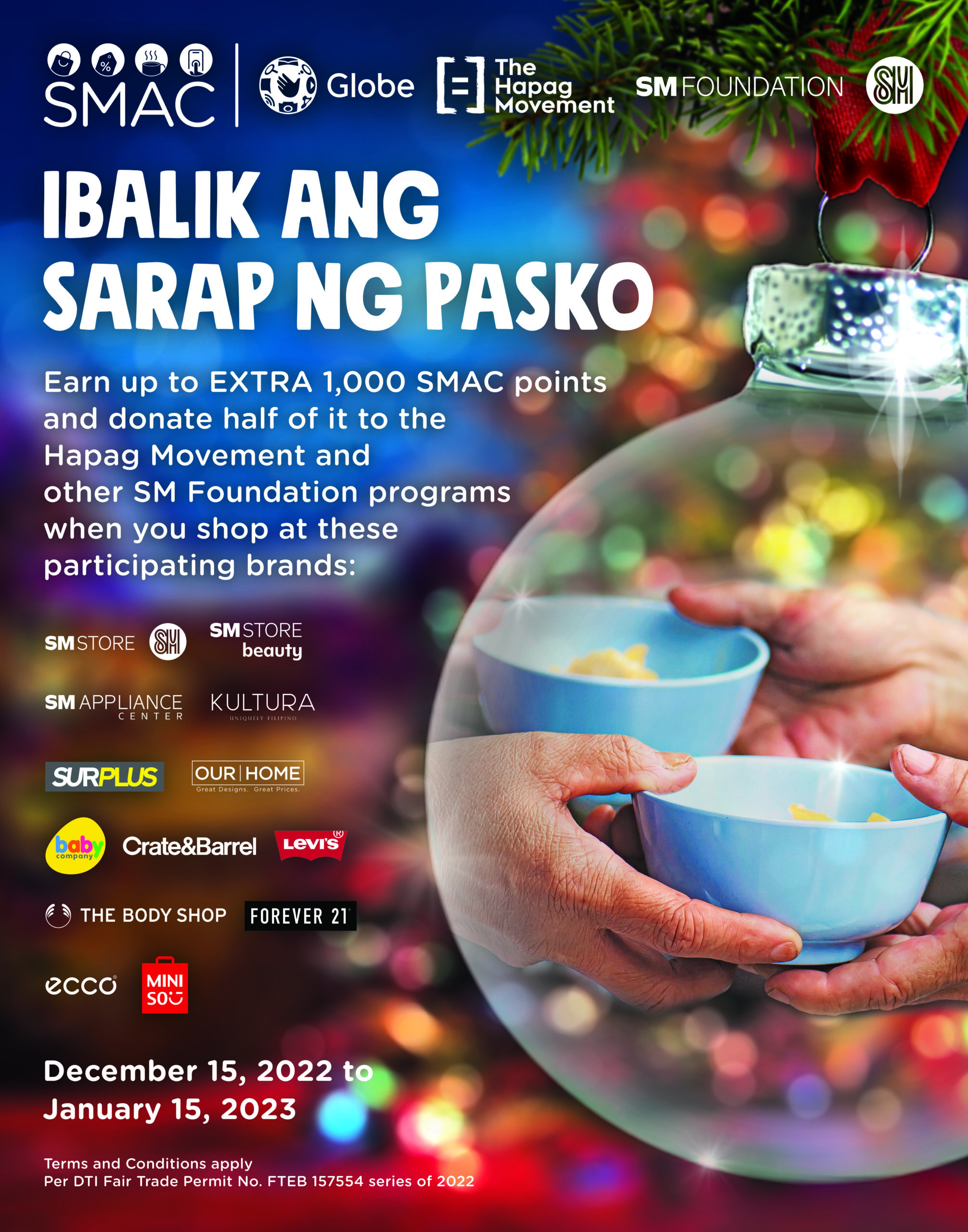 If you're looking for unique and meaningful gifts or 'pasalubong' for your loved ones this holiday season, Kultura at SM is the perfect place to shop. From handmade souvenirs, eco-friendly barong and fashionable Filipiniana to artisanal chocolates and local coffee, Kultura is definitely your one-stop shop for all kinds of Filipino goodies.
In this season of giving, aside from supporting local artistry and promoting Filipino heritage and talent, you can also help the hungry with every purchase at Kultura using your SMAC (SM Advantage Card).
Leading digital solutions platform Globe and SMAC, the loyalty card of retail giant SM, are pleased to announce that they have come together to help put meals on the table of those in need through the Hapag Movement, Globe's technology-driven program against involuntary hunger.
Through the partnership, P50.00 will be donated to the Hapag Movement and other SM Foundation programs for every purchase of a new SMAC card.
On top of this, from December 15, 2022 to January 15, 2023, SMAC members who shop for select items at Kultura can earn up to 1,000 extra SMAC Points. Half of the extra points they earn will then be donated to Globe's Hapag Movement.
"Now is the best time to discover local artistry, so get your shopping list ready and head to Kultura! Not only will you find unique and meaningful 'pasalubongs' for your loved ones, but a portion of your points will also be donated to the Hapag Movement and other SM Foundation programs – a perfect way to spread some holiday cheer and give back to those in need," said Jay Beltran, SMAC SAVP Head of Sales and Marketing.
"Whether you're a balikbayan who wants to bring Filipino goodies overseas or a fan of local products, Kultura is the best place to get your post-Christmas shopping going. And through our partnership with SMAC, not only will you satisfy your shopping needs but also help the hungry, " said Yoly Crisanto, Globe Group Chief Sustainability and Corporate Communications Officer.
Globe's Hapag Movement leverages on technology and collaboration to help 100,000 families experiencing involuntary hunger through supplemental feeding and livelihood support.
Globe initiated the program to help Filipinos severely affected by the pandemic, with its effects still felt until today. An estimated 15 million Filipinos suffer from involuntary hunger, according to the Social Weather Stations.
More information about the Hapag Movement can be found on its official page, while shoppers may also visit smac.ph or download the SMAC app to learn more.
#HAPAGMovement #HappeningPH #IbalikangSarapngPasko #SMAC #SMAdvantageCard #Kultura #feedthehungry #outreach #CSR #Globe