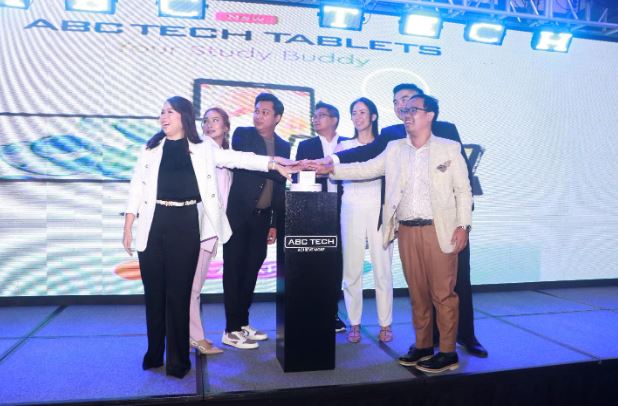 Most people would correctly argue that the beginning of a worldwide pandemic is not the most opportune time to start a venture in one of the most volatile markets in any economy. But, anticipating the difficulties that lay ahead for the Philippine educational system, Filipino-owned ABC Tech Ventures Inc. did just that, and took a risk. 
 
In 2020, the newly formed company released its first line of educational tablets which were specifically made for a younger set of users. These electronic devices were meant to help educators all over the country to provide a better learning experience for their students, and to empower students with gadgets that are affordable, easy to use, and would make the transition from face-to-face classes to online classes less stressful. There was a huge demand for these tablets during the time when face-to-face classes couldn't be held. 
Three years later, ABC Tech is not only thriving, but has become a driving force and important technology partner in the education sector.  
Customized for kids 
What sets the line of tablets apart from other devices is that while most manufacturers have the average adult in mind when they create the design and create operating systems, ABC Tech considers much younger user's needs and interests. Some models even feature skid-proof covers, bright colors, and even pleasing characters to catch the interest of preschoolers. 
However, on July 28, ABC Tech released a line of more sophisticated tablets for kids with more refined tastes. These tablets have a sleeker and more refined look than their brightly-colored counterparts designed for younger kids. Additionally, the tablets are equipped with specs that cater to their educational needs, making them capable of meeting the requirements of higher grade levels.
The recently released tablets are the X8, X10, and X10 Plus. All tablets have increased durability, being waterproof and dustproof to withstand the rigors of daily use by students. Although utilitarian in function, they still have the clean look of more high-end tablets and are available in four colors: charcoal black, azure blue, rose gold, and graphite gray. 
Higher end models have dual cameras, an 8MP front-facing camera and a 13MP rear-facing one, which should be more than adequate for capturing and documenting anything that is needed for class. The X8 on the other hand has an 8MP rear camera and a 5MP front camera.  
Each device is made to be used by a different age group, and the most obvious difference would be the size and storage capacity of the devices.  The X8 screen measures 8.0 inches, best used by grade school children and has 32GB of storage. 
Coming in with an upgrade of 64GB of storage and a 10.1-inch screen is the X10, ABC Tech's offering for high school level learners. The next model upgrade, the X10 Plus, has similar features to the X10, but has a slightly larger screen at 10.4 inches with 128GB of storage. 
These tablets have specifications that make them the most effective for their target age range, and as the user's estimated education makes more demands of the software they use and the variety of applications they need, the models also increase in power and processing capability. 
This gradation of devices has proven to be effective and has paved the way for ABC Tech's remarkable growth. This year, the company hopes to produce 100,000 tablets and continue to build its reputation as the number one choice for educational tools in the country. 
Collaborations and partnerships 
One of the most promising projects that ABC Tech has undertaken with its partners is the creation and launch of the learning center at the Ayala Malls Circuit in Makati City. A project undertaken with its partner Dream Lab; this fun new site is 300+ sqm new attraction to the preexisting Dream Lab play center. The Lab is in an interactive environment meant to stimulate the creative minds of young budding entrepreneurs 12 years old and below. 
In keeping with its mission to support students and learners, ABC Tech Inc. signed a memorandum of agreement with EdVenture, an online tutorial platform for students in Preschool up to Grade 10. Subjects offered include Singapore Math, Science, Reading, English, Filipino, and Araling Panlipunan. The platform is an added value service for customers who will purchase the tablets until Dec. 31, 2023. 
ABC Tech has also made it clear that that the company seeks to be instrumental in leveling the playing field for less fortunate students. It has invested heavily in the Windows of Opportunity scholarship initiative (WOOP) which aims to provide scholarships to students who deserve a better education even though they may not have the financial means to secure one. 
 
This homegrown company has beat the odds and is determined to help others do the same. ABC Tech believes that the key to a better future lies in a better education and is committed to revolutionizing the academe in the best possible ways, paving the way for young minds to build a better tomorrow.
About ABC Tech
ABC Tech is a visionary tech company dedicated to transforming education through innovation. Established in 2020, our mission is to empower learners and educators with cutting-edge technology solutions. Specializing in creating accessible and enjoyable learning experiences, we are committed to shaping a world where knowledge knows no boundaries. With our relentless pursuit of progress, ABC Tech unlocks the potential of education, charting a path towards a brighter future for all.
#HappeningPH #ABCTech #WOOP #windosofopportunityscholarship #education #educationupdate #educationnews