Calling all our friends in art and culture!
ILUSTRADO, the fundraising gala of the Friends for Cultural Concerns of the Philippines (FCCP) will be held at the National Museum of Fine Arts on March 27, 2023.
It will benefit the FCCP's scholarship program which covers the tuition and/or travel expenses of 26 scholars, pursuing their undergraduate and graduate studies in the visual and performing arts here and abroad.
ILUSTRADO will give attendees a unique tour of the Museum with site specific performances featuring past, present and future FCCP scholars bringing life or a different perspective to the artworks in 6 of the galleries or halls.
The featured artists are:
Madeline Jane Banta, pianist/harpist;
Vien Ignacio, harpist;
Lance Capitan, guitarist;
Michael Valenciano, keyboard;
Giuseppe Diestro, cellist;
Donna Baluyut, soprano;
FEU Dance Company (FDC);
Jezreel Mangui, tenor;
Joshua Mondares, tenor;
Kris Gonzales, baritone; and
The FEU Guides.
Dinner will be catered by the famed Ilustrado restaurant in Intramuros.
The FCCP started out in 1979 as the Friends of the Cultural Center of the Philippines, patterned after the Friends of the Kennedy Center in Washington, DC. Embarking on its first venture into fundraising, the FCCP sponsored the musical Annie, where Repertory Philippines first introduced Lea Salonga to a highly appreciative public.
Proceeds went to purchase a brand-new harp which was donated to the CCP Orchestra which became the Philippine Philharmonic Orchestra.
Inspired by its initial fundraising SUCCESS, the FCCP proceeded to sponsor the visiting Cleveland Symphony Orchestra under the world-famous conductor Loren Maazel. The funds raised were used to sponsor two successful CCP Summer Outreach Concerts which brought the PPO with Prof. Basilio Manalo as conductor on concert tours around the country.
In 2001, the FCCP became the Friends for Cultural Concerns of the Philippines to widen
the scope of its contributions.
During the 2004–2006 term of lawyer-business woman Mellie Ablaza, the organization donated three million pesos to the NMP in return for which the "Introduction Room" of the National Art Gallery was named after the FCCP in perpetuity.
ILUSTRADO will be a fun fundraiser, unlike any other!
For tickets, please contact Angie Godoy via text or Viber +639272292128
Payment may be deposited: FCCP Metrobank 292 3 292 80045 3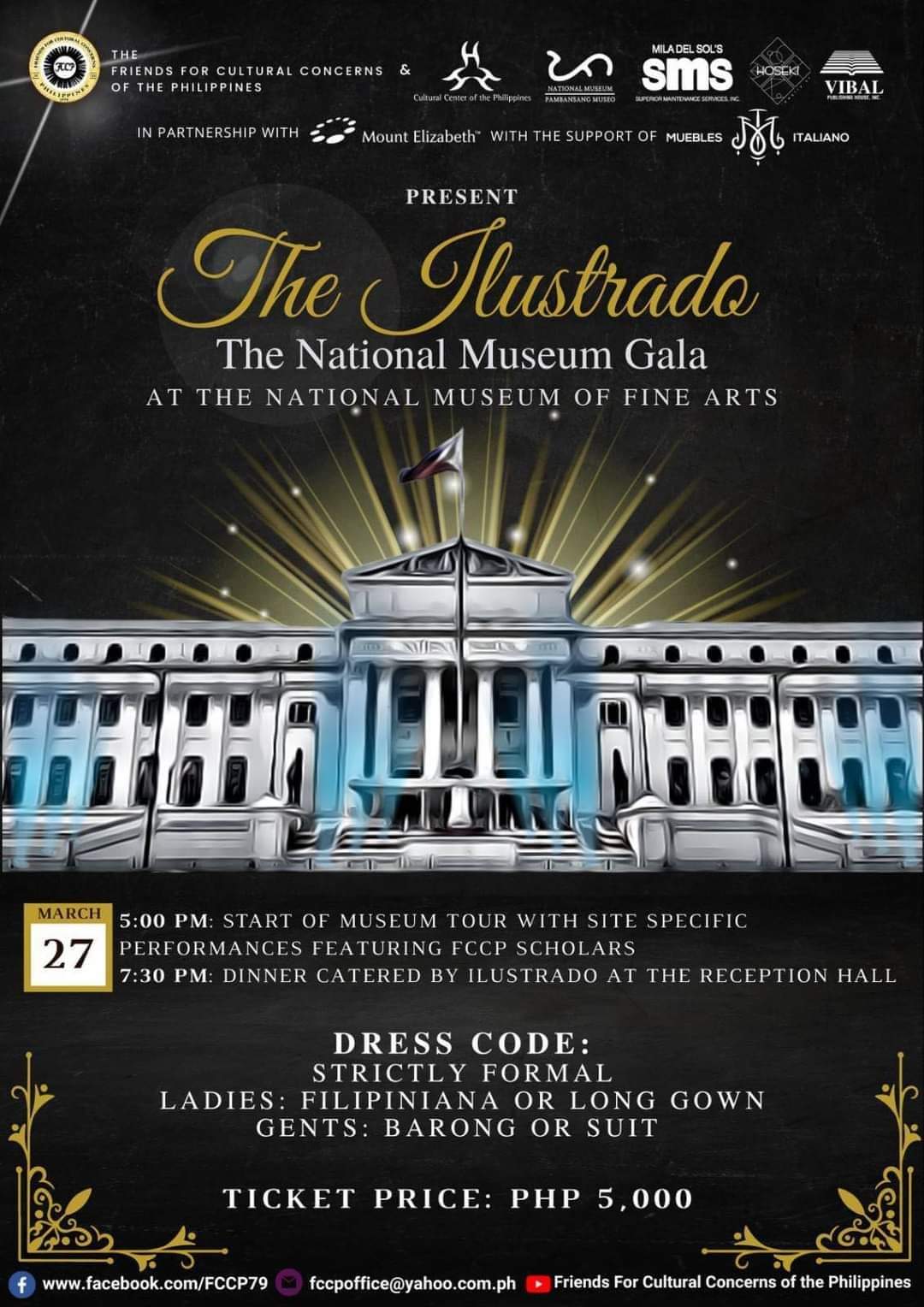 #HappeningPH #FCCP #FriendsforCulturalConcernsofthePhilippines #TheIlustradoTheNationalMuseumGala #TheNationalMuseumGala #NationalMuseumofFineArts #fundraising #cultureandarts #artsandculture #Philippineartandculture