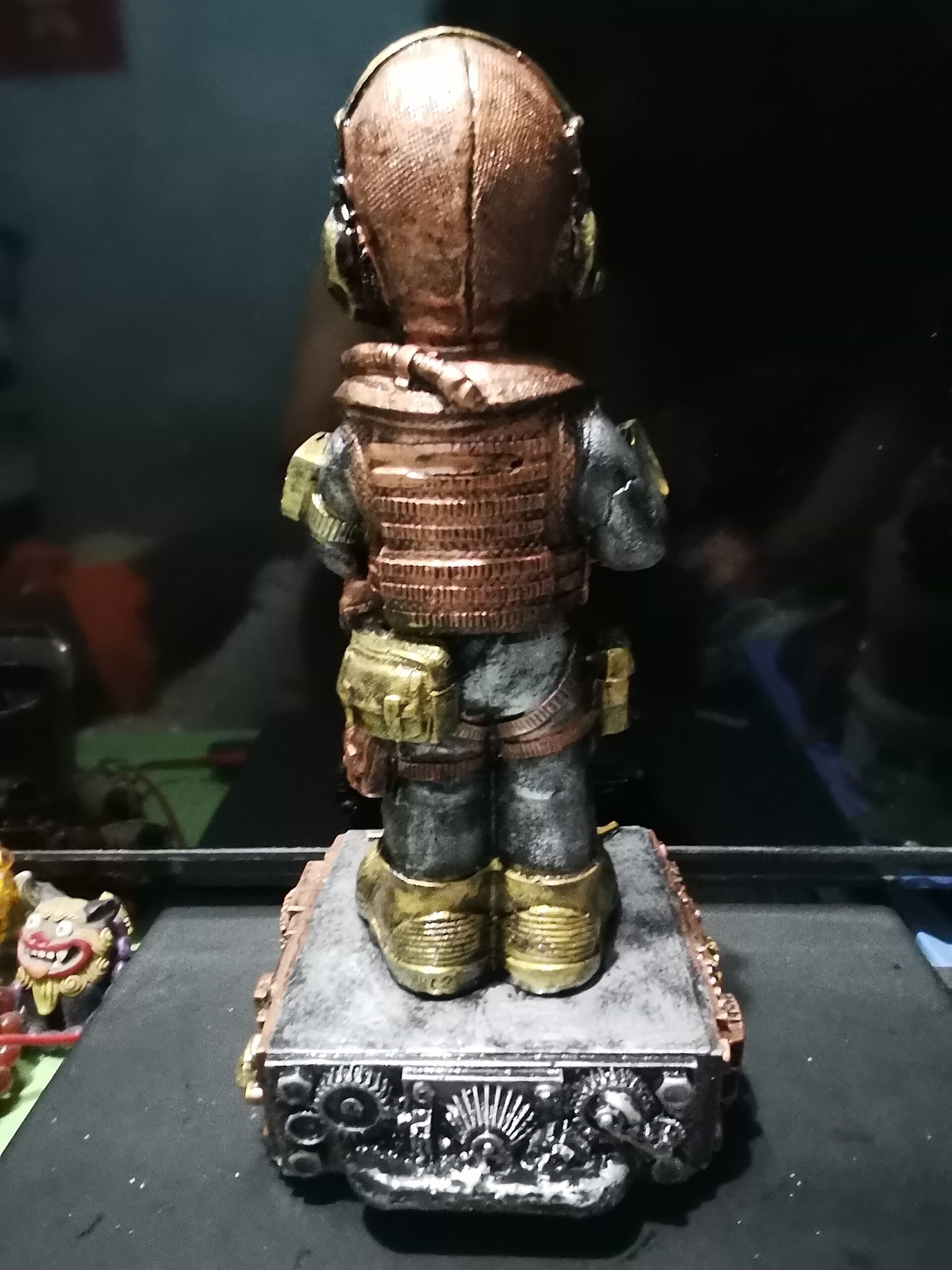 The first time I encountered the sculptor Ram Mallari, Jr, was when I interviewed him during the opening of his 19th-century Victorian gentleman's parlor-themed exhibit called "A Gentleman's Domain."
It's the kind of place where you'd expect to see Sherlock Holmes and Phileas Fogg meeting over old wine and cigar, perusing maps and curiosities from all over the world, and finding surprises in the melding of metal, wood or what appears to be wood, and the elements.
Watch my interview https://www.youtube.com/watch?v=O042auIVqrc with Ram at the opening of " A Gentleman's Domain" for ArtExpands in 2017.
Capturing Motion in Mechanical Elements
It's where I first encountered "steampunk art," which is how Ram described his genre: a combination of sci-fi forms, retro-futuristic technology imagining the future in the vintage, and utilizing the aesthetics of 19th-century steam-powered machinery.
Thus, we see hybrid creatures or objects that bridge the tension between seeming opposites: the alien and the organic, the obsolete and the mechanical, the trash and the treasure, and the functional and the decorative.
Check out his Maneki Neko https://www.facebook.com/100002917036499/videos/400237211713649/ to give you an idea of his works.
The way his figures are constructed embody the potential to move, the energy to run, even as they are frozen in space!
His works would have multiple iterations of chess sets, clocks, fauna, war materiel, motorcycles, and icons from pop culture both Filipino and global, such as this Sentinel.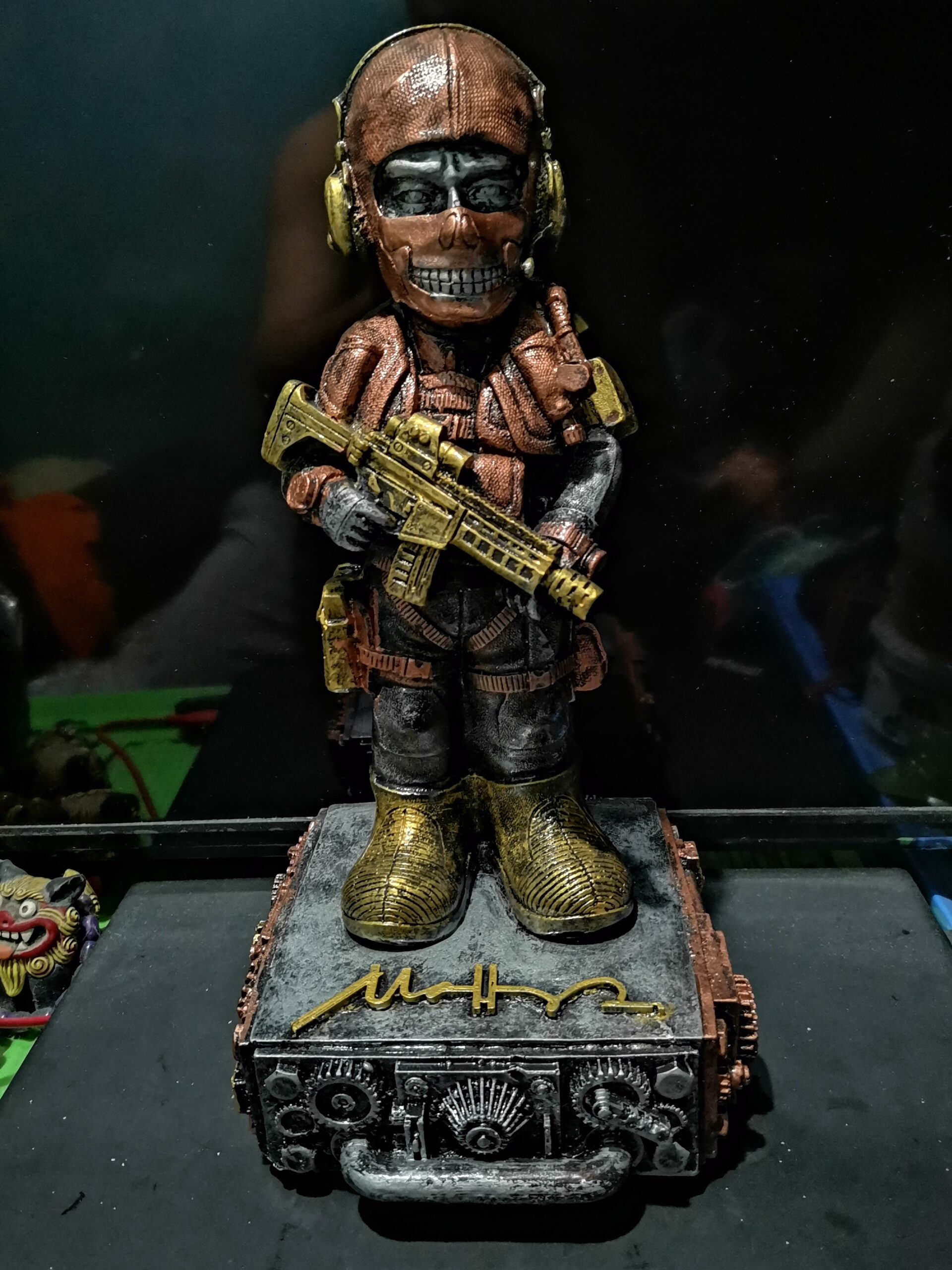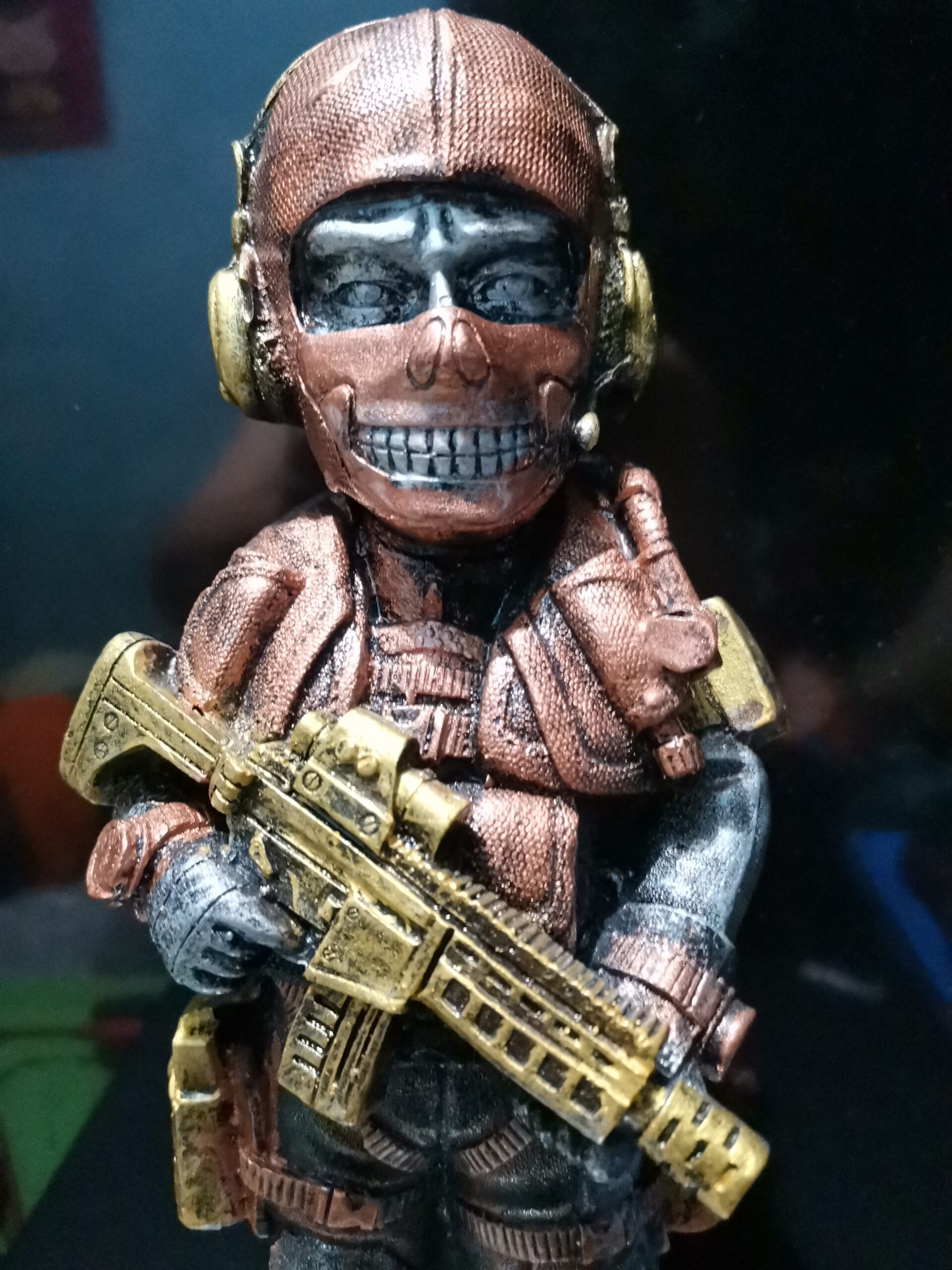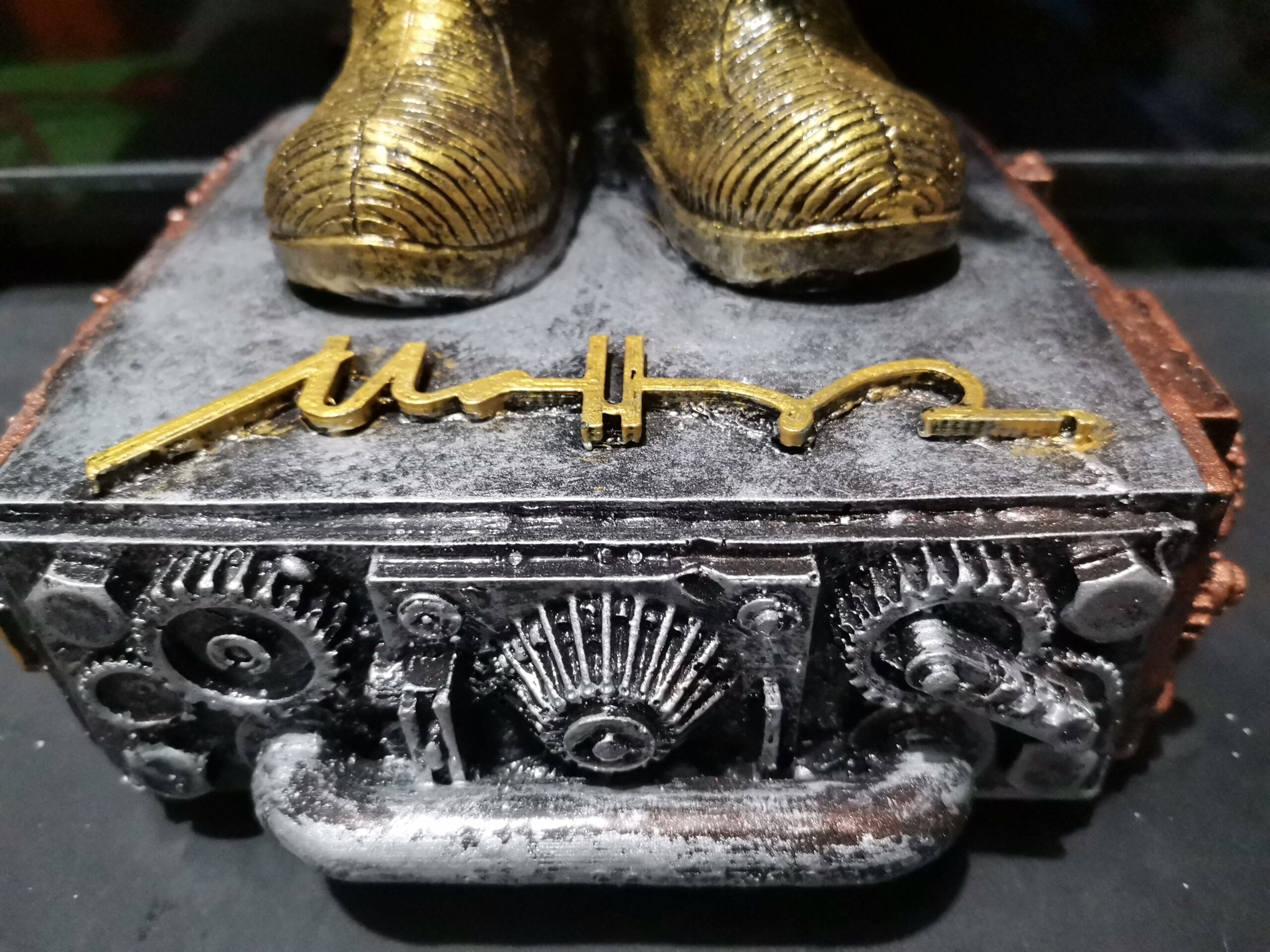 Converting Trash into World-Class Metal Art
We would meet time and again during art exhibits and gatherings of artists and friends, but it wouldn't be until the pandemic—the tail-end of its second year actually—that we would find another chance to share his art.
Guesting on DWIZ 882's radio–TV show "Pilipinas, Ngayon Na!" hosted by Usec Robert Rivera of the Office of the Press Secretary and Lady Elyza, Mallari recalled how his passion for creating scrap metal sculptures is good not only for the earth but also for beginning artists.
"Artists don't have to buy new or expensive metal like brass or steel to create outstanding works," he explained in another interview.
"Also, by doing something that most other sculptors are not doing, I'm also helping save the earth by recycling trash."
The prospect of creating wonderful works of art from trash metal excited Usec Rivera—an avid collector of vintage cars—that he would want Ram to check out his collection to transform them into one-of-a-kind pieces for his collection.
The event was made possible through the efforts Ma'am Cielo Enriquez, author of Victorious Secrets Revealed and social media manager for "Pilipinas, Ngayon Na!," who especially requested for Ram to guest on the show.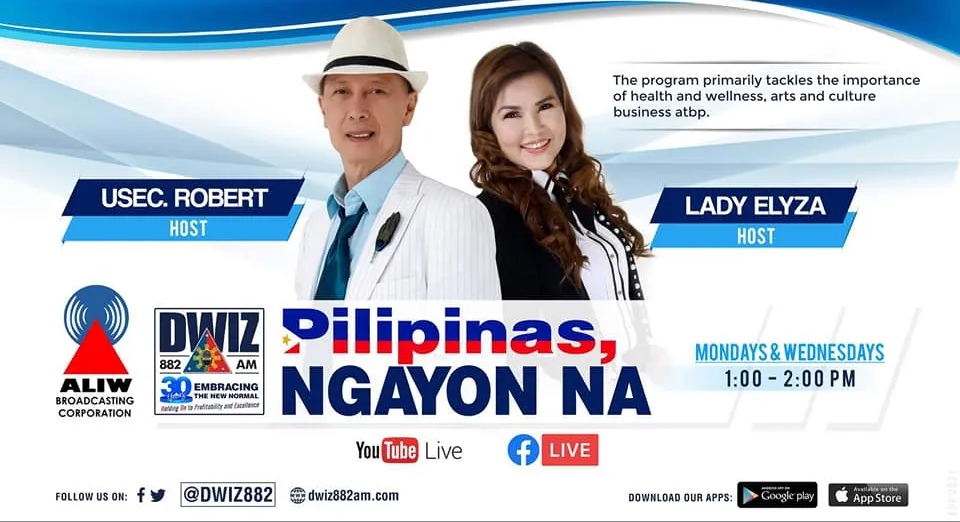 Interesting Facts about Ram Mallari
1. Ram Mallari's exposure to metal started in his grandfather's "talyer" or car repair shop.
2. He was so thin as a teenager, a construction firm got him as a utility boy instead of a construction worker.
3. He received a grant from Father Ben Carreon to finish high school.
4. He dropped out of his architectural studies at the Technological Institute of the Philippines in 1985 because of financial difficulties.
5. He worked as a timekeeper and warehouse checker for a construction firm then as a graphic designer in the span of four years.
6. He became a draftsman in Saudi Arabia when he married his first wife, but the marriage ended up in annulment with him getting custody of his daughter.
7. He married again in 1995 and had five children with his second wife Glenda: Mark Leovin, 16; Troy Brian, 14; Oliver Glen, 12; Claire Marie, 11; and Vera Patrice, 9.
8. His first artwork, which he didn't sell, was a 6" x 4" Easy Rider (1969) motorbike that began with a Denso sparkplug.
9. His first show was in 2011 at the Indios Bravos Gallery in San Juan, where he sold two Harley Davidson miniatures.
10. His sculptures of the butaan, a threatened species of monitor lizard, form part of his advocacy to save endangered wildlife.
11. His interview with Thompson Reuters about his scrap metal sculptures went viral after BBC News and NBC News bought the story.
12. He created Dindong Dantes' mechanical hand in Kubot: The Aswang Chronicles (2014) and Vic Sotto's metal armor in Enteng Kabisote (2016).
13. He appeared on the cover of World Sculpture News in 2016, representing the ASEAN region.
14. He was commissioned to do the Dragon's Nest sculpture for Philippine Realty TV Season 17 (2019).
15. He uses MaxSell Powertools—Hole Gun, Hammer Drill, and Magnetic Drill—and Shinsetsu Welding Machine.
16. He works with found industrial steel scraps because steel symbolizes power, strength, and life, which his works exalt and embody.
17. Eighty percent of his fans, collectors, and buyers are male.
18. Ram considers his workshop and welding assistants as family members, so he made sure that nobody stops working and loses livelihood during the pandemic.
"My goals are still the same since I started doing art: to continue to do more beautiful art and put smiles on the face of the people who look at them," Ram revealed in an interview the Sunday Times Magazine.
"As long as my body is able, I will make more art. So, I guess what I'm trying to say is, just do what you do best. Do it with conviction and passion. Just believe in yourself and the rest will follow," he concluded.
Most of Ram's pieces are commissioned works or new works for upcoming shows, so he's a truly busy man, spending his time in his workshop in Fairview, Quezon City.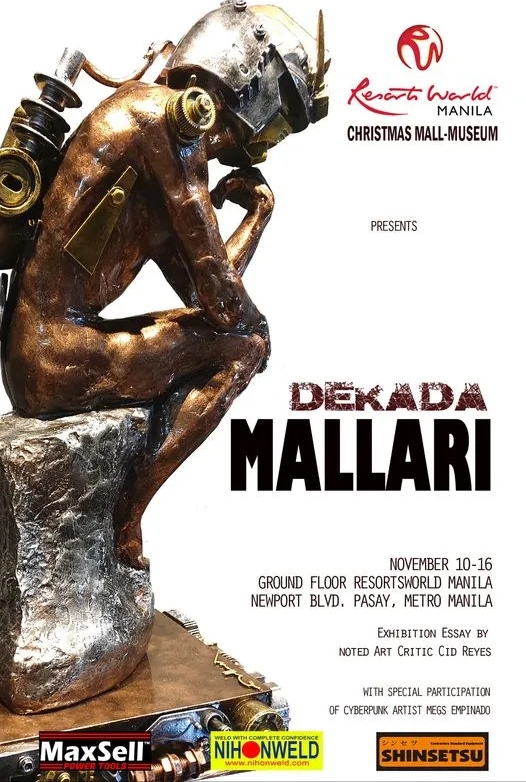 Celebrating Dekada Mallari at Resorts World Manila
Ram will be unveiling his newest masterpieces in DEKADA MALLARI—celebrating ten years of recycling scrap metal into awesome art pieces for a global market—at the Resorts World Manila Christmas Mall-Museum, Newport Boulevard, Pasay City.
Co-presented by MaxSell Powertools, Nihonweld, and Shinsetsu, the show features an exhibition essay by renowned art critic Cid Reyes with special participation by cyberpunk artist Megs Empinado.
DEKADA MALLARI runs from November 10 to 16, 2021.
Check out Ram's Facebook page https://www.facebook.com/artspawn22 and https://www.facebook.com/Ram-Ironheart-Mallari-242340109190315.