- Advertisement -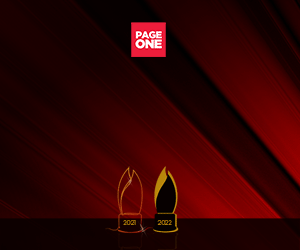 Did you know that 8 kilos of cacao beans are sorted individually by hand, one bean at a time, to make your favorite chocolate bar?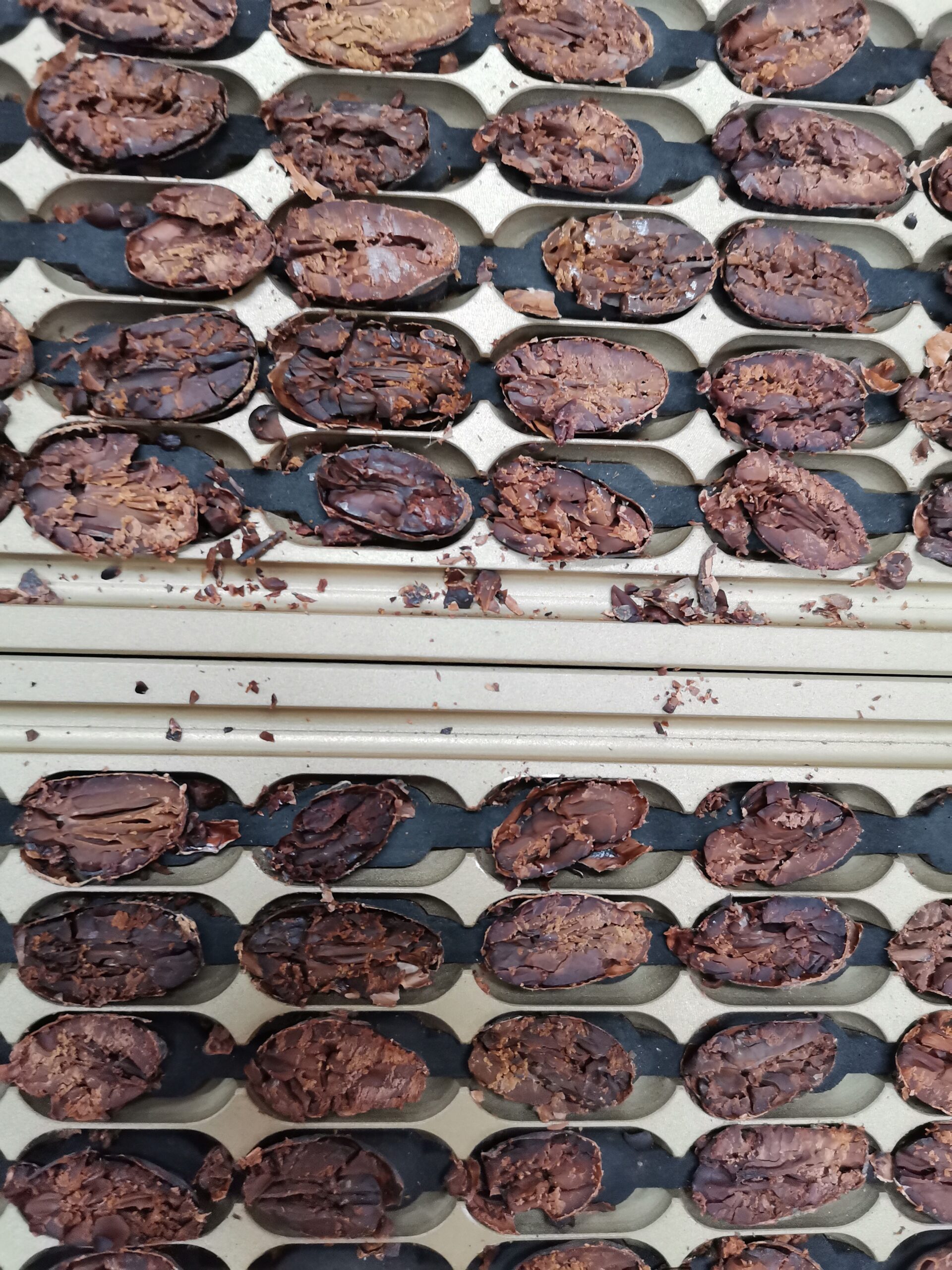 Did you know, too, that the lesser the ingredients you find on your chocolate bar packaging, the higher its quality is given more chocolate and more antioxidant present?
Did you know that local Mindanao cacao beans are being exported to chocloate-making countries whose chocolates are being imported by the Philippines at premium prices?
And, did you know that July 7 is World Chocolate Day?!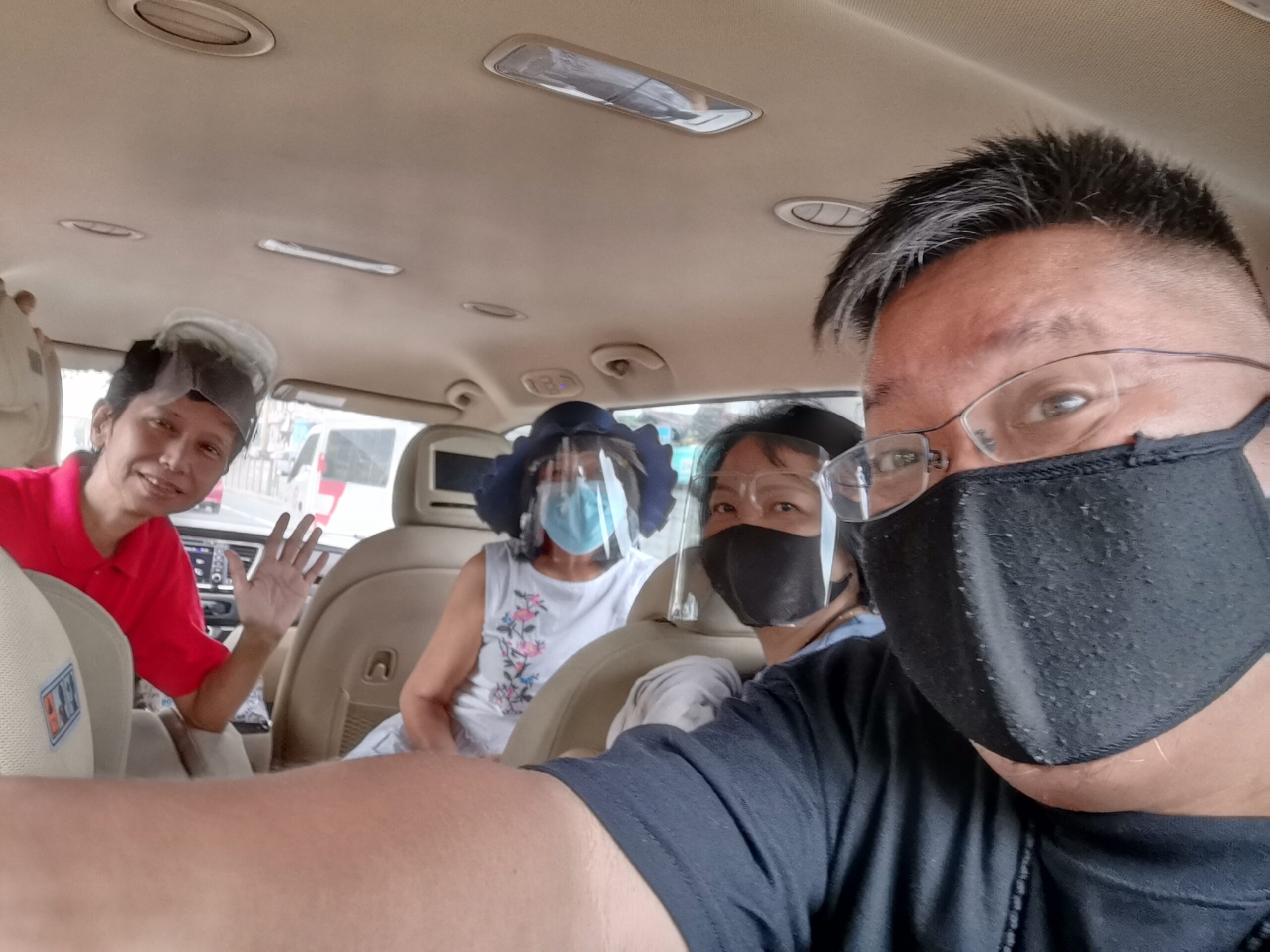 Now we know!
We learned that and more as the first batch of bloggers visited the Godel Chocolate Factory in Parañaque care of veteran media person Dr Ver Garcia of the Bloggers Association of the Philippines to learn about Godel's chocolate making process and sample bean-to-bar chocolates!
Let's start the tour!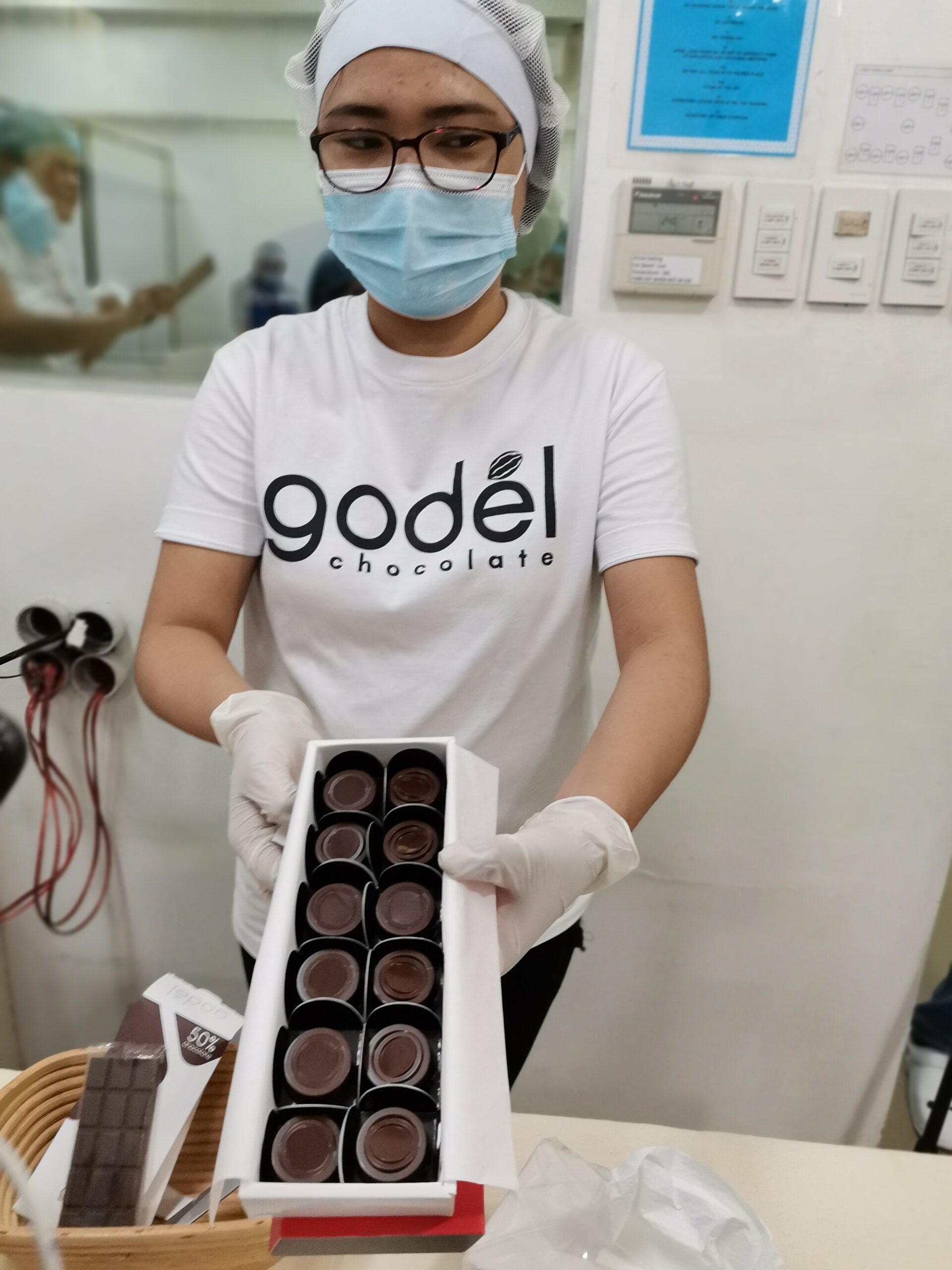 Sorting, Sample Testing, and Checking for Moisture Content
Cacao beans sorting stage is a tedious process where individual beans are separated into good and reject.
The 8-kilo batch is them sample tested to find out if the beans are fermented enough (showing good brown color, not black).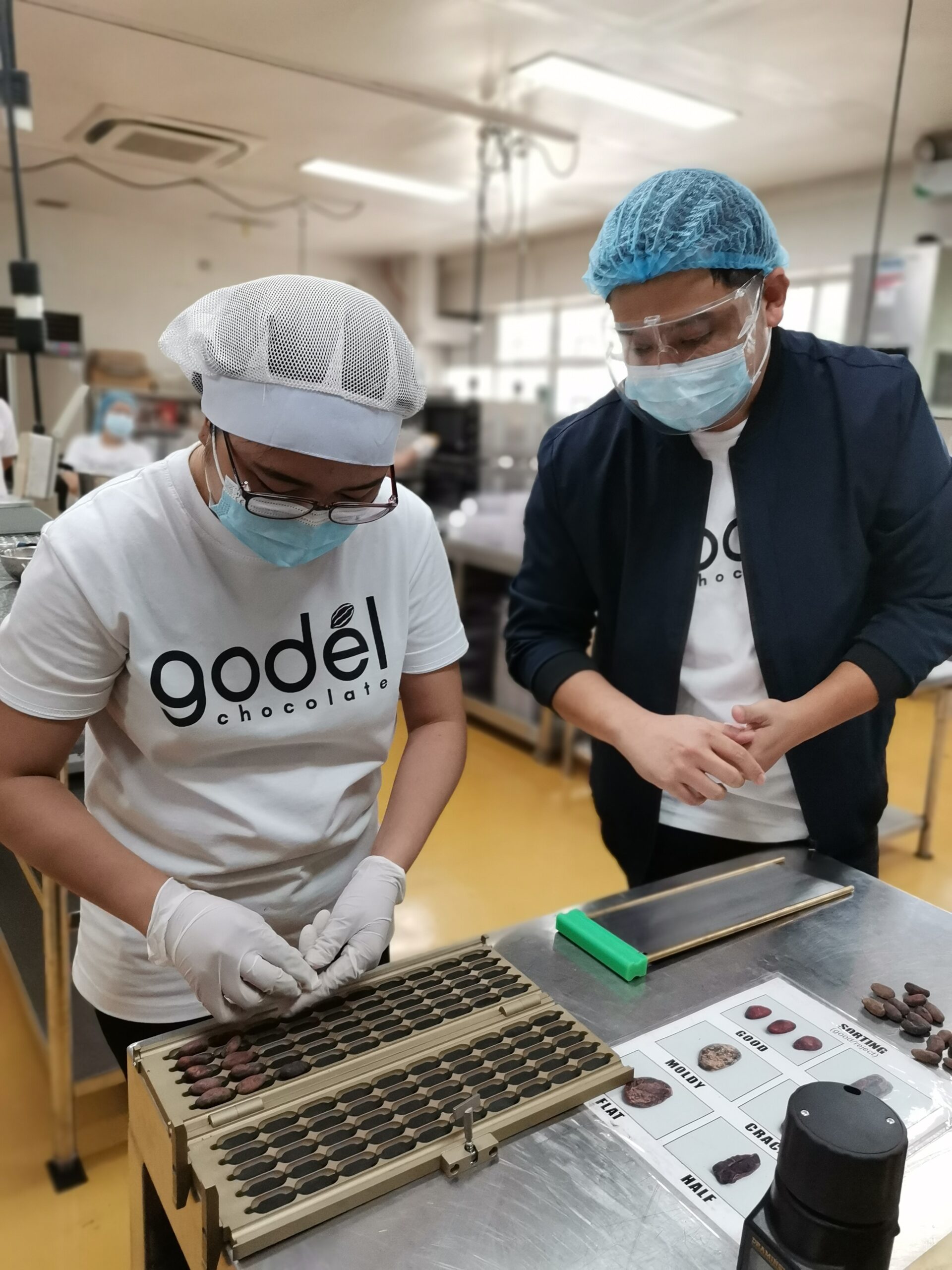 These good beans are then checked for moisture content.
"Moisture or water content in chocolate making is a no-no," shares Marketing Manager Ms Marie Go.
If they pass, they proceed to roasting. If not, they are placed in jute bags for a few more days.
Cracking, Winnowing, Refining, Conching, and Molding
Choice cacao beans are then roasted in 8-kilo batches for 40 minutes then vacuum cooled for 8 minutes to prevent any moisture from developing.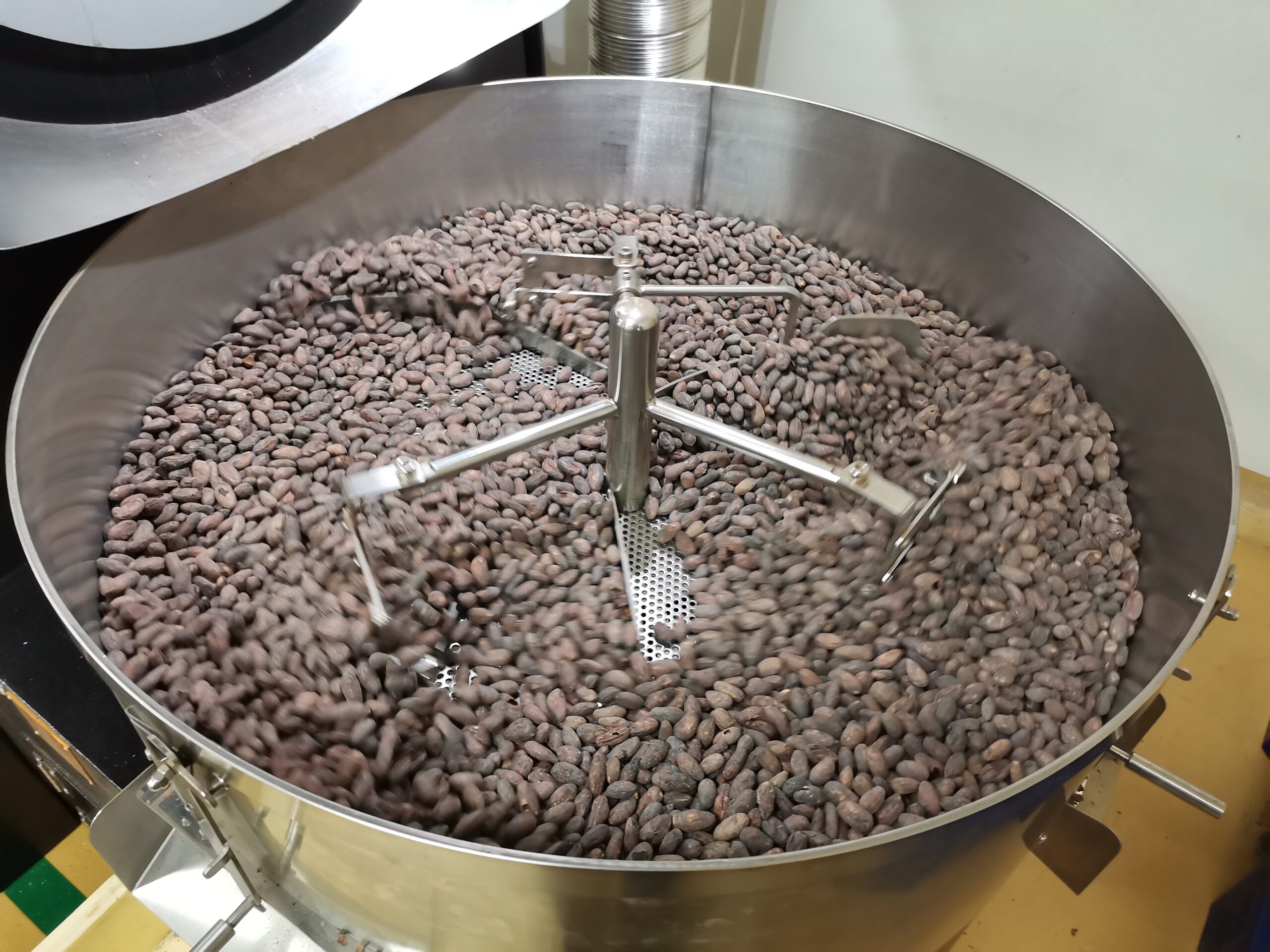 Again, moisture is a no-no in chocolate making.
The cooled beans are then cracked and winnowed, where the nibs are separated from the husk.
The husks are packed to make cocoa tea.
The nibs go through prerefining where the nibs are transformed into cocoa mass.
Cocoa mass can go straight to molding for your unsweetened tablea or to ball refining to further reduce its fineness to less than 20 microns.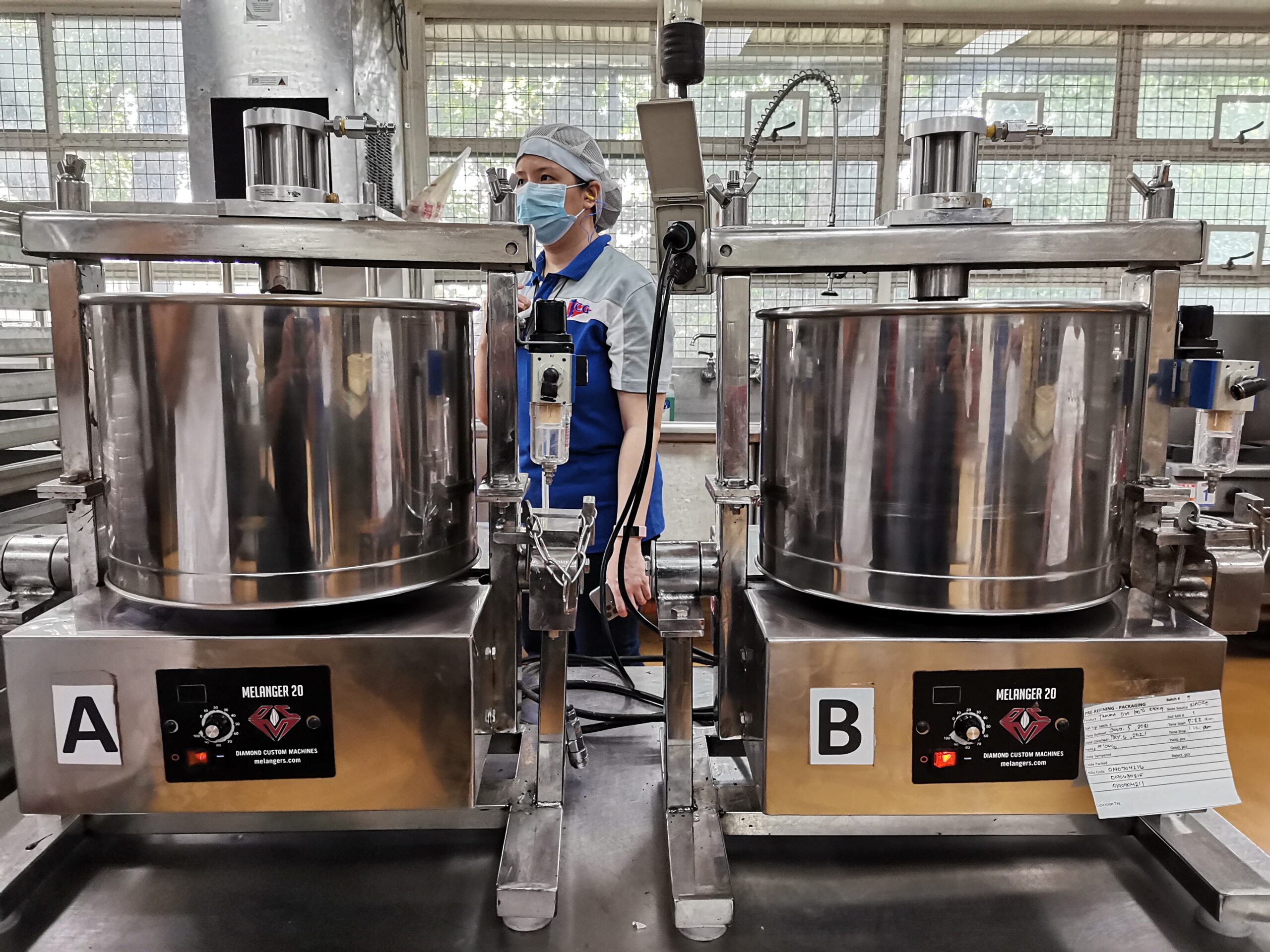 For 2-3 hours, the mass will spin along with thousands of stainless steel balls in a very noisy process making it really smooth.
At this point, sugar, milk, and/or cream can be added to make your sweet milk chocolate.
For smaller batches of 10 pounds, cocoa mass undergoes conching spinning for 6 hours, more or less depending on how fine you want your chocolate to be.
The mass spins with a stone lunger that makes it extra smooth and less acidic.
Tempering, Molding, Cooling, and Packing
The chocolate mass, sweet or unsweetened, is placed into molds (here at 9 grams for each tablea), and then tempered.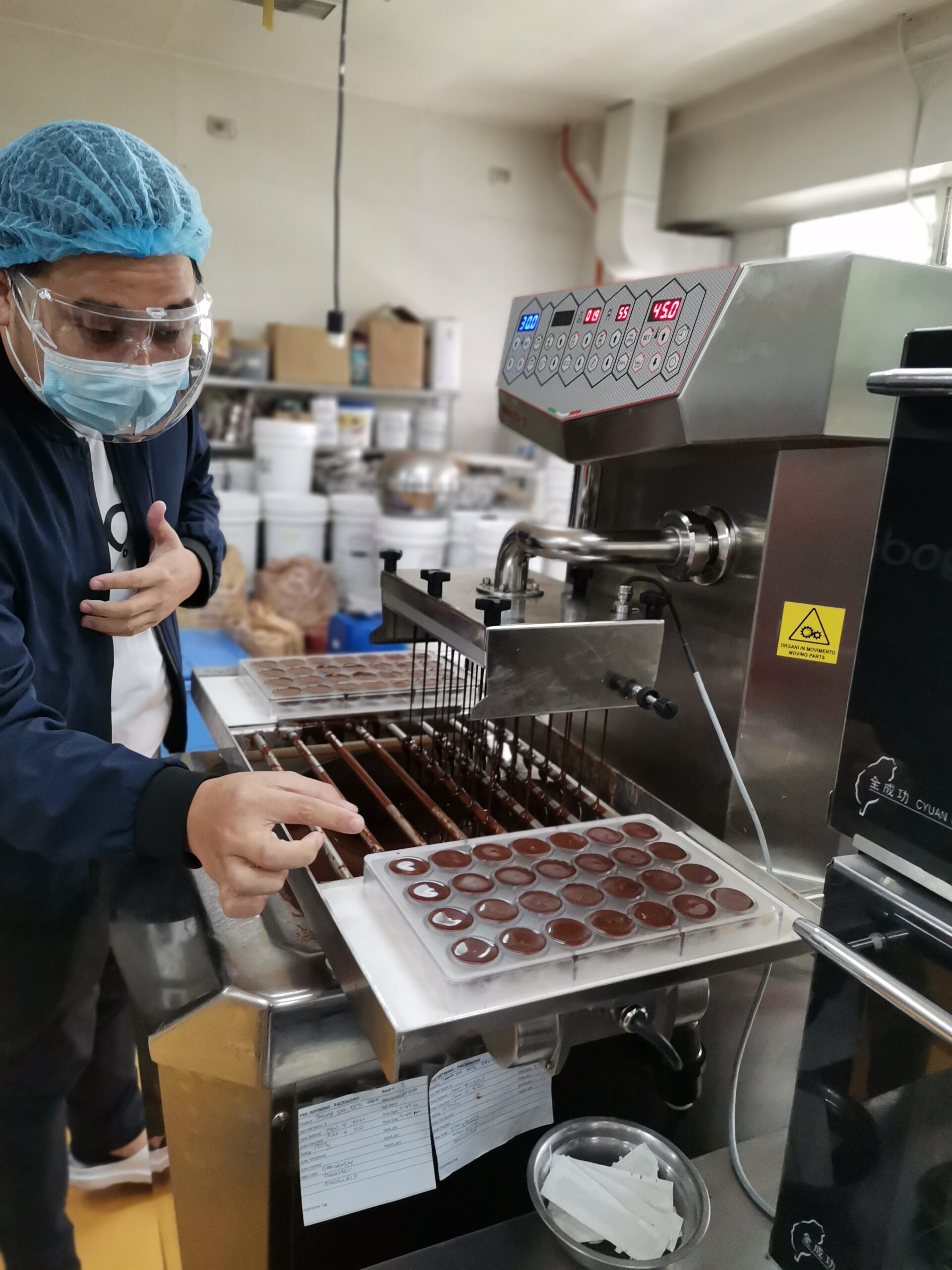 Tempering involves placing the mold trays on a vibrating shelf to even them out, remove air bubbles, and ensure the quality needed for that crunchy chocolate "snap" when the chocolate cools.
Tempering can also be done by hand, but then with repeated hand mixing of the chocolate on a granite countertop and temperature checking.
The chocolate is then measured out into molds using an icing bag, scraped off flat, then placed on the tempering machine or manually tapped on the granite.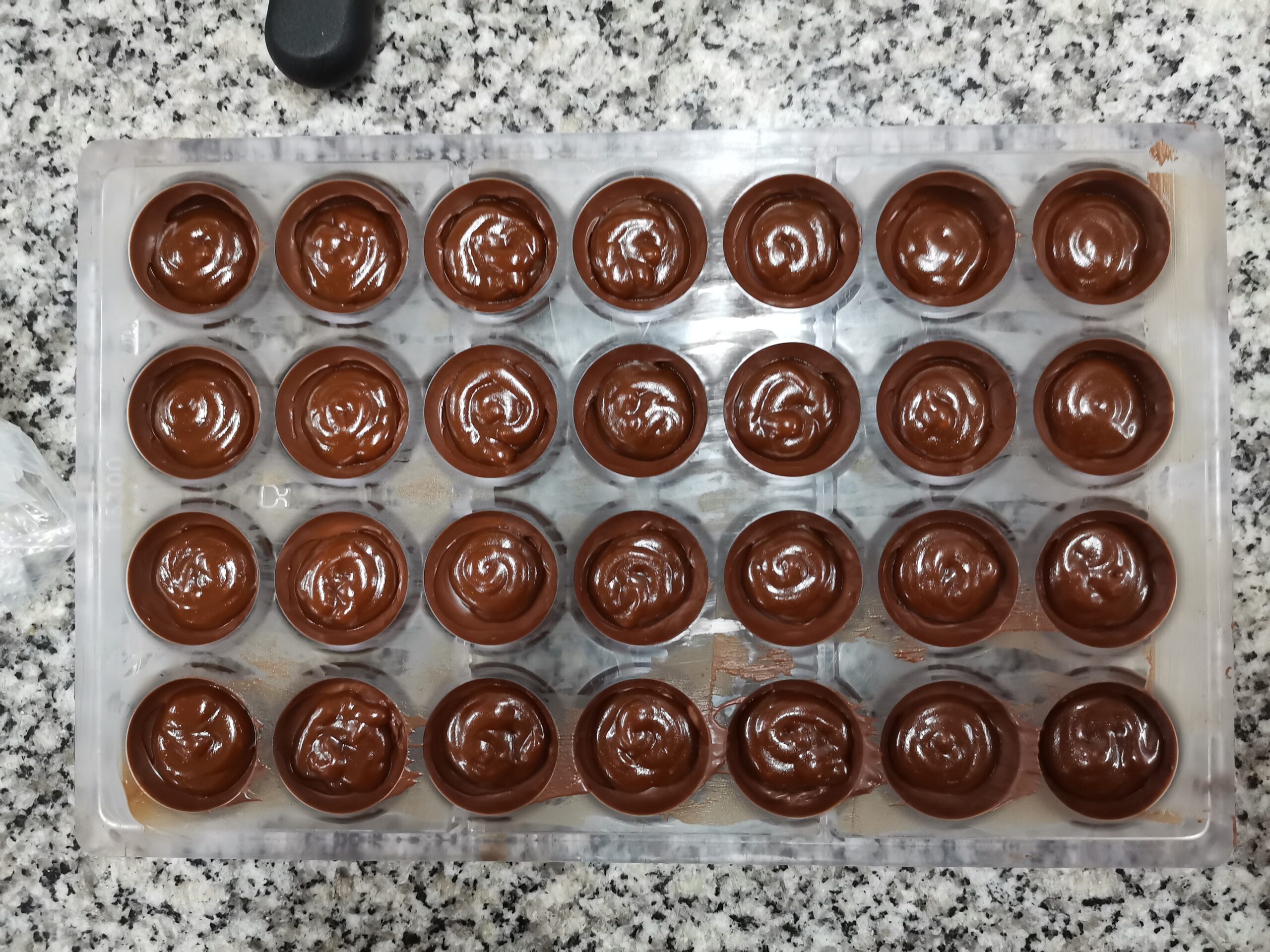 The polycarbonate molds, by the way, are unbreakable!
The tempered molds are placed in the ref for 2-3 minutes to let them harden.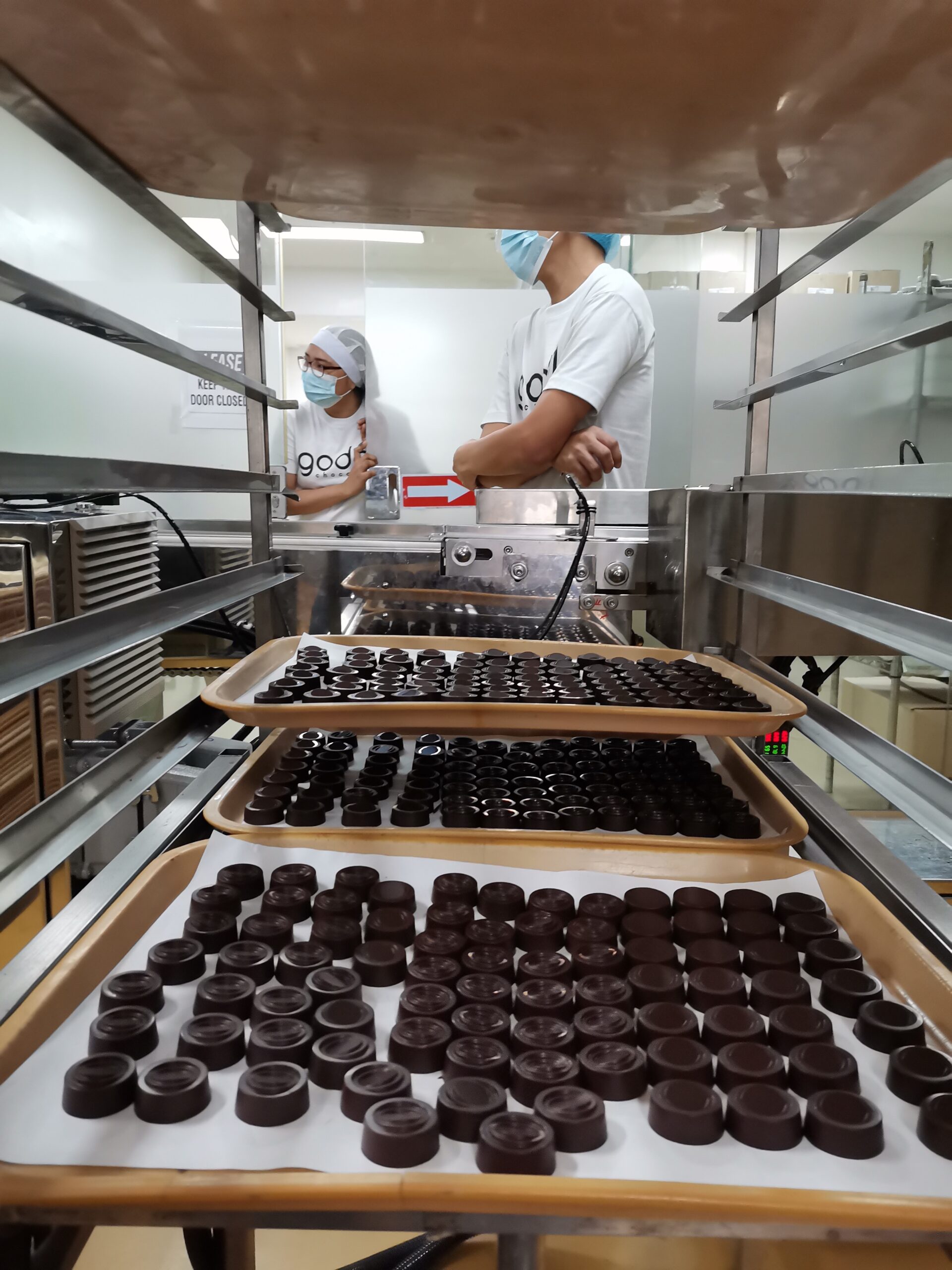 The hard set tablea are packed in tubs while the chocolate bars are packed in a horizontal packing machine.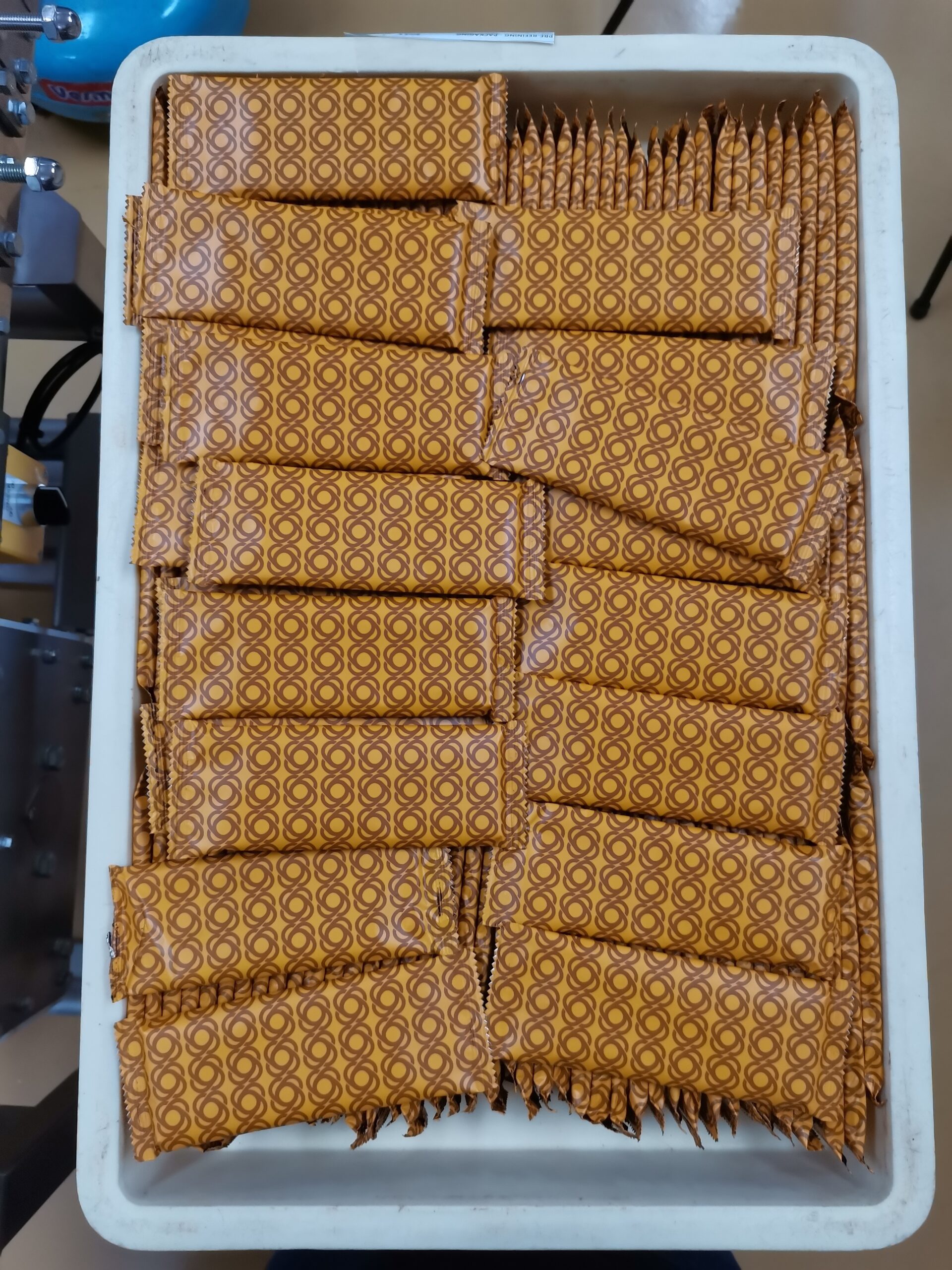 For More about Godel Chocolate Factory Tour
This chocolate making factory tour was brought to you by JCG Marketing Group, which toured as around their baking implements warehouse.
They also walked us through Vermech's baking machine solutions with gargantuan bread making systems that for the demo produced 200 breads an hour compared to actual breadmakers producing 1,000 breads an hour!
For more information and multimedia resources, check out their social media pages.
"We share everything. So, especially for our Youtube channel, it can be a great resource for chocolate makers (Godel) and bakers (Vesmach)," said Ms Marie Go.
"We really want to share the process to as many people as possible. For consumers to appreciate local made chocolates and for bakers to realize that while we're the premium brand in machines, they're paying for quality and service," she concluded.
Godel Chocolate
Facebook – fb.me/godelchocolate
Instagram – instagram.com/godel_chocolate
Youtube – youtube.com/godelchocolate
Vesmach
Facebook – fb.me/vesmach
Instagram – instagram.com/vesmach_ph
Youtube – youtube.com/vesmachtv