The Korean Cultural Center (KCC) is excited to be a part of this year's Passionfest, collaborating with Bonifacio Global City (BGC) to present the "GLOCAL: Color & Culture Festival" on November 25-26, 2023, at Bonifacio High Street.
We are pleased to introduce TAGO, a dynamic percussion performance group established in 2015, dedicated to promoting the excellence of Korean music. Under the slogan "Beat the world to light," TAGO will add its unique rhythm to the parade along 5th Ave. on November 25 and will deliver a mesmerizing performance on November 26.
(More details about TAGO here: https://www.drumtago.com/ENG-INFO)
As part of the festival's immersive experience, the KCC invites all attendees to a FREE 2-day interactive booth. Discover the traditional art of nail dyeing using flower, known as "Bongseonhwa." Delve into the cultural significance of this red flower, historically planted to ward off evil spirits. The booth will be open from 10:00 AM to 5:00 PM, allowing visitors to engage in this vibrant aspect of Korean tradition.
We extend a warm invitation to everyone to join us in celebrating global culture at the "GLOCAL: Color & Culture Festival". Immerse yourself in the rhythmic beats of TAGO, indulge in the beauty of traditional art at our booth, and embrace the fusion of cultures on November 25-26 at Bonifacio High Street.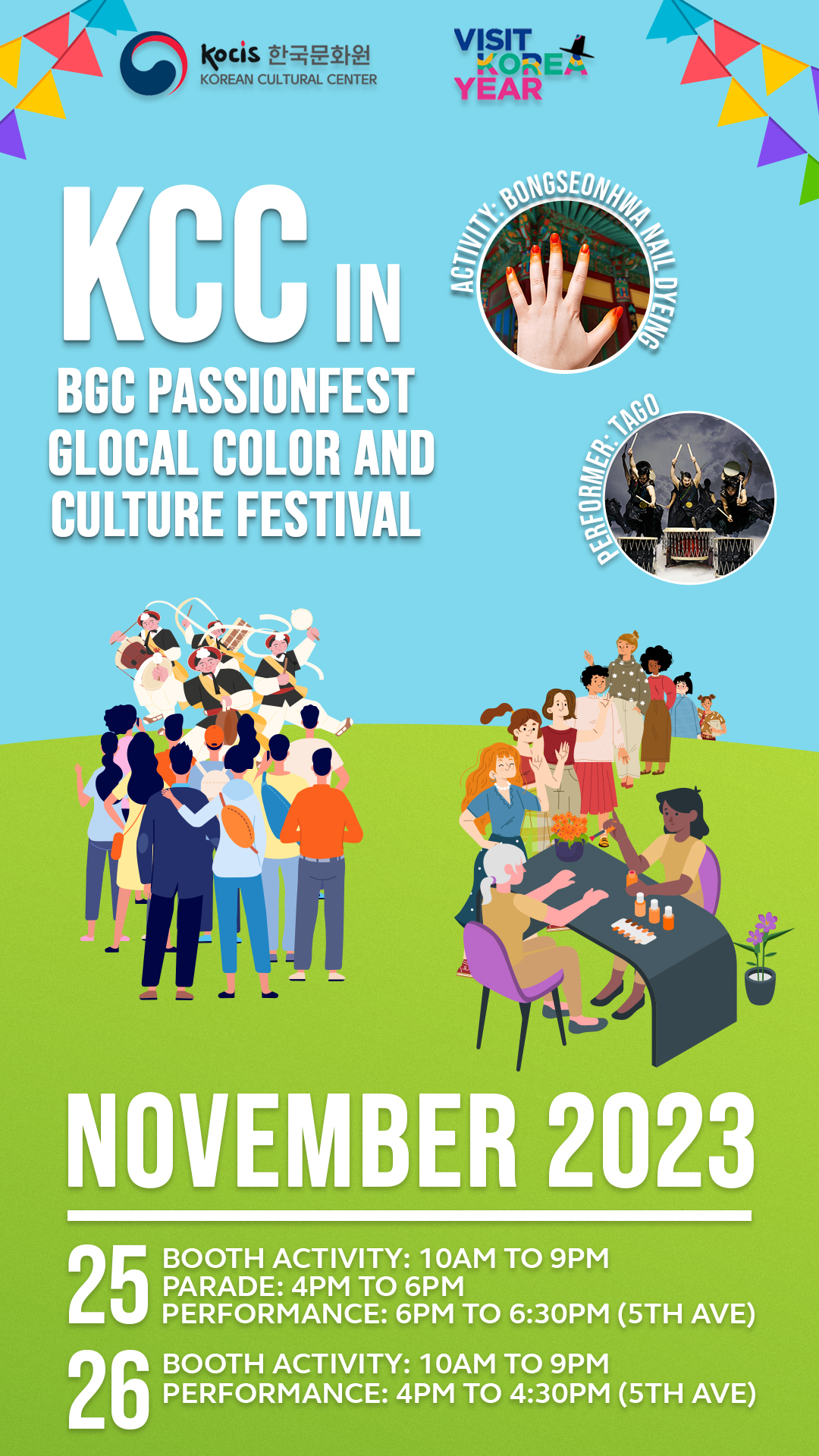 KCC's Social Media Channels:
Website: https://phil.korean-culture.org/EN
Facebook: https://www.facebook.com/KoreanCulturalCenterPH
Instagram: https://www.instagram.com/kccphil/
Twitter: https://twitter.com/KCCPHIL
YouTube: https://www.youtube.com/@kccphil