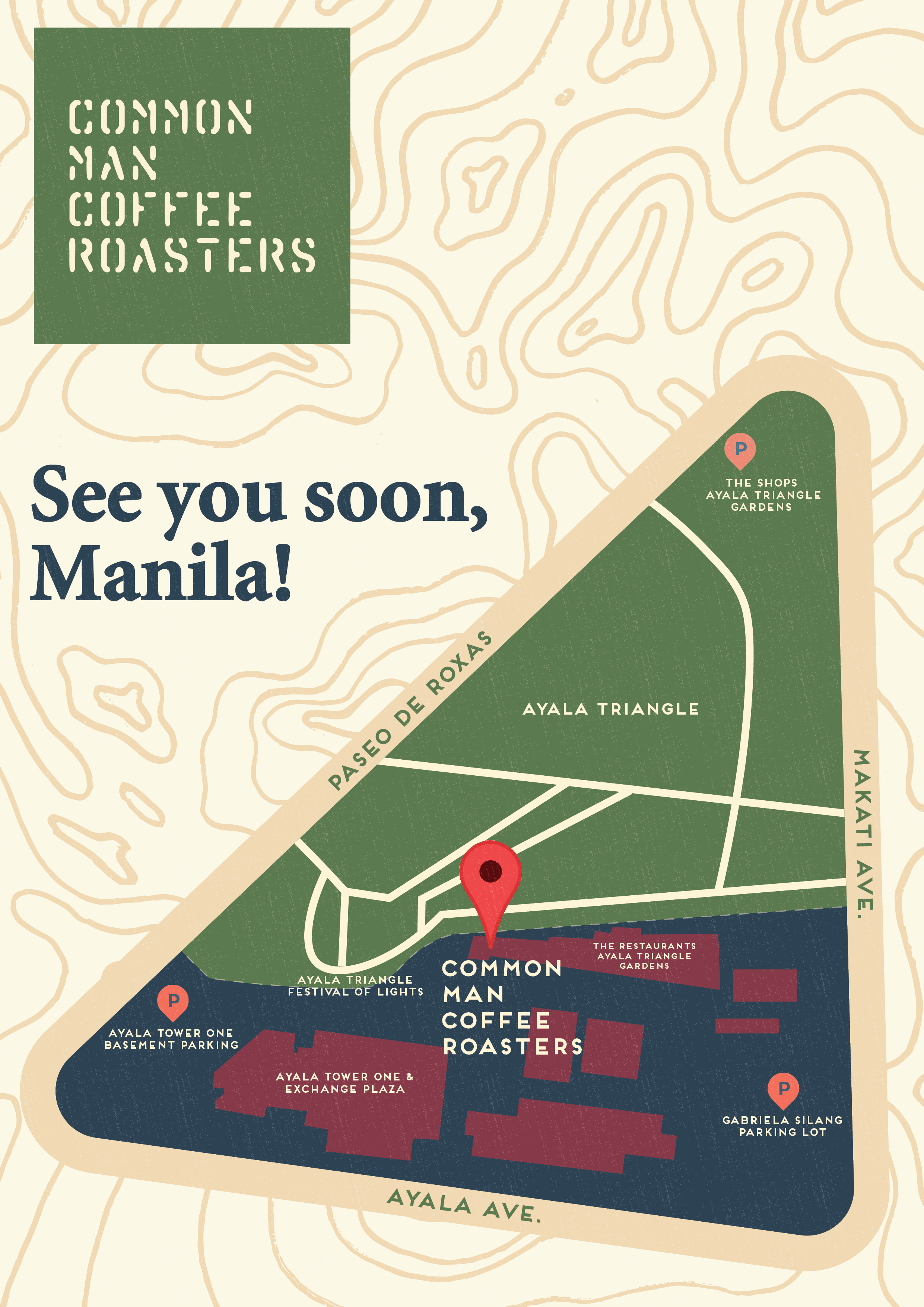 MANILA, Philippines. – Filipino diners and coffee enthusiasts will soon enjoy the delicious offerings of one of Singapore's most beloved cafés, Common Man Coffee Roasters, after the Jollibee Group signed a contract with Ayala Malls for the brand's first location in the Philippines. The store will open this year at the heart of Makati's central business district – The Restaurants at The Ayala Triangle Gardens.
The Common Man Coffee Roasters operates all-day dining restaurants in Singapore and Malaysia, with an aim to be a Champion for Specialty Coffee and Best All-Day Brunch concept in Asia. Common Man Coffee Roasters also does coffee roasting, sale of coffee products, and operates Coffee Barista Academy. 
The Jollibee Group announced in August its joint venture with Food Collective, Pte. Ltd. (FCPL) to own and operate Common Man Coffee Roasters in the Philippines. The Jollibee Group owns 60% of the business.
Prime location for first store
"Location is key in establishing Common Man's foothold in the country," said William Tan Untiong, Jollibee Group Chief Real Estate and Design Officer. "The Ayala Triangle Gardens is at the heart of Makati's Central Business District and a hub for many great concepts in the city. For this reason, it is only fitting that we set up shop in this prime location that will enable us to fully bring the signature Common Man Coffee Roasters concept to life."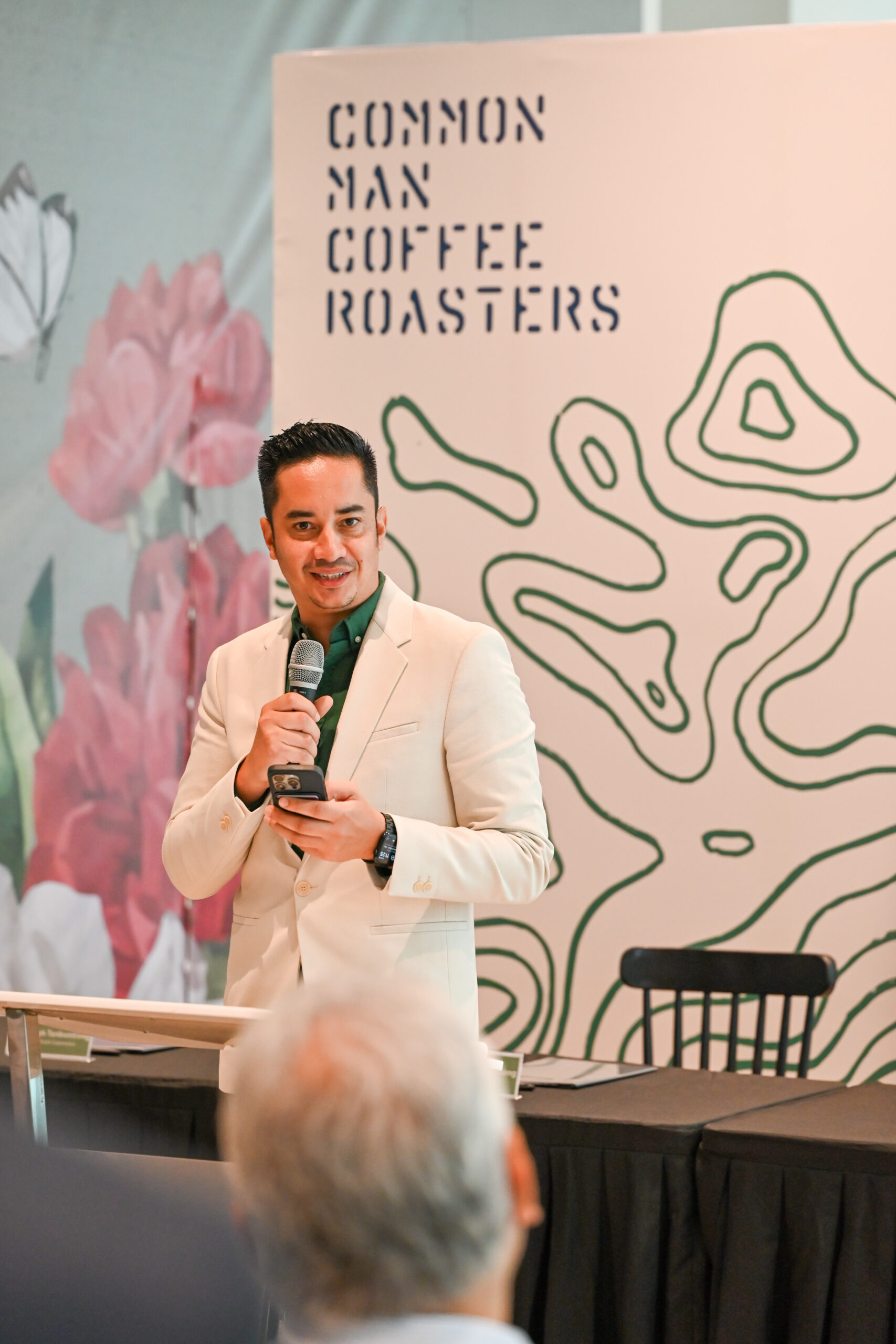 Michael Bovell, General Manager of Spa Esprit Food Group, which operates Common Man Coffee Roasters in Singapore, shared: "We are excited to launch Common Man Coffee Roasters in Manila at this very special location in Ayala Triangle. As with all our cafes, the café design is very creative and not the run of the mill. We are also excited to have a roastery on site so we can showcase the roasting process to our customers, offering a dining and sensory experience." 
"We are so thrilled to welcome Common Man Coffee Roasters in one of the most unique retail spaces in the country – a place where lasting memories are made, friendships flourish, and the spirit of community thrives," said Mariana Zobel de Ayala, Ayala Land Senior Vice President. 
"On a personal note, Common Man holds a special place in my heart, as it was my favorite cafe when I lived in Singapore a few years ago," she added.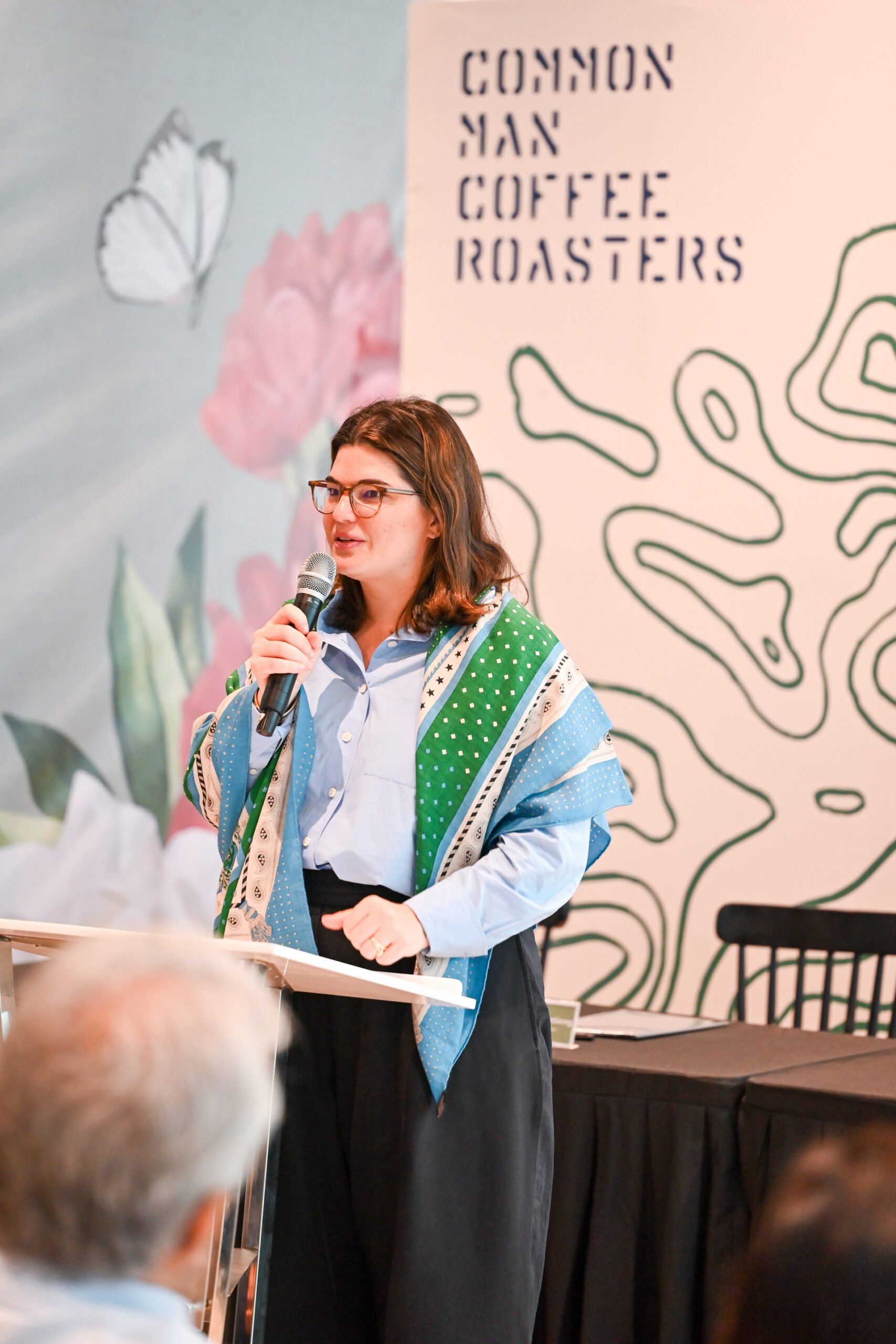 Celebrating partnerships
Joining Tan Untiong and Bovell during the contract signing were Jollibee Group's Joseph Tanbuntiong, Chief Business Officer; and JJ Alano, Group Head for Greenwich, Red Ribbon, Burger King, Panda Express, Yoshinoya, Common Man Coffee Roasters, and Tiong Bahru Bakery. Representing the Ayala Malls were Chris Maglanoc, President; AC Legarda, VP for Operations; and Iza Arcilla, Ayala Triangle Gardens and Greenbelt General Manager for The Shops and Restaurants.
The momentous occasion concluded with an unveiling of the first look of The Common Man Coffee Roasters at Ayala Triangle. Very soon, Filipinos can find a new hotspot to work or hang out with family or friends while enjoying a great selection of coffee and pastries right at the heart of Makati.
To know more about Common Man Coffee Roasters, visit https://commonmancoffeeroasters.com/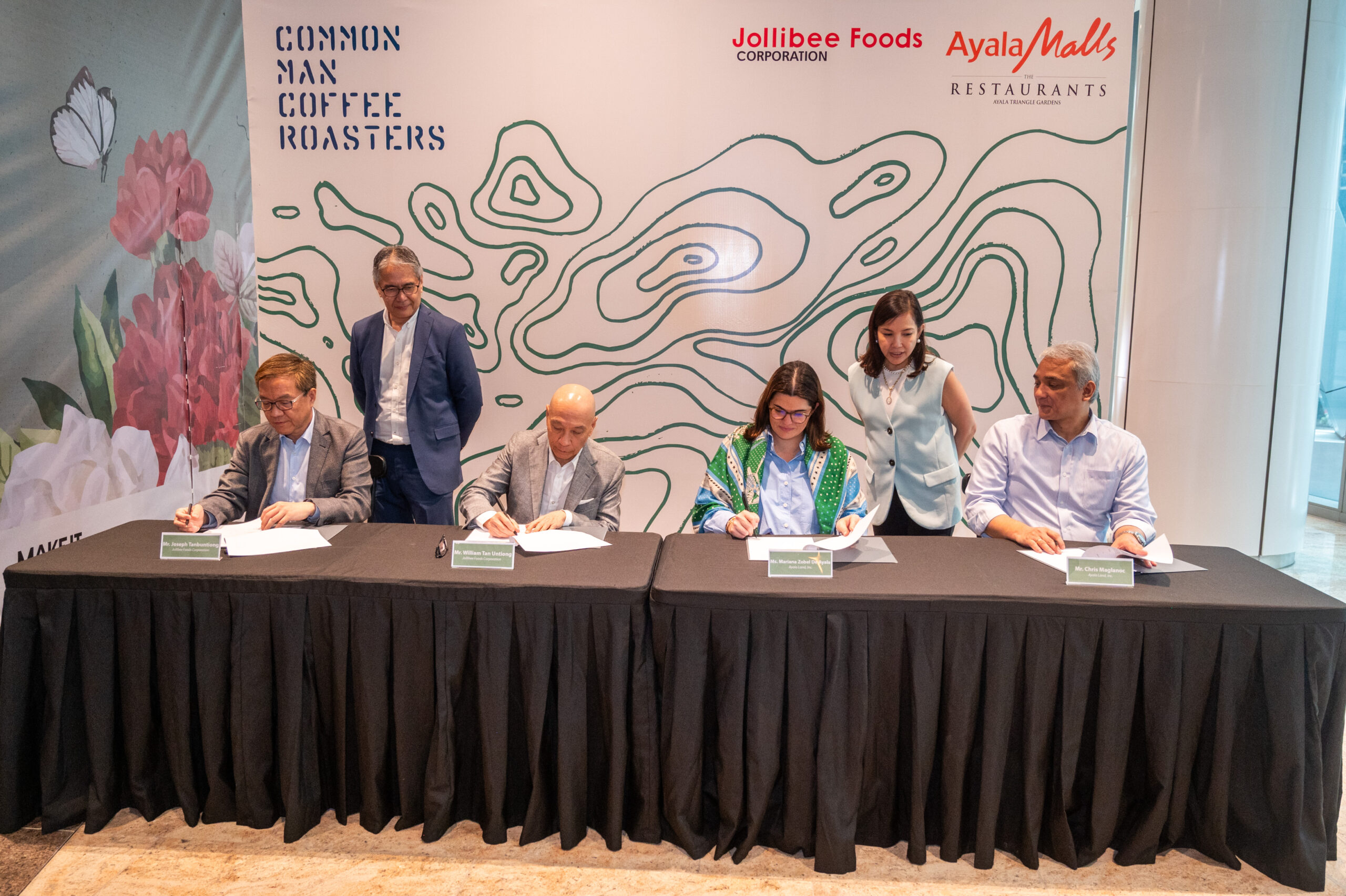 About Jollibee Group 
Jollibee Foods Corporation (JFC, also known as Jollibee Group) is one of the fastest-growing restaurant companies in the world. Its mission is to serve great-tasting food and bring the joy of eating to everyone through its 18 brands with over 6,500 stores across 34 countries including the Philippines, United States, Canada, the People's Republic of China, United Kingdom, Vietnam, United Arab Emirates, and Australia. 
The Jollibee Group has eight wholly owned brands (Jollibee, Chowking, Greenwich, Red Ribbon, Mang Inasal, Yonghe King, Hong Zhuang Yuan, Smashburger); four franchised brands (Burger King, Panda Express, and Yoshinoya in the Philippines, and Tim Ho Wan in certain territories in China); 80% ownership of The Coffee Bean and Tea Leaf; 60% ownership in the SuperFoods Group that owns Highlands Coffee; and 51% ownership of Milksha, a popular Taiwanese bubble tea brand. JFC also has a business venture with award-winning Chef Rick Bayless for Tortazo, a Mexican fast-casual restaurant business in the United States.
The Jollibee Group, through its subsidiary Jollibee Worldwide Pte. Ltd. (JWPL) owns 90% participating interest in Titan Dining LP, a private equity fund that owns the Tim Ho Wan brand. The Jollibee Group has a joint venture with the THW Group to open and operate THW restaurants in Mainland China. Recently, the Jollibee Group has signed an agreement to establish a joint venture company that will own and operate Tiong Bahru Bakery and Common Man Coffee Roasters in the Philippines. 
The Jollibee Group has launched its global sustainability agenda dubbed Joy for Tomorrow, which aims to strengthen the company's commitment to sustainable business practices. The agenda centers on the key pillars of Food, People, and Planet, and consists of 10 focus areas namely: food safety, food quality, nutrition & transparency, employee welfare, farmers livelihood, community support, good governance, packaging & recycling, waste reduction, and energy & water efficiency. Each focus area sets goals and initiatives that contribute and align with the United Nations Sustainable Development Goals (UN SDGs).
The Jollibee Group was named the Philippines' most admired company by the Asian Wall Street Journal for ten years. It was also honored as one of Asia's Fab 50 Companies and among the World's Best Employers and World's Top Female-Friendly Companies by Forbes. The company is also a two-time recipient of Gallup's Exceptional Workplace Award, making it the only Philippine-based company to receive the distinction. 
To learn more about Jollibee Group, visit www.jollibeegroup.com