The Maningning Miclat Art Foundation Inc. (MMAFI), in cooperation with the Far Eastern University Center for the Arts (FCA), Institute of Architecture and Fine Arts (IARFA) and Institute of Arts and Sciences (IAS), is now accepting entries of one Filipino poem per entry with the theme "Pagtatagumpay sa Pandemya" for the Maningning Poetry Workshop on September 27, 2023.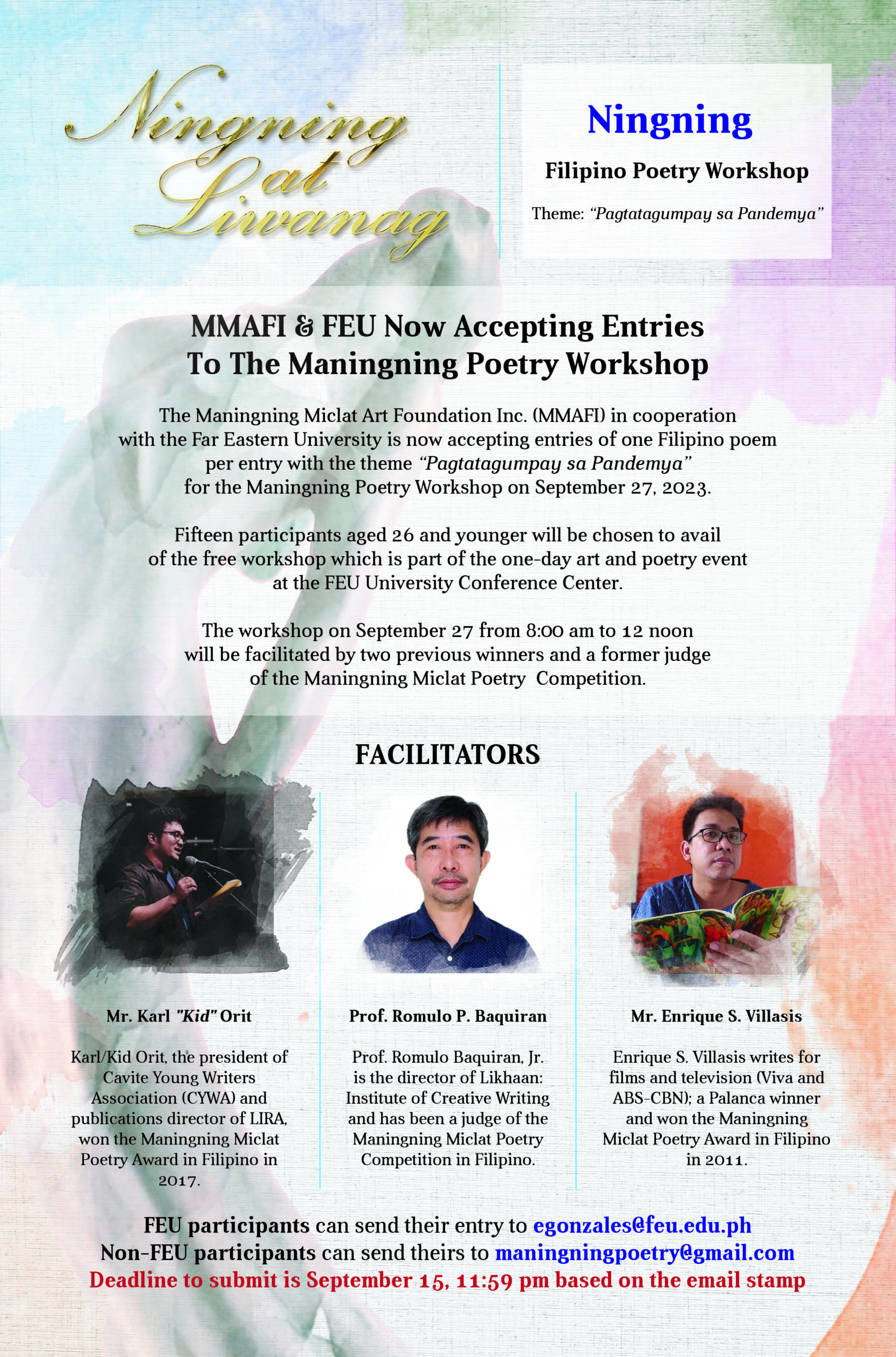 Fifteen participants aged 26 and younger will be chosen to avail of the free workshop which is part of the one-day art and poetry event at the FEU University Conference Center. A hardbound book, Ningning at Liwanag: Antolohiya ng 10 Nagwagi sa Gawad Maningning Miclat sa Tula (2003-2021) will be launched in the event which will also proclaim the winners of the 2023 Maningning Miclat poetry competition. The book published by MMAFI and Erehwon Artworld Corporation received Publication Grant for 2023 from the National Book Development Board (NBDB). Meanwhile, there will also be an exhibit sale of artworks by past Maningning Art Award winners like Dexter Sy, Jessica Lopez, Nikko Pelaez, Kristoffer Tolentino, and Joen Sudlon, and faculty and selected students from IARFA.
The workshop on September 27 from 8:00 am to 12 noon will be facilitated by two previous winners of the Maningning Miclat Poetry Awards—Karl/Kid Orit, president of Cavite Young Writers Association (CYWA), and Enrique S. Villasis, film and television writer for Viva and ABS-CBN—and a former judge of the Maningning Miclat Poetry Competition, Romulo Baquiran, Jr., UP professor and director of Likhaan: UP Institute of Creative Writing.
FEU participants can send their entry to egonzales@feu.edu.ph while non-FEU participants can send theirs to maningningpoetry@gmail.com. The deadline to submit is September 15, 11:59 pm based on the email stamp.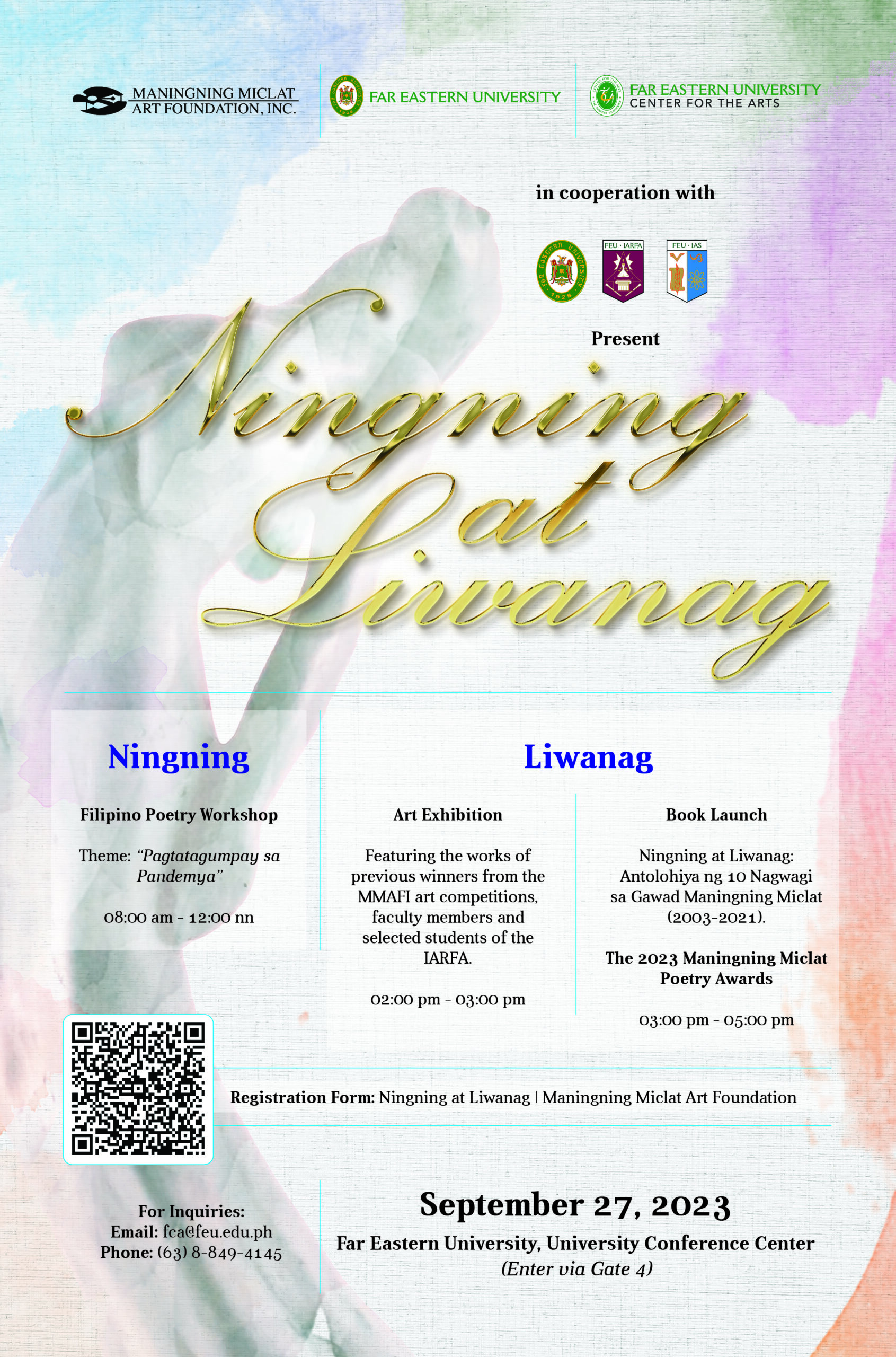 #HappeningPH #HappeningPHLiteratureNews #Philippineliterature #ManingningMiclatPoetryAwards #MMAFI #FEU #poetryworkshop #poetrybooklaunch #booklaunch #FarEasternUniversity #literaturenews #literarynews #KarlOrit #EnriqueSVillasis #RomuloBaquiranJr #ManingningMicalArtFoundationInc #PagtatagumpaysaPandemya #callforentries #acceptingentries #poetrycontest #poetrycompetition #poetry #Filipinopoetry #Philippinepoetry #poetrybyFilipinos #poetryinFilipino #poems #artexhibit #artshow #winners #NingningatLiwanag