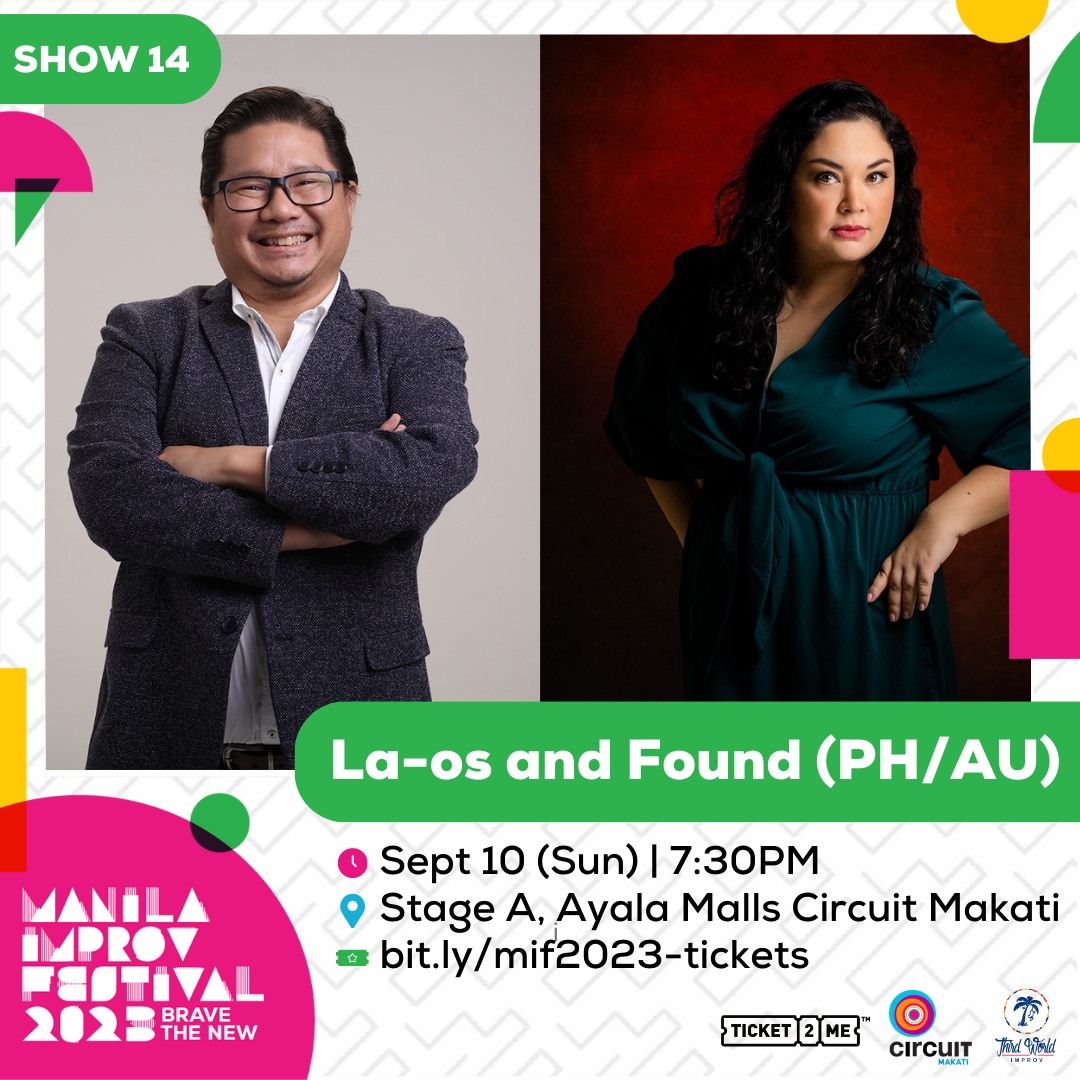 LA-OS AND FOUND
Show 14 at the Manila Improv Festival
7:30 PM September 10 at Circuit Makati
Director: Happy Feraren
Cast: Janette Mcbride and Gabe Mercado
Tickets at bit.ly/mif2023-tickets

Totoo ba? Magbabalik showbiz ang dalawang diumanong laos na?
In LA-OS AND FOUND, improv duo Janette and Gabe go deep into fame-obsessed celebrity culture, showbiz politics, the pressure of knowing how to sing, dance, and act (or else), and what happens to love teams on and off-screen.
In pursuit of art, do we have to sell out for fulfillment?
At siyempre, may pasabog sa show! Celebrity guest ba kamo? Pak! Abangan!
Languages spoken: English, Tagalog, Showbiz Taglish
About the group:
Coming together for the first time as ex-showbiz celebrities, Janette McBride (Tanging Yaman, Star Circle Batch 8) and Gabe Mercado (Yakult, DaPulis) join forces for the Manila Improv Festival as the unstoppable improv duo—LA-OS AND FOUND.
Catch LA-OS AND FOUND at the Manila Improv Festival on Sept 10, 7:30PM! Get your tickets now at bit.ly/mif2023-tickets.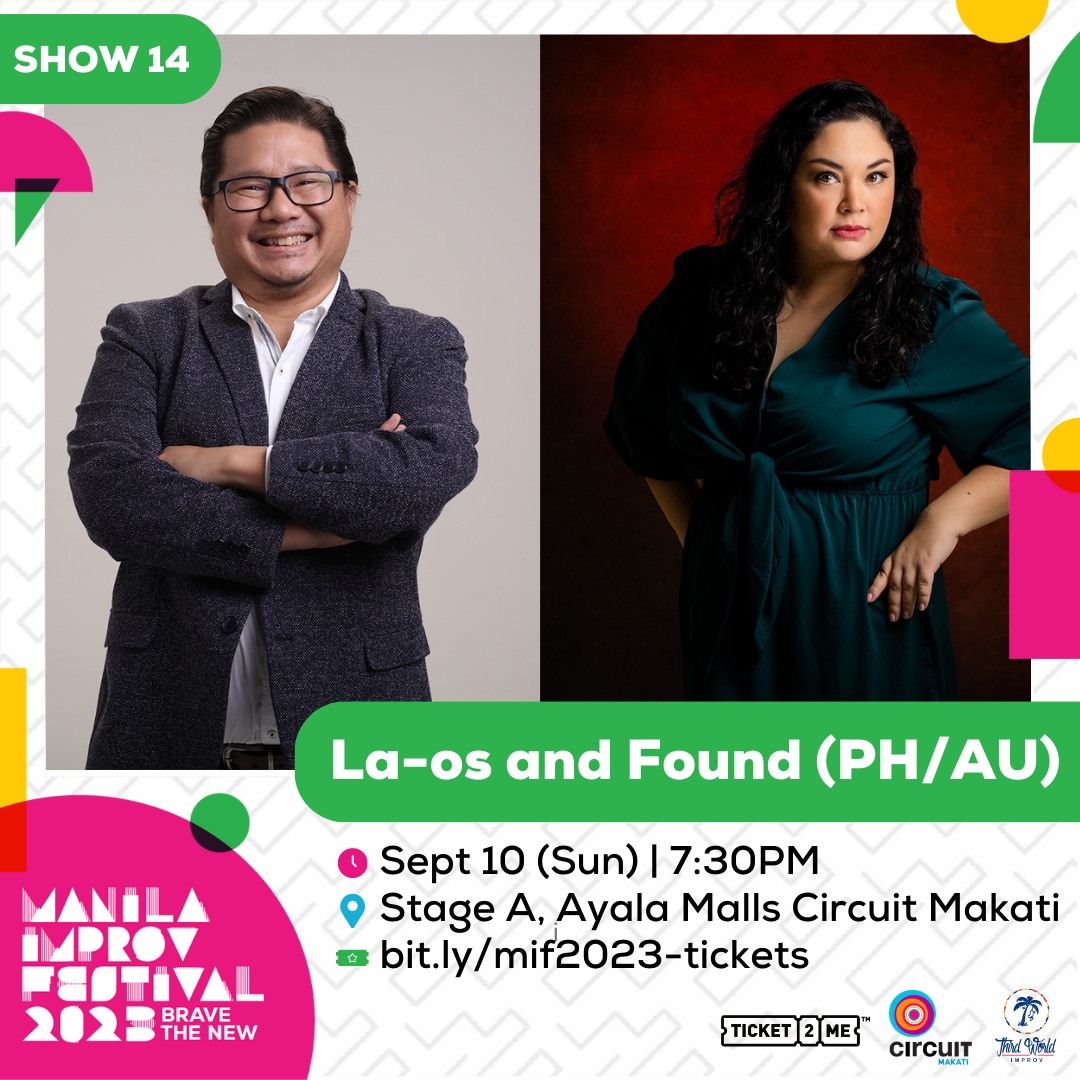 How did your showbiz career start?
JANETTE: I started out doing commercials, then I auditioned to be a part of ABS-CBN's Star Circle, a highly sought after television artist training program. I was selected to be in Star Circle Batch 8, which was launched in 1999. I acted on several TV shows and movies, and I was a host on a daily talk show. 
GABE: I was a theater actor and singer in my band, Dapulis. It was however during a cast party of a play I wasn't involved in and I was a little tipsy and was trying to catch the attention of a pretty girl that Dave of Talent Center spotted me. Apparently, he found me funny and invited me to do a screen test for ABS-CBN. I was signed as one of their contract artists also in 1999 and did my share of acting and singing and hosting on movies, sitcoms, teleseryes, variety shows and talk shows.

What were the best memories you had from your time in show business?
JANETTE: I was privileged to work alongside so many great directors and actors. I was just a naïve teen when I started, so I was lucky to learn from those who were much more experienced than me. I also felt so lucky that Tanging Yaman was my first movie and my Mum and I were flown to San Francisco to film parts of it, then I surprisingly won a few acting awards for that role.
GABE: I treasure most the friendships I made while in show business. One friendship in particular that I am thankful for was with Redford White who took it upon himself to mentor me and guide me from the time I worked with him on my first television sitcom "Pwedeng Pwede." He was an artist who was very devoted to his craft and he taught me the importance of studying my craft.  It was him who encouraged me to pursue improv and study abroad for it.

Do you have any unfulfilled showbiz wishes or dreams?
JANETTE: I would have liked to play more kontrabida roles and darker characters such as those in psychological thrillers and dramas. I also would have liked to have studied filmmaking so I could produce and direct my own projects.
 GABE: I was packaged as a character actor, host and comedian. That gave me the opportunity to play a lot of roles, but mostly as a teacher, a lawyer, a kind uncle or dad, or a silly comic relief.  Looking back, I never played the role of a romantic lead and that's something I would have liked to give a try—a little like the romantic lead roles Empoy has been getting in the last few years. Haha!
How do you feel now that you are LA-OS?
JANETTE: It's true, so I fully own it! Even though my showbiz career was short-lived, I look back and feel grateful and privileged for the experiences I had.
GABE: I have so much fun with it! I really like it when people recognize me but can't place how they know me. Many of them say "IDOL!" and then politely ask what my name is.  I have fun and give them the name usually of another retired celebrity. They believe me most of the time.  I hardly ever give my real name.  I walk away laughing.
How did the idea of this show LA-OS AND FOUND come up?
HAPPY: I met Gabe and Janette separately. I thought it was funny that both my improv theater lives (in Manila and Sydney) involved performing with former celebrities. We saw that the Manila Improv Fest was coming up and Janette told me she was going. I couldn't make it and because I don't cope well with FOMO, I pitched a show idea to them. I felt she and Gabe would have good chemistry as a performing duo. Having been on stage with both of them, I thought their on-stage characters matched. Janette often plays the "sexy flirtatious Tita", while Gabe plays the "awkward blabbering Tito." Bagay, di ba? And then they're both ex-celebrities, so I wanted to play with the idea of being "laos." It's not often you come across a former celebrity that can laugh about it and is perfectly comfortable being a has-been. Then Janette came up with the brilliant name "LA-OS AND FOUND." We submitted the show concept as a festival piece and got rostered on for the closing night show.
Tell us about your partners in LA-OS AND FOUND?
JANETTE: Gabe and I crossed paths in ABS-CBN because we were trained by the same management (Talent Center). Even though we didn't work together, I always knew him to be a funny, intelligent, and humble guy. These days as an improv nerd, I am thrilled to be performing with Gabe—the founder of SPIT. Wow!
With Happy, I was scrolling online and saw SPIT say that one of their members had moved to Sydney, so I Iooked her up right away and contacted her. We talked about comedy and some of the hardships in growing cultural diversity in improv in Australia, and I invited her to be an online guest for my multicultural cast. We have since performed together in Sydney and Brisbane in her show, Fillow Talk. She and the other Pinoy cast members feel like family to me now. I'm so excited to have her direct Laos and Found. She is full of great ideas and she inspires my improv career.

GABE: Although we were signed by ABS-CBN in the same year, we never got to work together! She was known as being one of the prettiest faces in showbiz and being a formidable dramatic actress. I was known as being funny-looking. It's funny how in later years I started doing a little bit more dramatic roles and Janette now does improv comedy! I am so thrilled that we crossed paths professionally now, almost 25 years after we first passed each other in the hallways of Talent Center and ABS-CBN!

When Happy first approached me with the idea, I said—I will only do it if you are directing.  We were together for many many years in SPIT and I have always had respect for her onstage talent but moreso for her show concepts and ideas and am so thrilled she spread her theater wings even more in Australia. I'm very happy to do this show with Happy!
What can the audience look forward to when they see this show?
HAPPY: Showbiz news is usually framed in the now—who is popular at the moment, the trending stars…we don't often get the gift of hindsight. A space to reflect on what that experience was like and how that affects individuals. Both Gabe and Janette found that space in improv theater—a place they can freely explore and express. Laos and Found is an uncensored, uninhibited, and totally unhinged parody on showbiz culture. Scenes will be based on things that may or may not be true. No comment. We will neither confirm nor deny.
JANETTE: Uy may surprise celebrity guest, too—who is definitely not laos!
GABE: Because it's improv and we both no longer live in Metro Manila, Janette and I will only get to reconnect in person a few days before the show. How exciting will that be?
What made you fall in love with improv? Why do you do it?
JANETTE: After taking a long break from acting, I wanted to take up acting workshops, but in something different than what I was used to. I started improv workshops in 2015 in Brisbane and I was immediately addicted, and I knew even from Level 1 that I wanted to eventually teach it. Just like scripted acting, I love playing different characters, trying on different identities, and behaving in ways I wouldn't normally do in real life. Improv is so exciting because it's all made up on the spot, so there's a special sense of accomplishment when you nail a great format or character that makes people laugh out loud. I started teaching and producing in 2021, which is also so fulfilling.
GABE: When I was starting out in doing comedy on television, I was lucky to have been taken by Redford White under his wing.  Not too many people know what a consummate professional he was and how devoted he was to his craft. The best advice he gave me was: study your craft and study abroad where they really take the craft of acting seriously. That would be the best investment I could make as an actor. So I did my research and found Paul Sills, the founder of Second City. Through him, I discovered the work of his mother Viola Spolin and in the years that followed I was lucky to learn from other improv greats like Charna Halpern and Keith Johnstone and many other teachers who aren't as prominent but are every bit as wise.  I still get a huge thrill doing improv now, even at my age and love how it makes the improv player the writer, performer, director, choreographer, dramaturg all in one!
Where do you want to take LA-OS AND FOUND?
JANETTE: Every time the three of us chat about our past experiences, I get so excited for the possibilities of where we could take the show. I honestly feel that our chemistry and lessons could entertain and educate audiences if we toured our show internationally and even turned it into a podcast or a YouTube show!

GABE: Oh we definitely have big plans after this. But if there's anything I've learned about improv, it's this.  Get out of the way of the plans you are making in your head and just let things be. Often what ends up happening is even better than what you could have imagined. Naks.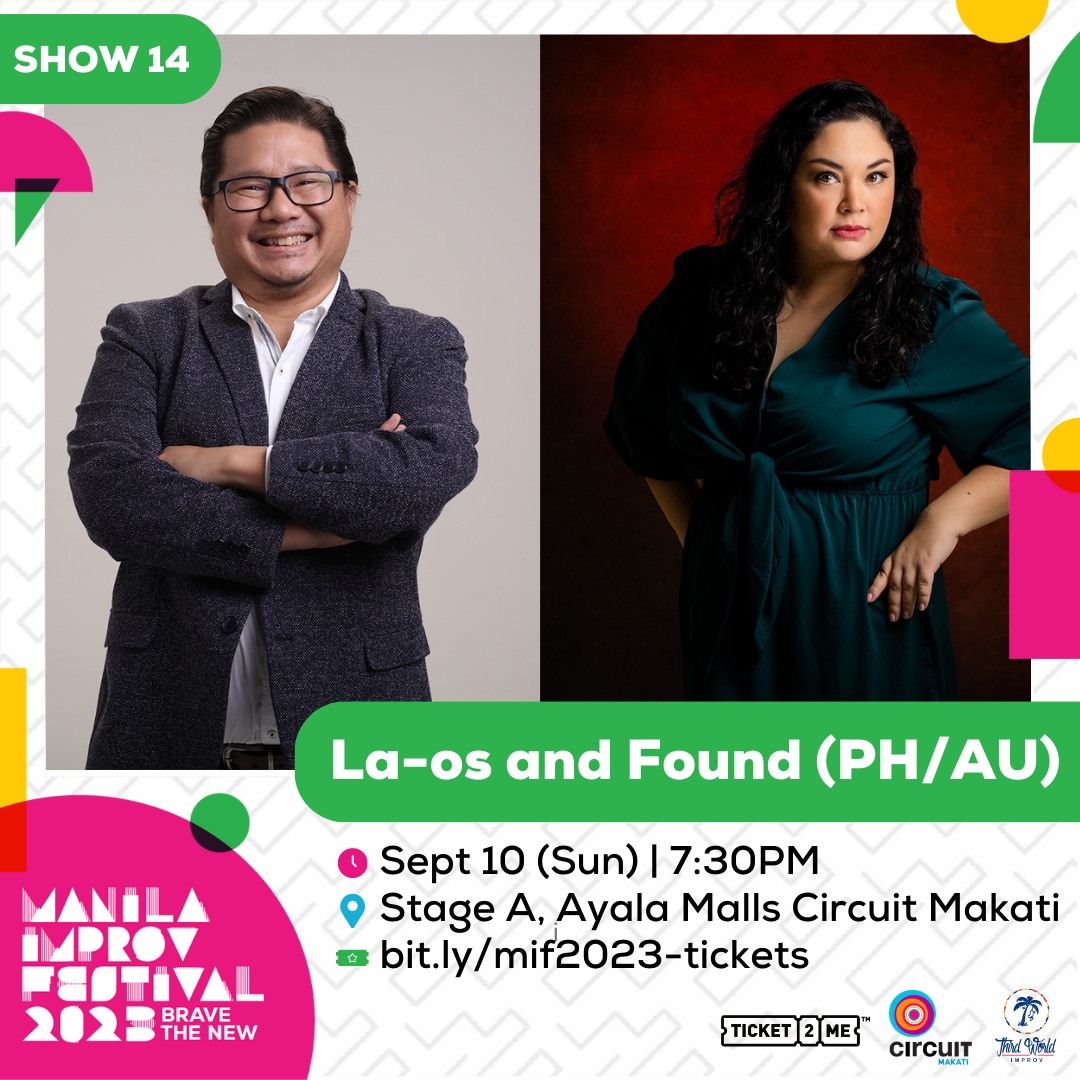 #HappeningPH #ManilaImprovFestival2023 #BravetheNew #GabeMercado #JannetteMcBride #comedy #HappeningPHExclusiveInterview #exclusiveinterview #interview #exclusive #comedyduo #LAOSANDFOUND #comedy #Filipinoimprovcomedy #comedytheater #improvtheater #comedyperformance #CircuitMakati #closingshow #SPIT #SillyPeoplesImprovTheater #HappyFeraren