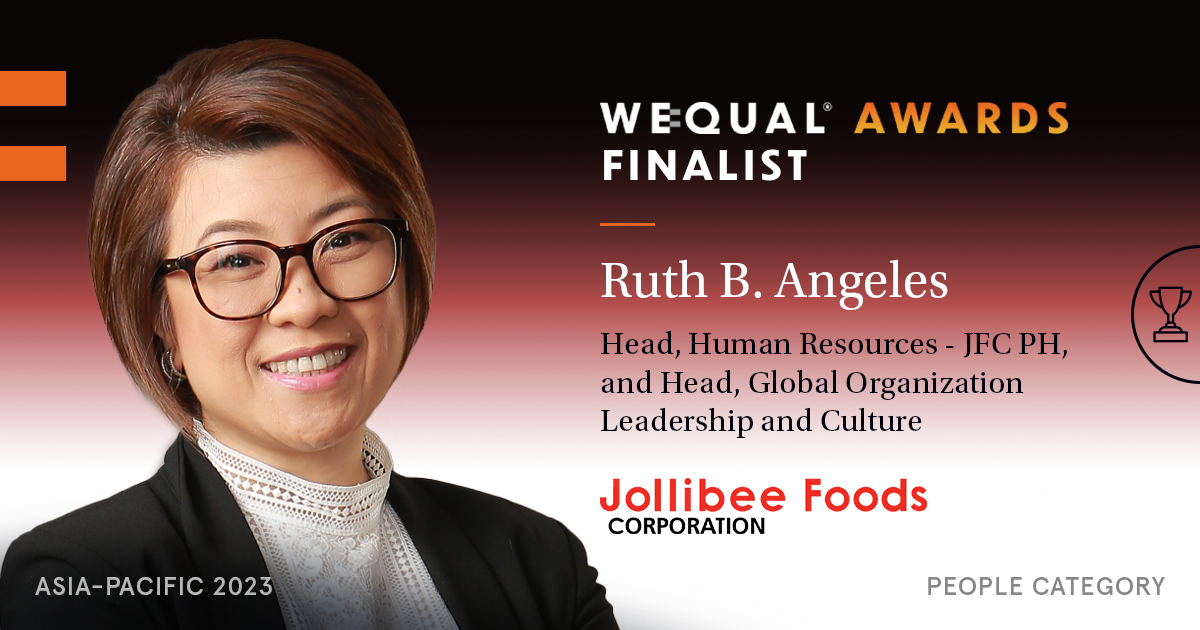 MANILA, Philippines. – Another feat for Filipina women leaders on the global stage. Ruth Angeles, Jollibee Group's Head of Global Organization, Leadership, and Culture and Head of Region Philippines Human Resources, was cited as the only Filipina among the three finalists for the People category at the WeQual Awards, Asia-Pacific 2023. 
The WeQual Awards identify senior executive women with exemplary leadership qualities. The Awards aim to promote and accelerate gender parity at the top of the world's largest companies.
"It is a great honor to become part of this global list of outstanding senior executive women. This recognition inspires me to do even more to foster our JFC culture of inclusivity and equality in the workplace that allows employees, regardless of gender, to grow and succeed," Angeles said. 
WeQual cited Angeles as a skilled communicator with a deep understanding of aligning people strategy with business objectives. WeQual likewise recognized Angeles' well-developed judgment and remarkable resilience. 
Angeles started her journey with the Jollibee Group in 2006 as HR Manager for Jollibee Worldwide Services and became part of its pioneer leadership team. After this stint, she led Red Ribbon Philippines' HR function, helping keep people aligned amid its business turnaround at the time. She was soon elevated to HR Head of Jollibee Philippines, facilitating a culture transformation that helped the brand achieve significant sales and store network growth. Today, Angeles leads the Regional HR team in the Philippines and the Global Organization, Leadership, and Culture team concurrently.
As the Regional HR Head for the Philippines, Angeles oversees the consistent delivery of HR programs, systems, and processes while building the talent pipeline for organizational sustainability in the region. Simultaneously, Angeles drives cultural transformation across JFC's BUs and functions globally through learning and development, organizational development, and employee engagement. 
In the Philippines, women comprise most of Jollibee Group's management positions. The organization was named in the list of Forbes' Most Female Friendly Companies—a testament to its commitment to supporting its women employees worldwide. Last year, Cynthia Castro, Finance Head of Jollibee Group's Philippine Region and Jollibee Philippines, was also recognized as a finalist in the WeQual Awards. 
About Jollibee Group
Jollibee Foods Corporation (JFC, also known as Jollibee Group) is one of the fastest-growing restaurant companies in the world. Its mission is to serve great-tasting food and bring the joy of eating to everyone through its 18 brands with over 6,500 stores across 34 countries including the Philippines, United States, Canada, the People's Republic of China, United Kingdom, Vietnam, United Arab Emirates, and Australia.
The Jollibee Group has eight wholly owned brands (Jollibee, Chowking, Greenwich, Red Ribbon, Mang Inasal, Yonghe King, Hong Zhuang Yuan, Smashburger); four franchised brands (Burger King, Panda Express, and Yoshinoya in the Philippines, and Tim Ho Wan in certain territories in China); 80% ownership of The Coffee Bean and Tea Leaf; 60% ownership in the SuperFoods Group that owns Highlands Coffee; and 51% ownership of Milksha, a popular Taiwanese bubble tea brand. JFC also has a business venture with award-winning Chef Rick Bayless for Tortazo, a Mexican fast-casual restaurant business in the United States.
The Jollibee Group, through its subsidiary Jollibee Worldwide Pte. Ltd. (JWPL) owns 90% participating interest in Titan Dining LP, a private equity fund that owns the Tim Ho Wan brand. The Jollibee Group has a joint venture with the THW Group to open and operate THW restaurants in Mainland China. Recently, the Jollibee Group has signed an agreement to establish a joint venture company that will own and operate Tiong Bahru Bakery and Common Man Coffee Roasters in the Philippines.
The Jollibee Group has launched its global sustainability agenda dubbed Joy for Tomorrow, which aims to strengthen the company's commitment to sustainable business practices. The agenda centers on the key pillars of Food, People, and Planet, and consists of 10 focus areas namely: food safety, food quality, nutrition & transparency, employee welfare, farmers livelihood, community support, good governance, packaging & recycling, waste reduction, and energy & water efficiency. Each focus area sets goals and initiatives that contribute and align with the United Nations Sustainable Development Goals (UN SDGs).
The Jollibee Group was named the Philippines' most admired company by the Asian Wall Street Journal for ten years. It was also honored as one of Asia's Fab 50 Companies and among the World's Best Employers and World's Top Female-Friendly Companies by Forbes. The company is also a two-time recipient of Gallup's Exceptional Workplace Award, making it the only Philippine-based company to receive the distinction.
To learn more about Jollibee Group, visit www.jollibeegroup.com.