Jollibee Group's President for Asian Brands Beth Dela Cruz joins double EGOT winner Bobby Lopez and philanthropist Loida Lewis in prestigious event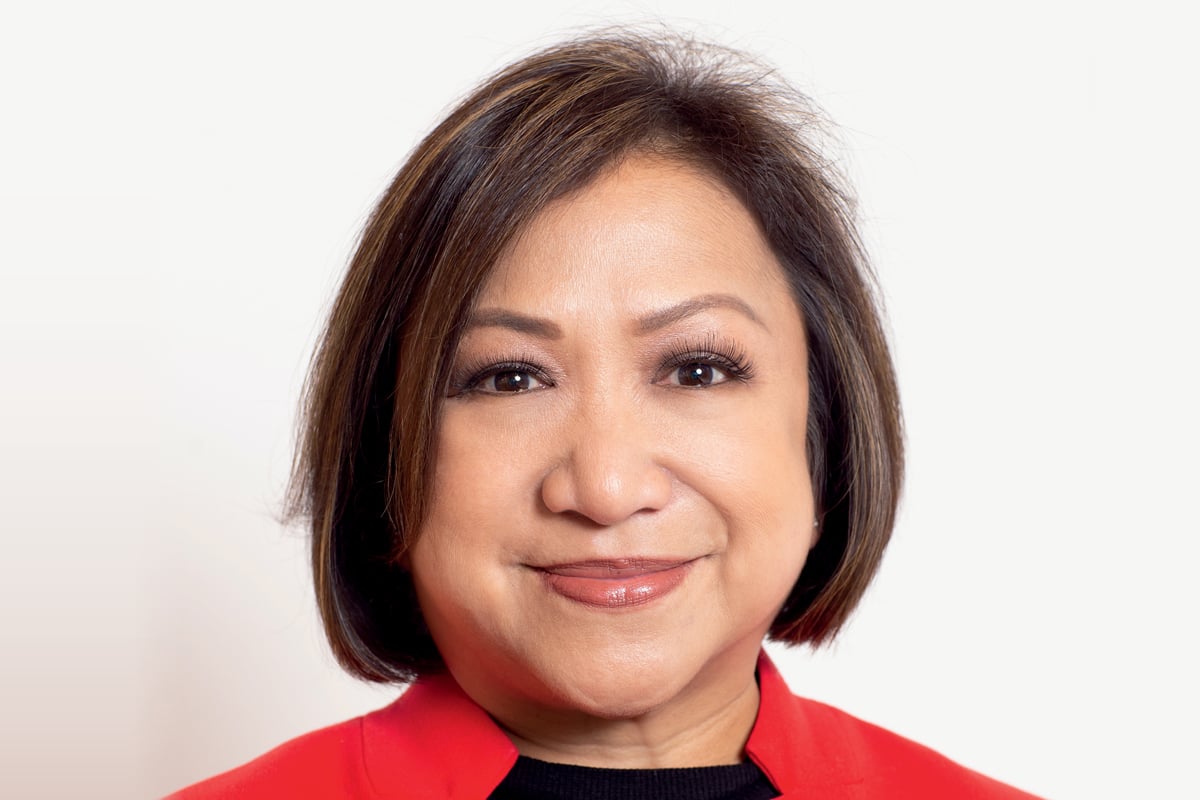 MANILA, Philippines. Global Filipino trailblazers will take centerstage in New York on October 28, when PHTimeIsNow: A Time and Place to Connect with Fellow Filipino Trailblazers will be held at the Harvard Club of New York City, with Jollibee Group's Beth  Dela Cruz among its speakers. 
"I am honored to share our Jollibee Group story at the historic Harvard Club NYC for the PHTimeIsNow forum," shared Beth Dela Cruz, President for Jollibee Group North America Asian Brands (Jollibee, Chowking, and Red Ribbon). "Being on stage with accomplished Filipinos like Bobby Lopez and Loida Lewis inspires us to work even harder to share Filipino pride here in the United States and around the world." 
Dela Cruz joins the ranks of renowned trailblazers such as Bobby Lopez, Double EGOT (Emmy, Grammy, Oscar & Tony) award-winning composer for Frozen, Coco, Avenue Q, and Book of Mormon, and Loida Lewis, philanthropist, businesswoman, and author of "Why Should Guys Have All the Fun?".
Lopez was born in Manhattan to a Filipino-American family and attended Yale University before writing songs for local theatres. Lopez received his first EGOT in 2013, at the age 39, making him the youngest individual to win all four awards and the first Asian to do so.  Lopez received his second Oscar in 2018, becoming the only person in history to obtain a double EGOT,  making him a legend in the fields of television, music, film, and theater. 
Lewis, a practicing attorney in both the Philippines and New York, was the first Asian and Filipino woman to pass the New York bar without having studied law in the United States. She also served 10 years as General Attorney in the US Immigration and Naturalization Service (currently U.S. Citizenship & Immigration Services) and won her discrimination action against INS in 1979. 
Headlining the full-day summit is Karen Davila, one of the Philippines' most celebrated news anchors who has been recognized globally and locally for her achievements in journalism as well as her contributions to various advocacies and charities.
PHTimeIsNow was launched in June 2018 to create a platform for Global Filipino Trailblazers, Mentors, and Changemakers to share their personal stories of learning, success, and growth in hopes of helping the next generation to reach greater heights in their personal and professional lives.
#PHTimeIsNow2023 is supported by Jollibee Foods Corporation. To learn more about the event and the participating Global Filipino Trailblazers, Mentors, and Changemakers, visit www.phtimeisnow.com or follow PHTimeIsNow on Facebook, Instagram, and Twitter.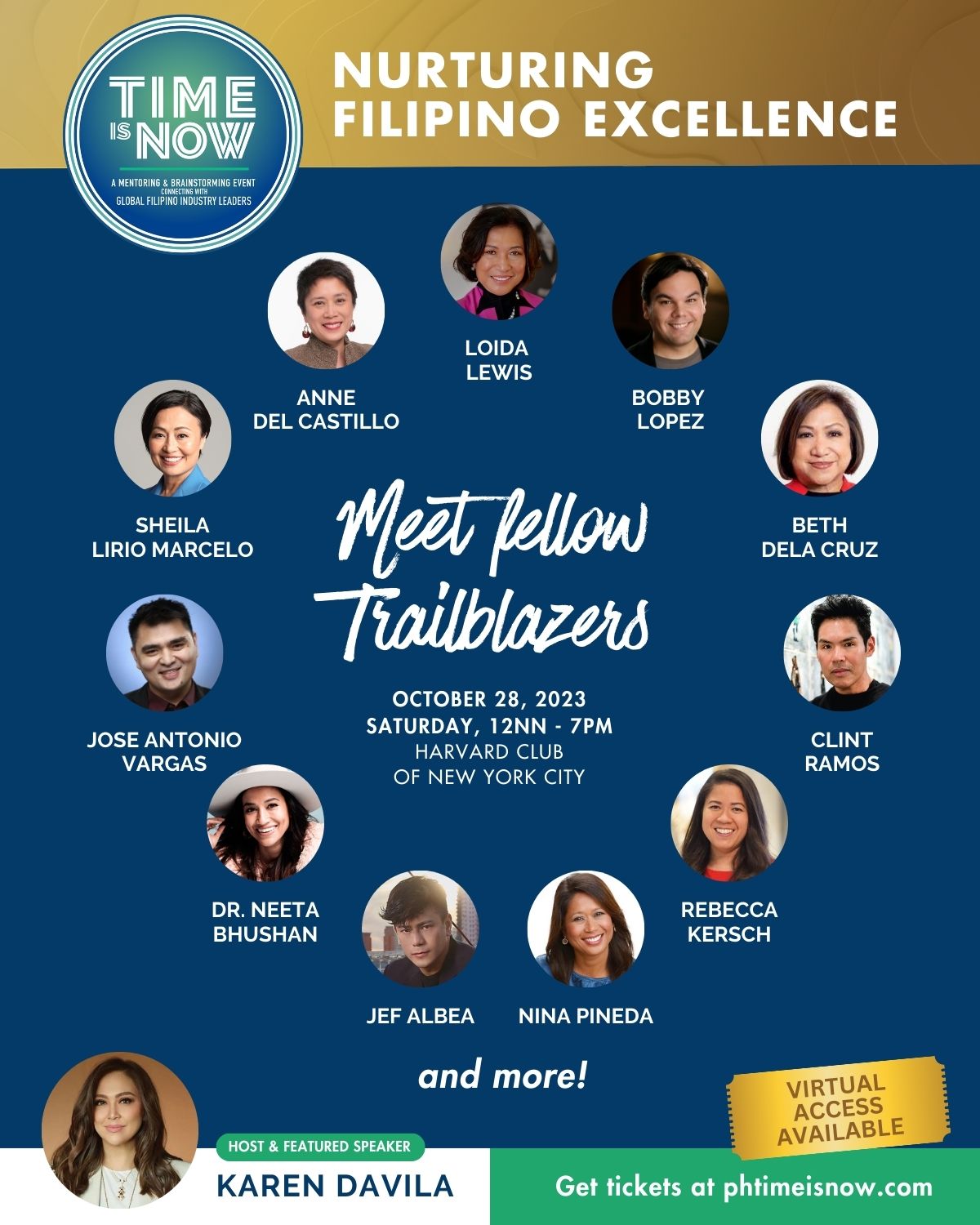 About Jollibee Group 
Jollibee Foods Corporation (JFC, also known as Jollibee Group) is one of the fastest-growing restaurant companies in the world. Its mission is to serve great-tasting food and bring the joy of eating to everyone through its 18 brands with over 6,500 stores across 34 countries including the Philippines, United States, Canada, the People's Republic of China, United Kingdom, Vietnam, United Arab Emirates, and Australia. 
The Jollibee Group has eight wholly owned brands (Jollibee, Chowking, Greenwich, Red Ribbon, Mang Inasal, Yonghe King, Hong Zhuang Yuan, Smashburger); four franchised brands (Burger King, Panda Express, and Yoshinoya in the Philippines, and Tim Ho Wan in certain territories in China); 80% ownership of The Coffee Bean and Tea Leaf; 60% ownership in the SuperFoods Group that owns Highlands Coffee; and 51% ownership of Milksha, a popular Taiwanese bubble tea brand. JFC also has a business venture with award-winning Chef Rick Bayless for Tortazo, a Mexican fast-casual restaurant business in the United States.
The Jollibee Group, through its subsidiary Jollibee Worldwide Pte. Ltd. (JWPL) owns 90% participating interest in Titan Dining LP, a private equity fund that owns the Tim Ho Wan brand. The Jollibee Group has a joint venture with the THW Group to open and operate THW restaurants in Mainland China. Recently, the Jollibee Group has signed an agreement to establish a joint venture company that will own and operate Tiong Bahru Bakery and Common Man Coffee Roasters in the Philippines. 
The Jollibee Group has launched its global sustainability agenda dubbed Joy for Tomorrow, which aims to strengthen the company's commitment to sustainable business practices. The agenda centers on the key pillars of Food, People, and Planet, and consists of 10 focus areas namely: food safety, food quality, nutrition & transparency, employee welfare, farmers livelihood, community support, good governance, packaging & recycling, waste reduction, and energy & water efficiency. Each focus area sets goals and initiatives that contribute and align with the United Nations Sustainable Development Goals (UN SDGs).
The Jollibee Group was named the Philippines' most admired company by the Asian Wall Street Journal for ten years. It was also honored as one of Asia's Fab 50 Companies and among the World's Best Employers and World's Top Female-Friendly Companies by Forbes. The company is also a two-time recipient of Gallup's Exceptional Workplace Award, making it the only Philippine-based company to receive the distinction. 
To learn more about Jollibee Group, visit www.jollibeegroup.com