On August 7, 2023, the Rising Tigers Cup was held at the most prestigious and exclusive Golf Club in the Philippines, the Manila Golf and Country Club. Rising Tigers once again proved that they are leading in the magazine publishing industry and now made a name in sports.
At the beginning of the Awarding Ceremony, Rising Tigers Magazine CMO Andria Nicolas made a speech about the magazine's entry into sports.
"Rising Tigers has inspired so many, and we heard that a lot of presidents and CEOs from different companies are already learning how to play golf to join our next one. You all have proven to us that the Rising Tigers Cup is the number 1 golf tournament in the Philippines. We want to give everyone a chance to become a rising tiger, so we already booked our next one, and we will only have it at the most exclusive and prestigious golf club in the country, here at Manila Golf and Country Club. At Rising Tigers we mean business and Manila Golf is the epitome of success. This is how Rising Tigers celebrate leadership, always on top of the line."
The Tournament was led by Rising Tigers Chief Marketing Officer Andria Terese Nicolas, Ambassador of Malaysia H.E Dato Abdul Malik Melvin Castellino, and Robert Laurel Yupangco of Yupangco Group.
Students and young golf leaders emerged champs in the tournament results.
Low net — Kristoffer Arevalo 67
Low gross — Armand Copok 73
"Coming into the tournament, I wanted to do well but when I later found out that it was a fundraising event I pushed myself to do my absolute best because I was playing with a purpose. It's one thing to play the sport that I love but to play for the benefit of the children makes it more fulfilling," says Overall Net Champion Kristoffer Arevalo, a proud Lasallian Achiever from DLSU Manila.
Rising Tigers successfully entered sports with the support of ambassadors, business leaders, diplomats, and tycoons.
Among those leaders are David Ackerman, Consul of Ethiopia; Lauro Leviste, President of Summit Point; and, Robert Laurel Yupangco, President of Yupangco Group.
They are joined by the Rising Tigers Magazine's Board: Michael Pacquiao, Creative Director; Brian Poe Llamanzares, Co-Owner; Grace Bondad Nicolas, President; Andrew Troy Nicolas, CEO; and, Andria Terese Nicolas, Chief Marketing Officer.
Winners Circle
Ladies Division
2nd Runner Up: Herrera, Maria Victoria
1st Runner Up: Neri, May
Champion: Carloman, Lea
Men's Division
Class C
2nd Runner Up: Ting, George
1st Runner Up: Figueroa, Jimbo
Champion: Ver, Raymond
Class B
2nd Runner Up: Garcia, Emilio Jr.
1st Runner Up: Torres, Marino
Champion: Santos, Erwin Rommel
Class A
2nd Runner Up: Carloman, Carlo
1st Runner Up: Co, Edward
Champion: Abara, Ronell
Overall Low Gross Champion: Copok, Armand
Overall Net Champion: Arevalo, Kristoffer
She also mentioned that the tournament will be the start of Nation-Building.
"We as individuals play our role in this world for our people, our company, and ourselves. Rising Tigers believes that this tournament will be the start of Nation-Building. Remember in whatever field or industry you are in, before any game, remind yourself that you are a Filipino and you are a Rising Tiger."
Rising Tigers Magazine is the leading business and lifestyle magazine in the Philippines, which features Rising Leaders and Nation Builders in the Country. The magazine recently entered sports to celebrate leadership, and to give everyone a chance to become a Rising Tiger.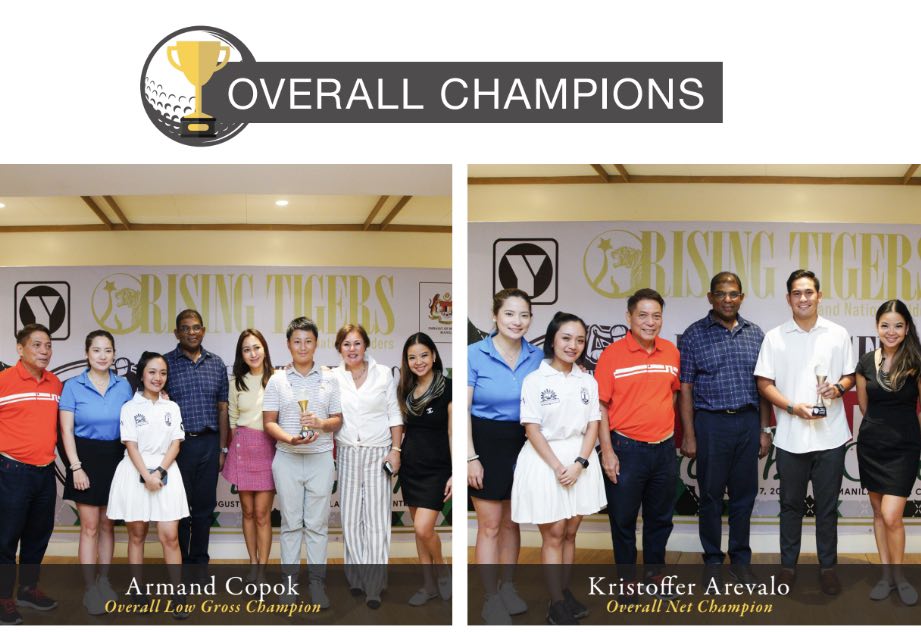 #HappeningPH #RisingTigersMagazine #RisingTigersCup #MastersoftheGreen #golftournament #ManilaGolfandCountryClub #posh #golfing #tournament #youth #youthwinners #risingtigersnationbuilders #risingtigers #winnerscircle #winners #champions #GraceBondadNicolas #AndriaTereseNicolas #sports #HappeningPHSportsExclusive #sportsexclusive #sportsnews