Leading building solutions provider Holcim Philippines, Inc. shared its 2020 contributions to the country's sustainable development through initiatives that reduced carbons emissions, improved resource efficiency of operations, and uplifted communities and business partners.
The company discussed accomplishments in these areas and commitments to further improve until 2030 in its first Integrated Annual Report that follows the Global Reporting Initiative (GRI), which sets standards for reporting sustainability performance.
Cara Ramirez, Holcim Philippines Vice President of Communications: "This Integrated Annual Report is a reflection of our company's commitment to transparency about our sustainability performance, and pledge to be partner of progress beyond cement. Following the GRI standards helps us to go beyond reportorial requirements of corporate regulators to provide stakeholders a full view of our efforts to deliver business results and positively impact the environment and our communities."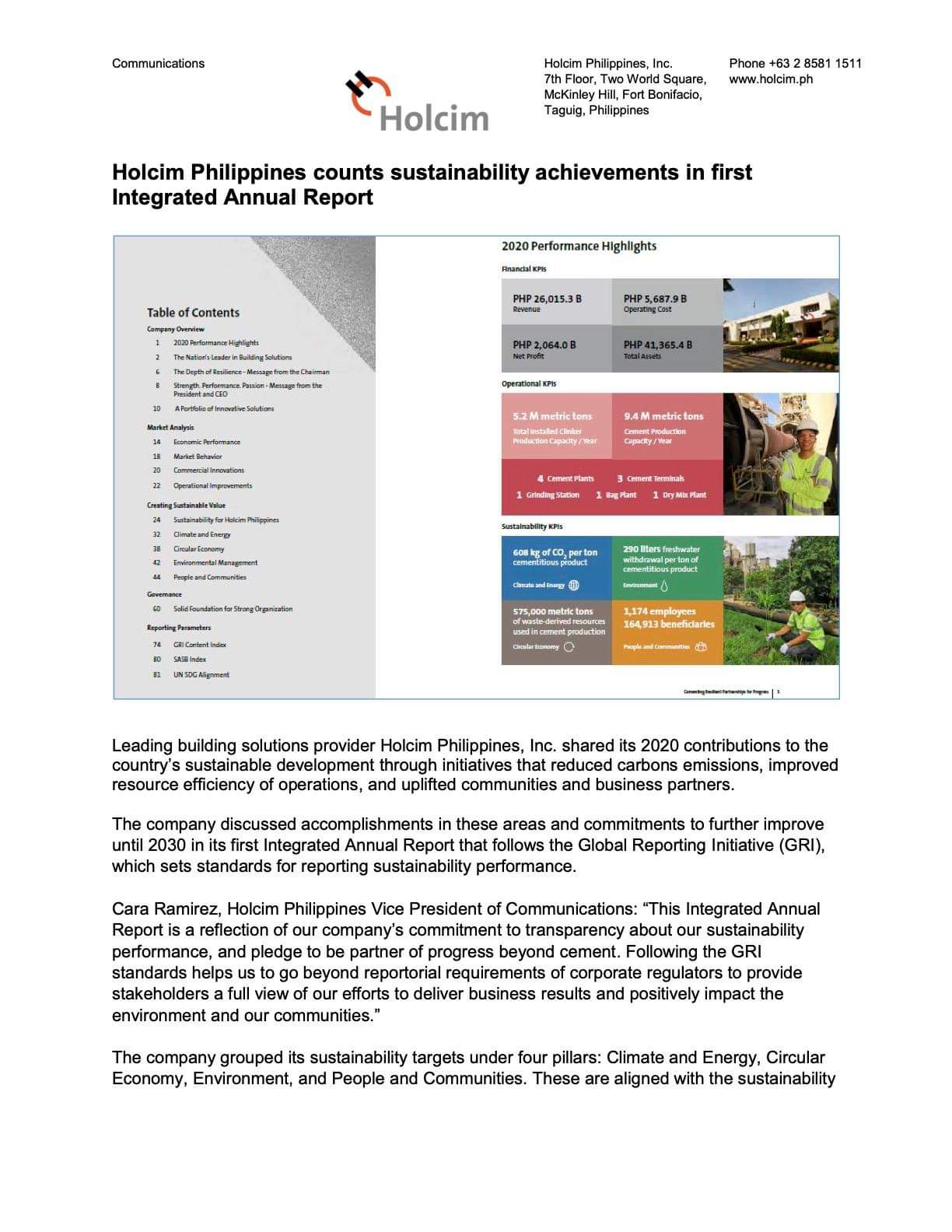 The company grouped its sustainability targets under four pillars: Climate and Energy, Circular Economy, Environment, and People and Communities. These are aligned with the sustainability priorities of global building solutions leader LafargeHolcim Group and support the United Nations' Sustainable Development Goals.
Under Climate and Energy, Holcim Philippines disclosed that carbon emissions per ton of cement produced are at 608 kilograms in 2020, 22.15% lower versus 1990 levels.
This was driven by investments in efficient production technology and shift towards more blended cement products such as infrastructure cement Holcim Solido, general purpose cement Holcim Excel and masonry cement Holcim Wallright.
The company is looking to further reduce emissions aligned with the LafargeHolcim Group's target of 475 kilograms CO2 per ton of cement by 2030.
On Circular Economy, Holcim Philippines aims to significantly increase usage of alternative fuels such as qualified residual wastes through its co-processing technology, and alternative raw materials for its products to require less clinker.
In 2020, the company co-processed 70,680 kilograms of wastes through unit Geocycle to reduce usage of traditional fuels.
These also enable the company to help partners in the public and private sector divert discarded materials away from landfills.
Under the Environment pillar, the company reported that it withdrew 290 liters of freshwater per ton of cement produced in 2020.
Holcim Philippines aims to lower this further to 262 liter per ton of cement by 2030 through efficiency initiatives and utilization of rainwater.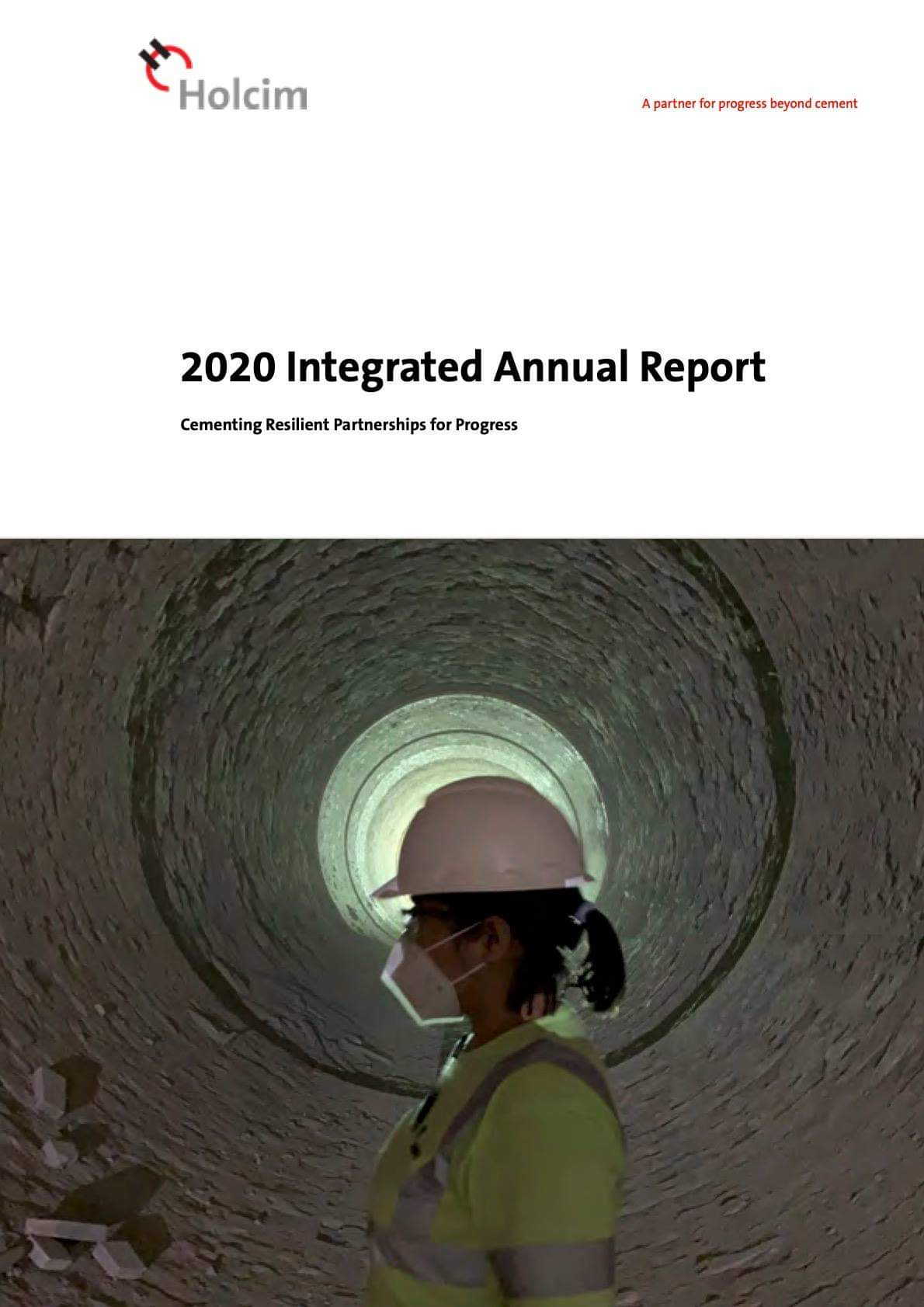 Finally, Holcim Philippines listed programs that uplift communities and partners under the People and Communities pillar.
Among the highlights was the 164,913 people assisted in 2020 through its Holcim HELPS corporate citizenship campaign, which focused on community health and sanitation projects in response to the COVID-19 pandemic.
* * *
Holcim Philippines, Inc. (Philippine Stock Exchange: HLCM) is one of the leading building solution companies in the country.
The Company has a deep portfolio of innovative solutions fostered by a full range of products from structuring to finishing applications that can help local builders execute with high performance and efficiency a wide range of projects from massive infrastructure to simple home repairs.
With cement manufacturing facilities in La Union, Bulacan, Batangas, Misamis Oriental and Davao, as well as aggregates and dry mix business and technical support facilities for building solutions, Holcim Philippines is a reliable partner of builders in the country.
Holcim Philippines is also committed to the highest standards of sustainable operations and manufacturing excellence with its plants certified under ISO 14001:2004 (Environmental Management System), ISO 001:2008 (Quality Management System), and OHSAS 45001:2018 (Occupational Health and Safety Management System).
Holcim Philippines is a member of the Holcim Group, the world leader in the building materials industry present in 80 countries with over 75,000 employees.