Leading up Easter, the anchor fiesta in the Christian calendar, Negros Season of Culture reaches out to Negrenses and Filipinos the world over to stage yet another virtual "Visita Iglesia", a tradition started by NSC in 2021.
This year, the event will be streamed live on Facebook, on Holy Thursday at 10p.m. Philippine Time, that's 3p.m. in London, 10a.m. in New York, and 7a.m. in Los Angeles.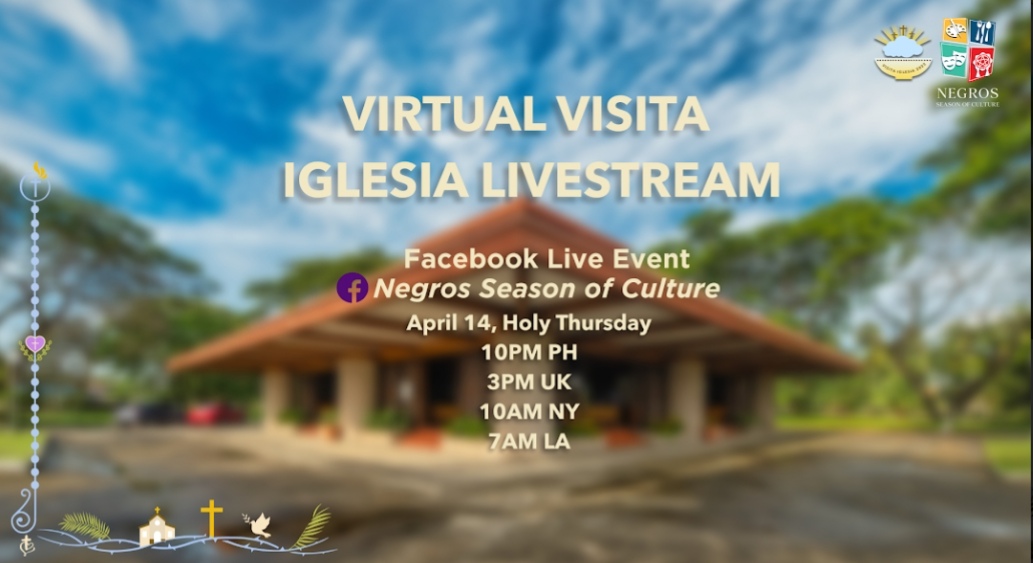 Adding local color and pastoral spirituality to the observance of Holy Week "panatas" or vows are video documentaries, this time on seven chapels in Negros Occidental, each with its distinct charm.
Three of them easily find significance in facing the health challenges of the time. Perhaps most representative of Negrense heritage is the Chapel of the Cartwheels in the town of Manapla. Standing in the middle of a sugarcane plantation and using discarded farm objects to create a bespoke architecture and interior design, the chapel is dedicated to Santa Rosalia of Palermo, Italy, the saint invoked in times of plagues and sickness.
Fresh air is a welcome breather to lockdowns. Up in the Cool mountains of Don Salvador Benedicto, in a community that has become a choice escape for nature habitués, is the Manggapuri Chapel.
Rising above the verdant landscape of Negros, it is at once magical and idyllic. And a spiritual tonic, being dedicated to Saint Michael the Archangel who, among a few special roles, is sought for healing the sick.
Meanwhile, down by the shores of Talisay, the CICM Chapel, dedicated to Mary Mother of Christ, found new calling when social distancing became the order of the day. Here, members of the community enjoy the sea breeze while hearing mass practically on the beach. Mass by the beach is a concept whose time has come…what a blessing!
Comparatively new to the scene, and inspired by fallen trees that are
common to typhoon ravaged Philippines, the quaint Patagoña Chapel of Silay City eventually took form and captured the hearts of many who visit. Located in the highlands of Silay, the cool temperature lends to deeper reflection and prayer, helped along by design inspirations from a Benedictine Monastery, and then from among Trappist monks.
Artistry is embedded in the soul of the Negrense, and several chapels live up to that standard. The popularly known Chapel of the Angry Christ in Victorias, made famous by the significant works of Filipino-American abstract expressionist, Alfonso Ossorio, is actually dedicated to St. Joseph the Worker. The Santa Clara Chapel in Bacolod is highlighted by a larger-than-life image of the Virgen sang Barangay executed by Leticia Ledesma.
Tens of thousands of locally sourced shells were used. And leave it to Negrense national artist Leandro Locsin to re-imagine Greek classical architecture into clean, modern, minimalist lines, and so create the La Salle Chapel, far and away the most familiar to Negrenses, heirs to the great La Sallian education.