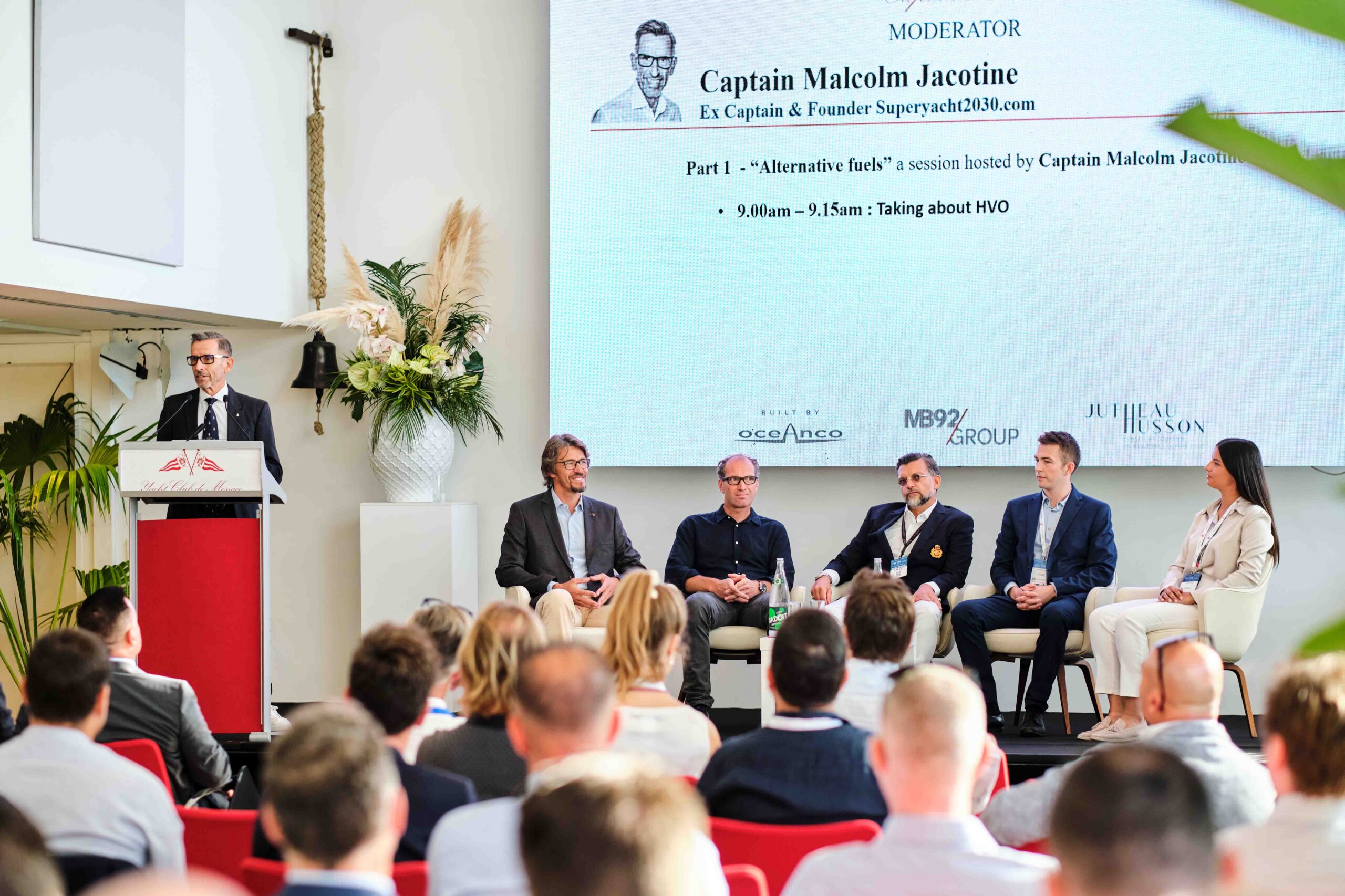 TURIN, Italy, Oct. 09, 2023 (GLOBE NEWSWIRE) — 'Engineering Superyachts of the future; alternative fuels, operational challenges & classification societies'. It is the title of the Captains' Forum organised by Yacht Club de Monaco. It is one of the activities of the Captains Club that brings together 150 Superyachts Captains with an average Loa of 65 meters represented by 25 nationalities. This 27th edition held in partnership with Oceanco, MB92 Group and Jutheau Husson was attended by around a hundred captains, the sum of the linear metres of the yachts they work on reached 2,985m. "We need to work on yachting's image," began YCM General Secretary Bernard d'Alessandri, "and it's by working together that we can move the industry forward." 
Captain Malcolm Jacotine explained the reasons why yachting needed to make a rapid shift to low carbon fuels like HVO. This was to align itself with the IMO's 2030 decarbonisation target. He then went on to explain HVO, its benefits, as well as challenges. He was joined on stage by a knowledgable panel, including Captains, who shared their experiences with the fuel. HVO provides a practical solution for yachts today to significantly lower their carbon footprint, without the need for fuels like hydrogen, methanol or technological upgrades.
Its adoption is often motivated by the growing environmental awareness of owners who appreciate their many advantages. "Odour is non-existent," says Captain Ange Di Maggio (M/Y Important Business) "and it has no impact on the engine," adds Andy Gerrard (Chief Engineer on MY Savannah). Low sulphur content; no fumes, soot or particulates; maximum engine power which remains unchanged; can mix with diesel; extended storage life; better experience for guests and crew to name some, the benefits are known as are the disadvantages. "The issue of price cannot be ignored," points out Captain Jean-Maxime Berthet (M/Y Lammouche) who has already had to present a bigger bill to clients. "We also need to recognise that quality is not always the same depending on where you drop anchor," he added. Availability, higher prices and raw material traceability are some of the obstacles to be overcome. The figures speak for themselves as use of HVOs "can reduce the carbon footprint by up to 95% compared to diesel," notes Captain Malcolm Jacotine. However, all stressed the need to make the solution more popular.
The second session chaired by Captain Sean Meagher (M/Y Latitude) convened a panel of renowned experts who engaged in an eye-opening design challenge. This collaborative exercise illuminated both cutting-edge propulsion methodologies and the vital role classification societies will play in shaping the maritime industry's future. Audience and panelist engagement exceeded expectations, resulting in a dialogue that challenged conventional paradigms and opened the door to innovative solutions.
In terms of technical progress, classification bodies are responsible for ensuring the safety, reliability and compliance of these advanced propulsion systems. It is therefore essential they are kept informed of the latest developments. "We are also talking about nuclear propulsion, the image of which is still to be worked on," continues Captain Sean Meagher (M/Y Latitude).
Held under the aegis of the collective Monaco, Capital of Advanced Yachting approach, the Captains' Forum is one of the meetings that attracts a large number of professionals keen to develop the sector. The next rendezvous will be the 13th edition of the Environmental Symposium and the YCM Explorer Awards by La Belle Classe Superyachts at the Yacht Club de Monaco on March 21st 2024.
For more information:
Press Office LaPresse – ufficio.stampa@lapresse.it