- Advertisement -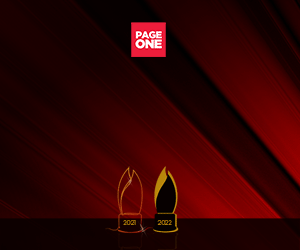 Photo from https://www.dpwh.gov.ph/dpwh/news/19301
It pays to be wise in the new normal, and that means investing your hard-earned money as an OFW or as wage-earner in properties that are affordable now, but will soon catch on the boon of prime real estate as the Philippines' Build Build Build (BBB) program booms!
Thus, Every Juan should seriously consider investing in Sorsogon, Bicol's southernmost province—and Luzon's gateway to the Visayas and Mindanao.
Sorsogon's eponymous capital, Sorsogon City, is not only the province's trade and commerce hub but also a hotbed of awesome tourist destinations and a dynamic site of BBB developments, turning its laidback environs into exciting hotbed of infrastructure developments and limitless potential for investments.
With Lumina Sorsogon right at its heart, read on to find out why you should be there!
2 Irresistible Reasons to Consider Living in Sorsogon
Here are three reasons why Every Juan should consider Sorsogon as a most profitable place to relocate to, live in, or invest on.
Not just for those who want their savings to grow by wise investing, but also for those who simply wish to re-establish themselves in a provincial urban environment.
Photo from https://bicoltourism.ph/blog/donsol-whale-shark-capital-of-the-world/
Enjoying Sorsogon's wealth of bucket list destinations
For the jaded urban dweller, relocating to Sorsogon brings you to at arm's length from a wealth of fabulous natural wonders that are a blessing to your senses, health, and insatiable wanderlust.
Among Sorsogon's must-visit locations are the following Instagram-candy destinations:
Bulusan Volcano National Park—just off the Pan-Philippine Highway, this paradise is home to the Bulusan Volcano, Hormahan Mountain, and Sharp Peak Mountain as well as to Bulusan Lake and Lake Aguinay, which is a soul-searcher's and kayaker's dream.
Donsol—an international tourists bucket list destination, visitors book a snorkeling boat tour to see and swim with the world's biggest, friendliest, and gentlest giants: the whale sharks!
Subic Beach in Calintaan Island—this virgin stretch of 300-meter beach of rare powdery pinkish white sand due to resident red corals dotting the shoreline edged by turquoise seas to form a picture perfect  natural wonder.
Ogod River Firefly Watching— Another once in a lifetime natural attraction in  Donsol, is this unique night-time river cruise to view the majesty of a thousand fireflies setting the evening skies ablaze.
Prieto Diaz Mangrove Eco-Park—managed by the Semancor social welfare group made up of the elderly, fisherfolk, out-of-school youth, this 300-hectare mangrove forest and plantation houses protected fish havens, 19 mangrove species, and coral reefs as well as hosts a wide range of activities, from river cruising, bird watching, mangrove planting, sandbar hiking, and Mayon Volcano viewing.
Irosin Hot Springs—at the foot of Bulusan Volcano, the town is blessed with volcano-heated groundwater as well as cold springs, making Irosin Bicol and Sorsogon's springs resort capital, that are famous for their healing qualities.
St. Joseph Parish Church—rising majestically from the heart of Barcelona, Sorsogon, also known as Barcelona Church, this old church was build by the Franciscans in 1874, making it one of the oldest and most beautiful churches in Bicol. Across the street are century-old ruins.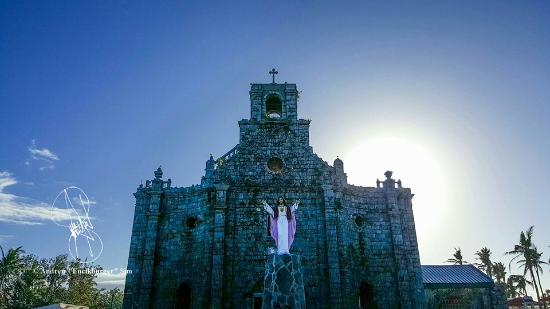 Photo from https://media-cdn.tripadvisor.com/media/photo-s/0a/74/78/f4/st-joseph-s-church.jpg
As a resident of Sorsogon, you'd have 24/7 access to all these prized destinations from right outside your home!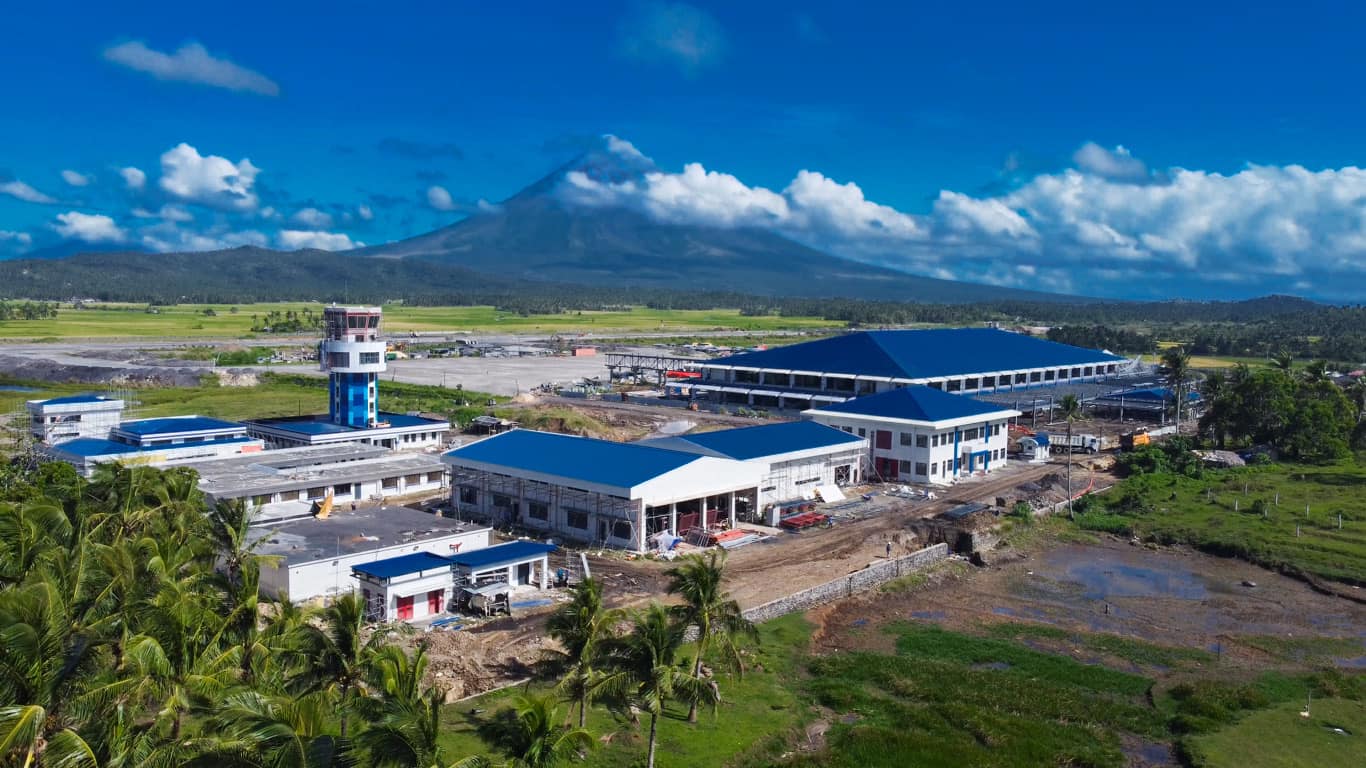 Photo from the Department of Transportation  https://www.portcalls.com/bicol-international-airport-80-complete/
Reaping the rewards of infrastructure developments in Sorsogon
Sorsogon is one of the important sites of the government's BBB program, marked by the recent opening of the Sorsogon City Coastal Road—considered among the best in the Philippines.
The 5.52-kilometer road crosses three bridges, connects several barangays, and runs along the province's most magnificent tourist attractions: the Rompeolas or the Sorsogon City Baywalk.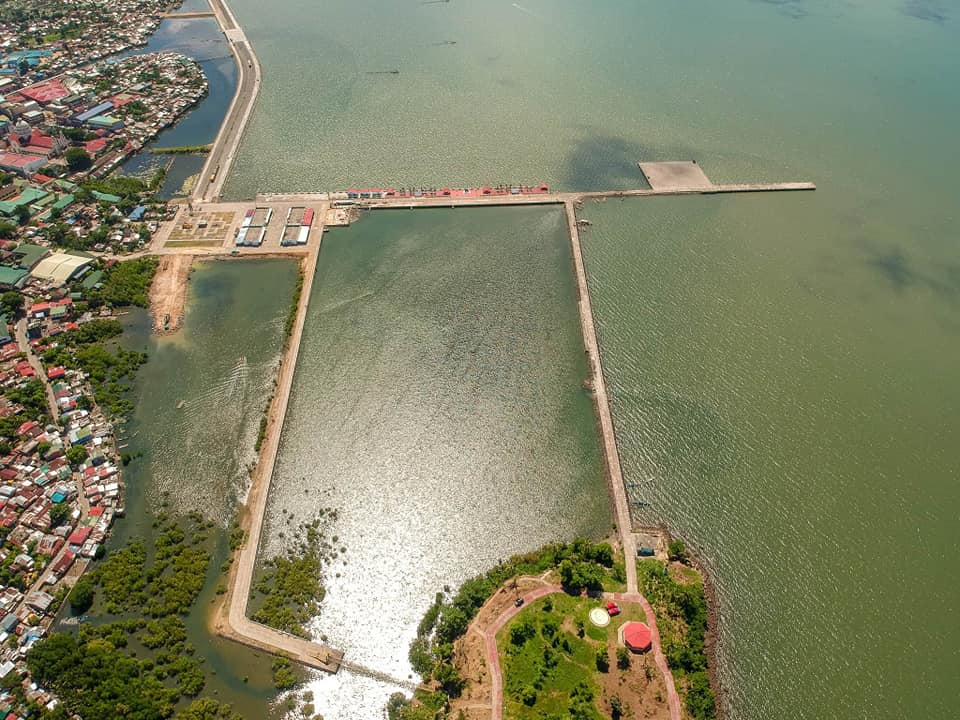 Rompeolas photo from https://www.facebook.com/Sorsogon101/photos/pcb.2505295549762690/2505295209762724/?type=3&theater
This road, a mere 10 minutes from Lumina Sorsogon, not only facilitates the coming and going of goods into the city proper, and reduces traffic, decongesting old routes; it also protects the coastline from the threat of big waves and storm surges.
Meanwhile, the BBB continues to enliven both trade and potential for the Bicol region with massive developments including:
The Bicol International Airport, or the Southern Luzon International Airport, some 48 minutes away from Lumina Sorsogon;
The Sorsogon Connector Road, an 15.87-kilometer road, which is foreseen to make reduce overall travel time for 5,000 travellers each day by a staggering one hour;
The Barcelona–Casiguran Road, which cuts travel time between the two municipalities by at least 10 minutes; and,
The Matnog–Sta. Magdalena–Bulusan Road, spanning 31.41 kilometers, will not only ease up transport of marine goods but also boost local and international tourism by making the region's tourist locations accessible.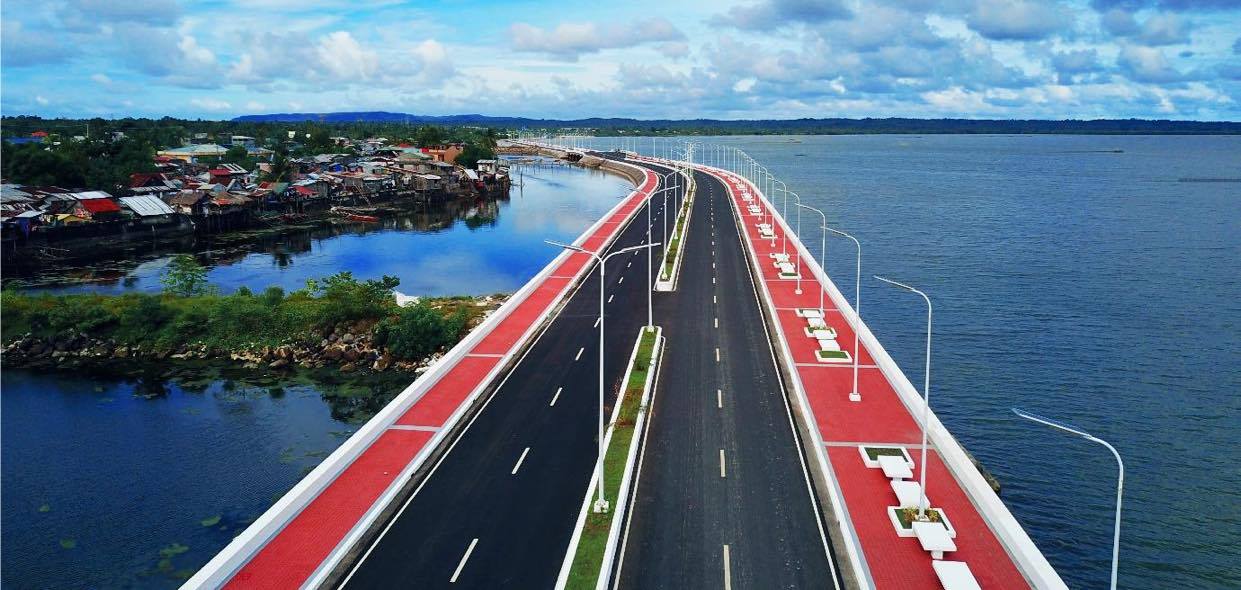 Photo from https://www.dpwh.gov.ph/dpwh/news/19301
With these milestones simultaneously happening with the Lumina Sorsogon's housing development, the economy grows and becomes more productive through higher connectivity, easier transport of goods and products, improved mobility, wider economic inclusion, and, at the end of the day, greater demand for real estate and higher property costs.
So with your current savings and wage-earning capacity to own a Lumina Sorsogon home now, you are investing in a property boom that is just around the corner!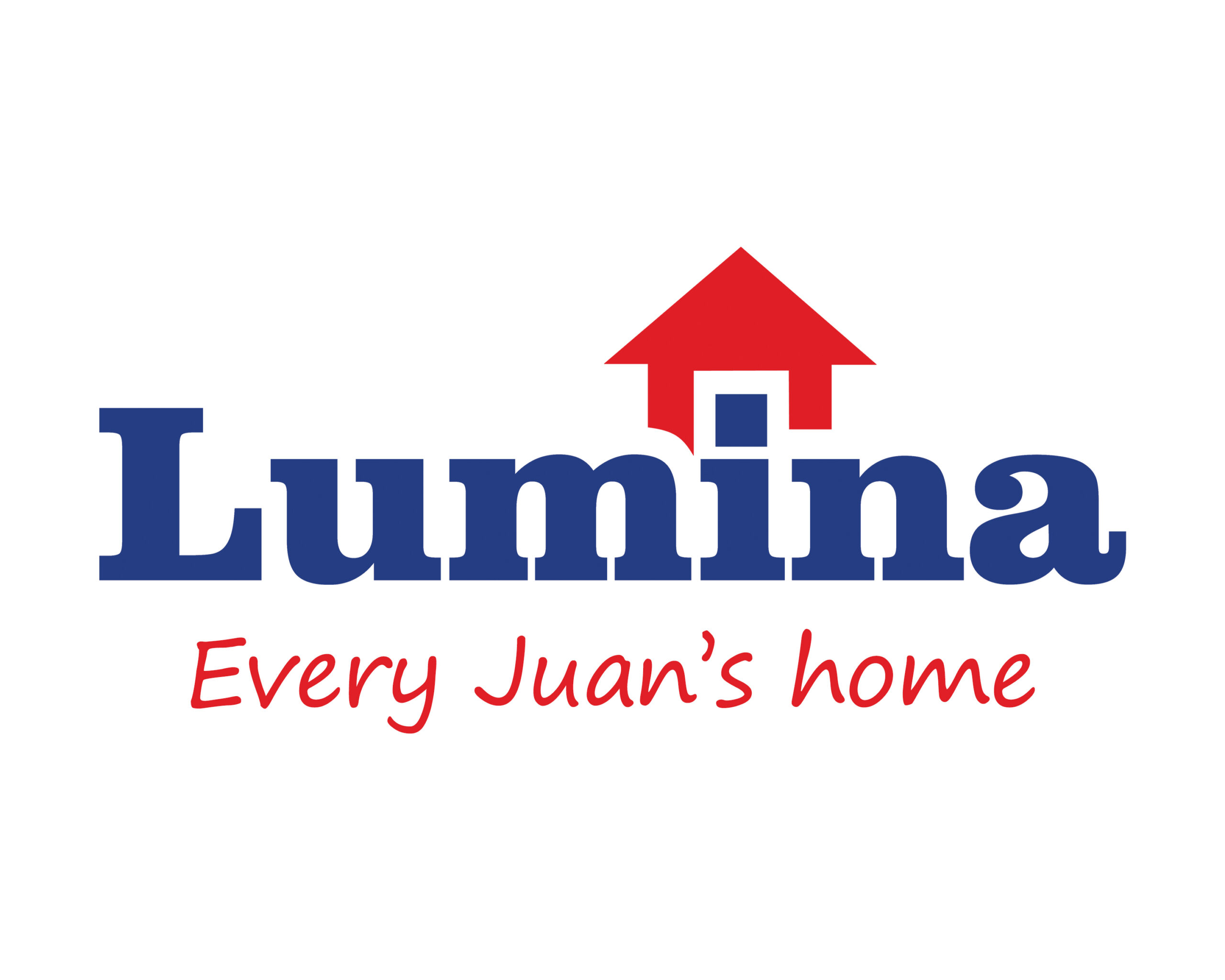 Affordable homes for starting families with Lumina Homes
Once you or your family have decided to relocate to, invest real property in, or establish an alternative income source from Sorsogon, make sure your purchase is within your reach even as a wage-earner, starting family, or loving child of parents wishing to retire outside of Metro Manila!
Thus, Lumina Sorsogon is your best option—bringing you and Every Juan a step away from your dream home!—with super affordable monthly if you're qualified as a Pag-IBIG Fund "low-income earner" with five exciting options to choose from.
You don't have to bust your bank account because Lumina Sorsogon has the right housing package for Every Juan: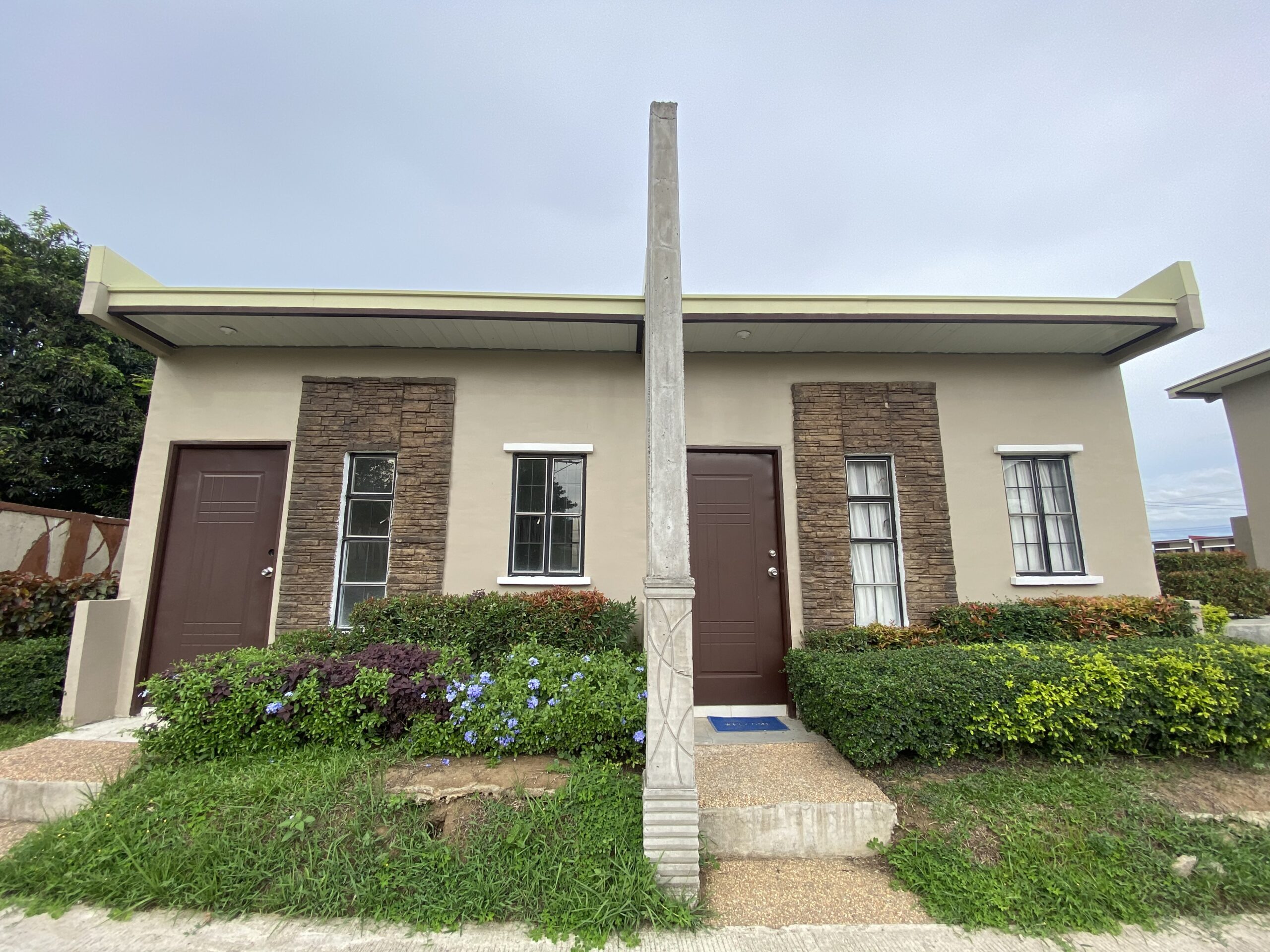 Aimee Row House
P530,000–P1,018,000
Bungalow row house
1 bedroom and 1 toilet and bath
Provision for living area, dining area, kitchen, and service area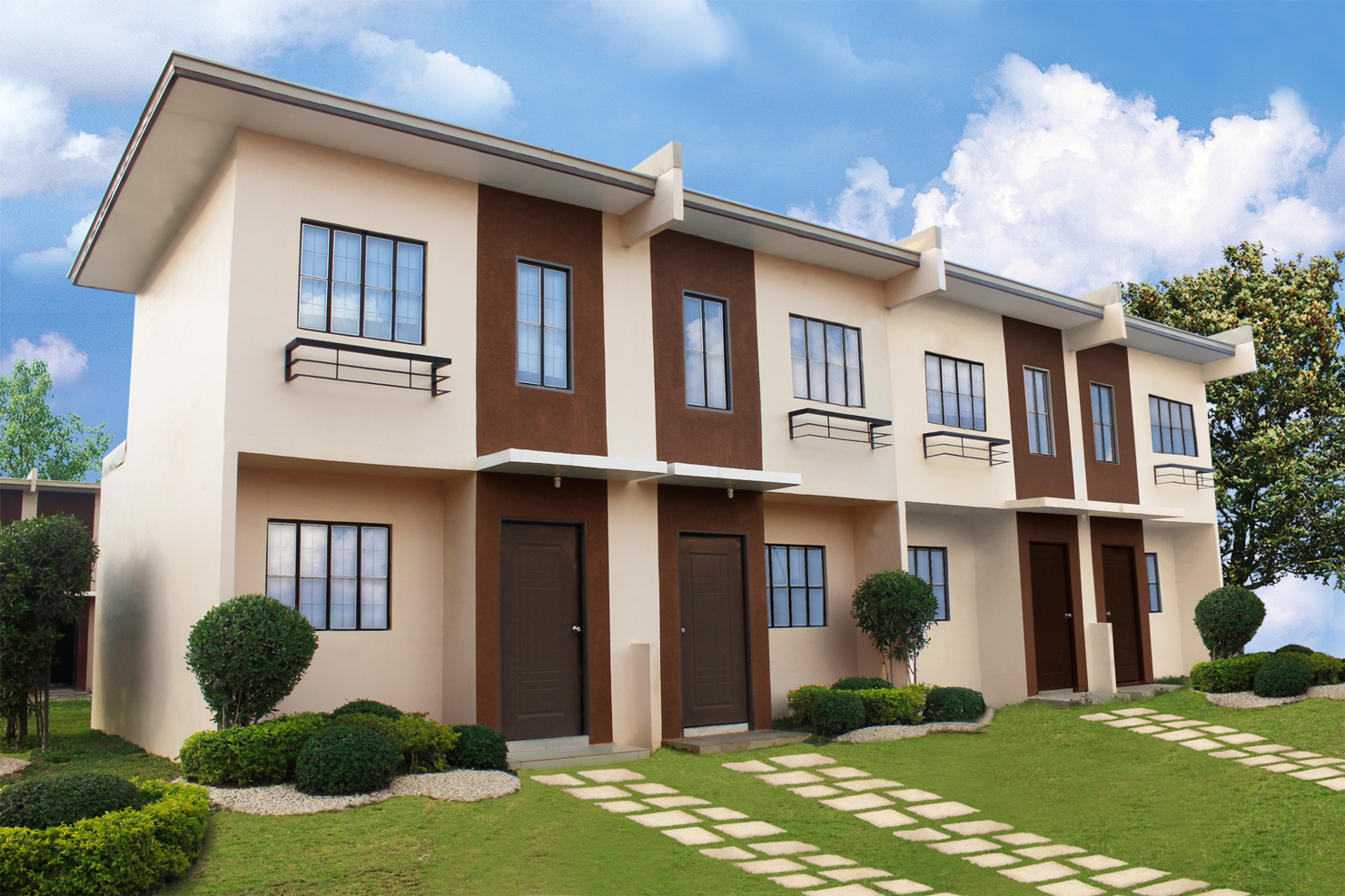 2.  Angelique Town House
P1,081,000–P1,382,000
Two-story town house
2 bedrooms, 1 toilet and bath, and 1 carport
Provisions for living area, dining area, kitchen, and service area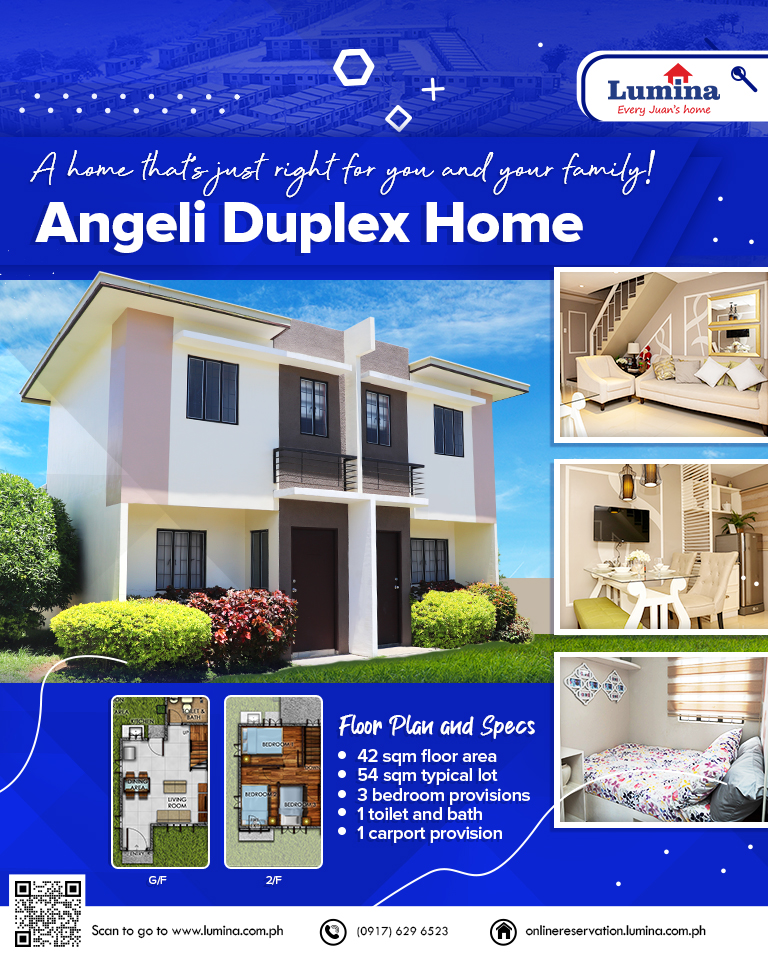 3.  Angeli Duplex
P1,381,000–P1,548,000
Two-story duplex
3 bedrooms, 1 toilet and bath, and 1 carport
Provisions for living area, dining area, kitchen, and service area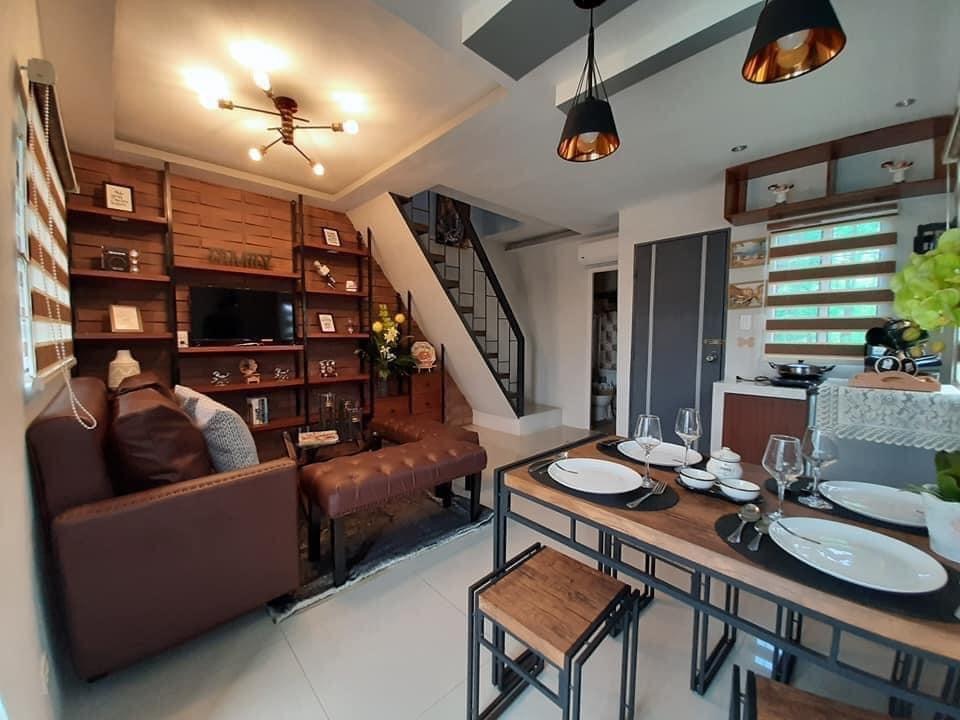 4.  Angeli Single Firewall
P1,510,000–P1,924,000
Two-story single firewall
3 bedrooms, 1 toilet and bath, and 1 carport
Provisions for living area, dining area, kitchen, and service area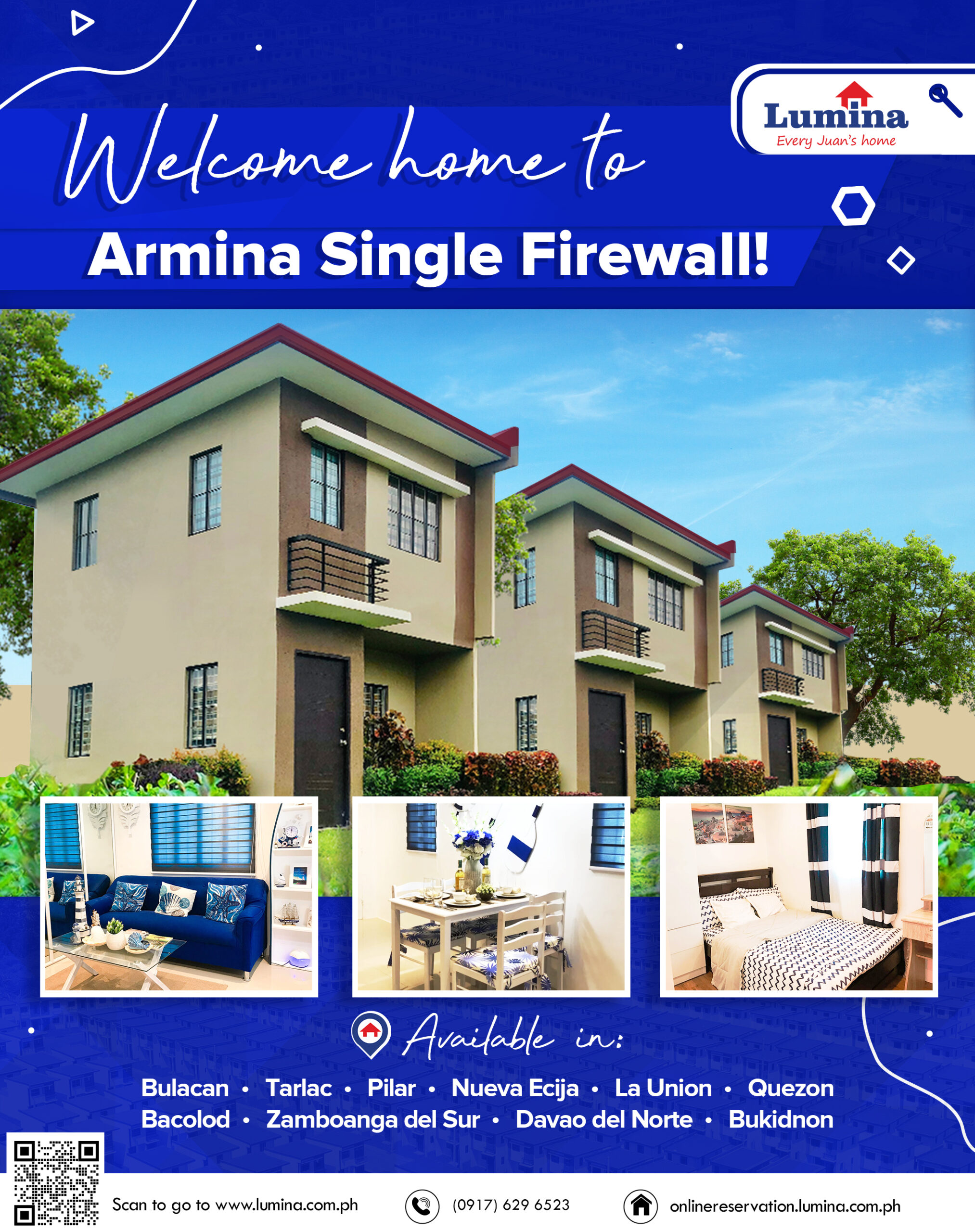 5.  Armina Single Firewall
P1,614,000–P1,924,000
Two-story single firewall
3 bedrooms, 1 toilet and bath, and 1 carport
Provisions for living area, dining area, kitchen, and service area
Low-cost housing developer Lumina Homes comes from the Philippines' biggest homebuilder, Vista Land, the maker of Camella Homes and Vista Residences.
Catch a bird's eye view of Lumina Sorsogon
Lumina Sorsogon is a stone's throw away from downtown Sorsogon City and a mere 10 minutes from what would be the new SM City Sorsogon. Located right along the Sorsogon Diversion Road in Barangay Macabog, this 9.8-hectare property is comfortable enough for 1,075 units of easy-to-own housing units: from duplexes and row houses to town houses and single firewall units.
Amenities
Guarded Entrance
Basketball Court
Community Facility
Mini Garden
Parks and Playground
Perimeter Fence
Landmarks
Schools, Colleges, and Universities
Sorsogon State University
Yellow Woods Education Center
Hospitals and Clinics
Dr. Fernando Duran Memorial Hospital
Metro Health
Sorsogon Medical Mission Group Hospital and Health Service Cooperative
Places of Worship
Iglesia Ni Cristo – Lokal ng Sorsogon
Our Lady of Fatima Parish Church
St. Peter and Paul Cathedral
Marketplace, Malls, & Leisure Areas
Gaisano Capital Sorsogon
Savemore Sorsogon
Sorsogon Public Market
Major Roads, Highways, & Expressways
Pan-Philippine Highway
Sorsogon Diversion Road
Transport Terminals
Sorsogon City Bus Terminal
Sorsogon Jeepney Terminal
Local Government Offices
Bureau of Internal Revenue – Sorsogon
City Government of Sorsogon
Department of Agrarian Reform
How to Get There
By Public Transport
From Legazpi City

Ride a van or bus to Sorsogon, Bulan, or Matnog plying the Diversion Road
Advise driver to drop you off at Yellow Woods Education Center
Get off in front of Lumina Sorsogon, just right after Sorsogon Provincial Hospital
From Downtown Sorsogon

Ride a tricycle
Advise driver to drop you off at Yellow Woods Education Center
Get off in front of Lumina Sorsogon, and cross the street
By Private Vehicle
From Legazpi City

Take the Pan-Philippine Highway to Sorsogon
Watch for the intersection of Pan-Philippine Highway and Sorsogon Diversion Road
Take the Diversion Road
Slow down when you reach Sorsogon Provincial Hospital
Watch for Lumina Sorsogon on the left, in front of Yellow Woods Education Center
Want to book a site visit but limited by the granular lockdowns? Want to pay a down payment but unsure where?  Want to take a house tour of the model units but can't travel?
Don't worry, Lumina Homes values safety and efficiency so they're offering all these conveniences for Every Juan, whether you're in Metro Manila, the regions, or abroad:
An online portal for appointments, reservations, and payments;
A 360-degree house model virtual tours,
An interactive site development map, and
A Lumina e-Services app for mobile and desktop devices.
For inquiries, visit Lumina Sorsogon at 2/F B&N Building corners Jamoralin and Burgos Streets, Barangay Polvorista, Sorsogon City, or check out their social media pages: