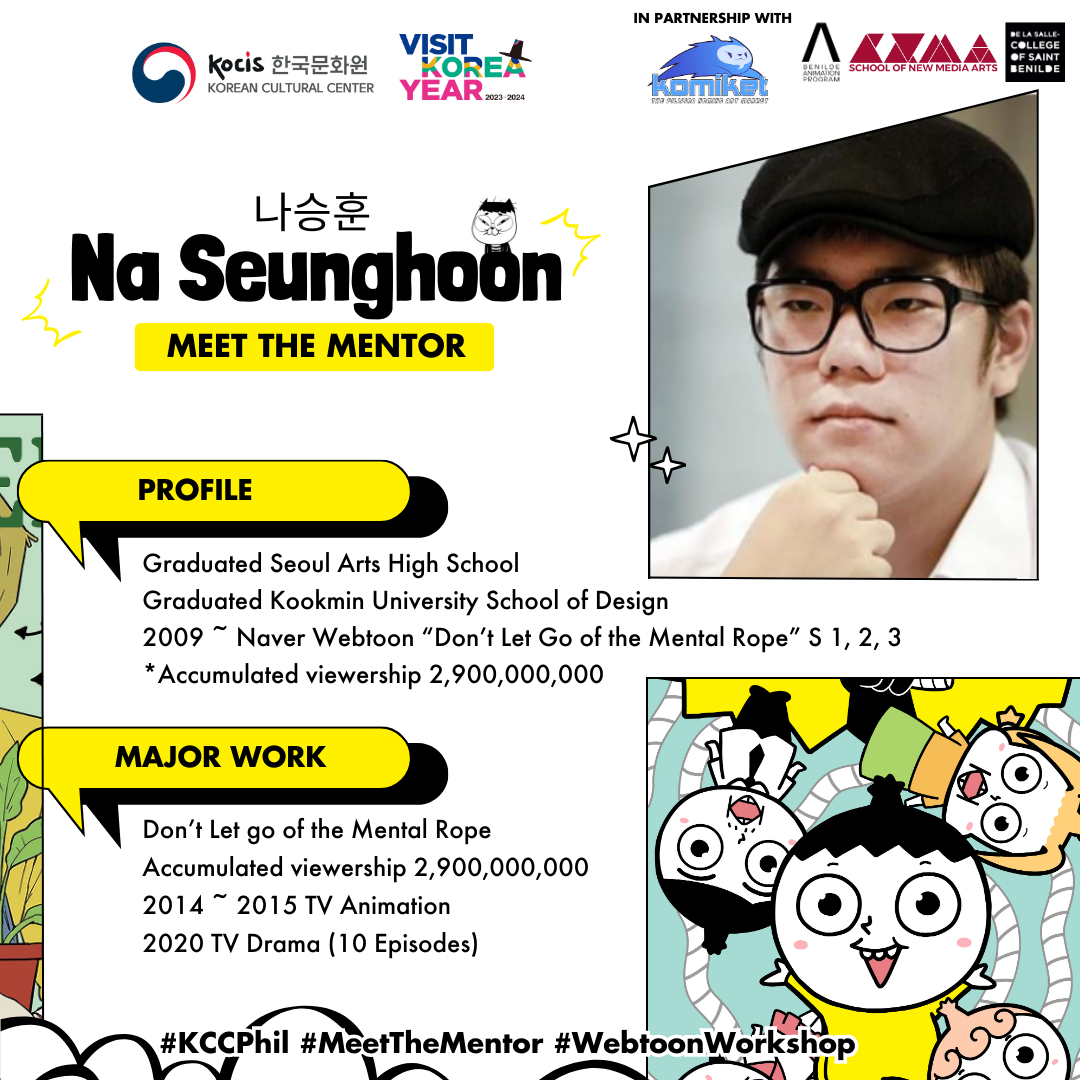 Manila, Philippines – True Beauty, Yumi's Cells and Itaewon Class. Do you know what these famous K-Dramas have in common? Yes, they all came from a Webtoon series!
Webtoon, a popular form of digital comics in Korea, has been expanding its reach through adaptations to K-drama, movies, and animations. It has gained significant attention among Filipinos due to its unique storytelling approach and accessibility. 
In response to the rising popularity of Webtoon in the country, the Korean Cultural Center (KCC) is hosting a 3-day FREE Webtoon workshop to share knowledge and know-hows with aspiring Filipino artists and enthusiasts. Workshop will be held on June 1-3 with Na Seung Hoon, illustrator of the hit Webtoon turned drama and animation, "Don't Let Go of the Mental Rope" (놓지마 정신줄).
The webtoon series has 2.9B accumulated views and is still ongoing on Naver Webtoon. Na Seung Hoon's vast background in the webtoon industry and visual arts will surely be beneficial for participating Filipino digital artists in enhancing their skills through this workshop.
Through this event, digital artists and enthusiasts can surely gain valuable insights about the history and state of webtoon in today's world and refine their art skills and techniques.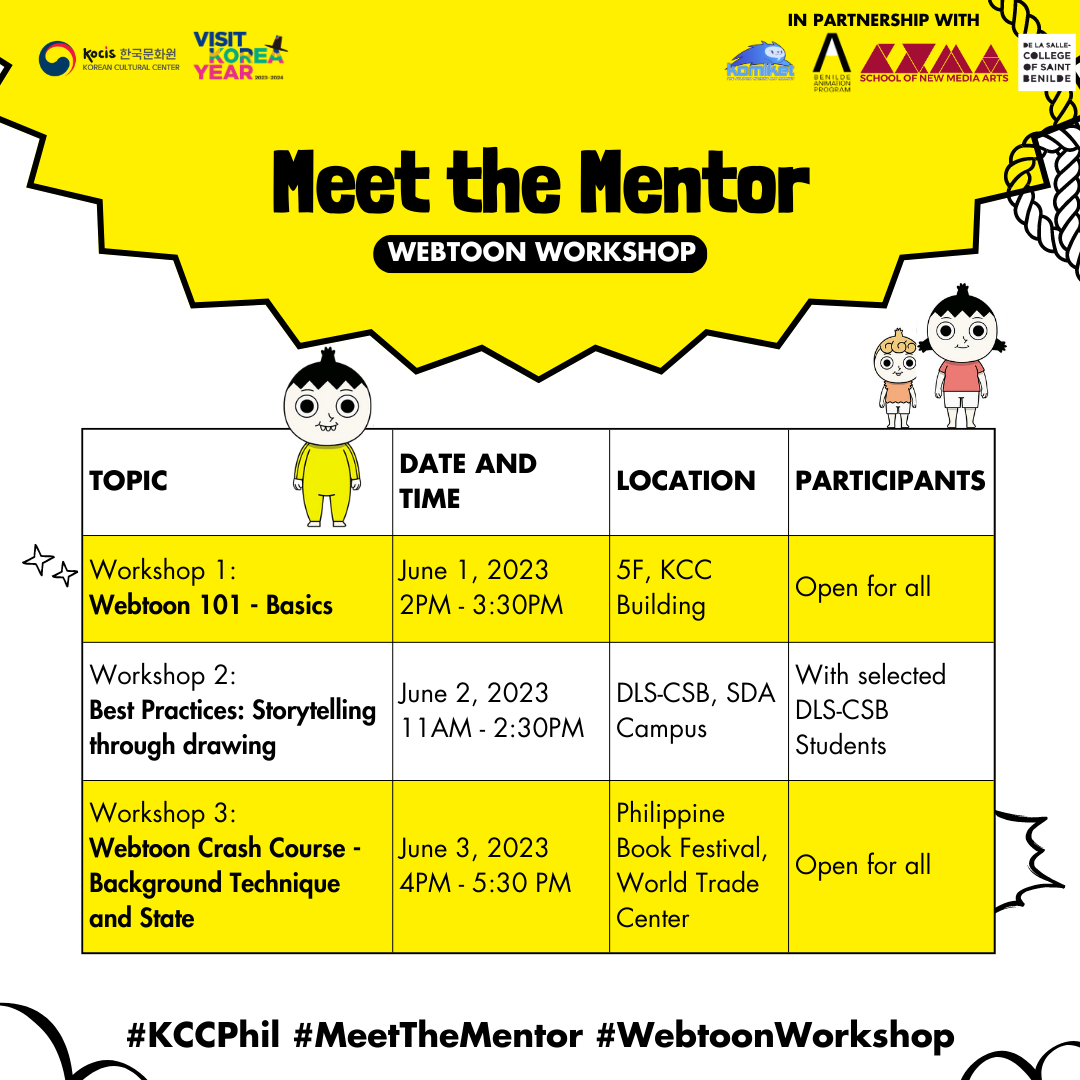 Below are the details of the 3-day workshop:
Interested individuals for Workshop 1 and 3 can register through this link: https://bit.ly/WebtoonWorkshopRegistration from May 15 to May 26.
To cap off the 3-day event, KCC will also be having a postcard design contest with the theme of "Our Friendship: Memorial of Korean War Filipino Veterans" in honor of the upcoming Korean War Filipino Veterans Commemoration, which is held annually every June 25. Winner's post card will be printed and distributed at KCC and other related cultural agencies.
Interested individuals can visit KCC's social media channels, Facebook (@KoreanCulturalCenterPH), Twitter (@KCCPHIL), Instagram (@kccphil), and YouTube (@KCCPhilippines), to know more about the workshop and the contest guidelines.
KCC's Social Media Channels:
Website: https://phil.korean-culture.org/EN
Facebook: https://www.facebook.com/KoreanCulturalCenterPH
Instagram: https://www.instagram.com/kccphil/
Twitter: https://twitter.com/KCCPHIL
YouTube: https://www.youtube.com/@kccphil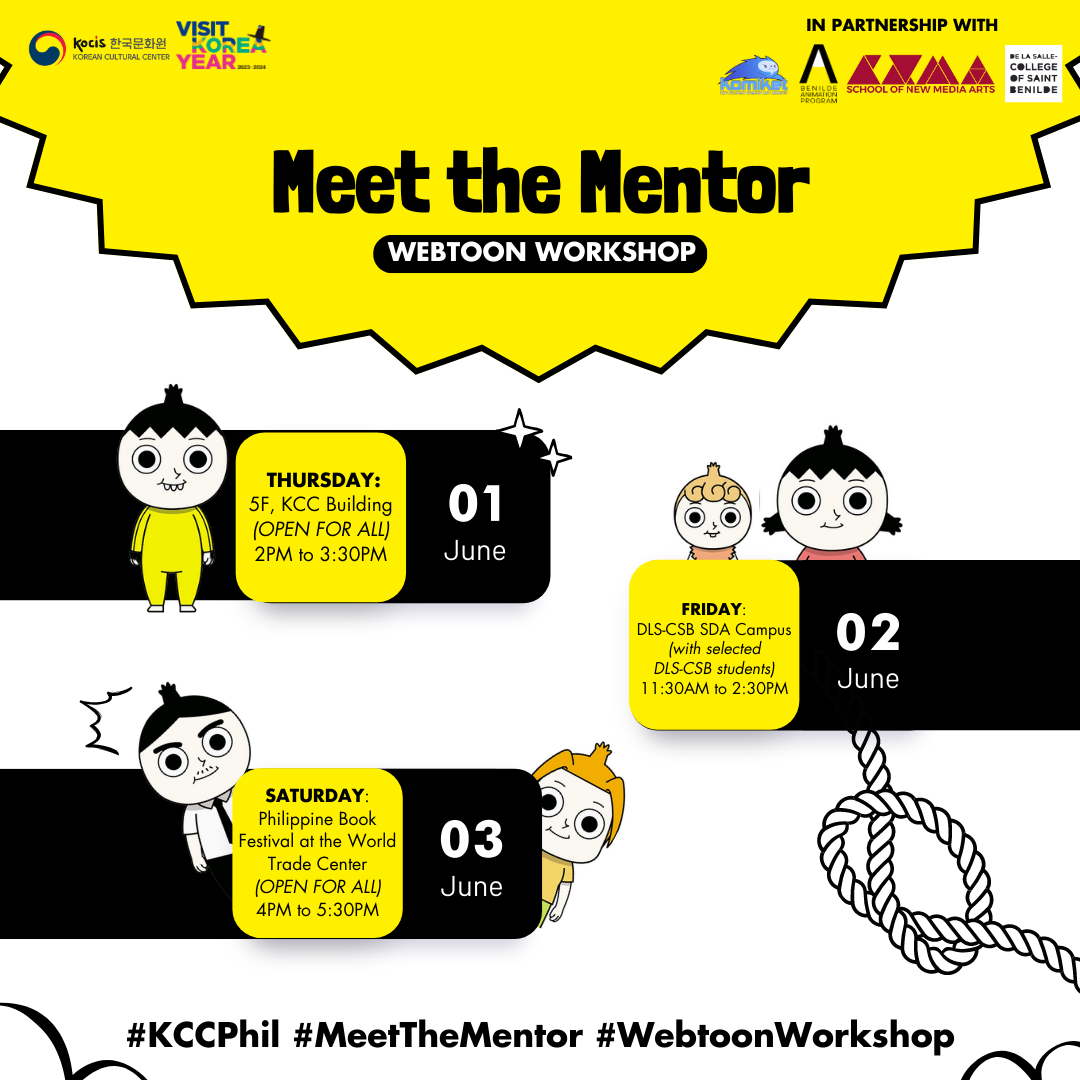 #HappeningPH #KCCPhil #MeetTheMentor #WebtoonWorkshop #PhilKoreanCulture #KoreanCulturalCenterPH #webtoon #workshop #NaSeungHoon #TrueBeauty #YumisCells #ItaewonClass #KDramas #Korea #animation #3dayworkshop #NaverWebtoon #culture #animation #education