BeachTowns Club Laiya and CaSoBe were acclaimed as the Best Luxury Leisure Concept in the Philippines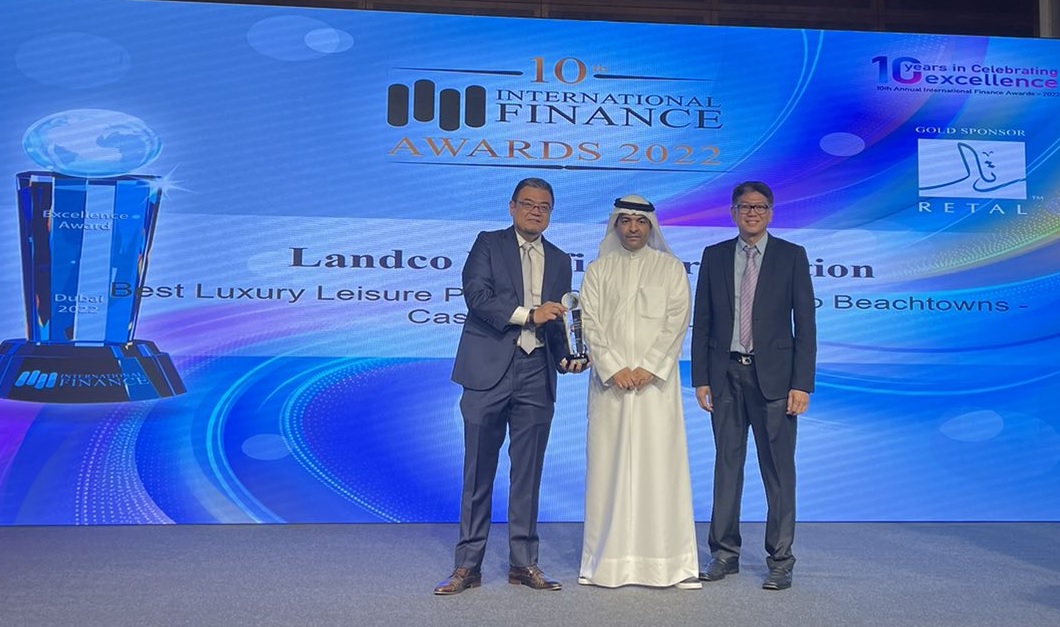 Landco Pacific Corporation achieved another distinction with the 2022 International Finance Award (IFA) for Best Luxury Leisure Concept in the Philippines: Beachtowns Club Laiya and CaSoBe (Calatagan South Beach).  Landco President and CEO Erickson Y. Manzano and Vice President for Sales and Marketing Gerard Penaflor received the IFA during a recent ceremony and gala night at Jumeirah Emirates Tower in Dubai.
The annual IFA recognizes corporate excellence and businesses that make a difference all over the world. Its diverse award categories include banking, brokerage, financial, insurance, leadership, technology, telecom, utility, transportation, healthcare, and real estate. In IFA's real estate category, excellence and innovation in residential and commercial property space in emerging markets are recognized. IFA cited Landco for its BeachTowns' outstanding quality of real estate development, service standards, and sustainability.
Renowned for pioneering premium landscapes for more than three decades and a subsidiary of Metro Pacific Investments Corporation (MPIC) with its Chairman Manny V. Pangilinan, Landco strengthens its commitment to deliver outstanding new lifestyle products and experiences that revolutionize resort living through Landco BeachTowns.
Landco is also a recipient of the Most Sustainable Luxury Real Estate Developer in the Philippines by the 2022 Pan Finance International Award from the highly-respected London-based publication and the Grand Award of Best Boutique Developer in Luzon by the country's well-respected real estate award-giving body, Philippine Lamudi's Outlook 2022 Real Estate Awards. 
Setting a new standard for luxury beachside and resort living, Landco BeachTowns 24-hectare Club Laiya and 15-hectare CaSoBe are premium, sustainable, and master-planned Resort Estates. Both are situated along the expansive white sand beach of different leisure and tourist destinations of Batangas. Homeowners and investors in these properties can build their dream beach house that can double as a new business venture, catering to the tourist market. Their properties are long-term investments that appraise in value, given Landco's track record of property appreciation with its flagship development of Punta Fuego in Batangas. Offering financial security, the BeachTown properties are a lasting legacy for the next generations. 
With a thrust on sustainability, Club Laiya and CaSoBe are Leadership in Energy and Environmental Design (LEED) registered. The engineering design of the developments highlights double-piped water management, where wastewater is treated and piped back for car washing, watering plants, and other uses. Environmental conservation efforts and livelihood projects for the local community are also undertaken on these properties. 
A distinctive sustainable resort lifestyle awaits investors, homeowners, and guests at Club Laiya and CaSoBe. Every lot is accessible to the beach. There are tree-lined walkways, pedestrian routes, bicycle lanes, a beach promenade, robust common area estate WI-FI for Work from the Beach (WFB) set-up, 24/7 security with CCTV, slipway for small boats and jetski and hotel-like property management services.
The resort, leisure, and hospitality facilities are operated by Millennial Resorts, the hospitality arm of Landco, in the Landco BeachTowns. Crusoe Cabins, its unique upcycled container vans turned into a modern accommodation in CaSoBe, is the very first EDGE (Excellence in Design for Greater Efficiencies) Certified resort hospitality project in the country. Cocoons, the unique pod-like lodging and Captain Barbozza restaurant and bar are both available at CaSoBe and Club Laiya. There is the Aquaria Water Park and Canopy events space in CaSoBe; and Beach Club and Camperisti, camper vans converted into accommodations, in Club Laiya.  
For more information about Landco and its BeachTowns, visit https://www.landco.ph/ or FB page:  https://www.facebook.com/LandcoPacificCorporation.
About Landco BeachTowns 
Landco BeachTowns are master-planned seaside residential and resort communities driven by a powerful vision to create a beachside living destination for the urban pioneers. A beachside concept whose time has come, and is taking shape in the prosperous enclaves of Batangas in Laiya and Calatagan and Samal Davao. Landco BeachTowns, are rising over hundreds of hectares of Prime Real Estate with seaside residential homes, beachside retail establishments, world-class hotels, condominiums, and themed restaurants. Landco BeachTowns is setting a new standard of living. 
About Landco Pacific Corporation
For more than 30 years, Landco Pacific Corporation has created world-class leisure communities, breathtaking resort-inspired condominiums, and luxury home communities in the Philippines. 
A subsidiary of Metro Pacific Investments Corporation (MPIC), Landco is a pioneering real estate developer in the country. Landco offers innovative and outstanding lifestyle products and experiences that revolutionize the way Filipinos live. Every Landco property is a testament to its vision of "Pioneering Landscapes":
Landco Shores: Peninsula de Punta Fuego and Terrazas de Punta Fuego. Landco Parks: WoodGrove Park in San Fernando, Pampanga; Waterwood Park in Baliuag, Bulacan; Montelago Nature Estates in San Pablo, Laguna; The Courtyard at Lakewood Golf Estates in Cabanatuan, Nueva Ecija; Woodridge Garden Village in Zamboanga City; and Hacienda Escudero in Tiaong, Quezon. Landco Peaks:  Canyon Woods in Lemery, Batangas
Landco BeachTowns:  Playa Laiya and Club Laiya in Laiya, San Juan Batangas, Playa Calatagan and CaSoBē – Calatagan South Beach in Calatagan, Batangas and Playa Azalea and Costa Azalea in Samal island, Davao.
About Metro Pacific Investments Corporation (PSE:MPI) 
A Philippine-based, publicly listed investment and management company, focused on infrastructure, with holdings in Manila Electric Company, Maynilad Water Services, Inc., MetroPac Water Investments Corporation, Metro Pacific Tollways Corporation, Metro Pacific Hospital Holdings Inc., Light Rail Manila Corporation and MetroPac Movers Inc.
#HappeningPH #Landco #LandcoPacificCorporation #MetroPacificInvestmentsCorporation #InternationalFinanceAward #awards #recognition #realestate #realestatedeveloper