Workplace Concerns – Employees in Americas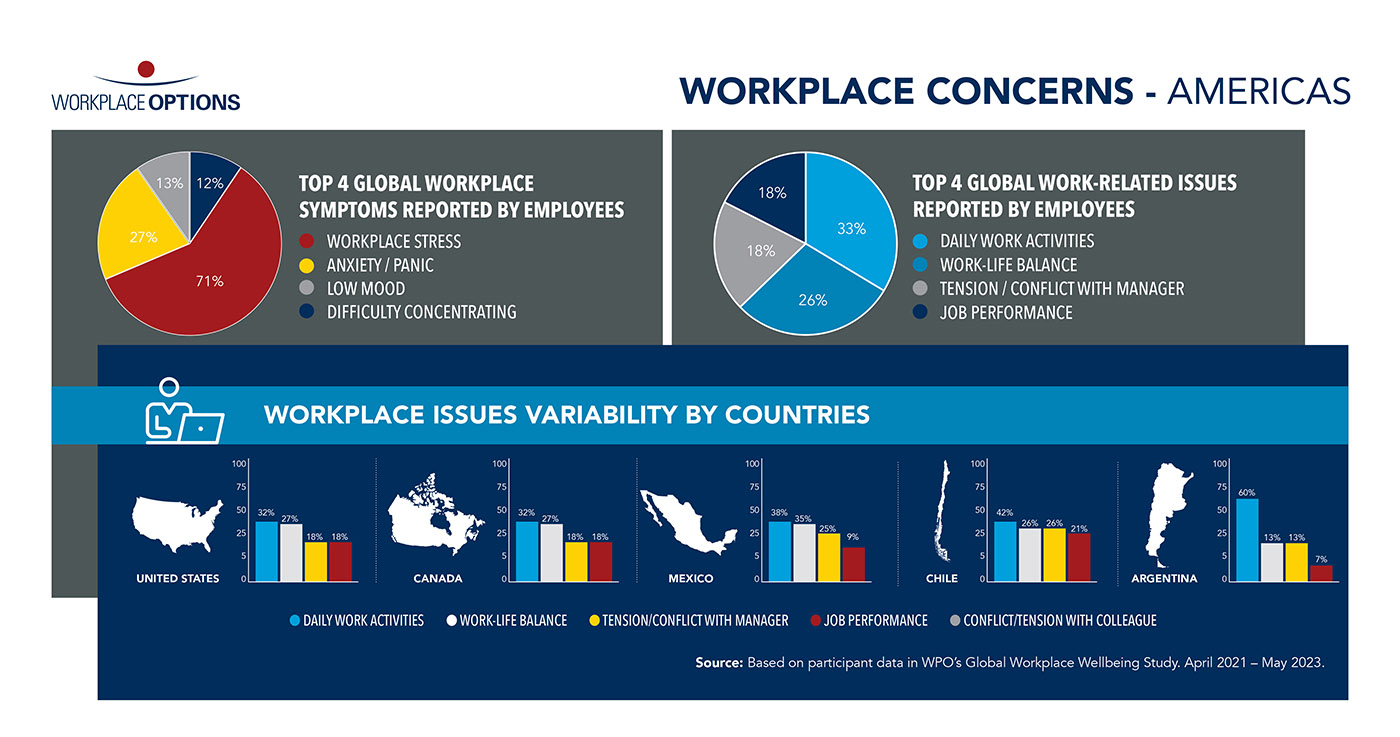 Workplace Concerns – Employees in Europe, Middle East & Africa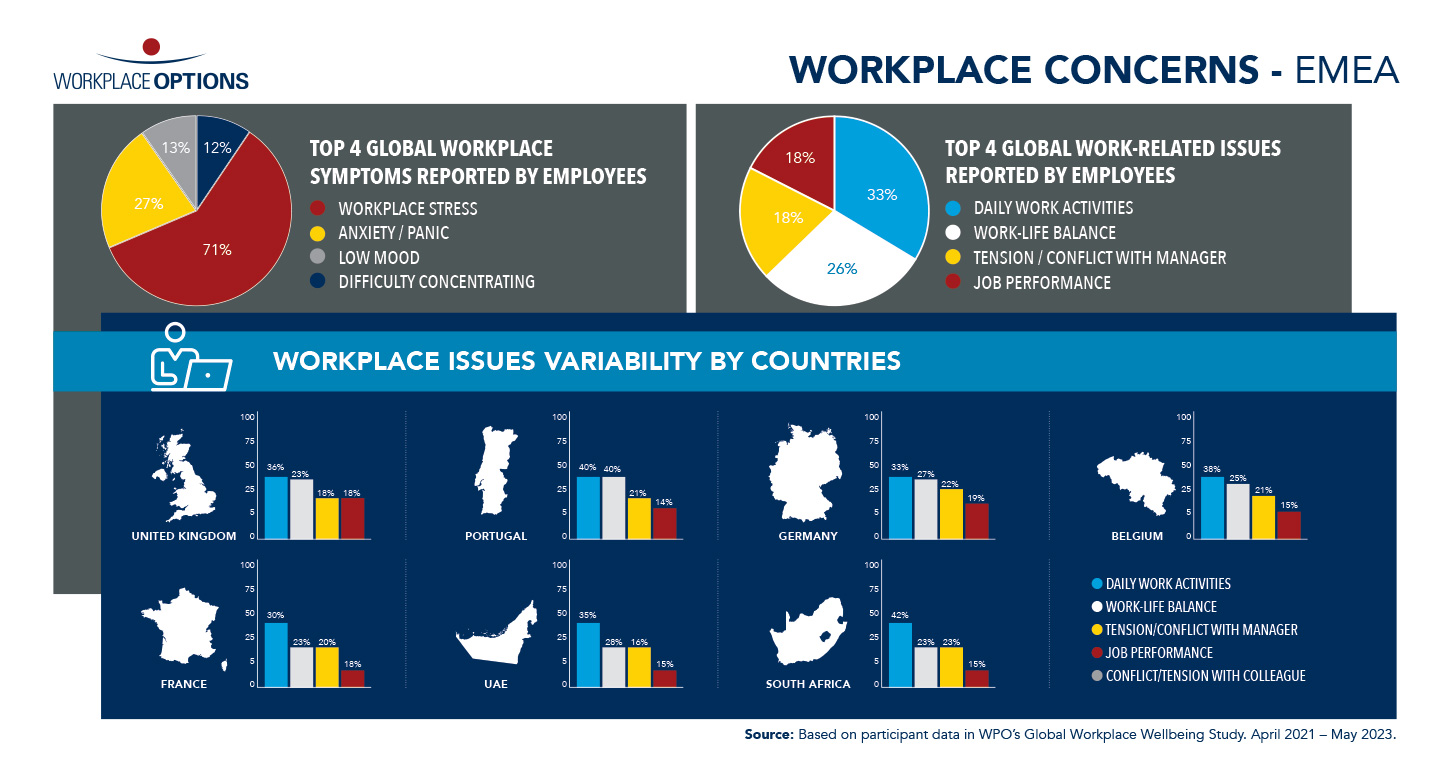 Two billion people will experience mental illness during their lifetime.
450 million people currently cope with mental health issues.
RALEIGH, N.C., Oct. 09, 2023 (GLOBE NEWSWIRE) — Workplace Options (WPO), the world's largest independent provider of holistic wellbeing solutions, is tackling the persistent stigma that surrounds mental health and help-seeking in a new booklet released as part of the organization's campaign for this year's World Mental Health Day. The booklet, which explores the harmful impact of mental health stigma on employees' wellbeing and their willingness to seek help—including its global implications—coincides with the theme for this year's event, which promotes mental health as a "universal human right."
"In honor of World Mental Health Day, I want to spotlight why ending mental health stigma is imperative to fostering diversity, equity and inclusion in our personal and professional lives," begins Alan King, President and CEO of Workplace Options, in the booklet's opening statement. "As we continue to cultivate an inclusive space where individuals feel safe and empowered to bring their whole selves to work, free from judgment or fear of discrimination, we must also create a culture where people can openly and honestly discuss their mental health."
"When we erase the stigma, the obstacle blocking access to critical holistic care," King later goes on, "more people will receive help. World Mental Health Day is an opportunity, and an urgent reminder, for our world to unite in breaking down barriers and building a universal workplace, where asking for mental health care is met with understanding and compassion, not judgment or bias."
World Mental Health Day, celebrated each year on October 10 by over 150 countries worldwide, was originally conceived in 1992 to advance mental health advocacy and improve mental health literacy at the population level before a yearly theme was instituted in 1994 that aimed to spotlight specific issues, regions, or demographics. In the spirit of the inaugural topic, titled, "Improving the Quality of Mental Health Services throughout the World," most of these themes have kept close to the issues of diversity, equity, inclusion, and belonging (DEIB). Honoring this message, WPO's booklet highlights current disparities in access to mental health services.
Further demonstrating the organization's commitment to DEIB and mental health advocacy, WPO recently launched a new interactive and proactive data tool for its client companies called the Workplace Stress Index. WPO produced the first-of-its-kind resource, which measures organizational level stress for each of its client companies across the Americas, Europe, the Middle East and Africa, with the intention of guiding company decision-makers on how to direct mental health and wellbeing budgets in a way that is conducive to their employees' unique and specific needs, breaking down long-standing barriers to care in the process.
WPO will host a virtual conference Diversity, Equity, Inclusion and Belonging: From Awareness to Action on October 24, 2023. The event, which will examine best practices for implementing DEIB strategies in the workplace, how to incorporate DEIB into the employee experience, as well as trends and insights into the current DEIB landscape, will feature thought-provoking talks from Workplace Options leaders including King and Chief of Staff Molly Hall, as well as expert guests from the Diversity Movement, CEO and Co-founder Donald Thompson, CDE, and Co-founder and VP of Content and Programming Jackie Ferguson, CDE. The conference will also include a panel discussion on how to champion DEIB in the workplace.
About Workplace Options (WPO)
Founded in 1982, Workplace Options (WPO) is the largest independent provider of holistic wellbeing solutions. Through customized programs, and a comprehensive global network of credentialed providers and professionals, WPO supports individuals to become healthier, happier, and more productive both personally and professionally. Trusted by 56 percent of Fortune 500 companies, WPO delivers high-quality care digitally and in-person to more than 79 million people across 116,000 organizations in more than 200 countries and territories.
Media Contact:
Jennifer Dart
Senior Global Manager
Jennifer.Dart@workplaceoptions.com