The recent years have changed the mindset of Filipino homeseekers. They are now willing to add a little premium in exchange of bigger and healthier spaces. 
After 10 years, Lumina continues to exceed the Filipino families' expectation in inexpensive but aspirational homes. Recently, it has upgraded its previous single-storey models from basic to a perfect starter home, and ultimately, a perfect starter investment—the Home Starter series.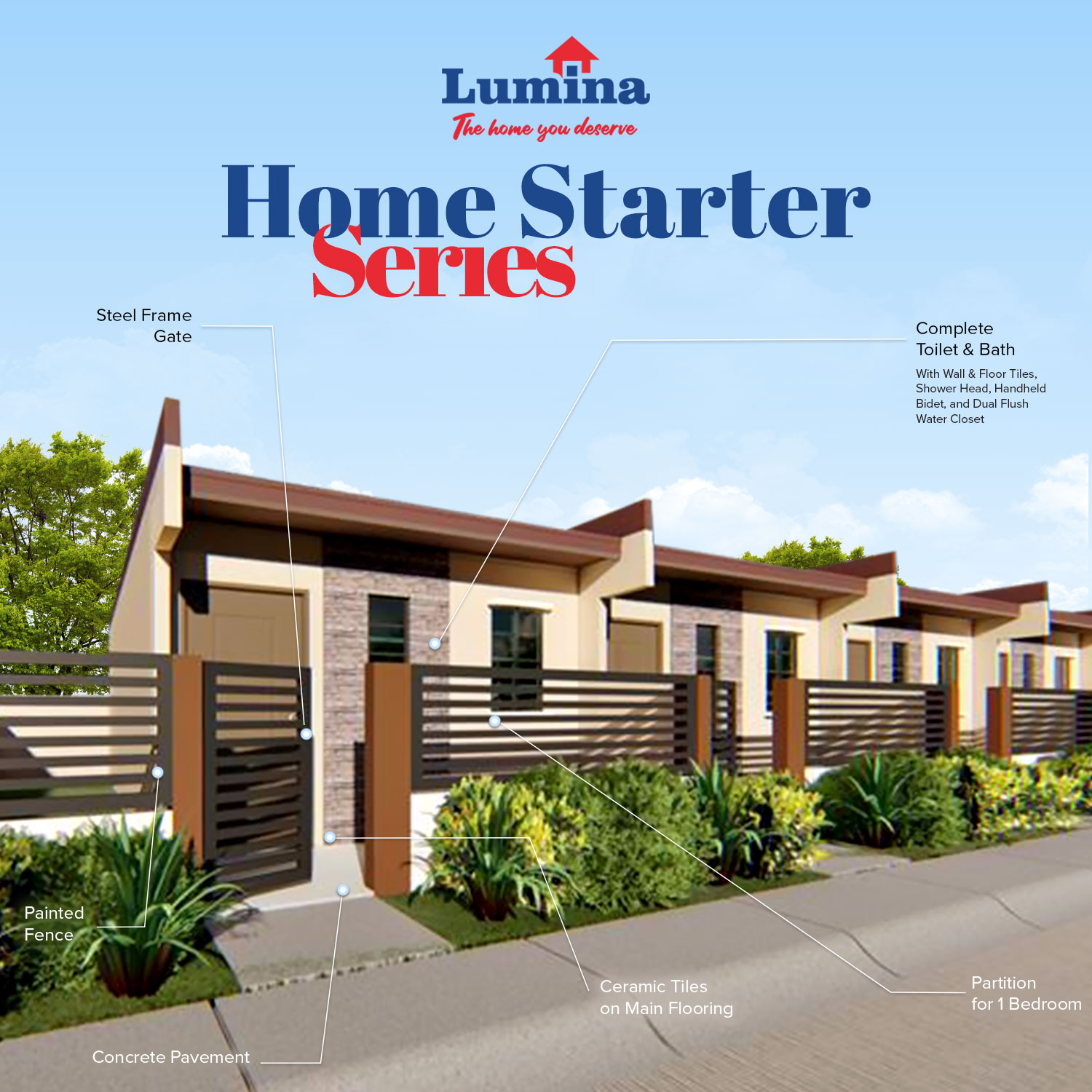 The Home Starter Series introduces Emery with 22 sqm. floor area on a regular 36 sqm. lot cut, and Eliza with 24 sqm. floor area on a regular 36 sqm. lot cut. Emery and Eliza come with add-on features, including a steel frame gate, painted fence, ready partition for one bedroom, ceramic tiles for main flooring, wall tiles on toilet and bath, and bathroom fixtures that include a showerhead, handheld bidet, and dual flush-type water closet.
This is a good deal for starting families who prefer their fence and gates finished before they move in, setting security and giving them more privacy. Working professionals, meanwhile, don't have a lot of time to oversee home improvements. The readily fixed tiles and bedroom partition to complete the interior therefore means less things to worry about upon moving-in.
Starting at P1 million package, the Home Starter series also offers investors an equitable price to start a real estate business. And because it's complete already, there's a quicker turnaround in leasing the unit out and earning potential income.
Being equipped with ready fixtures is one box to tick in a homebuyer's list; having great amenities within the village is another. Whether as a starter home or starter investment, expect a very good appraisal rate as Lumina communities come complete with a covered basketball court, mini gardens and playground, guarded entrance with CCTV, and shuttle service. More importantly, they are close to major thoroughfares and business centers.
Currently, the Home Starter series' Emery and Eliza is available in Lumina projecs in Bulacan, Cagayan, Bataan, Zambales, Tarlac, Nueva Ecija, Batangas, Quezon, Sorsogon, Negros Occidental, Bukidnon, Misamis Occidental, and Davao del Norte.
For more information on Lumina Homes and its new offerings, visit https://www.lumina.com.ph or contact 0917-629-6523.