Fresh off a hard-earned unanimous decision victory over Samara Santos at ONE: UNBREAKABLE on 22 January, #2-ranked women's atomweight mixed martial arts contender Meng Bo already has her sights set on a possible next opponent.
The 24-year-old fighter from Changsha, China — currently unbeaten in the ONE Circle — is calling for a showdown with the #1-ranked Denice "The Menace" Zamboanga of the Philippines. Meng wasted absolutely no time, making her desire to face Zamboanga and take her spot in the official athlete rankings known immediately after her impressive performance last Friday night.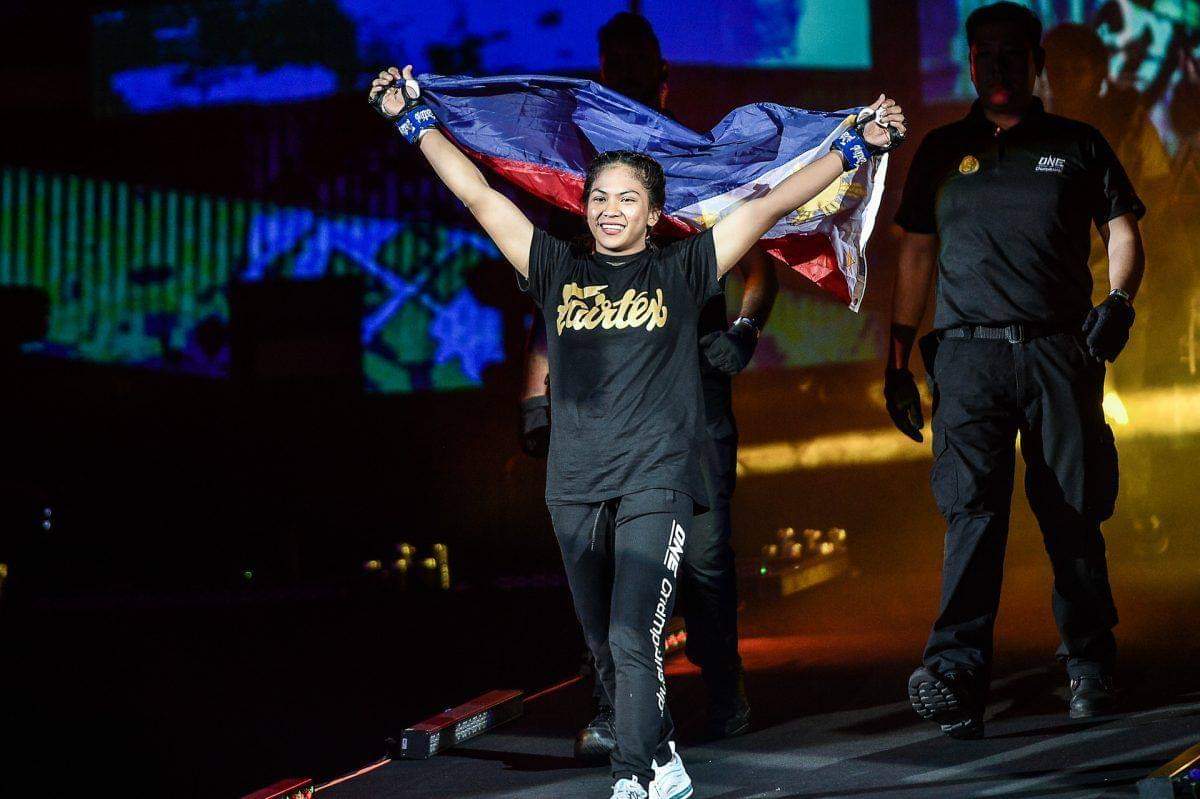 "We were supposed to fight last year, but COVID happened and it was cancelled. I couldn't fly to Singapore at that time," Meng revealed, before laying into Zamboanga with a scalding prediction.
"But I must say, Denice was lucky that fight got cancelled. If we were in the ring together, without a shadow of doubt, I would beat her up and take her spot as the #1 ranked atomweight in the division."
Meng is today one of the hottest fighters in the atomweight division. Famous for being the only woman to have defeated UFC Women's Strawweight Champion "Magnum" Zhang Weili, Meng has knocked out two of her last three opponents, both in the first round.
Meanwhile, Zamboanga's resounding victories over top-ranked Jihin Radzuan and Mei Yamaguchi since joining ONE Championship in 2019 earned her pole position in the rankings. She currently sports an unblemished 5-0 record.
Meng, however, is hardly impressed by what "The Menace" has accomplished so far in the world's largest martial arts organization. The 24-year-old Chinese standout feels she is a far better fighter, and wants to knock Zamboanga off her lofty perch.
"Denice is a stubborn and tough fighter. But if I was to identify her strength, she's only good at punching, nothing else," said Meng.
"(As for me) I learned a lot in the Samara Santos fight. One weak area I've discovered is my ground fighting skills. I need to improve my ground control and strength. My goal is to master all combat sports skills and become the most dangerous MMA fighter in ONE Championship."
Both Meng and Zamboanga are expected to be participants in the much anticipated ONE Atomweight World Grand Prix, slated to commence some time later this year. Meng wants Zamboanga in a bad way, regardless. Without a doubt, both Meng and Zamboanga are on a collision course.
If it were up to the Chinese star, she wants to face Zamboanga in the Circle sooner rather than later, tournament or not.
"I think my stand up fighting techniques will be enough to give me the victory. I'm pretty confident that I can finish Denice with a flurry of punches and knock her out within two rounds," said Meng.
"That would be more than enough to earn a shot at the World Title. Once I get Denice in the Circle and beat her, I will be ranked #1 in my division, and I'll be next in line to fight the champion."
ONE Championship returns with ONE: UNBREAKABLE II, a previously recorded event scheduled for broadcast on Friday, 29 January.
In the main event, former ONE Heavyweight World Title challenger Mauro "The Hammer" Cerilli of Italy will take on Russia's Abdulbasir "Dagestan Machine" Vagabov. Also scheduled for action is four-time Heavyweight Muay Thai and Kickboxing World Champion Alain "The Panther" Ngalani of Hong Kong, who will face Senegalese sensation "Reug Reug" Oumar Kane.