The Far Eastern University Chorale returns to the stage of the FEU Auditorium for "Pasasalamat" at 6 PM on August 12, 2023.
This concert serves as a homecoming celebration for the group following their participation in the recently concluded 2nd Asia Choral Grand Prix in Bali, Indonesia, where 6 choirs from Spain, Malaysia, Taiwan, Indonesia, and the Philippines battled in this competition of winners. The FEU Chorale qualified for this prestigious competition by winning the Andrea O. Veneracion International Choral Competition in 2019.
Two weeks before leaving for Bali, the FEU Chorale competed in the Sing, Tarlac, Sing Choral Festival in Tarlac City and won a Gold Diploma, the Best in Folk Song Category, and the Second Prize.
In the Tarlac and Bali competitions, the FEU Chorale sang pieces in contemporary, folk, and sacred contemporary genres. These pieces will be performed in Pasasalamat, which recounts the group's voyage under Mr. Angelo Tangco's term as their Artistic Director. He molded the choir's sound to be balanced and that is the legacy they will strive to maintain in the years to come.
The choir has been able to touch hearts and inspire people. An Indonesian choir approached the members of the FEU Chorale to say how they were moved by their performance. The FEU Chorale made them more interested in the sound of Filipino choirs.
Hear this sound in Pasasalamat on Saturday, August 12, at 6PM in the FEU Auditorium.
Tickets are at P500 and P250 and are available at the FEU Center for the Arts and the FEU Chorale's FB page. Tickets will be sold only until 5.30 PM on concert day.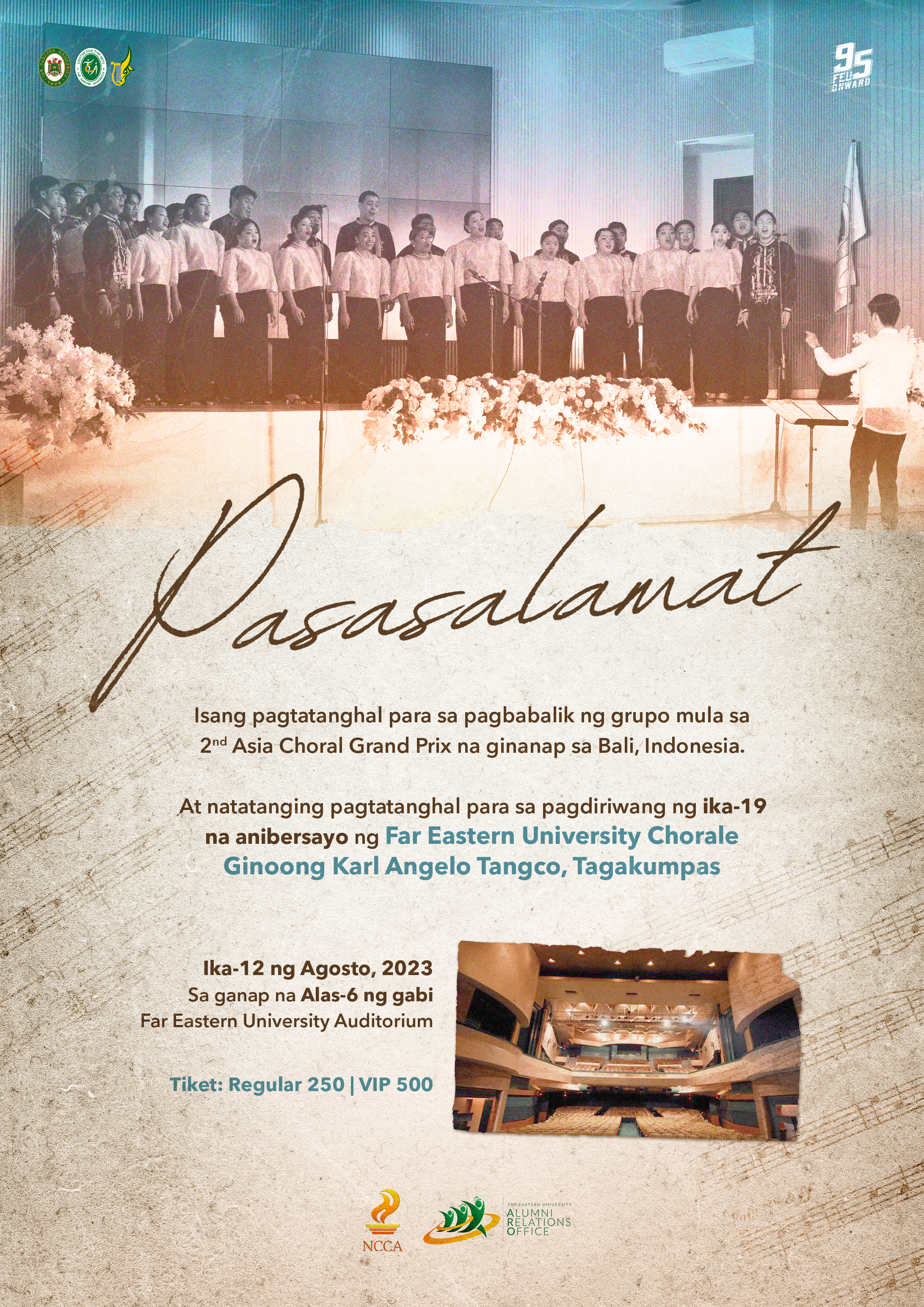 #HappeningPH #FEUChorale #FEUAuditorium #PASASALAMATconcert #PASASALAMAT #Thanksgiving #concert #chorale #musicextravaganza #music #choraleconcert #FEU #FarEasternUniversity #songs