Lumina Homes was already one step ahead in digital real estate selling when the pandemic struck. Instead of starting from scratch, the innovative housing brand found a niche where it could further sharpen its existing tools and develop new ones that the Philippines might have never seen before.
Virtual Tours and Online Appointments
Lumina was among the first real estate companies to introduce a virtual 360-degree house tour at the start of the pandemic—the Interactive Project Map. A smart and safer way to do "trippings" at the comfort of one's home, the virtual tours offered buyers a chance to walk into Lumina's community and best-selling homes, and view the available units in a subdivision map.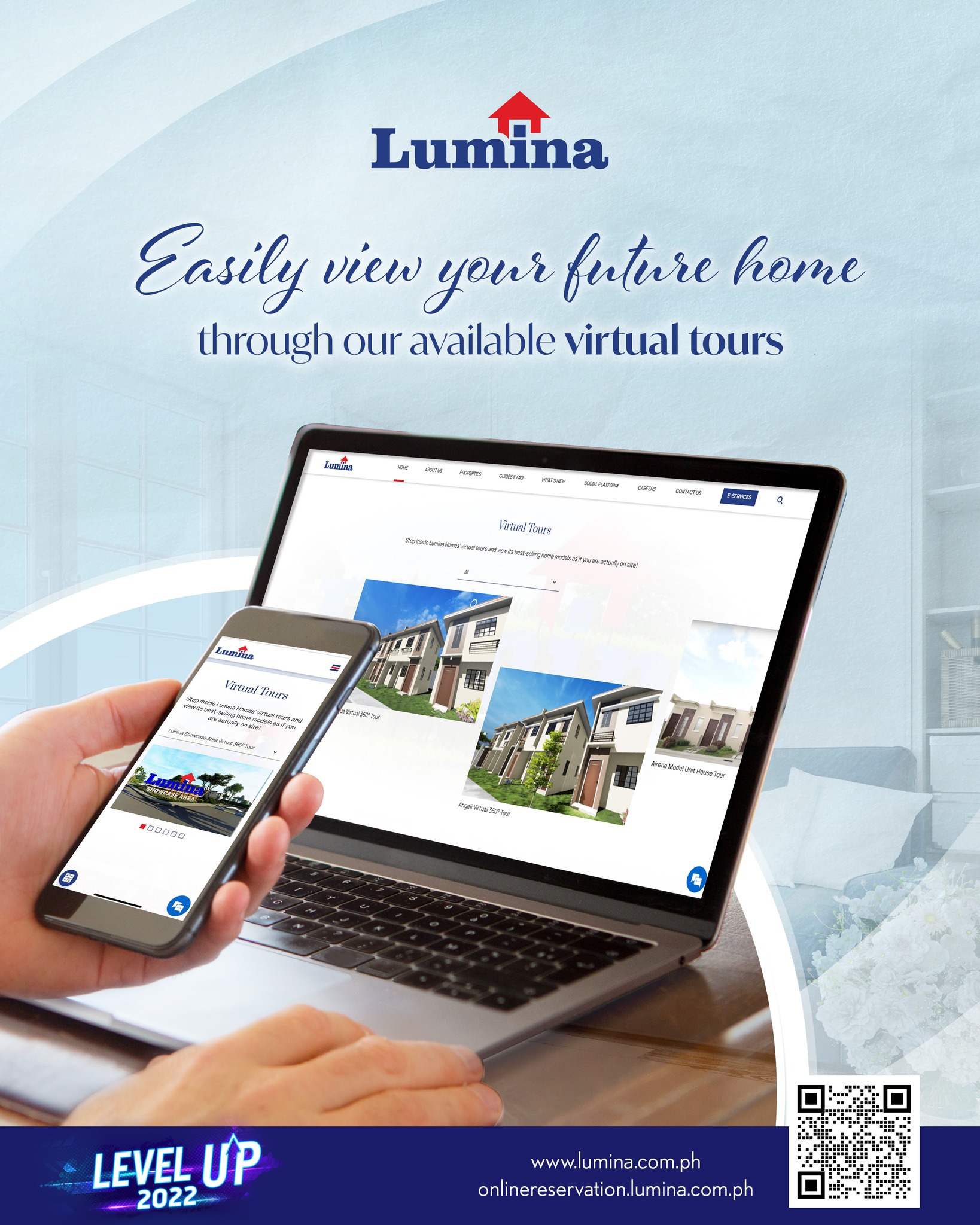 Its official website, www.lumina.com.ph has become an effective venue to view home models in 3D: Angelique at 35 square meters with two-bedroom and one carport provision, and Angeli at 42 square meters with three-bedroom and one carport provision.
With the assistance of brokers and agents, the buyers can also easily talk to them online and reserve their dream home, via the online website, social media shops, e-commerce apps for mobile or desktop, and through digital wallets and digital banking.
The brand has also partnered with trusted banks like BDO, AUB, PNB, Security Bank, Unionbank, Maybank, and RCBC for secure, online transactions. 
More importantly, it has implemented a queuing system for house and lot reservations to ensure that homeowners are well-distributed within each community.
Boosting the Selling Prowess of Lumina Homes Sellers & Agents
Even with the most advanced technology, Lumina needed to harness its manpower skills and equip them with the tools in digital real estate selling—not to mention higher commission rates.
"In the next months and many more years to come, we will remain unstoppable together as we explore the changing landscape of real estate selling," said Engr. Joemi Tan, Division Head of Lumina Homes North Luzon and Mindanao.
It has successfully launched the Lumina Online University for accredited brokers and sales agents. It allows them to hold the preferred unit on behalf of their customers. Once the seller has reserved units in the available inventories for their clients, Lumina Homes will automatically send a reservation payment link to their email addresses.
The trainees attend Lumina Online University's two-level learning course and get certified in courses, such as Fundamentals of Lumina Homes and Lumina Online Training System Guide, Recruitment and Training, Facebook Marketing, and Digital Marketing.
Sellers' Portal
Everything they need to know about Lumina Homes is in the Lumina Sellers' Portal—where they can track upcoming events and activities, promos, and ongoing sellers' incentives. They can also check pricing updates, view maps, see a complete directory of Lumina offices and site locations nationwide.
Social Media Platforms as Shopping Carts
Lumina Homes opened its shopping carts on Facebook, Instagram, and Viber, making it the first real estate company to offer an online store within these social media platforms. It allows clients to place orders directly from their social media platforms, providing a safer and all-digital reservation experience.
How about what to watch out for in 2022? Follow @luminahomesofficial and let Lumina Homes inspire you to get innovative and adaptive to the new ways of selling and buying homes.