BALITA: The History of Philippine Journalism, 1811–2019
José Victor Z Torres
Vibal Group: Quezon City, 2021
244 pages
Are your neighborhood gossips important bearers of news?
How did early Filipinos receive and send news before the advent of the printing press?
What role do opinion pages and cartoons play as part of our daily news fare?
Who really controls the kind of news we get to know—the Constitution, the government, the media companies, the publishers, the editors, or the writers?
How are censorship and fake news related?
Are news stories unavoidably biased?
What is the role of social media in conditioning what we think of what's happening around us—like which ones to vote in 2022, how we're going to react to COVID-19, and how get confused knowing fake from legitimate news?
It's  a treasure trove of answers to how Filipinos think.
Just to be able to glean answers to these questions through a review of the history of Philippine journalism is more than enough reason for a copy of José Victor Z Torres' BALITA is worth more than its selling price.
It is valuable: not only for the many answers it provides us generously, but for the many ways it explains how we understand how we think, view things, and create and control truths.
"My purpose is to present the story of newspapers in our history—the contexts in which they were issued, the events, that they reported and influenced, and the factors that brought about their rise and fall through the years . . . present the story of our journalism, which brought about our intellectual history," Torres writes in his Introduction.
Beyond this, however, consider three other reasons every Filipino home should have BALITA on their bookshelves for leisurely reading, serious study, or handy reference.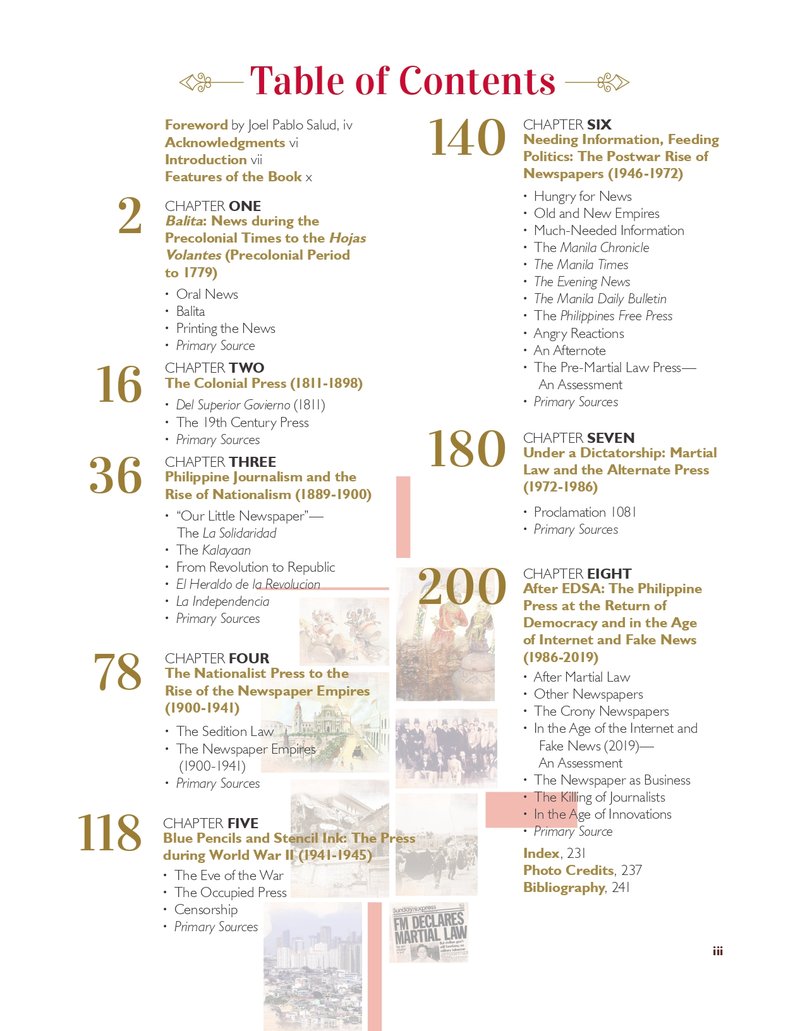 First, it is a textbook for learners of all kinds.
BALITA would've been the perfect book for Introduction to Print Media—a subject I took in college in the 80s, and handled in the 90s—which traces the beginnings and evolution of print from the hieroglyphics to Gutenberg to desktop publishing.
The book grounds the appreciation of print media in the Philippines by looking at it historically—retelling journalism's story and presenting evidences of how things changed and affected the creation, distribution, and regard for news in eight exciting chapters.
Whether one is scholar of journalism, a high school student, a teacher, or just an interested reader, there is enough material from Chapter 1. Balita: News during the Precolonial Times to the Hojas Volantes (Precolonial Period to 1779) to Chapter 8. After Edsa: The Philippine Press at the Return of Democracy and in the Age of Internet and Fake News (1986–2019) to pull one's interest in current events even as one goes back in time!
To guide readers in formal study or random perusal, each chapter features a brief introduction with objectives, lesson proper with featured highlights—26 of them!—and primary sources, guide questions, activities, and marginal notes.
For scholars, the primary sources, end notes, and photo sources are valuable resources for writing your papers and doing your research.
Hence, BALITA not only expands one's understanding of the times but also sharpens one's understanding by connecting the past to present times.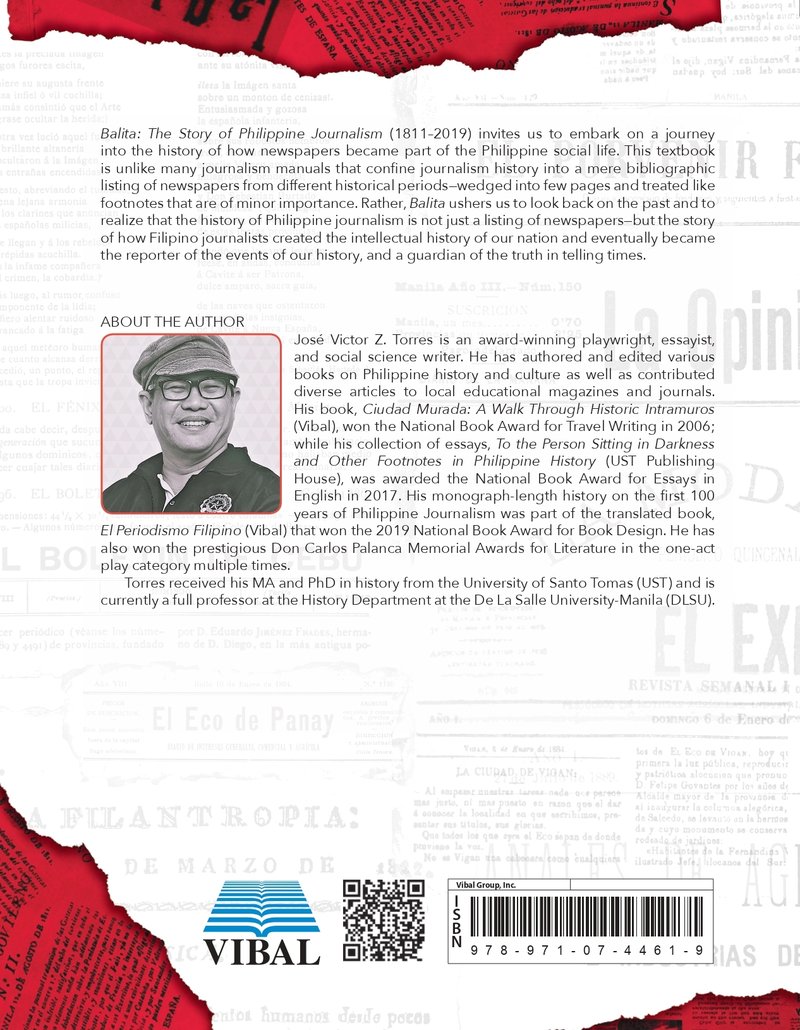 Second, it's a wealth of information outside of the lessons.
One doesn't even have to read chronologically—although that would be important to trace what happened and how things tweaked from one period to another, with the advent of different technologies, ideas, and personalities—to start with, one only need to look at how diverse the kinds of information and activities the book provides as marginalia to get hooked.
In eight chapters, readers are treated to 139 of these marginal notes, a collection of trivia and great-to-know factoids: 61 Additional Information Notes, 44 Personalities, 24 Vocabulary, 3 Study Tips, 2 Global Links, 2 Critical Thinking Questions, and 1 each for Key Points, Cross References, and Resources or Web Links!
Knowing for instance how the laws were changed by Presidential Proclamations during Martial Law and how democracy under the Cory Administration changed the tide of events would be good reason to know more and, therefore, read more of what happened behind the scenes and what could have been had these events turned out otherwise.
Although the book is admittedly not your usual list of newspapers, dates to remember, and names of personalities, BALITA doesn't hold back in giving out the names of key people, landmark publications, and significant events that shaped Philippine journalism history—and how people see things, regard facts, and consume news.
Third, it's a ready resource for modern-day newsmakers and consumers of news.
The Introduction for one is a quick review of similar literature—one that attests to the dearth of historical accounts from the viewpoint of a journalist and historian focused on Philippine journalism—and each chapter is a handy go-to for primary sources and archival photographs of never before seen historical documents and events featured in sepia, black and white, and color photographs!
On top of these, BALITA also features sections on How to Spot Fake News—very important to our tech-savvy generation, the CBCP Pastoral Guidelines on the Use of Social Media, and a Partial List of Web/News/Blog Sites in the Philippines with Fake or Unverifiable Content.
All these content for a book that's less than an inch thick—so slim, in fact, and light that it could easily slide into a plastic envelope or laptop bag so you can take it anywhere while sipping coffee or waiting for a friend—BALITA is a welcome convenience!
But for a book that's actually sewn at the spine you could actually lay it flat on the table it's a blessing for all of us who are hungry for knowledge and discernment in these newsworthy times surrounded by traps of misinformation.
A copy of BALITA because is for our own good.