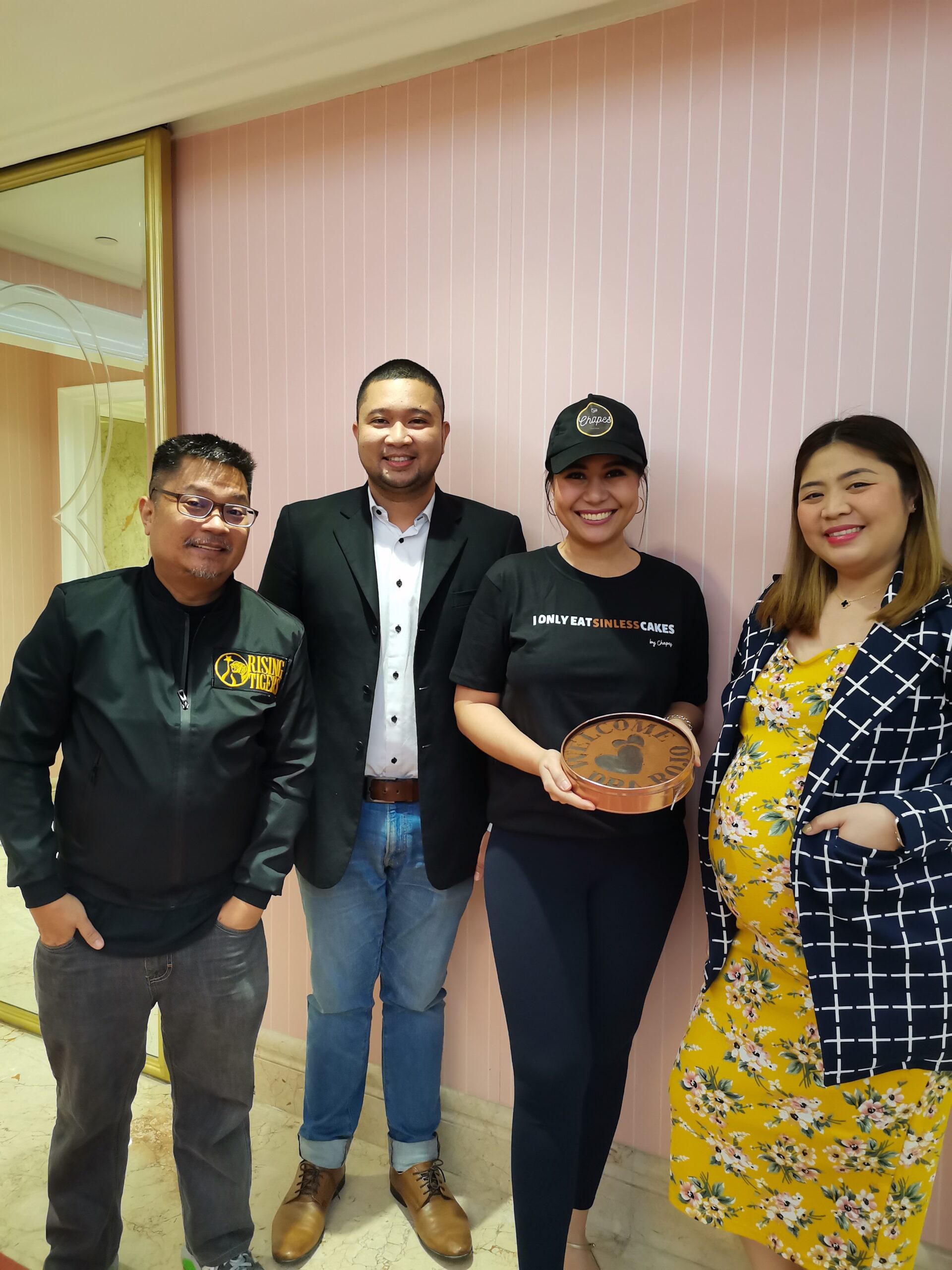 When the Philippines' only low-carb franchise signs up Internet sensation Josephine Grace Rojo Tan, MD—whose official Facebook boasts of 945K followers and whose Stay Low Carb, Stay Safe YouTube channel has 219k subscribers—it means serious business and surefire success.
This is what Chapes Keto Cake's Rising Tigers couple Jay and Charisse Pestaño wants the world to know when they onboarded Dr Josephine during an exclusive contract signing at the Okada Manila.
"We're growing and getting bigger this 2023, and Dr Josephine Grace Rojo Tan would be our partner in achieving our goals," Jay affirmed, claiming the success 2023 would bring for Chapes in terms of wider reach, expanded menu, and more branches and franchising opportunities.
"It's about time to show people that they already have better food options available, especially on desserts. To convince people to believe in your product, you have to give your brand a face," explained Diet Doktora.
"Then, people will start listening to you, following your lifestyle," she added, referencing to the success of her books and why she signed up to become the brand ambassador of Chapes Keto Cakes 2023 campaign.
"With this partnership with Chapes, we are realizing one of our goals to put low carb and keto into Filipino consumers' daily vocabulary as this is now a recognized option for Medical Nutrition available to them. This is now widely accepted in many parts of the world including Canada, the USA, Australia, and certain countries in Europe," added Dr. Tan.
Giving the Chapes Brand a Face and Body
It comes as no surprise, Dr Josephine Grace Rojo Tan, a head and neck surgeon who specializes in facial plastic surgery, is Philippine medicine's foremost low carb and fasting advocate.
"This advocacy is a personal discovery. When my dad passed on due to diabetes complications despite full compliance with his regimen, I realized there must be something wrong with the standard recommendations," Dr Josephine shared.
Her journey has led her to pen the Amazon three book series, Perfect At Last WEIGHT, HEALTH & WELLNESS, and launch her YT channel promoting low-carb versions of well-loved Filipino recipes, natural healing, and healthy lifestyles in 2019.
"In such a short period, we were able to amass phenomenal following attributing in part to Filipinos' desire to boost up personal and family health amid the pandemic, specifically targeting lifestyle diseases," the Diet Doktora expounded.
Dr. Grace is one of the first among the few Filipino doctors affiliated with Diet Doctor. This international group aims to "make low carb and keto simple for people everywhere to dramatically improve their health."
Hitting a Million in Two Months' Time
Health and wellness have become bywords for Filipinos during the lockdowns, and
Chapes Keto Cakes founders Charisse and Jay only knew too well how to address the need, being both registered nurses and midwifery board passers.
When premier make-up to the stars Charisse found studios and salons closing, she started to experiment in crafting a selection of home-baked low-carb goodies that advertising man Jay packaged for mass appeal.
"Inspired by the Dalgona coffee craze, we started with a P16,000 capital to create healthy cakes based on our personal low carb and keto diet regimen following Coach Dave," recalls Charisse, after whom Chapes was named.
Armed with the basic knowledge of low carb and keto, Charisse was able to improvise and convert all home dishes and recipes into delightful keto concoctions.
"When I saw Charisse's tin can cakes, it spurred me to dabble with packaging designs," Jay remembers. "When people like what they see, it becomes delicious even before they even taste them."
The perfect mix of Charisse's delicious healthy recipes and Jay's neat, classy design attracted not only consumers but resellers as well such that, "After a couple of months after their launch on June 2020, their sales have reached the million mark!"
Starting with SM, Now 8 Branches and Counting
"We already captured the keto and low-carb market, what we want to achieve now is to expand our reach to capture the perfect taste even the non-diet markets would love," Jay explained. He notes how public tastes have shifted from craving for too sweet to just right.
"Given that our market extends from diet-conscious, low-carb, and keto fans to diabetics and other folks looking for healthier alternatives, the opportunity to open up stores at SM became a welcome opportunity," Jay backtracks.
Right when shops are pulling out due to the lockdowns, Chapes was given the chance to rent a store at 50% off.
"We invested all our earnings online into this physical outlet, and the rest was history! We even got a 180k worth of ref for 30k, so it was truly heaven sent."
Thus, in less than three years, we already have eight branches and counting," Jay recounted.
Baking Future Plans for Greater Reach
Public taste and clamor have been the couple's barometer for expanding Chapes Keto Cakes' largely chocolate-based menu and packaging options.
"In this area, our premium keto donuts have no competition," given that all popular donut brands are all on the sweet side.
"Due to insistent public demand, we've added cheesecakes to give non-chocolate lovers an option," shared Charisse. Their flagship Premium Keto Dark Chocolate packs a bite for those not used to dark chocolates.
"We also want to have our keto bites sold in pouches to get into S&R for nationwide coverage and tap the export market," Jay added. Their mint keto bites have already gained market tracking.
The power couple is also working on having their offerings approved by the Philippine Food and Drug Administration to penetrate Mercury Drug to increase its footprint.
"This summer, we're releasing a whole line of keto ice cream," Jay teased.
Charisse added that they've also lined up keto frappes that use cream cheese, instead of whipped cream, with brown sugar to level-up Filipinos' dining experience.
Leading Filipinos to a Healthier Lifestyle
"Now, with more physical shops popping up, diet-conscious people can rest assured that they have somewhere to go to after meals or to hang out without disrupting their chosen Low Carb Lifestyle," Dr. Grace remarked.
Soon, these outlets would have Diet Doktora standees welcoming diners at the nearest mall outlets nearest you.
"Chapes Keto Cakes is doing us special work to further our low-carb and fasting advocacy," said Dr. Grace.
Not only is this supportive of those who have started their diet journeys, "Chapes is also helping start off non-diet-conscious Filipinos—even those who are not into keto or fasting—to start enjoying the delicious yet healthy options available to them."
"We all hope to make low carb and keto bywords for Filipinos in the new normal," summed up Diet Doktora.
"Indeed, with more than eight branches and counting, we're not only planning to open up more and bigger branches nationwide, like in Cebu and other major cities, we're also ironing out plans to open up franchises," Jay concluded.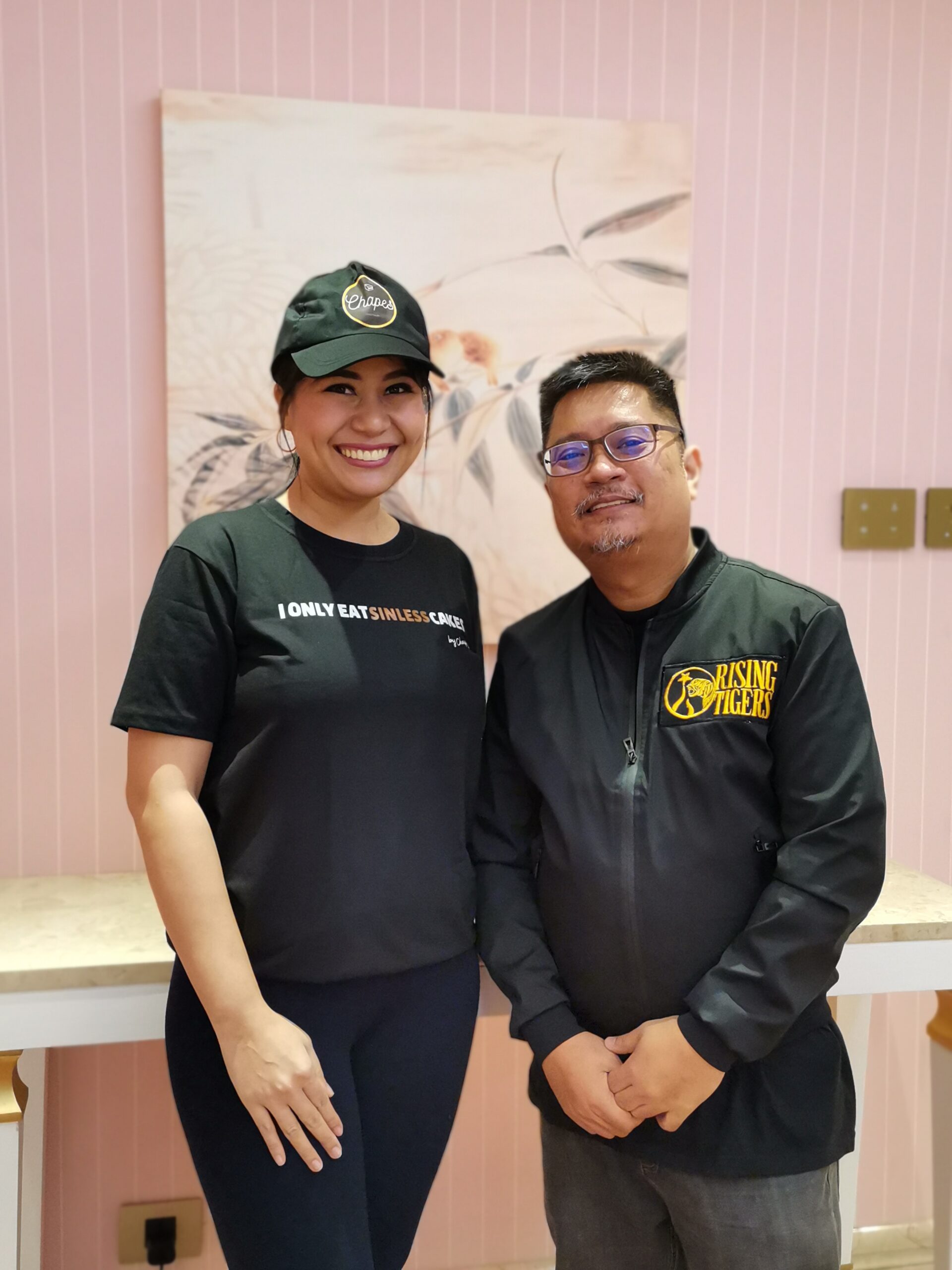 #HappeningPH #ChapesKetoCakes #DietDoktora #DrJosephineGraceRojoTan #YouTubesenasation #YouTuber #keto #lowcarb #celebrityendorser #OkadaManila #darkchocolatecakes #partnership #RisingTigersMagazine #contractisigning #exclusivecoverage