With Shopee Pets, users can raise virtual pets, earn points, and win prizes such as Shopee coins and more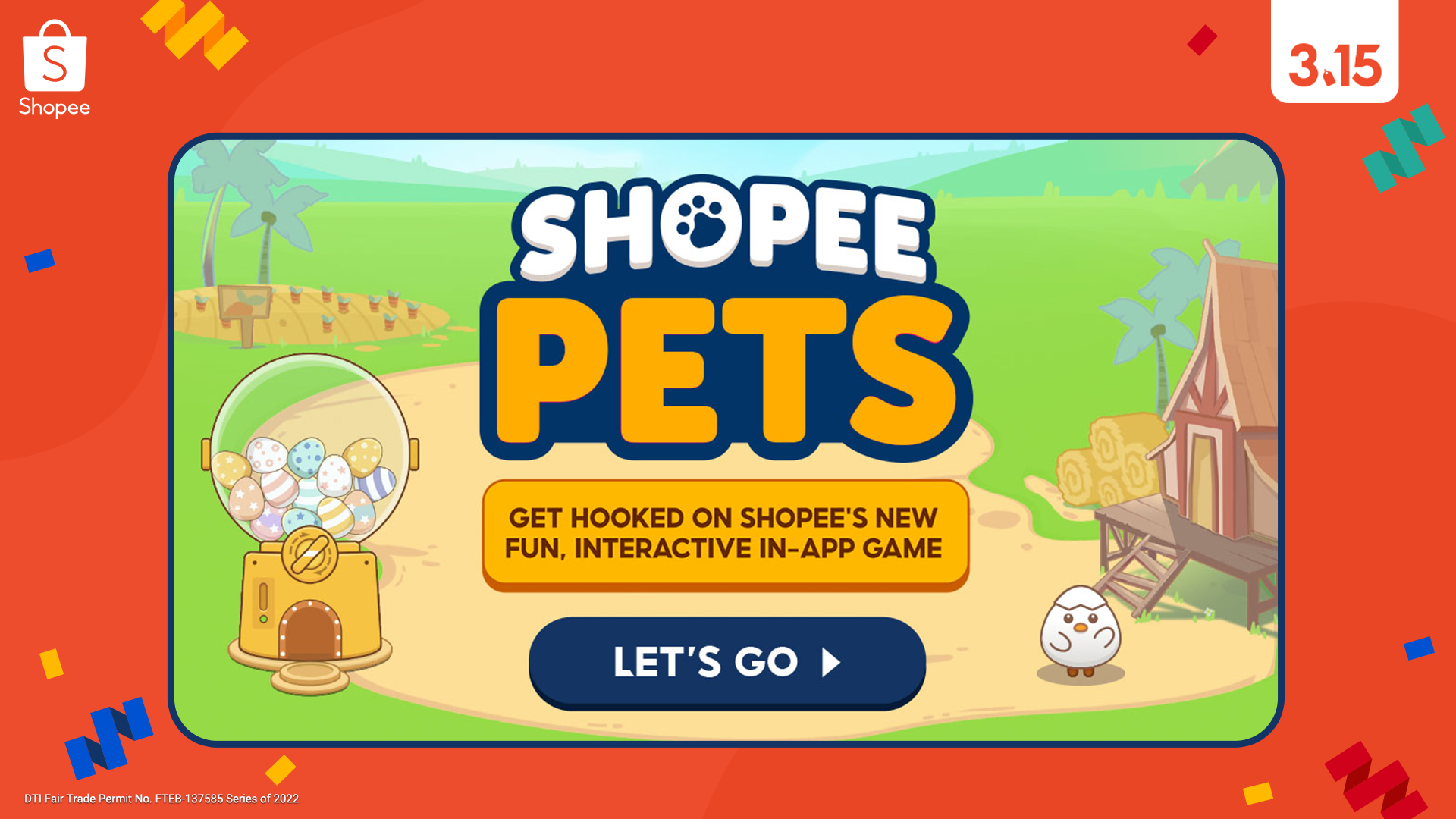 MANILA, MARCH 4, 2022 – Online shopping helps a lot of Filipinos de-stress and unwind. Aside from the retail therapy shoppers can enjoy, Shopee is set to make users' in-app experience even more entertaining and engaging with the launch of Shopee Pets. Inspired by a popular mobile game during the 90s, Shopee Pets allows players to redeem exciting rewards by nurturing their virtual pets. Aside from big discounts and exclusive brand offers, Shopee Pets is one of the many exciting things to look forward to during this 3.15 Consumer Day Sale.
Shopee Pets is a life simulation game where players can help their pets evolve through daily activities. Players can level up their pet's XP (experience points) and unlock diamond points throughout the game by feeding, cleaning, and playing with them. Accumulated points can be used to redeem rewards at the Points Redemption Store. Players can take care of their pets all day, and once their pet reaches level 50, they can choose another pet and repeat the life cycle. To level up your pet and gain diamond points, players can do the following:
Social Interactions: Sharing is caring! With social interactions between players, they can receive shared items that can increase their pet's happiness bar.
Schooling: You can let your pet attend school once it reaches level 4, so they can join class games, and engage in other activities like quizzes and races to achieve diamond points.
Grooming: Keep pets squeaky clean by dragging the soap bar on top of the pet. All cleaning supplies help increase XP and its happiness and cleanliness levels.
Feeding: Make sure your pet is well-fed to maintain its happiness levels. There are three types of pet food and paid food gives your pet higher XP growth and fullness points.
Playing: Keep your pets happy by playing with them on a regular basis. There are three ways to play with your pet:
Dance to the Music: Follow the beat to increase your pet's happiness bar. Each song consists of three rounds and will speed up at the end of each round.
Jump on a Trampoline: Drag the trampoline left and right to make sure your pet stays on it and earns more points.
Score a Goal in Soccer: Score a goal and increase your pet's happiness and XP level. Each goal has a corresponding amount of XP.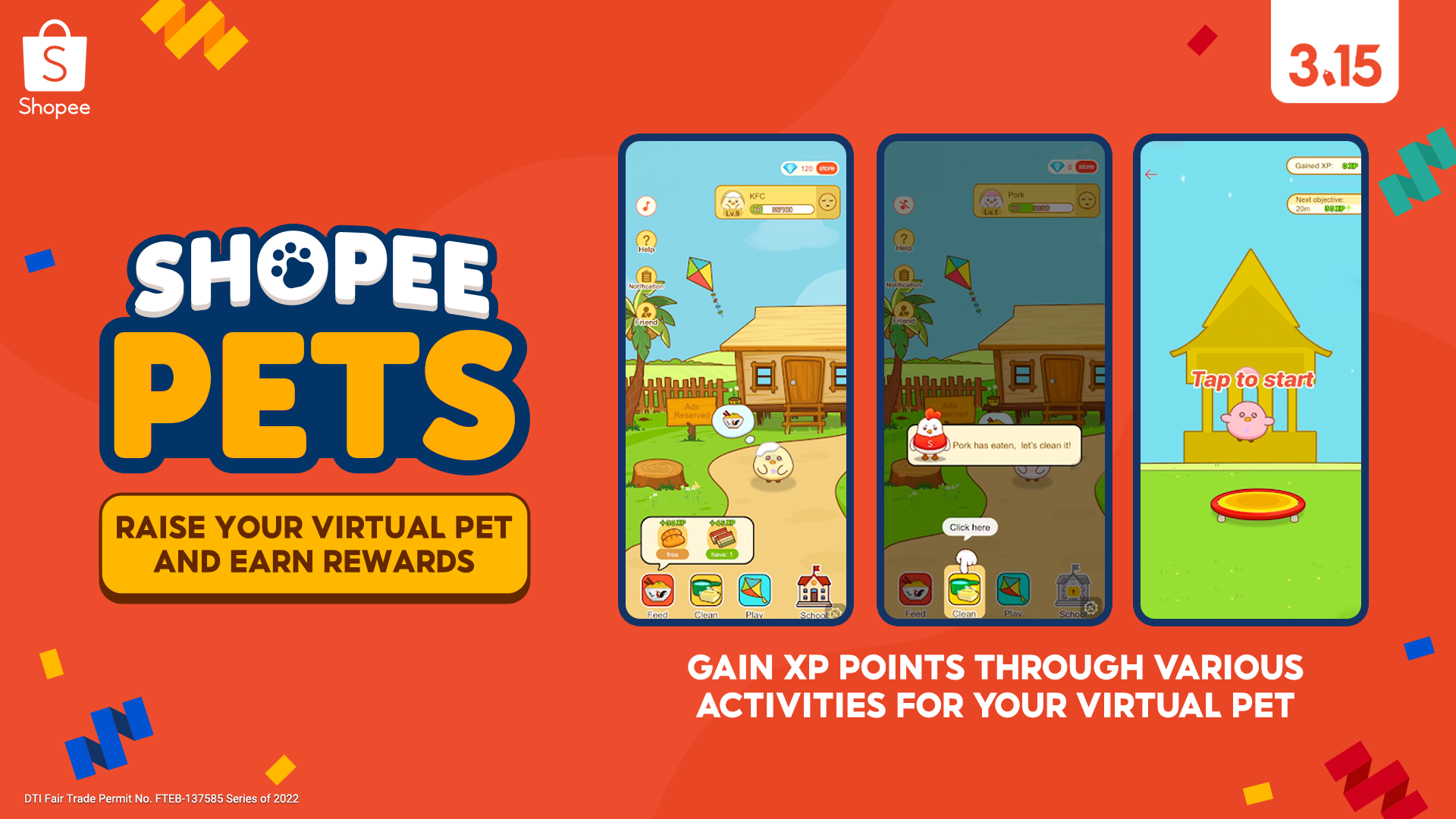 Remember that you can choose your pet at the start of each cycle and also look forward to dressing them up in adorable clothes—from head to toe! You can also start doing improvements on your pet's home by level 25, unlocking new themes, and gaining access to upgrades.
During the launch of Shopee Pets on March 3, players can look forward to amazing prizes which include Shopee coins, coins cashback vouchers, and other products such as a Xiaomi Air Purifier, an O'Healthy Electric Juicer Blender, an Acer Aspire 3 laptop, and many more. One lucky player also stands a chance to win ₱100,000 via ShopeePay from March 12 to 16.
Shopee Pets joins a list of other fun in-app games such as Pera Panalo, Shopee Candy, Shopee Farm, Shopee Bubble, and Shopee Claw that have become the favorites of shoppers on the platform. To further enhance the overall online shopping experience, ShopeePay, Shopee's mobile wallet, offers exclusive perks and savings such as daily free shipping and cashback vouchers. Users can enjoy 20% cashback when they scan to pay at ShopeePay's partner merchants such as Potato Corner, Puregold, National Bookstore, The Generics Pharmacy, and more until the end of March. Users can also checkout ShopeePay ₱1 Deals and redeem discounts in stores.
On 3.15 Consumer Day, users can take advantage of 50% off on load across all networks and up to 100% cashback on bills payment. With ShopeePay's Free transfers feature, users won't have to worry about transfer fees when they send money to any bank or to any Shopee user. They can get a chance to win ₱100,000, and new users can get free ₱100 on their first-ever transfer (promo from Mar 8-17).
Download the Shopee app for free via the App Store or Google Play.
About Shopee
Shopee is the leading e-commerce platform in Southeast Asia & Taiwan. Shopee connects shoppers, brands, and sellers across Asia and other fast-growing markets, empowering anyone to buy and sell anywhere and at any time.
Shopee offers an easy, secure, and engaging experience that is enjoyed by millions of people daily. It offers a wide product assortment, supported by integrated payments and logistics, as well as popular entertainment features tailored for each market. Shopee is also a key contributor to the region's digital economy with a firm commitment to helping brands and entrepreneurs succeed in e-commerce.
Shopee is a part of Sea Limited (NYSE:SE), a leading global consumer internet company. In addition to Shopee, Sea's other core businesses include its digital entertainment arm, Garena, and digital financial services arm, SeaMoney. Sea's mission is to better the lives of consumers and small businesses with technology.