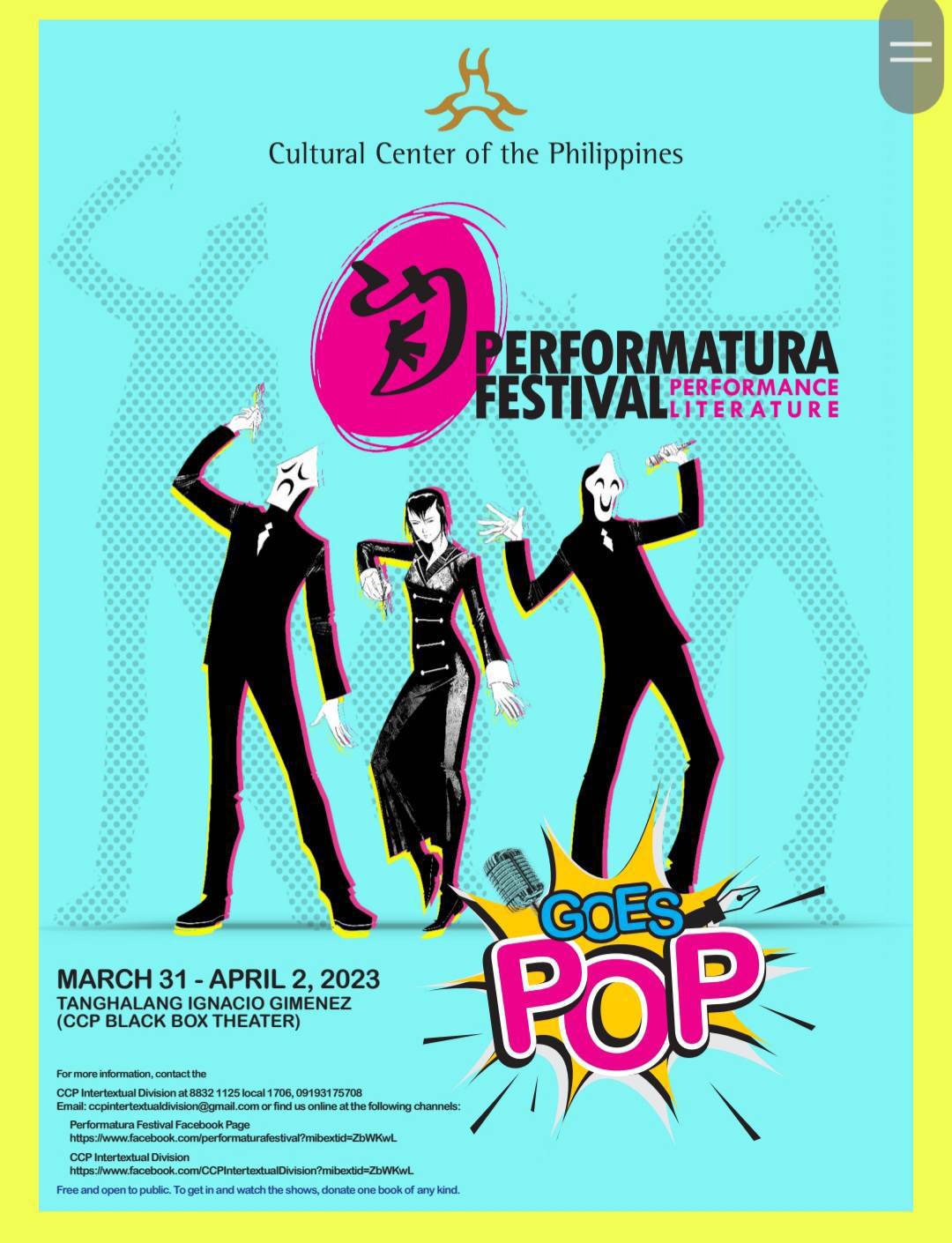 The Cultural Center of the Philippines is inviting you to attend the Performatura Festival 2023 on March 31 – April 2, 2023 from 10:30 a.m. onwards.
Performatura is a three-day event that will feature performances, poetry readings, multi-arts workshops, literary talks, spoken word sessions, poetry contest, film screening, book launches, book and art fair, and interviews with renowned writers at the Tanghalang Ignacio Gimenez (CCP Black Box Theater).
True to the CCP's mission of bringing our country's diverse traditions for the common Filipino to experience, entrance to the festival will be practically free. However, everyone is encouraged to donate a book which will serve as admission ticket to each segment. Collected books will go to the CCP's partner libraries.
The theme is Performatura Goes Pop and the festival's director is poet and performer Dr. Vim Nadera, Jr.
The Opening Ceremonies will be on March 31, 2023, 10:30 AM. Entitled "Unbox@Blackbox," it will focus on literature on social media. Vlogger entrepreneur Carlo Ople will launch his creative non-fiction book Suweldo Is Not Enough. There will be a panel of speakers, sneaker shoe auction, and a poetry performance by Hannah Lecena.
In the afternoon is a part of the CCP's celebration of women's month. At 2:00 p.m. the turnover ceremony of the printed copies of the book In Certain Seasons Mothers Write in the Time of COVID will be headed by the PEN Philippines and Intellectual Property of the Philippines Bureau of the Copyright and Related Rights. It will be followed by the launch of the Lila Mga Tula, a poetry book written by women from the Linangan sa Imahen, Retorika at Anyo. Sponsored by the Spark and LILA groups, the launch will offer talks by women writers and literary performances.
At 6:00 p.m. there will be a screening of the film Brutal by Marilou Diaz Abaya, National Artist for Film. A talk back session by Ricky Lee, National Artist for Film and Broadcast Arts, who wrote Brutal, will follow. To be moderated by Patricia Holgado, this event is co-presented by CCP Film, Broadcast and New Media Division and the Film Development Council of the Philippines.
Thirty artists, writers, and publishers organized by Pia Perez of The Indie Publishers Collab PH and Mark Ghosn will sell their works at the venue on Days 1 and 2. The selling activity is free and open to the public.
The art of spoken word takes center stage on the second day. Headlined by the Philippines' premier spoken word collective, Ampalaya Monologues, and its founder Mark Ghosn, the day promises a unique and unforgettable experience for all. Starting with Spoken Camp at 10:30 a.m., a page-to-stage writing workshop, participants will have the chance to hone their craft and develop their skills. A talk by the National Artist for Literature Gemino Abad about performing written poetry will commence. Then, prepare to be moved by Spoken Fest at 2:00 p.m., a showcase of today's top spoken word artists, backed by indie music. Spoken Night, an open mic session at 6:00 p.m. will give a platform to aspiring poets to share their voice and stories.
The last day of Performatura, April 02, 2023, is a tribute for Francisco Baltazar on his 149th birth anniversary. Entitled Araw ni Balagtas, there will will be a performance of The Makatas with Flip Toppers, and the talk of Singaporean Chris Mooney Singh "Balagtasan in the world literature" at 10:30 a.m. The talk of our National Artist for Literature Virgilio S. Almario about Bataan's significance in the life of Balagtas, multi-arts workshops, and performances by teachers and students of Bataan High School for the Arts, will start at 2:00 p.m.
To end the entire festival, at 6:00 pm, we will feature the Kampo Balagtas sa Performatura's offering of poetry and performances by the youth participants. It will also serve as the Performatura-born-competition called Tanghal Makata 2023. Spoken word expert Mark Ghosn, poet performer Kooky Tuason, and authentic mambabalagtas from Bulacan Melandro Pascual will serve as judges. Librarian Juireo Abela of Lucena City, the Tanghal-Makata 2021, will present the Sam Penaso trophy and laurel sculpture by poet Raul Funilas to the next winner. This closing segment is presented by GSIS Museum, LIRA, and Unyon ng mga Manunulat sa Pilipinas.
Artists and entrepreneurs from the Unbox team will sell their works at the venue on Day 3. The selling activity is free and open to the public.
For queries, check the CCP Intertextual Division Facebook page or contact festival supervisor Geraldin Villarin at ccpintertextualdivision@gmail.com, 8832 1125 local 1706 or 0919-3175708.
We are hopeful of your enthusiastic participation in the event. Certificates of attendance or participation will be available upon request.
Performatura poster art features TRESE and KAMBAL, copyright belongs to the creators Ferdinand-Benedict G. Tan and Jonathan A. Baldisimo.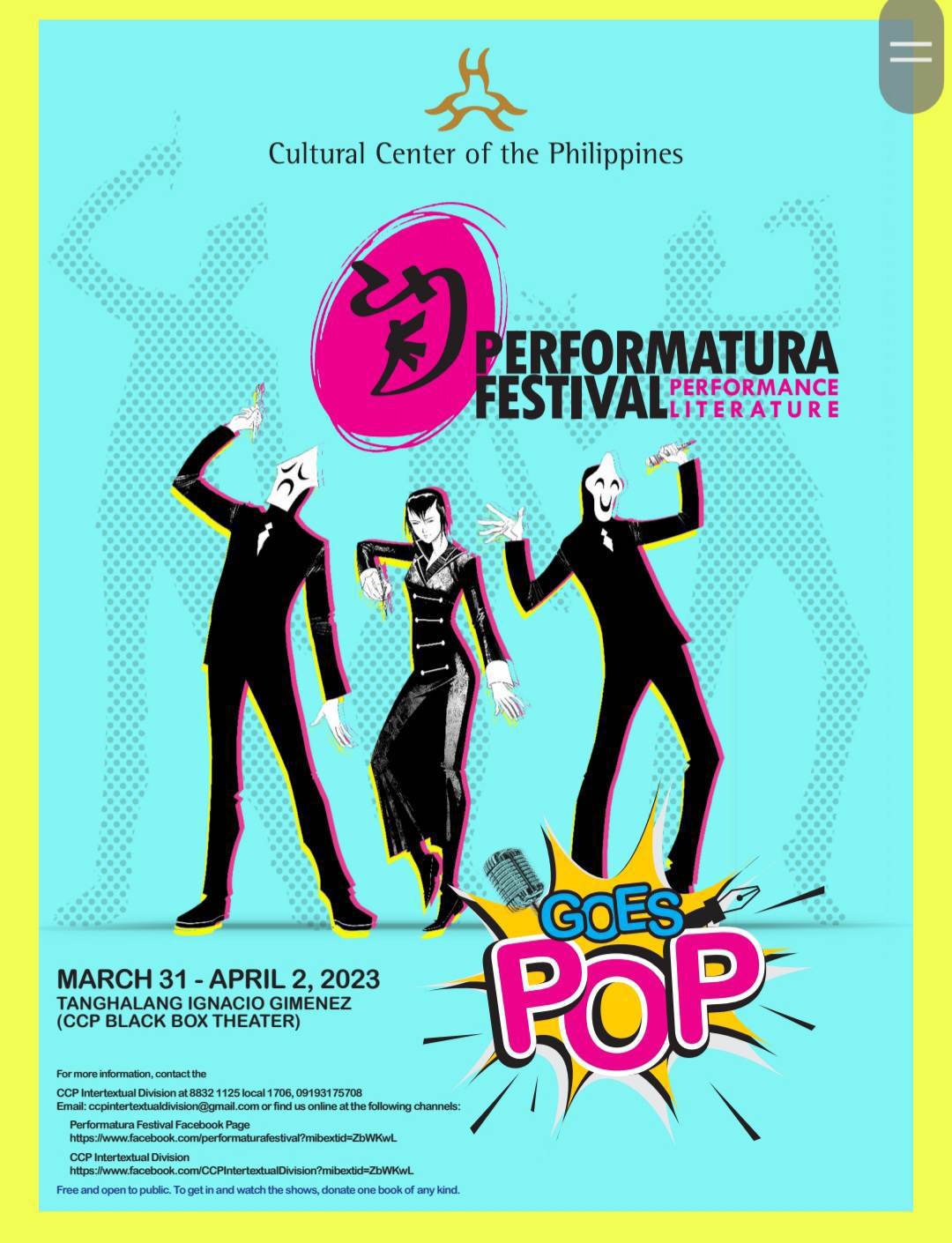 #HappeningPH #CCP #CulturalCenterofthePhilippines #PerformaturaFestival2023 #PerformanceLiterature #PerformanceLiteratureFestival #Balagtasan #spokenword #filmscreenings #filmshowing #talkbacks #NationalArtists #poetrycontest #booklaunching #booksale #artfair #multiartsworkshops #poetryreadings #talks #donateabook #PerformaturaGoesPop