A Cultural Event Celebrating Our Traditional Clothing
In a splendid celebration of cultural diversity and heritage preservation, the Korean Cultural Center in the Philippines (KCC) and the National Commission for Culture and the Arts (NCCA) are delighted to present "Threads of Tradition: A Celebration of Korean and Philippine Traditional Attires." The free event, set for November 8, 2023, from 2:00 PM to 5:00 PM, will take place at the Leandro Locsin Auditorium located at the NCCA Building in Intramuros. 
"Threads of Tradition" aims to illuminate the beauty and historical significance of traditional clothing from both nations. The event seeks to educate and raise awareness about the importance of preserving and appreciating traditional attire, serving as a vital link to our cultural heritage. The invited speakers will have a discussion on the history and significance of Hanbok and Filipiniana respectively – the role it plays in shaping a nation's culture.
Following the insightful lectures, attendees will have the exciting opportunity to experience wearing traditional clothing from either country. This interactive session will allow participants to immerse themselves in the rich and vibrant cultures of Korea and the Philippines by donning these beautiful garments.
Registration for the "Threads of Tradition" event is FREE and open to everyone interested in celebrating the unique cultural heritages of both nations. To secure a slot for this event, interested attendees may visit https://bit.ly/ThreadsofTradition for more details. Only registered participants can try the traditional clothes available.
As we come together to celebrate the "Threads of Tradition," we are reminded of the enduring importance of preserving our cultural heritage through traditional clothing. These garments are not just fabrics; they are a living testament to the stories, traditions, and values that have shaped our societies over centuries. By embracing our traditional attire, we connect with our ancestors, respect our heritage, and celebrate the enduring spirit of our culture.
Join us on November 8, 2023, from 2:00 PM to 5:00 PM at the Leandro Locsin Auditorium (Ground Floor, NCCA Building, 633 Gen. Luna St, Intramuros, Manila), and embark on a journey through the history, beauty, and significance of Hanbok and Filipiniana.
Together, let us weave "Threads of Tradition" into the vibrant tapestry of our cultural heritage.
KCC's Social Media Channels:
Website: https://phil.korean-culture.org/EN
Facebook: https://www.facebook.com/KoreanCulturalCenterPH
Instagram: https://www.instagram.com/kccphil/
Twitter: https://twitter.com/KCCPHIL
YouTube: https://www.youtube.com/@kccphil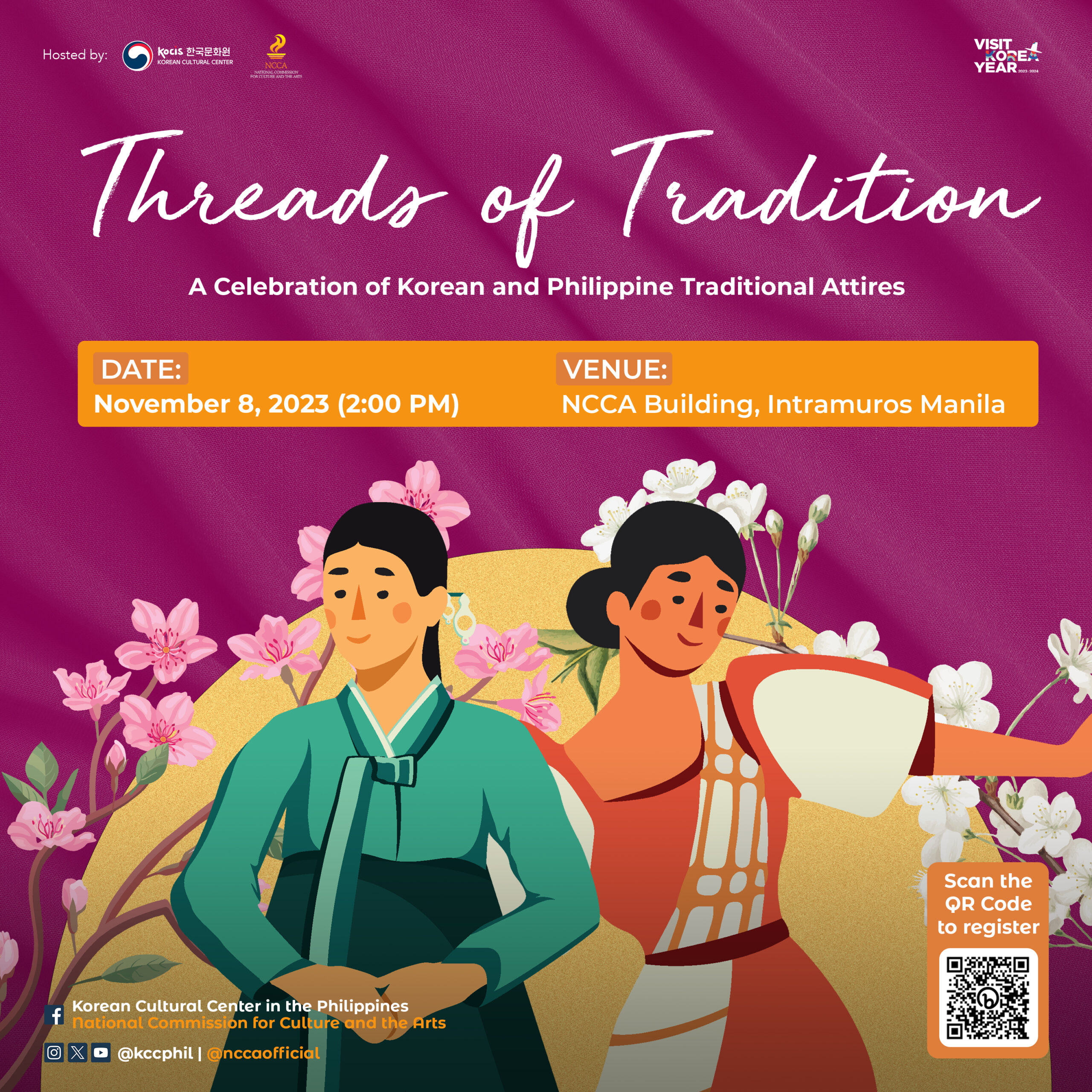 For Media Inquiries:
Haeju Jung

Events and PR Officer

M: +639273800921

E: events_haeju@koreanculture.ph

Reya Buenaventura

PR Officer

M: +639171758504

E: pr@koreanculture.ph