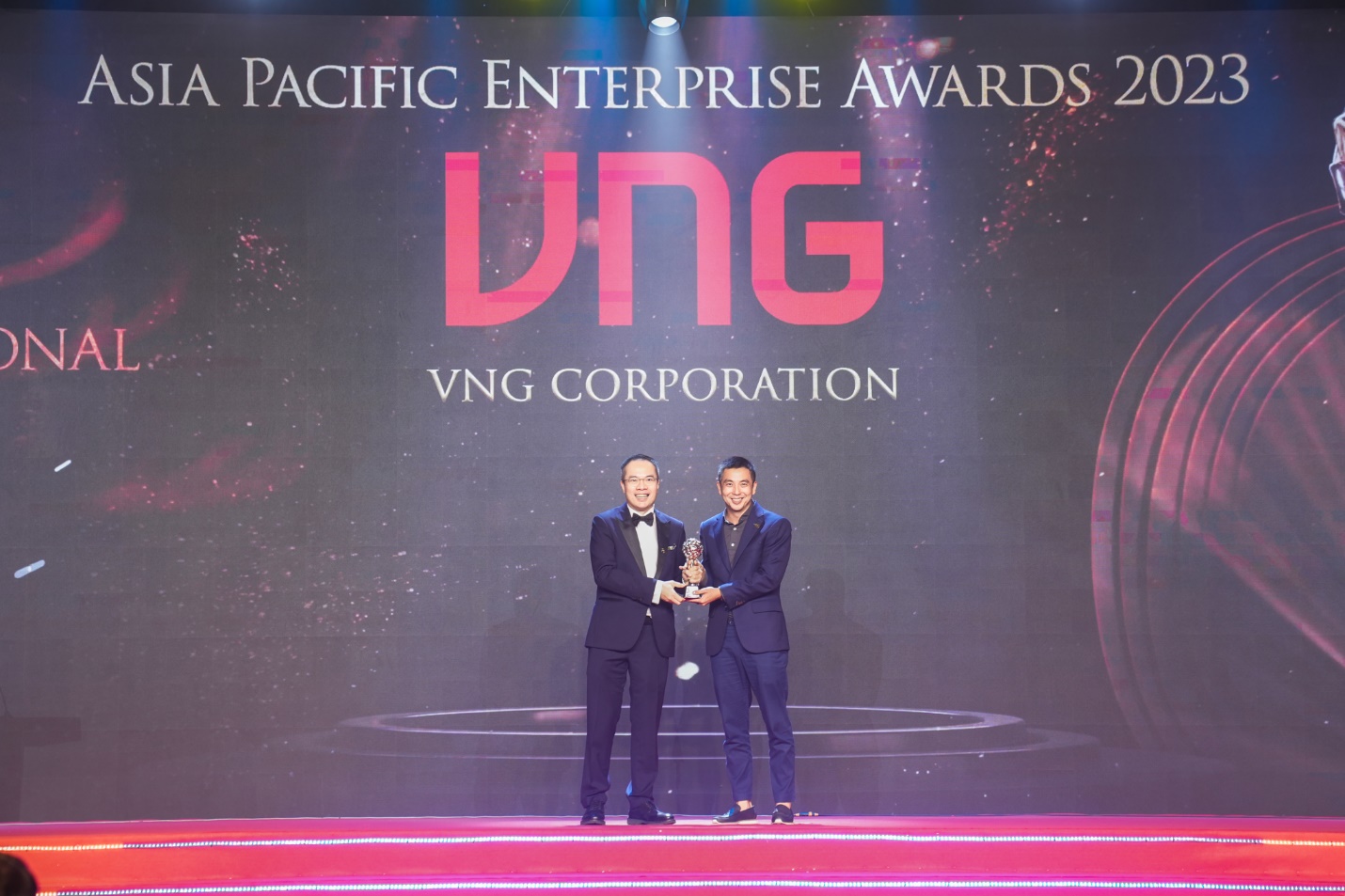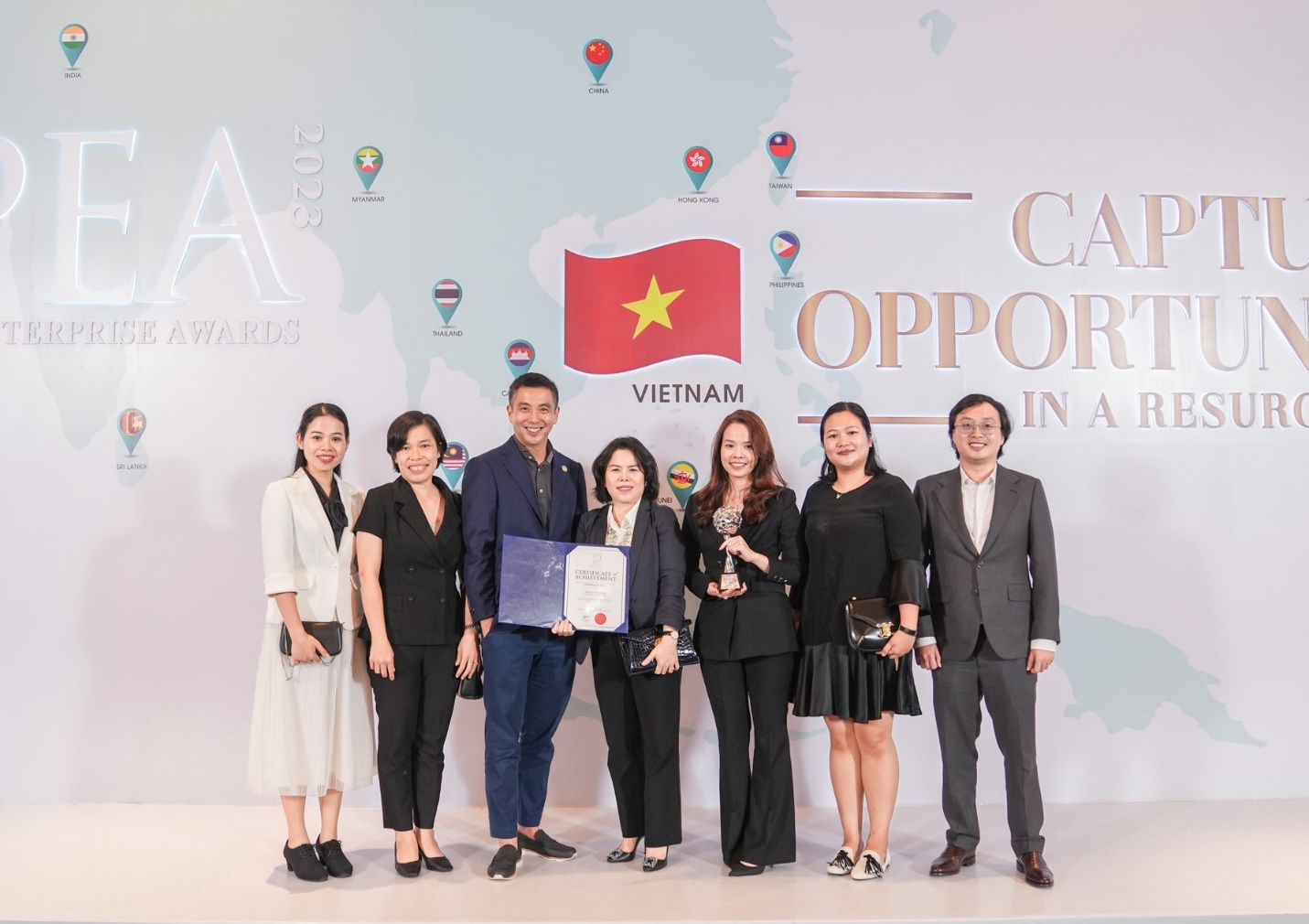 HO CHI MINH CITY, Vietnam, Oct. 06, 2023 (GLOBE NEWSWIRE) — VNG Corporation has been named as the winner of the Asia Pacific Enterprise Awards (APEA) 2023, for the category of Inspirational Brand Award. The title came as the recognition for VNG's remarkable achievement in cultivating a technology ecosystem that serves millions of users daily, and the company's unwavering commitment to pioneering innovative and impactful community initiatives.
As part of the Asia Pacific Enterprise Awards 2023 (APEA 2023), Inspirational Brand Award assesses enterprises based on three criteria: goodness, wellness, and sustainability. To qualify for nomination, businesses must be well-established brands with a demonstrated track record of reliability in the market and exhibit clear measurement indicators in each of these areas. Within this category, VNG stands out as the sole technology company participating under the Telecommunications & ICT Industry.
VNG has earned its recognition due to its extensive range of technology solutions and services, seamlessly integrated into the daily routines of millions of Vietnamese users. Furthermore, VNG's efforts in innovating Corporate Social Responsibility (CSR) initiatives have left a profound and impactful footprint on society, such as supporting underprivileged children and disadvantageous communities, and connecting warm-hearted runners towards mutual causes.
The company is also the operator behind Zalo, Vietnam's most popular messaging application, boasting over 75 million regular users, and endorsed by more than 10,000 government agencies and public services. With a diverse portfolio of over 100 gaming titles accessible in 20 global markets, VNG holds the position of being Vietnam's leading game publisher and developer. Another remarkable innovation is the ZaloPay e-wallet and its consistent introduction of financial products, including Accumulation Accounts, Securities Accounts, and most recently, the versatile ZaloPay QR code. Such a product aims to address the payment-related challenges for retail businesses.
Beyond catering the needs of daily users, VNG continues to strengthen its technological capabilities by making substantial investments for businesses seeking pathway towards digital transformation. The services include VNG Cloud, Data Center solutions, and Cloud Camera – an AI-powered solution serving smart urban operations through Veka.ai.
As a flagship component of VNG's pioneering CSR efforts, UpRace garnered significant recognition from the APEA 2023 Award council. This innovative sporting concept stood out for its remarkable ability to seamlessly connect and engage three stakeholders: businesses, social organizations, and the running community. VNG assumes a multifaceted role for UpRace as the organizer, technical supporter, and strategic partner. Over the course of five years, VNG has joined forces with more than 100 sponsoring companies, mobilizing the participation of over 350,000 individuals, who collectively ran a distance of 16.5 million kilometers. This endeavor has contributed an impressive 25 billion VND to various charitable organizations, including GreenViet, ASVHO, Newborns Vietnam, and Operation Smile Vietnam.
VNG's standing as an inspiring brand extends into the startup community, and its dedication to nurturing talent is exemplified through its annual VNG Code Tour, the largest programming competition in the country aimed at technology students from all over Vietnam. VNG takes a proactive approach to talent recruitment by engaging with both sophomore and senior students and offering specialized programs such as VNG Tech Fresher, VNG Level Up Fresher, and Game Development Fresher. Furthermore, VNG maintains close partnerships with leading national universities with a focus on emerging fields like AI and game programming.
During his speech at the Award Ceremony, Kelly Wong, Vice President of Game Entertainment, further articulated VNG's impression on the award: "We assess our company's success by the positive impact VNG products have on society. As the leading technology company in Vietnam, VNG remains dedicated to continuous investments in research and product refinement, harnessing our technological capabilities to foster sustainable growth and make impactful contributions to the community."
The Asia Pacific Enterprise Awards 2023 (APEA 2023) is a prestigious international award that has been conducted annually since 2007 in 17 Asian countries and markets, honoring exceptional enterprises, entrepreneurs, and leaders who have demonstrated remarkable accomplishments in the region, showcasing exceptional qualities and achievements. These individuals and businesses have not only built successful enterprises but have also contributed positively to their communities.
In the past, VNG won the international award "Most Innovative CSR Company in Vietnam 2023" and the global award "Best Country Award for Overall CSR Excellence" within the framework of the Global CSR Summit & Awards 2021 at the Global CSR Summit & Awards 2021.
About Asia Pacific Enterprise Awards
Organized by Enterprise Asia – the leading non-governmental organization in business, Asia Pacific Enterprise Awards (APEA) is the region's leading prestigious award, held in 17 countries and markets in the Asian region. ASIAN. APEA awards is dedicated to exceptional businesses and leaders renowned for their remarkable accomplishments, outstanding qualities, and their ability to build prosperous enterprises while simultaneously contributing positively to the community
To secure an APEA distinction, businesses and leaders must showcase remarkable achievements across critical criteria, including revenue expansion, advancements in product and service offerings, excellence in management, innovation, novel and inventive thinking, and meaningful contributions to their communities.
About VNG
Founded in 2004, VNG is a leading homegrown digital ecosystem in Vietnam, with diverse products and services through four key business segments: Games, Communications and Media, Fintech and Long-term Opportunities. Its mission is to "Build technologies and grow people. From Vietnam to the world". Its flagship products have transformed the way millions of users experience and interact with the online world, in Vietnam and globally. Today, VNG has approximately 4,000 employees across 10 cities around the world. For more information, please visit: https://vng.com.vn/.
For more information, please contact:
(Ms) Anh Nguyen
Email: anhnp2@vng.com.vn