Several women stood tall and proud to have made their marks in the fields of business, entrepreneurship, leadership, and corporate social responsibility.
It is in this light that Asia Leaders Awards 2021 (ALA 2021) put the spotlight on them now by celebrating "Women in Power" at the awards ceremony to be held on November 11 at the Embassy of Singapore.
One of the empowered women honouree for ALA 2021 is Ms. Liza Timbol.
Another award winning entrepreneur, Ms. Timbol is the newly elected president of Rural Bankers Association of the Philippines.
She now represents 429 rural banks with a combined resources of P 301 billion.
She is the first Kapampangan elected to this prestigious position and the first woman EVP of GR BANK.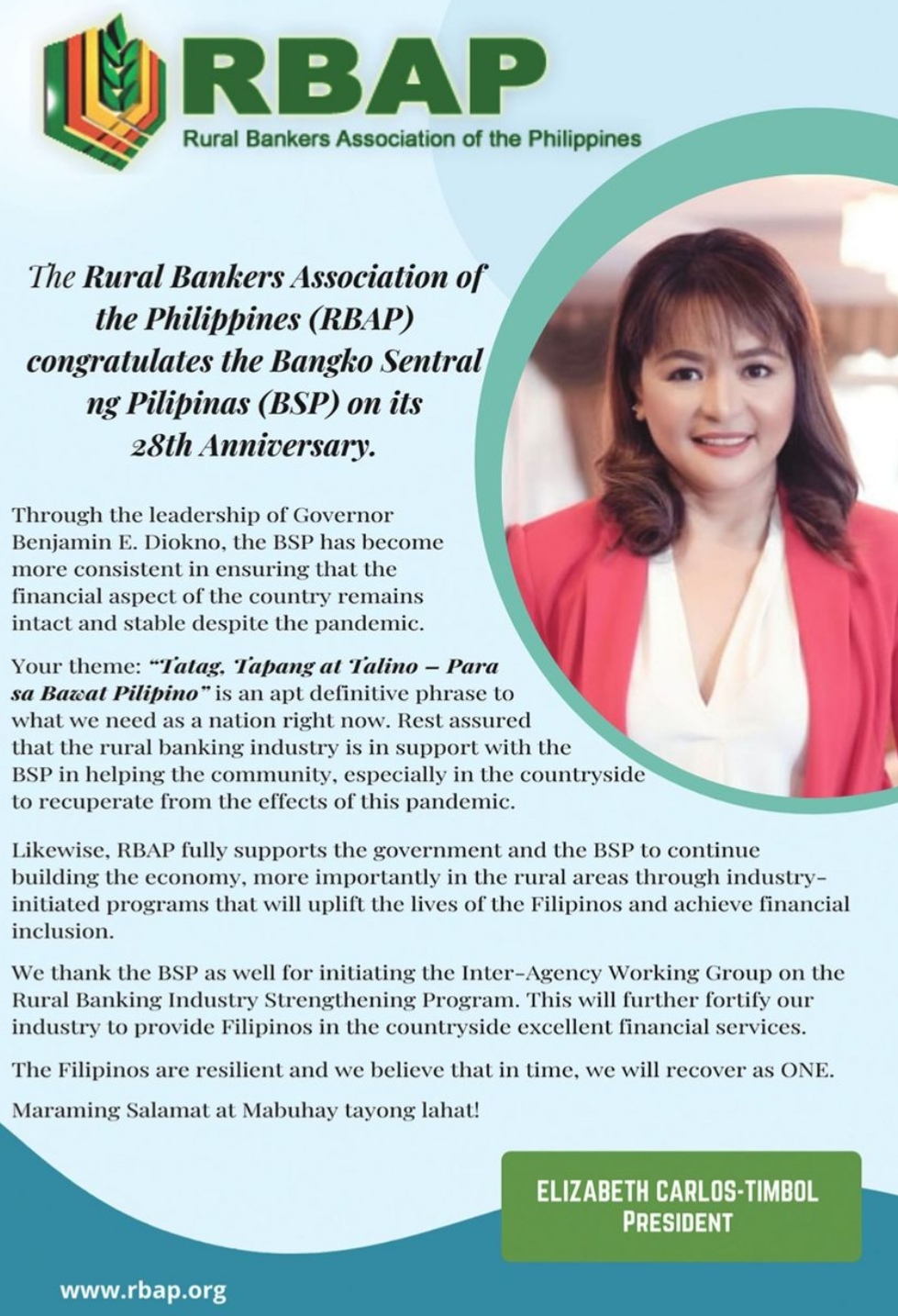 GR Bank, the #1 family-owned rural bank nationwide, is founded in 1954 by her late father Jose "Pitong" Carlos, now with 25 branches in several cities and provinces.
With over 65 years of experience, GRBank remains true to their commitment of "empowering MSMEs and enriching Pinoy lives."
One of Ms. Timbol's objective this challenging times is to make rural banking a relevant partner of government in battling the pandemic.
Know more about GR Bank, visit https://www.facebook.com/grbank
Just recently, under her leadership, RBAP partnered with the Department of Agriculture, DBP and Squidpay to launch the project Registry System for Basic Sectors in Agriculture-Interventions Monitoring Card (RSBSA-IMC), an ID cum cash card provided to farmers, fishers and hog-raisers ampng others, for easy access to government interventions and assistance.
Interested on initiatives and projects by RBAP, visit https://www.facebook.com/ruralbankersph
Other women awardees of ALA 2021 are:
• Architect Kaydee Velasco, CEO of KMV Asia Corporation
• Lerma Manzano Bernabe, President and CEO, AsiaPrime Philippines Corporation (APPC)
• Jaie Flores Ador, Founder and CEO of 3D Container & Packaging Philippines Corp.
• Cris Albert, President of FILA Philippines;
• Rosemarie P Rafael, President of Airspeed International Corporation;
• Vanessa Tanco, President and CEO of iAcademy
• Merle Balicao, President and Founder of Mer-nel's Cake House
• Virginia Lane – One of the most glamorous ladies in Manila Society
Asia Leaders Awards is the only recognition giving body whose awards committee is composed of respected leaders from different organizations and embassies.
It is the largest business awards event in the Philippines and Southeast Asia.
It's main objective is to promote the Philippines as a premier business hub and destination in Asia.
Major awards sponsors are Alfamart, Asian Tigers Mobility, AsiaPrime Corporation, Bounty Agro Ventures, Inc., Fredley Group of Companies, Frontrow Enterprise, Grab, Jollibee Group, and J&T Express.
Get updates from Asia Leaders Awards at https://www.facebook.com/AsiaLeadersAwards